Nibby Buckwheat Butter Cookies Recipe
Alice Medrich's twist on a traditional butter cookie recipe from her latest book, Pure Dessert. She uses a knock-out blend of all-purpose and buckwheat flours.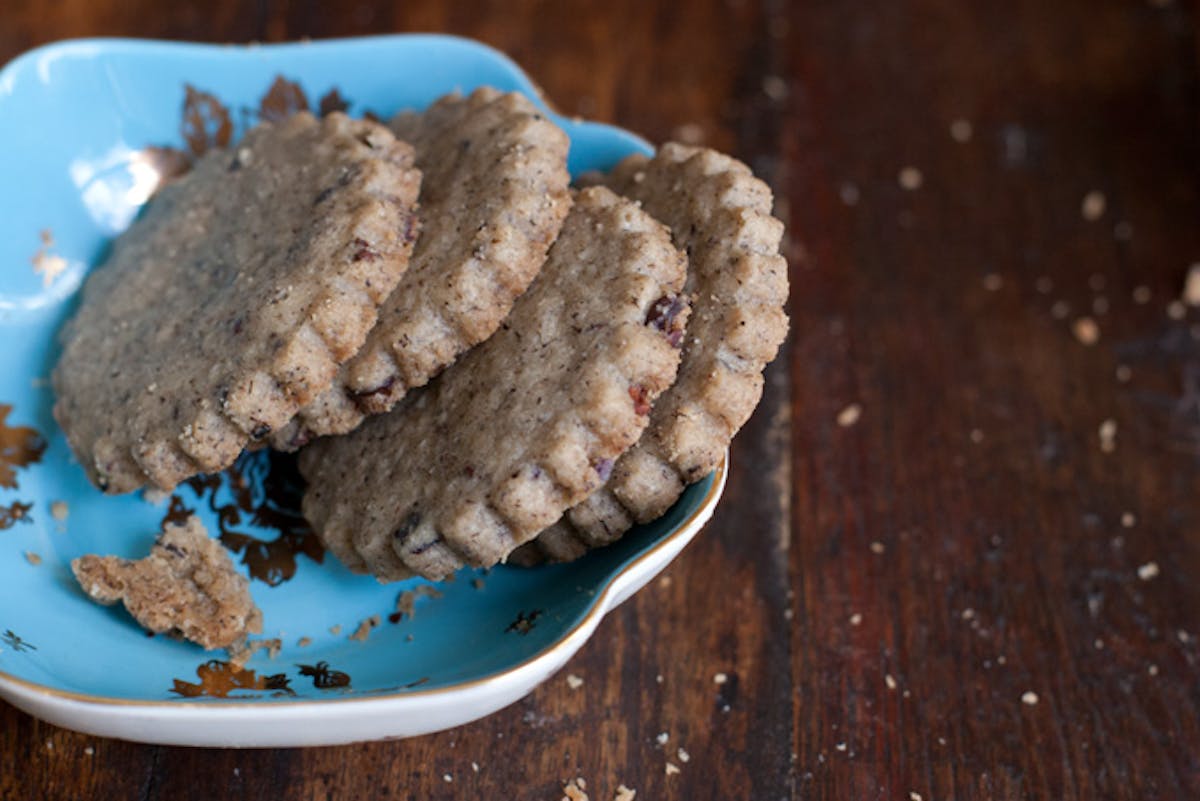 My favorite line in Alice Medrich's buckwheat butter cookie recipe is when she writes, "these cookies can be stored in an airtight container for at least 1 month." I had to smile and then wonder where Alice hides her cookies. Friends and neighbors in my vicinity polished off a batch of these in under an hour. I'm excited to highlight Alice's Pure Dessert book (along with her nibby buckwheat butter cookie recipe) for a few reasons. I'll start by saying, I don't find myself buying dedicated dessert books much anymore. I suspect part of the reason is because it is hard to find ones that use the types of ingredients I like to use. This book is more my speed. Alice uses many fresh ingredients and interesting underutilized flours and sweeteners - today's twist on a traditional butter cookie is a great example.
These nibby buckwheat butter cookies couldn't be easier to make, and the recipe is indicative of the type of treats you'll find in Pure Desserts. In this case, a handful of ingredients and a sliver of active time yields dozens of cacao freckled, butter-bronzed buckwheat cookies made from a blend of all-purpose and buckwheat flours. You can slice them or do as I did and roll and stamp them into whatever shapes you please. Those of you who have been readers for a long time know I have a weakness for a scalloped edge, so that is the route I took.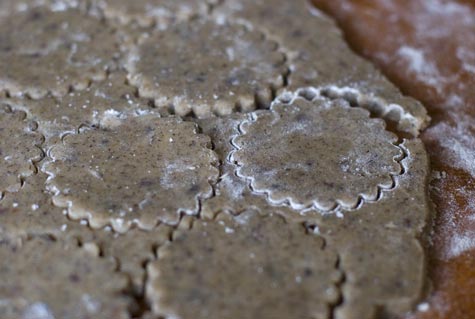 Other recipes in the book highlight and explore the flavors of some of my favorite grains, nuts, and minimally processed sweeteners as well. She does a shortbread and pound cake using kamut flour, a whole wheat sable cookie, and corn flour tuiles. On the sweetener front Alice serves up a honey ice cream and panna cotta, she also writes of muscovado bread pudding, a raw sugar toffee sauce, and a raw sugar flan. Don't get me wrong, this book has it's fair share of white sugar and all-purpose flour, but for those of you who are looking for a gateway book into delicious, fool-proof baking with some percentage of whole ingredients, Pure Desserts is a great place to start.
Give the cookies a try, if you like them consider trying some of the other recipes from her book as well. There is an amazing range of more minimally processed ingredients out there to explore - the flavors, colors, textures are exciting, unique and unfamiliar to many. Alice's book is a great place to dabble a bit, see what you think, without having to overhaul your entire pantry.
Related Links:
- Traveler's Lunchbox Q&A with Alice Medrich
- Cook & Eat: No Quince-idence
- Molly's take on these buckwheat cookies
- Luisa does Alice's whole wheat sables
- Grace highlights Pure Dessert on her favorite cookbooks list.
Nibby Buckwheat Butter Cookie Recipe
1 1/4 cups (5.6 ounces) all-purpose flour
3/4 cup (3 ounces) buckwheat flour
1/2 pound (2 sticks) unsalted butter, softened
2/3 cup sugar
1/4 teaspoon salt
1/3 cup cacao nibs
1 1/2 teaspoons pure vanilla extract
Whisk the all-purpose and buckwheat flours together in a medium bowl. Set aside. In a medium bowl, with the back of a large spoon or with an electric mixer, beat the butter with the sugar and salt for about 1 minute, until smooth and creamy but not fluffy. Mix in the nibs and vanilla. Add the flours and mix just until incorporated. Scrape the dough into a mass and, if necessary, knead it with your hands a few times, just until smooth.
Form the dough into a 12 by 2 inch log. Wrap and refrigerate for at least 2 hours, or, preferably overnight. (hs note: At this point I formed the dough into two flat patties, knowing I wanted to roll it out and use cookie cutters to shape the cookies).
Position the tacks in the upper and lower thirds of the oven and preheat the oven to 350F degrees. Line the baking sheets with parchment paper.
Use a sharp knife to cut the cole dough log into 1/4-inch-thick slices. (hs note: or roll out with a floured rolling pin and cut out shapes with cookie cutter.) Place the cookies at least 1 1/2 inches apart on the baking sheets.
Bake until the cookie are just beginning to color at the edges, 12 to 14 minutes, rotating the baking sheets from top to bottom and front to back halfway through the baking. Cool the cookies in the pans on a rack, or slide the parchment liners carefully onto the rack to free up the pans. Let cool completely. The cookies are delicious fresh but even better the next day. They can be stored in an airtight container for at least one month.
Makes forty-eight 2 1/2-inch cookies.
from Pure Dessert by Alice Medrich (Artisan, 2007) - reprinted with permission.