Orange and Oat Scones Recipe
Rustic orange-scented oat scones peppered with currants inspired by a recipe in Romney Steele's new Big Sur-based My Nepenthe cookbook.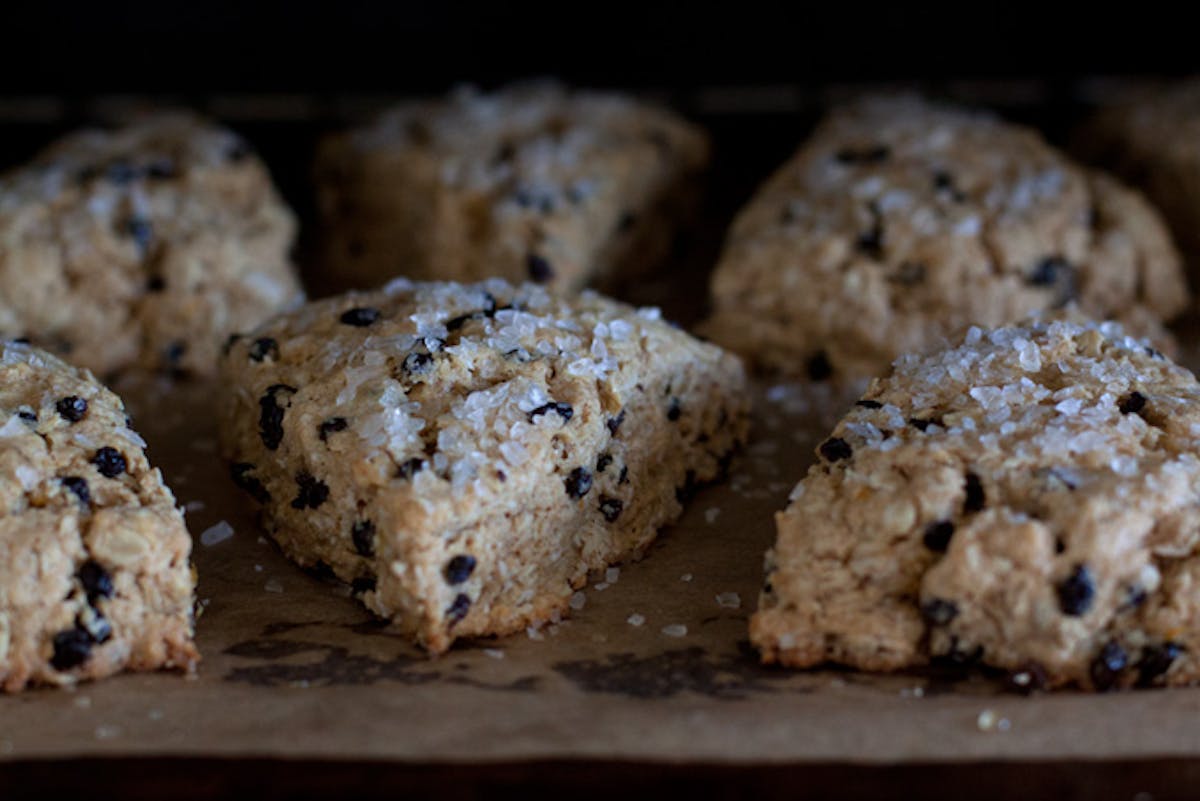 I spent most of the week under my favorite blanket on the couch - sniff, cough, cough, sniff, sneeze, repeat. The good news is I'm on the mend, and after a short walk today something tells me I wasn't alone in my misery. It seems as if half the city is coughing into their elbows. So yeah, last week was all about the small victories for me - going downstairs to get the mail, finishing a load of laundry (as in one), writing letters, and eventually, as I was starting to feel better, making a batch of orange and oat scones from the My Nepenthe cookbook. If only you could have been there when they came out of the oven, yum.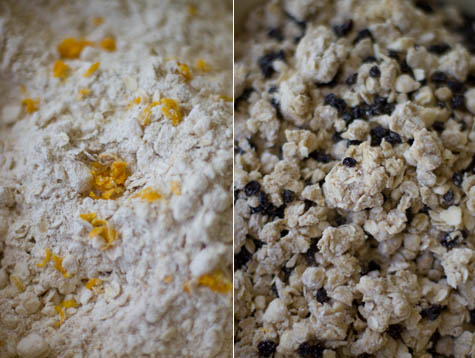 They were good later too though. I nibbled at a golden corner of one of the scones a couple hours after they came out of the oven, then four hours later, then six - they seemed to be improving with age.
In fact I wish I had one right now. In hindsight, I should have frozen some of the dough, then baked them off a few at a time.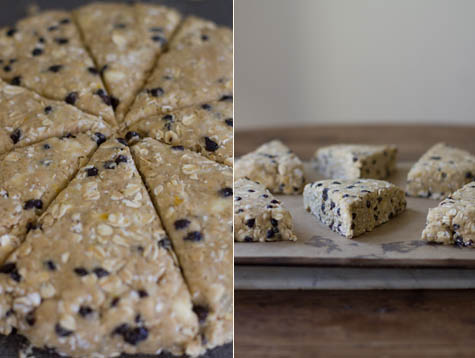 I'm so looking forward to trying more from Romney's new book, she includes an eclectic mix of recipes including the full range of mains, soups, side salads. But it's the sweets and breakfast recipes that I suspect will make an appearance in my kitchen in the near future - the wheat germ buttermilk hotcakes, persimmon pudding cake, and the triple berry pie.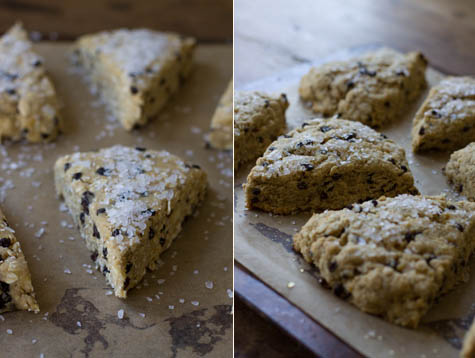 If you haven't seen the book yet, look around for it. I think it's just starting to show up in stores. It's just the sort of cookbook that takes you to another place and time - beautifully designed and photographed, and the story she tells of her life and legacy at Nepenthe in Big Sur is very special. For those of you who love the Tessa Kiros cookbooks, aesthetically this book is similar in spirit.
Orange and Oat Scone Recipe
I made a few tweaks to Romney's original recipe, and they are reflected below. I use whole wheat pastry flour here, but you can use unbleached all-purpose flour, or a blend of both if you like. This version of the recipe makes 8-10 huge scones. The next time I make these I'll likely pat the dough into two 4-inch rounds and cut each of those into 6-8 smaller scones before baking.
3 cups whole wheat pastry flour
1/2 cup turbinado sugar
2 teaspoons baking powder
1 teaspoon baking soda
1 cup (2 sticks) cold butter, cut into small pieces
2 cups rolled oats
zest of 1 orange
1 cup buttermilk
1/4 cup coarse turbinado or Demerara sugar, for sprinkling
2/3 cup dried currants
Preheat the oven to 350F degrees. Line a baking sheet with parchment paper.
Combine the flour, 1/2 cup of turbinado sugar, baking powder, and baking soda in the bowl of a food processor. Add the butter and pulse 15-20 times or until it looks like sandy pearls. (If you are working by hand, cut the butter into the flour mixture using a pastry cutter.) Transfer the dough to a bowl and stir in the oats and zest. Stir in the buttermilk and currants until just moistened.
Bring the dough together with your hands. If the dough is still too crumbly, stir in more buttermilk a tiny splash at a time, but try to avoid over mixing. After bringing the dough together, gently pat it into an 8-inch round. Cut into triangle shapes (see photo) and transfer to the prepared baking sheet with some room between each scone. Sprinkle the tops with coarse sugar. Bake for 12 to 15 minute or until the bottoms are deeply golden.
Makes 8 extra-large scones, or 12 to 16 larger ones.
This recipe was adapted from My Nepenthe by Romney Steele. Published by Andrews McMeel Publishing, November 2009.
Prep time: 10 minutes - Cook time: 15 minutes