Pierce Street Vegetarian Chili Recipe
The best pot of chili I've made in years. A vegetarian chili recipe Inspired by a bunch of those little bags of remnant grains and pulses that collect in my cupboards - bulgur, farro, and lentils, join chile peppers, crushed tomatoes, some chickpeas, and a secret ingredient.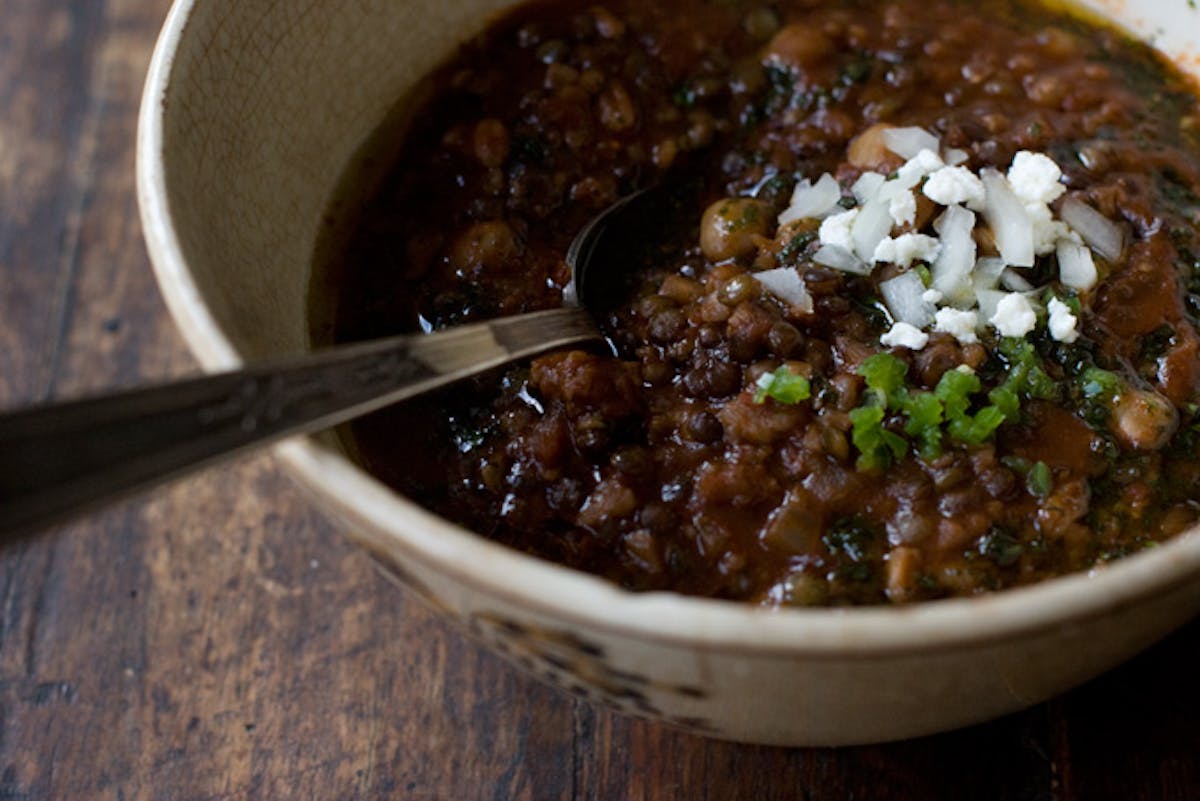 I think its safe to say, we are long overdue for a good vegetarian chili recipe around here. I'm not entirely sure what has taken me so long - I guess I wanted it to be really good. It's not that I wasn't cooking chili, I just wasn't sharing. I kept waiting until I had a pot in front of me that I was giddy about, the kind of chili that has you leaning over the pot, spoon in hand, shaking your head once or twice, saying mmm-hmm. And believe me, I never thought the best pot of chili I'd made (in years) would be inspired by a bunch of those little bags of remnant grains and pulses that collect in my cupboards - lentils, farro, bulgur - but sure enough, that's what happened. This chili is made with bulgur, farro, lentils, chile peppers, crushed tomatoes and some chickpeas I had hanging around. Then you've got the chili powder, and a secret ingredient - a bit of grated ginger.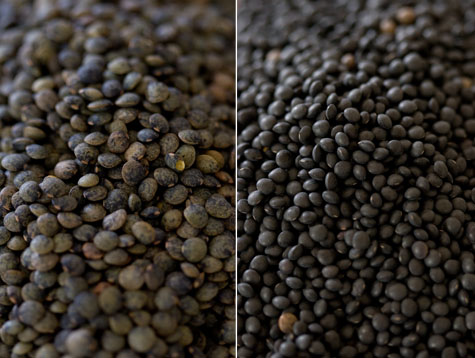 And yes, like most chili, or stews, this is even better the day after! This makes an XXL pot of the stuff, so you'll have plenty left over. If you are feeling adventurous, you can ladle some of it into a shallow baking dish, make a few indentations with the back of a spoon, crack eggs into the hollows, drizzle generously with olive oil, and toss it into a 375F degree oven until the eggs set up - a twist on baked eggs.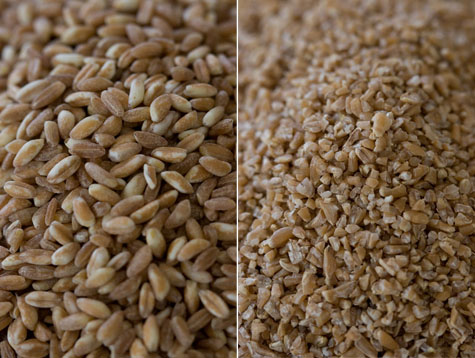 I should also note, that you can swap in other grains if you like, but I think part of the success here was choosing grains that held their structure. I'd stay clear of the grains like, say, quinoa that go quite soft when cooked. And shoot for grains that cook in the same amount of time as the lentils -pearled grains cook much more quickly than whole farro or barley. Anyhow, I hope you like it as much as I did!
Pierce Street Vegetarian Chili Recipe
A few notes related to this chili recipe. The chili powder I used was very ancho-centric. I think the earthiness of ancho and lentils works nicely together, but feel free to use your favorite chili powder. This recipe makes a pot of chili with a bit of a kick to it - if you're nervous about heat, scale back a bit on the powder and peppers, wait until you get to the simmer stage and add more a bit at a time tasting all the while. As far as broth goes - I really dislike many of the pre-made vegetable broths out there, but do like Rapunzel Herb Bouillon with Salt. I'd actually prefer you use water if you can't find a vegetable broth/stock good enough to heat up and drink on its own. I should also mention I used a blend of two types of lentils here - black and French green lentils - 1 1/2 cups black lentils, 3/4 cup French green lentils. And lastly, this makes a huge pot of chili, so get out your largest pot.
2 tablespoons olive oil
1 large yellow onion, chopped
2 shallots, chopped
8 small/med garlic cloves, finely chopped
1 tablespoon ginger, peeled and grated
3 tablespoons chili powder
1 teaspoon ground cumin
1 serrano pepper, seeded and finely chopped
1 chipotle pepper (from can or rehydrate), minced
1 28-ounce can of crushed tomatoes
10 cups vegetable broth
1 1/2 cups cooked chickpeas (canned is fine)
2 1/4 cups black, brown, or green lentils (or combo), rinsed and picked over
2/3 cup pearled barley or pearled farro
2/3 cup bulgur wheat
1 teaspoon fine grain sea salt (or to taste)

toppings (opt): a bit of chopped serranos, a bit of feta or dollop of thinned out salted yogurt, a drizzle of equal parts chopped fresh oregano and olive oil, chopped onion
In a large stockpot pot over medium heat add the olive oil, onion, and shallots. When the onions soften up and get a bit translucent, add the garlic, ginger, chili powder and cumin. Stir well and cook for a minute of so, until everything gets quite fragrant. Stir in the serrano pepper and chipotle pepper, tomatoes, and 8 cups of the broth. Now add the chickpeas, lentils, barley/farro, and bulgur - stirring between each addition. Bring to a boil, then reduce the heat to low and simmer. Take a taste of the broth a few minutes into the simmer - you can make adjustments for salt here - if you're using water in place of broth, you can add a teaspoon of salt for starters and add more later if needed.
Simmer away for about 35- 45 minutes or until the lentils and grains are cooked through. You will likely need to add the rest of the water, a cup at a time, if the chili thickens up too much. Before serving do your final adjustments - add more chipotle, salt, or whatever you think it needs and enjoy! I love this chili with a bit of feta or goat cheese on top and a big drizzle of olive oil, but I listed off a few other topping ideas up above.
A huge pot of chili - serves 12 or more.