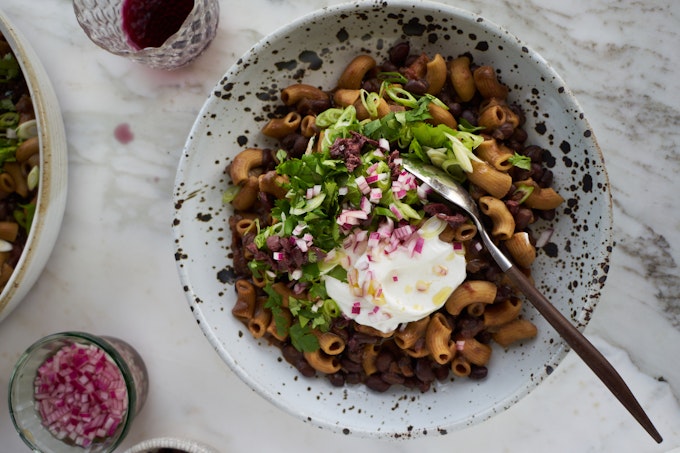 Creamy Four Ingredient Chili Mac (Instant Pot / Conventional)
Chili mac is a thing. And I suspect it's a thing for a few good reasons. Namely, it's a family-friendly dinner solution, something nearly everyone can get behind. Chili + macaroni, what's not to like? I decided to a take a stab at it last week, in part because I was working on this Slow Cooker Black Bean Chili with Kahlua, and I had to go a few rounds to get it just right. So much leftover chili. So much.

This chili mac combines four ingredients: your favorite chili, a beer (or broth), elbow pasta, and a splash of cashew, coconut milk, or other nut milk. It's as healthful as the chili you use. The last thing I'll say before jumping into the recipe is this, I know of no other dinner that takes less effort than the Instant Pot version of this. It's literally for nights when calling in take-out takes too long, and is too much effort. Seriously.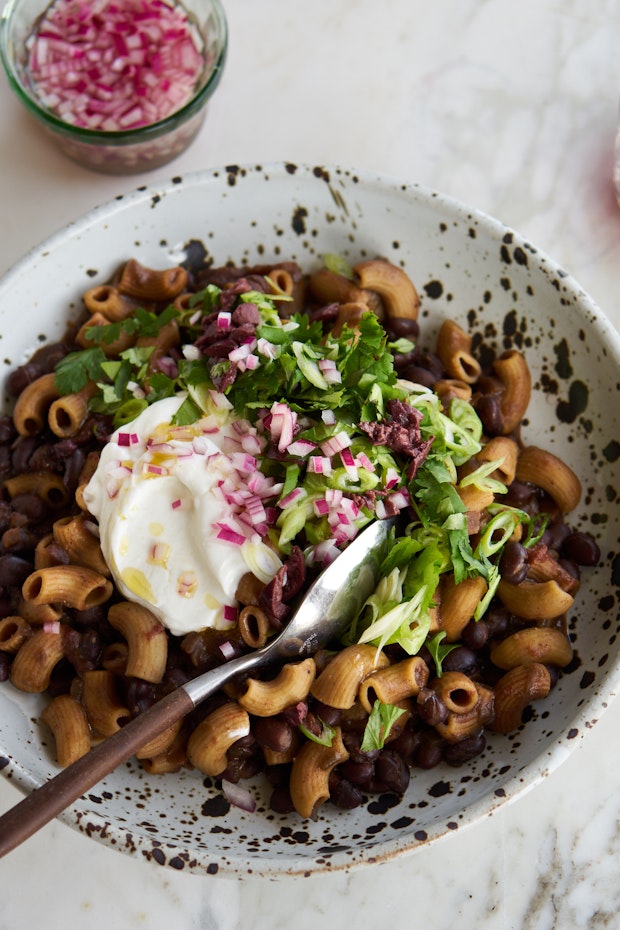 Pile on toppings to boost the chili mac nutritionally, and to flair it out in general. I mean, treat it like a taco bar, or a chili bar - anything you would on those things is fair game here. Also, if you don't have leftover chili on hand - a good canned chili will absolutely work here. I'll put some related thoughts in the head notes.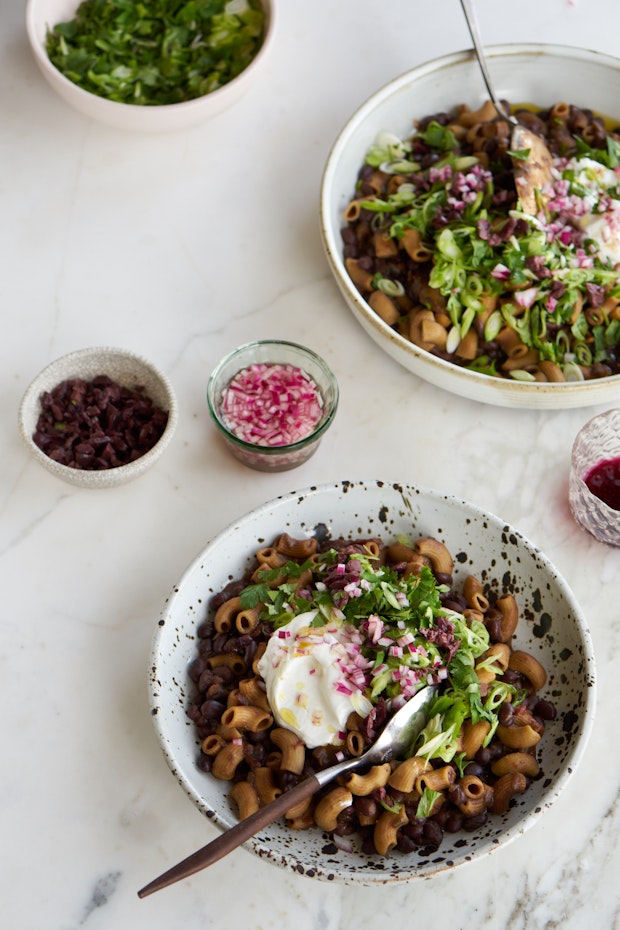 Creamy Four Ingredient Chili Mac
You can use a homemade chili, or if you're in a time pinch, grab something like Amy's low-sodium spicy chili (you'll need two cans) - you can always adjust your seasoning to taste with more salt, etc. To keep this gluten-free, use a GF pasta. I like to add a bit of creaminess here with a good splash of homemade cashew milk, but if you don't have that on hand, coconut milk is perfect as well.
Ingredients
3 1/2

cups

of favorite chili (or two 14-ounce cans)

1 12-

ounce

beer, or equivalent amount of broth

1/2

cup

/ 4 ounces water

2

cups

of dried elbow pasta

a generous splash of cashew or coconut milk

to serve, any/all of the following: scallions, salted yogurt (regular on non-dairy), cilantro, red onions, chopped olives
Instructions
Combine the chili, beer, water, and pasta in the Instant Pot. Close the pot, and secure the lid. SEAL the valve. Select PRESSURE COOK (or MANUAL) and calculate your cooking time. To do this, refer to your pasta package, the time will be half of the shortest recommended cooking time, rounded down to nearest minute. For example my pasta package recommended 8 - 10 minutes. Take the smaller number (8), cut in half (4), and round down to nearest whole number (if necessary). SET/ADJUST TIME - in my case, to 4 minutes.

When finished, carefully QUICK RELEASE pressure by shifting the valve to VENTING. Gently shake or tap the pressure cooker, and then carefully open away from you. Stir in cashew milk. Taste and adjust seasoning, serve topped with lots of scallions, cilantro, red onions, etc.
Notes
To make this on a conventional stovetop: Bring the chili, beer, and water to a simmer in one medium pot. Boil the pasta separately in salted water, drain, and stir into the chili. Add the cashew milk, season to taste, and serve with toppings.
For reference, this is the Instant Pot I used for this recipe: Instant Pot DUO Plus 6 Qt 9-in-1
Related Recipes
More Recipes
Popular Ingredients