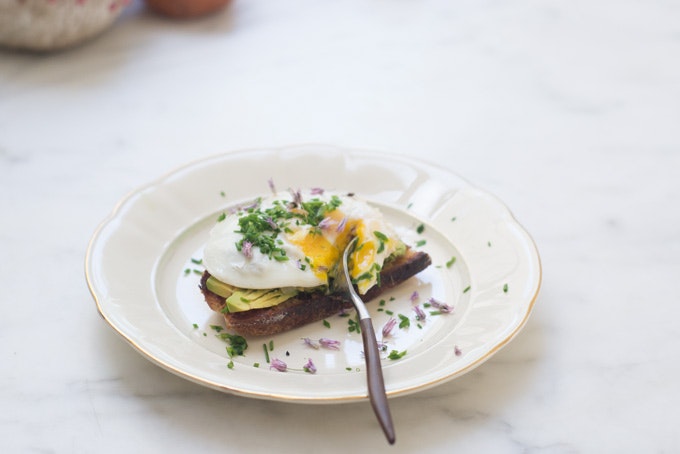 Poached Eggs in White Wine
I find myself poaching eggs two or three times a week. And, I know it seems obvious, but I sometimes need a nudge to poach them in something other than water. All sorts of broths and infusions are fair game, it's funny that I don't branch out more often. These, for example, were eggs poached in white wine accented with minced shallots and herbs. A simple twist that immediately transformed the humble poached egg into something just a hint special and unexpected. The nudge came from a tiny cookery volume titled The Flavors of France Volume II, published by Hastings House in 1964. Often, before I leave on a trip, I find myself cooking from cookbooks related to my pending destination, and I picked up this little gem in a thrift store in Napa, California years ago. It charmingly juxtaposes French regional architectural photos with regional recipes. This was a twist on an Oeufs Poches au Vin Rouge recipe, that I tweaked to my liking - using white wine, simplifying the instructions, and serving it open-faced on toasted bread.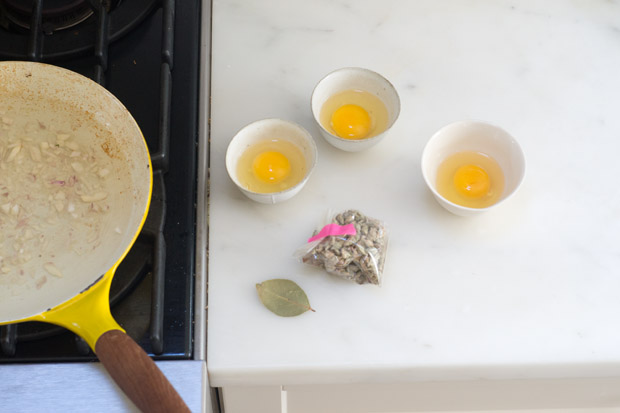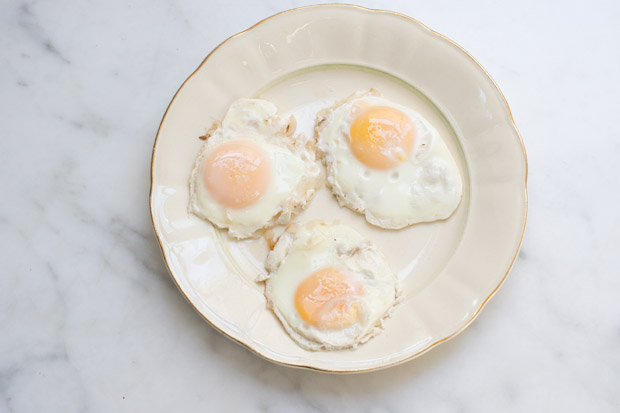 Depending on the size of your pan, it's a shallow poach. You use the remaining poaching liquid to fashion a quick sauce after the eggs have set.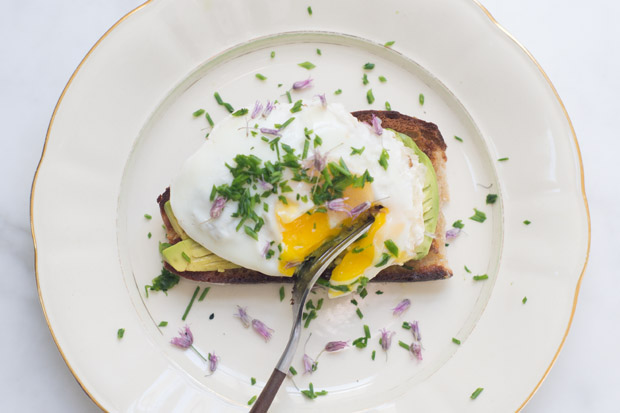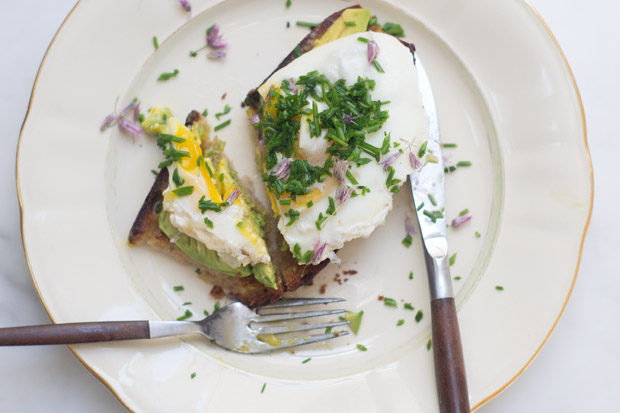 Making my way back from France - in the meantime, I'm imagining you might enjoy these not just on bread, but also, on top of a fall root vegetable gratin, or a chunky potato stew, or alongside a robust kale salad.....xo -h
Give this a try! Other favorite egg recipes include: deviled eggs, egg salad sandwich, this frittata, and pickled turmeric eggs.
Poached Eggs in White Wine
Use a white wine here that you wouldn't mind drinking the remainder of.
1 cup dry white wine
1 cup water
2 shallots, minced
1 bay leaf
a pinch of thyme
1/4 teaspoon fine grain sea salt
2-4 large eggs

1 tablespoon butter, room temperature
2 teaspoons flour

to serve: toasted bread, avocado, chives
In a large skillet or saucepan over medium-high heat combine the wine, water, shallots, bay leaf, thyme, and salt. Boil for five minutes. Dial back the heat a bit, before carefully cracking eggs into the skillet (you can crack each egg into a separate small bowl, and then transfer, if you're not comfortable going direct to the skillet). Cover and simmer for another five minutes or so - until the eggs whites are opaque, and the yolks are set to your liking. Once poached, remove the eggs with a slotted spoon from the skillet and set aside. Cook the liquid in the pan down a bit more, until you have about 1/2 cup of liquid left, then strain the liquid into a small saucepan. Whisk the butter and flour into a paste, then add this to the strained sauce, stirring until smooth, taste and add a bit of salt if needed.
Serve each egg on a piece of toast over a bit of smashed avocado, drizzled with a bit of sauce, and sprinkled with chives.
Serves 2-4.