Pomegranate Yogurt Bowl Recipe
A simple breakfast bowl made with Greek yogurt, fresh pomegranate juice, puffed quinoa cereal, toasted sunflower seeds, and honey.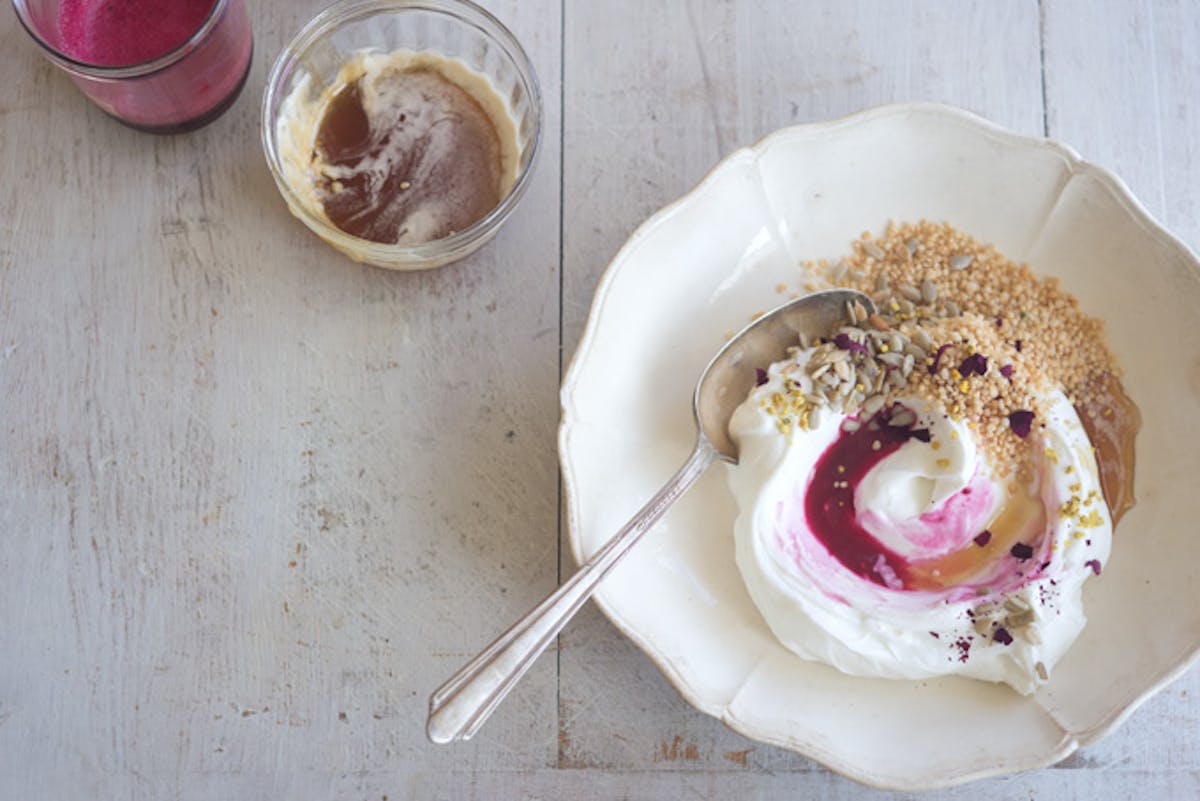 I'm hoping this breakfast sets the tone for my entire day. I love the pretty pomegranate swirls intertwined with ribbons of a Turkish black pine honey a friend gave to me. There are little puffed BBs of quinoa, toasted sunflower seeds, some bee pollen, and creamy clouds of Greek yogurt. It was a fluke, with everything just falling into place after I reached for the pomegranate juice leftover from my ongoing juicing experiment. So, for today, just a quick hi, and hopefully a bit of inspiration to make your next breakfast special.
I can imagine cooking down a bunch of the fresh pomegranate juice to make a thick homemade pomegranate molasses the next time around, although I love the brightness of the fresh juice and the way it tangles with the honey and yogurt.
Here's an ironic update - not two hours after writing this, I lobbed off a good chunk of my thumb using a mandolin. I hesitate to say, if you want to see it, I posted a pic to instagram (@heidijswanson), but you're much better off not looking. It's tres ugh. Maybe I was getting a bit cavalier, I've just never had trouble with my mandolin before - it's always the serrated knife that gets me. So, just a heads-up out there - the mandolin is scary (same goes for the hand blenders, apparently). Stay safe! xo
Pomegranate Yogurt Bowl
HS: After some experimenting with the juicer, I think pomegranates are best juiced by hand. Use a basic citrus reamer and juice it as you would an orange. Strain, and you're set.
For each bowl:
a big dollop of Greek yogurt
2 tablespoons fresh pomegranate juice
a drizzle of honey
a handful of puffed quinoa crisps (or other cereal/granola)
sprinkling of toasted sunflower seeds

optional: whole pomegranate seeds or fresh/dried rose petals, a bit of bee pollen
This is written for an individual bowl, but I'm absolutely going to make a big, family-style version of this for the next brunch I have. In a shallow bowl swirl the pomegranate juice and honey into the yogurt just a bit, sprinkle with cereal, and sunflower seeds, and then finish with the rose petal and bee pollen (of you're using those).
Serves 1.