Tofu Scramble
This tofu scramble is fast, flavorful, and a wonderful egg-free savory breakfast. Made with spinach, curry powder, nutritional yeast, garlic, and onions, this is the version we've been making for years!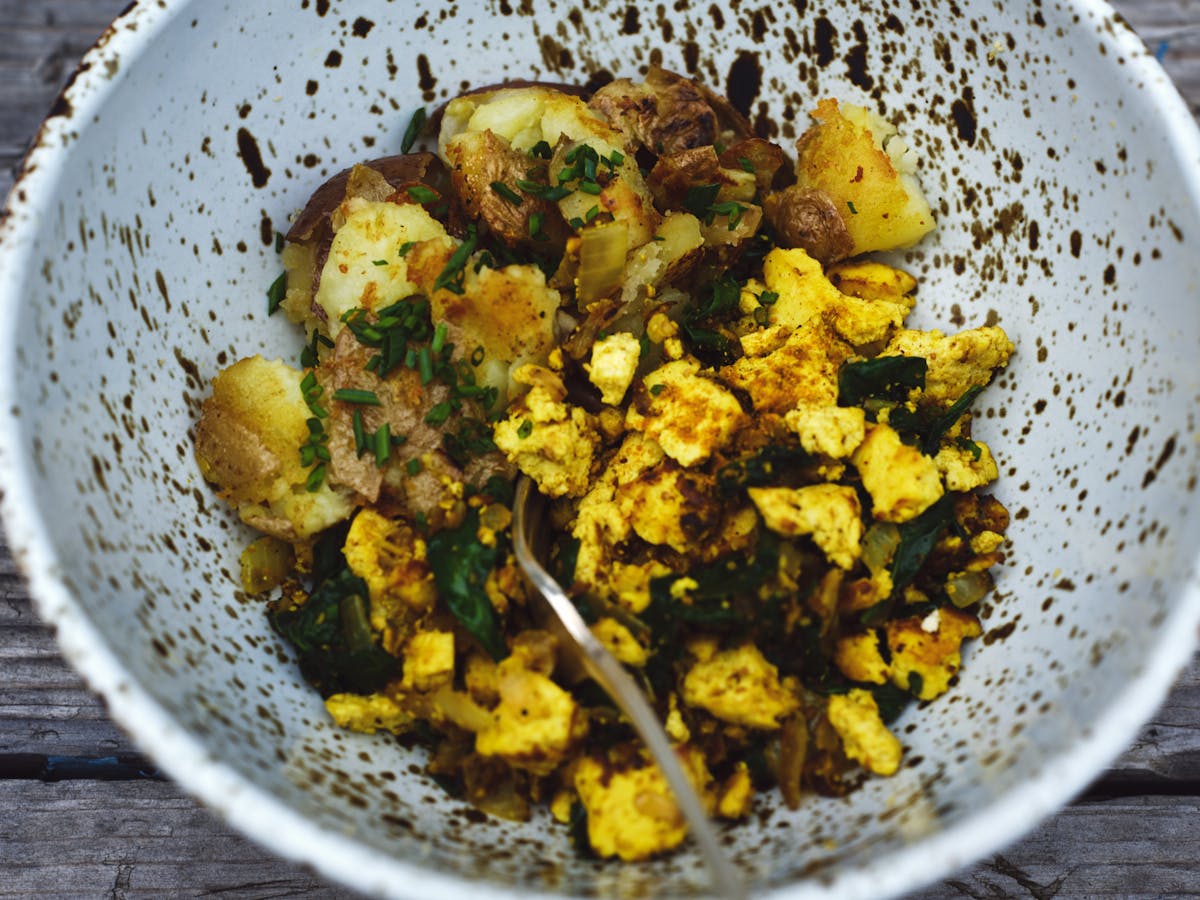 Tofu scramble — two words that trigger visions of 70s-era hippie cookbooks, but also the college town vegetarian cafes of the 80s and 90s. And I'm here for it. Still! After all these years. A tofu scramble is a great savory breakfast or brunch option, and deservedly more popular than ever. There are endless variations out there, but more often than not, I stick close to the spinach-flecked version I've been making most of my adult life. It is flavor-packed with curry powder, starts with a simple onion-garlic base, and comes together in no time.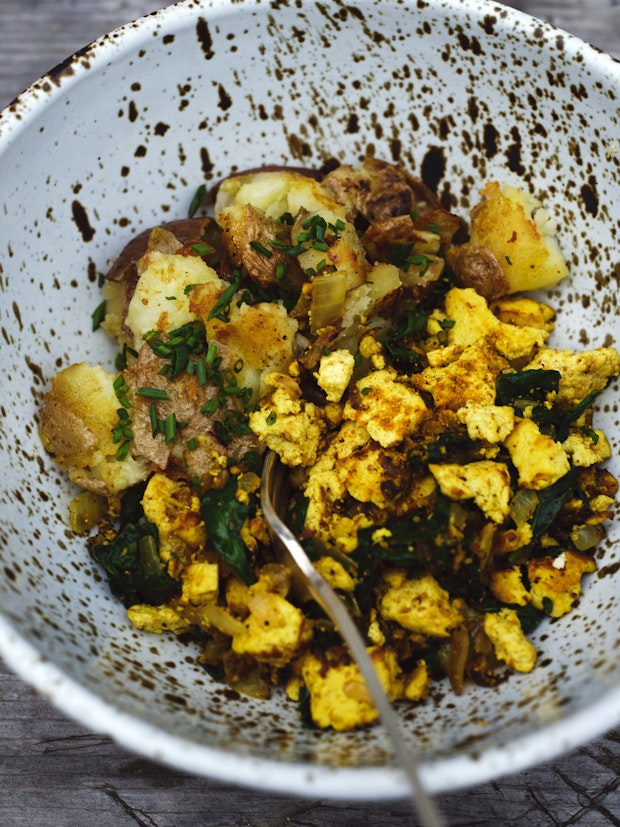 A Bit of Context
As someone who has lived nearly my whole life in coastal California, tofu scrambles have always been around. Or, that's how it has felt. I associated the tofu scramble with the vegetarian and vegan diets popular among hippie communities of the 1960s and 1970s. Over the years, tofu scramble recipes were published in niche cookbooks and counter-cultural books that became immensely popular - for example, Diet For a Small Planet, Rebar: Modern Food Cookbook, The Tassajara Recipe Book, The Modern Vegetarian Kitchen, and Vegetarian Cooking for Everyone. Newspapers and magazines increasingly published tofu scramble recipes in the 1980s and 1990s and the popularity of the preparation expanded. Then the internet came along and boosted the reach to new audiences more rapidly through blog posts and socially networked videos, and here we are!
Why are tofu scrambles increasingly popular?
People seem to be looking to replace what is familiar to them with meat-free alternatives to traditional breakfast dishes. As people aspire to increase the number of plant-based meals into their lives, an eggless scramble is a satisfying, hearty, and versatile vegan breakfast option that can be customized to suit a wide range of taste and dietary preferences. It's high in protein, delicious, and (when done well) packed with flavor.
Switch it up!
Think of it this way, a tofu scramble is a great vegan alternative to scrambled eggs. If you miss the taste and feel of scrambled eggs, a tofu scramble can be a great alternative. The word "scramble" is misleading in this context, because you're not scrambling eggs in this case, but you get the idea. Even if you do eat eggs, this recipe is worth a try. It's a versatile alternative, and an all-around crowd-pleaser. But, honestly, you don't need to think of it as an alternative to anything. It's just a delicious something to eat in its own right. And! It's a great one-pan camping recipe, and clean up is a breeze.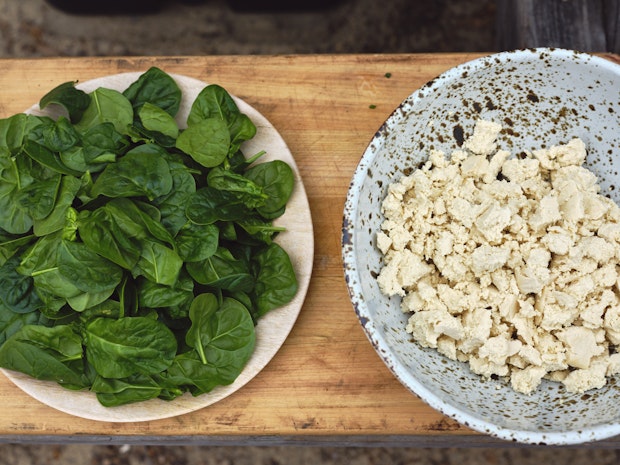 Secrets To Making a Great Tofu Scramble
For this tofu scramble recipe, there are a few things to pay attention to.
Buy extra-firm tofu

: For this recipe, go with extra-firm tofu. Keyword is extra.

Press the tofu

: The goal here is to confidently press as much liquid from the tofu as possible. Wrap the tofu in a clean towel, or bundle of paper towels until all the extra moisture is gone. Some people have

 

If you the patience to let the tofu sit under a press for a long time, but typically that's not me. Sourcing extra-firm tofu, and a quick press is all you need for this scramble.

Use strong seasoning

: Perceived blandness of the tofu is one of the common criticisms leveled against a tofu scramble recipe. Tofu can be a beautiful ingredient, simply prepared on its own, but in this case we're looking to super-charge it with color and flavor. Use a favorite curry powder, and be sure to season the scramble to taste prior to serving with salt. This little step makes all the difference.

Add seasonal vegetables

: One of the great things about a tofu scramble is the versatility. In this recipe I feature spinach as the vegetable. It brings, color, nutrition, and diversity to the scramble, but I encourage you to use what is available and in season. You can all other quick cooking vegetables along with the spinach or in place of it. Asparagus, broccoli florets, cabbage, cauliflower florets, zucchini, and cherry tomatoes are all great options.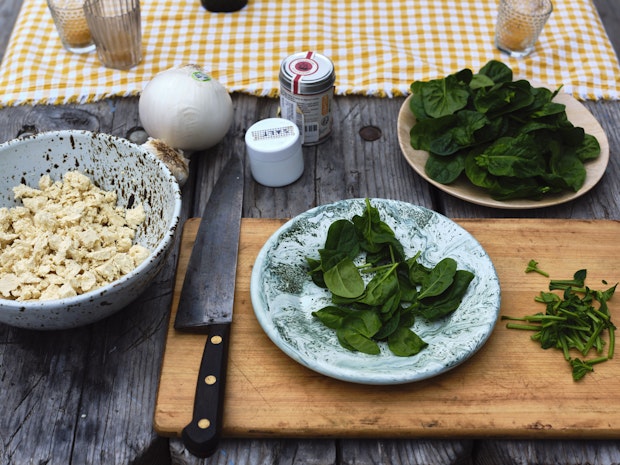 Key Tofu Scramble Ingredients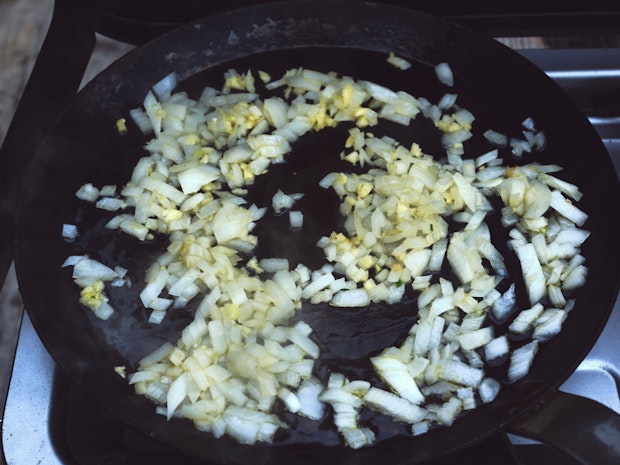 I made this scramble the other morning while we were camping. It's the sort of one-pan meal I love when I'm cooking on a small stove.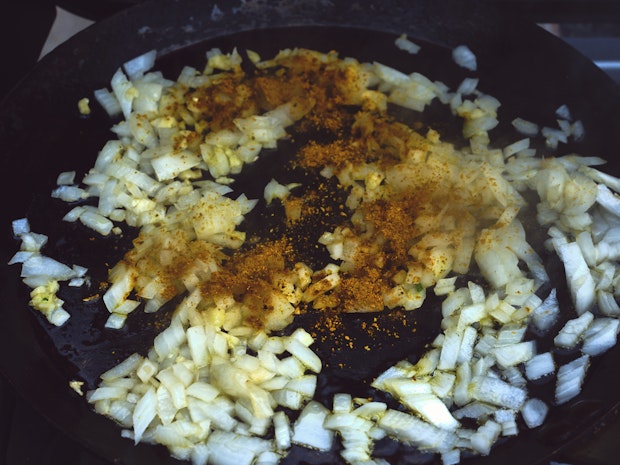 Here you see the onions and garlic cooking in the hot pan. The curry powder is sprinkled into the pan and it smells absolutely amazing!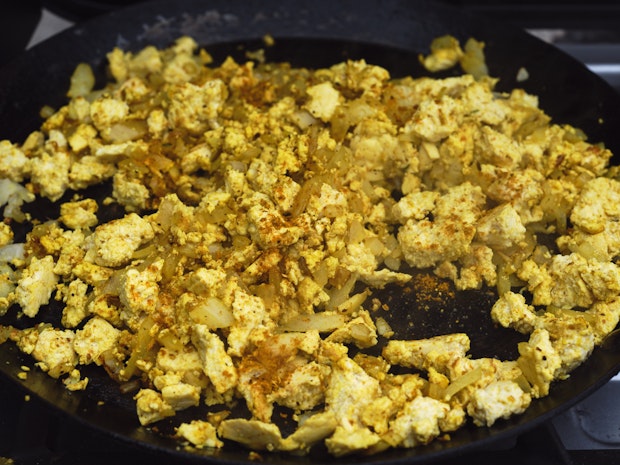 Then the tofu is added. You can see the size of the crumble here in this picture. How large or small you crumble the tofu is up to you. I like some larger pieces, they simulate some of the texture you get with traditional scrambled eggs.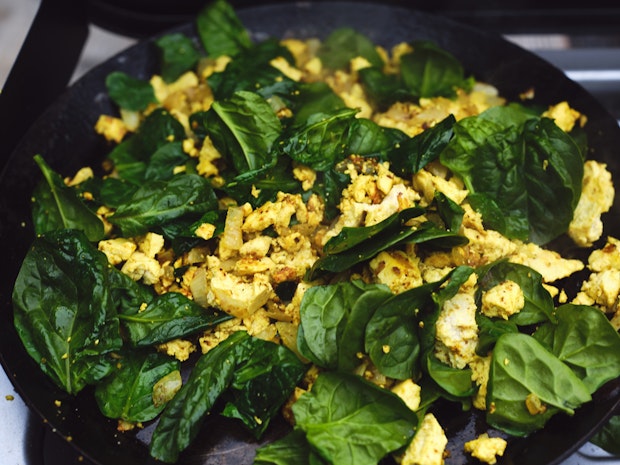 In goes the spinach. The leaves will collapse quickly as you stir and flip the mixture.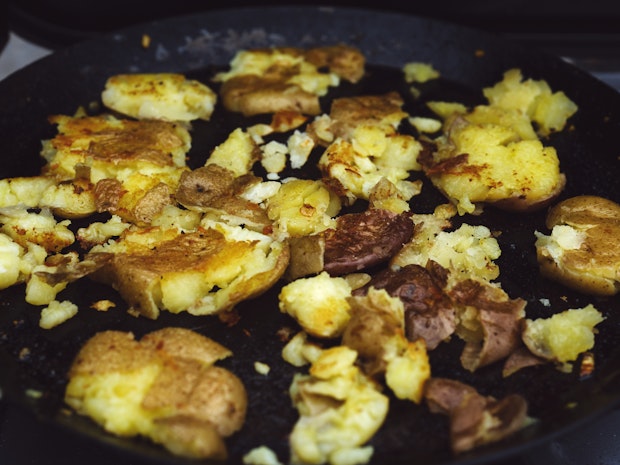 Once the scramble is cooked, I like to use the same skillet to make a side of smashed skillet potatoes from potatoes I boiled the night before.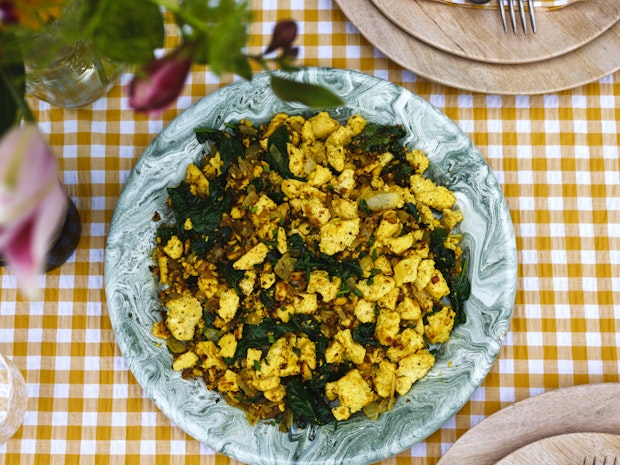 What To Eat with Tofu Scramble
One of the things I love about a tofu scramble, it the versatility. Many of the things you can do with a traditional egg-based scramble, work nicely with tofu scramble as well. Here are some favorites: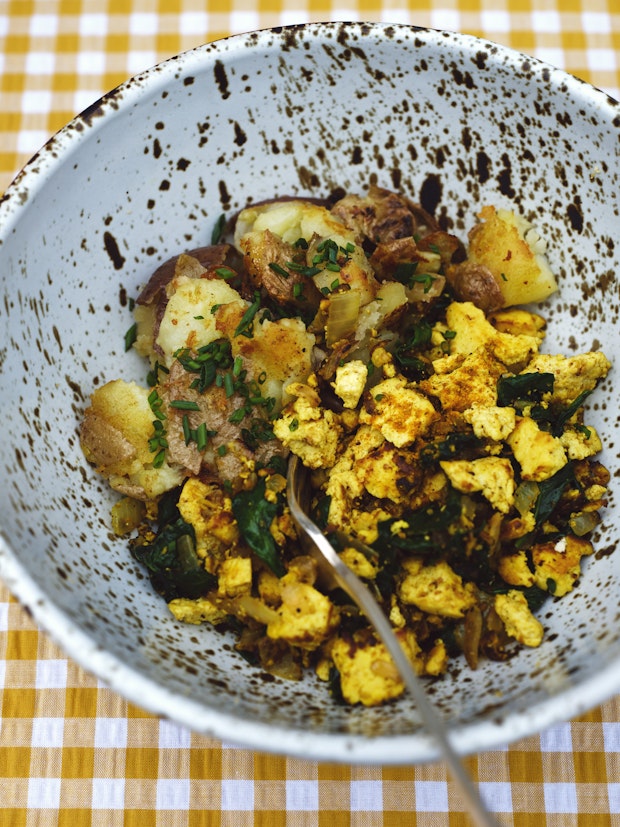 More Favorite Tofu Recipes
More Camping Recipes
Tofu Scramble
This makes a family-sized skillet. If you're cooking for one or two, or if you're using a smaller skillet, cut the recipe in half. Use your favorite curry powder here. I've used a range of Sri Lankan and Indian curry powders here over the years, each one lending something special. You can use more spinach than called for here, just add it in batches, allowing the leaves to collapse before adding more.
Ingredients
1

pound

extra-firm tofu

2

tablespoons

extra-virgin olive oil

2

cloves

garlic, chopped

1

onion, chopped

2 1/2

teaspoons

curry powder

2

tablespoons

nutritional yeast (optional)

3

big handfuls of spinach leaves, stemmed

1/2

teaspoon

fine grain sea salt, plus more if needed

For serving: chives, hot sauce (optional)
Instructions
Drain any water from the tofu, press it between a couple of paper towels to release excess moisture, then crumble into small pieces.

Heat the oil in a large, heavy skillet over medium heat, add the garlic and onion, and saute for just a few minutes, until they soften up. Stir in the curry powder and then the tofu. Cover and cook for 4-5 minutes, until the tofu is thoroughly heated. Stir in the nutritional yeast and then add the spinach. Stir for a minute or so, until it wilts and collapses, then stir in the salt. Taste and adjust for seasoning. If you want a brighter curry flavor to come forward, sprinkle with more curry powder. If the flavors aren't quite popping, add more salt a couple pinches at a time.
Notes
Serves 4 to 6.
This recipe is an updated variation on the Curried Tofu Scramble published in Super Natural Cooking (2007).
Related Recipes
More Recipes
Popular Ingredients