Porcini Mushroom Soup Recipe
A porcini mushroom soup recipe made from seven ingredients including potatoes and porcini mushrooms in an intensely flavorful broth peppered with rosemary and tiny pools of golden olive oil. Great with a big chunk of garlic bread.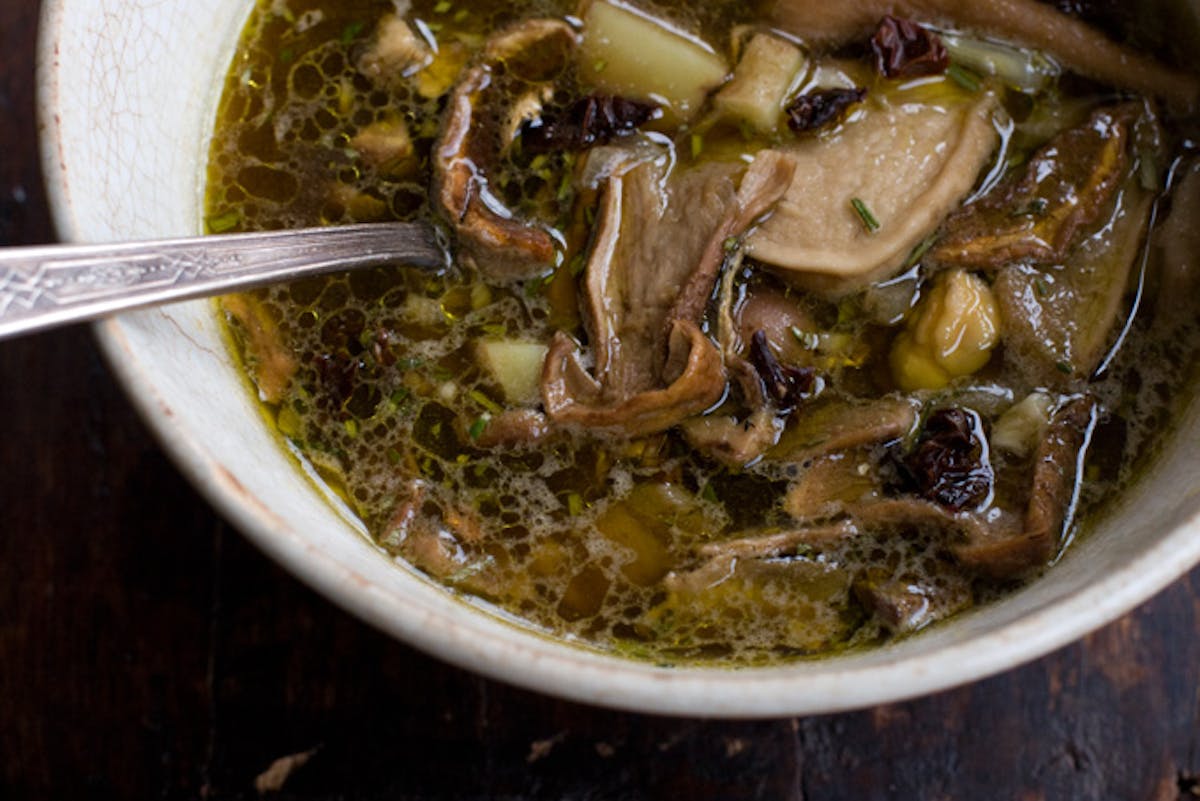 This soup is for the mushroom lovers out there. As I was clearing the cupboards in preparation for the painters the other day, I came across a small bag of beautiful dried porcini mushrooms. The soup I ended up making is hearty, fragrant, earthy, and simple to prepare. Seven ingredients including potatoes and porcini mushrooms are packed together in an intensely flavorful broth peppered with rosemary and tiny pools of golden olive oil. Just the thing to go along with chunk of butter-kissed garlic bread. Also, (and here's the best part about this soup) it just keeps on giving. I used the mushrooms in tacos the next day for lunch, and later in the evening used the broth and soba noodles, a bit of spinach and some tofu for a quick supper.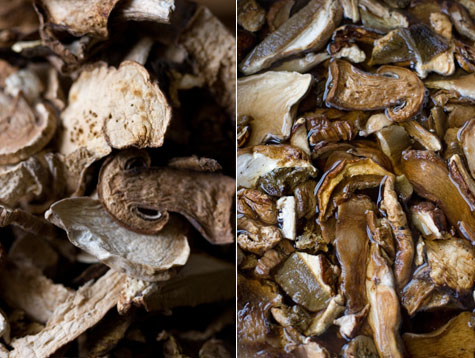 When you go to buy dried porcini mushrooms, try to smell them. I know this might be a challenge (particularly if the bag is sealed), but sometimes the mushrooms are sold in jars. You are after a concentrated mushroom aroma. Avoid anything musty or dusty. Avoid mushrooms that seem crumbly, and avoid any that have little worm holes in them.
Porcini Mushroom Soup
Not everyone loves giant slurpy pieces of mushrooms, if this is you, simply chop the larger porcini into smaller pieces before soaking them. I should mention I decided to add some oven-roasted chestnuts* to this soup as well - totally optional, although they add an unexpected dense, sweetness, and are a traditional pairing with porcini. I also like this soup with a couple handfuls of cooked brown rice or farro or wheat berries thrown in. And most important -getting the salt right in this soup makes all the difference in the world. If you under-salt the soup it will be flat and the mushroom flavor will not come into focus, so be mindful of this. And lastly, when you go to reheat any leftovers, you may need to add a bit of water, and readjust the seasoning again.
2 ounces of dried porcini mushrooms
1/3 cup extra virgin olive oil
3 shallots, chopped
1 tablespoon fresh rosemary, finely chopped
1 1/2 pounds small new potatoes, cut into 1/3-inch pieces
3 large cloves garlic, finely chopped
4 cups water
1 1/2 - 2 teaspoons salt

Extra toppings (optional) freshly grated Parmesan, chopped sun-dried tomatoes, fresh chives or fresh thyme.
Soak the porcini mushrooms in 2 cups of hot water for about 15 minutes, or until they are soft. Set aside.
Heat a splash of the olive oil in a large thick-bottomed pot, saute the shallots for a couple of minutes, then stir in the rosemary and potatoes. Add the remaining olive oil and cook for about 3 minutes. Stir in the garlic, the porcini along with the soaking liquid, the 4 cups of water, and salt. Bring to a simmer and cook for ten minutes, or until the potatoes are tender. Taste. If the broth is too intense, you may want to add more water a bit at a time. And take care to get the salt right as well, it's important in a simple soup like this.
Serve as is or topped with any number of the ingredients I listed up above.
Serves 4-6.
*To oven-roast chestnuts, heat the oven to 400F. Prepare the chestnuts by setting them flat-side down. Now carefully cut a small 'x' into the round side of each chestnut - to allow steam to escape as they are roasting in the oven. Place them in a single layer on a baking sheet and bake cut side up, for about 20 minutes or until fragrant and the edges of the 'x' cuts begin to peel back a bit. Remove from oven, let cool, peel, and cut into quarters. I always roast a few extra chestnuts while I'm at it in case there are a couple that are off or moldy when you go to peel them.