Potato Crouton Recipe
Golden, crisped potato crouton recipe. Great in place of bread croutons in soups and salads.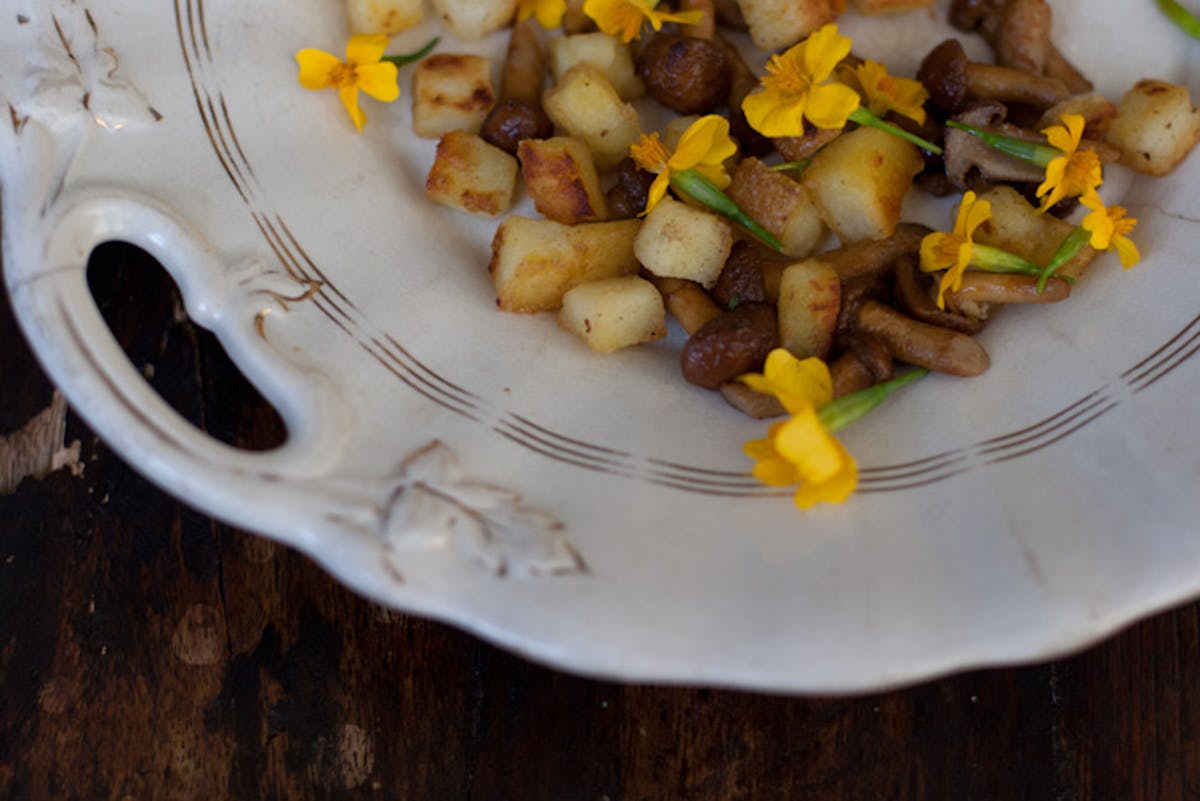 I like a bit of crunch in my soups, and I'm sure I'm not alone. More often than not, the crunch comes in the form of a bready crouton. I was forced to rethink my favorite crouton recipe late one night a couple years back - I had a nice pot of soup simmering, and no baguette in sight. Lacking any sort of bread product to toast into a crouton, I scanned my kitchen and focused on a lonely sweet potato. That night I cut the sweet potato into tiny cubes and crisped the little guys in a skillet before sprinkling them across bowls brimming with a hearty, curried wild rice soup. Delicious. I ended up including the sweet potato crouton recipe (and the soup!) in my book, and began thinking of all the other ways to bring crunch to my favorite soups and salads. I wanted to share this story with you not only because a new recipe came out of the experience, but also because it was an example of how being limited can force you out of typical cooking routines, and help spark creative discoveries.
After the sweet potato experiment I started thinking about other things that might excel in the role of crouton, and have since come up with a whole palette ingredients that I turn to. The most exciting benefit of broadening my crouton palette has been my ability to now bring more seasonal texture to many of my recipes. I'm also able to explore more interesting flavor combinations. The other bonus, is that these actually take LESS time to make than bread-based croutons, for those of you concerned about time commitment.
So....more than anything else, I thought this post might spark creative inspiration in your own kitchens - starting with the humble crouton. Since my sweet potato experiment I've crisped up pans of cubed summer pattypan squash, all variety of potatoes, marinated tofu cubes, and Halloumi cheese. Let me know if you have other alternative crouton recipe ideas - I can't wait to read what you come up with. You all blew me away with your shortbread recipe ideas the last time around!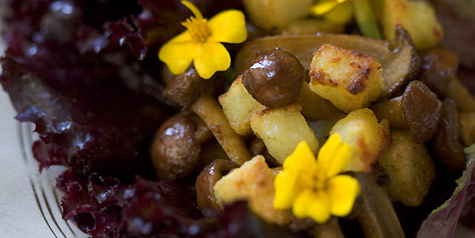 I've included a basic potato crouton recipe below, but I encourage you to try the sweet potato version later in the year as well! This time around (see photos), I simply threw some beautiful Nameko mushrooms from Far West Funghi into the hot skillet at the last minute, and served it with the "croutons" on top of some beautiful, lightly dressed purple salad greens topped with few pretty-and-edible marigolds from White Crane Springs Ranch.
Potato Crouton Recipe
The key is cutting potatoes into tiny cubes so they cook quickly. Less starchy potatoes work better than starchy potatoes - I've experienced good results with the purple Peruvians potatoes and some of the smaller new potatoes. Russets and the like will work, they just turn out a but gluey before they eventually crisp up. If you do a big batch of these, I suspect they will freeze well. I froze the leftovers from this batch and will give a go at reheating them. I know 1/3-inch dice is a strange size to call for in a recipe, but 1/4-inch seems too small for me, and 1/2-inch too big. You can also substitute sweet potatoes or summer patty pan squash for the potatoes.
scant 1 tablespoon extra virgin olive oil
1 1/2 cups potatoes, 1/3-inch dice
pinch of salt
1 garlic clove, minced (optional)
Heat the olive oil over medium heat in a skillet. Add the potatoes and toss so they are coated with the oil. Sprinkle with the salt. Now cover the skillet and let the potatoes cook through, this will take about three minutes. The water in the potatoes will help steam and soften them. When the potatoes are just cooked through ( not mushy or falling apart) remove the lid and give them a good toss. Turn up the heat to medium-high and stir every minute or so until the potatoes look golden and crispy. Add the garlic about halfway through the browning process if you like. Season with more salt to taste. Let cool a bit before using on salads to avoid wilting the leaves.
Makes 1 1/2 cups of potato croutons.