Printing a Cookbook
I went to see where Near & Far was being printed because, more than anything else, I was curious. I had an idea of what happens when a cookbook goes to the printer, a general concept of what it might be like, but at the end of the day, I really had no clue.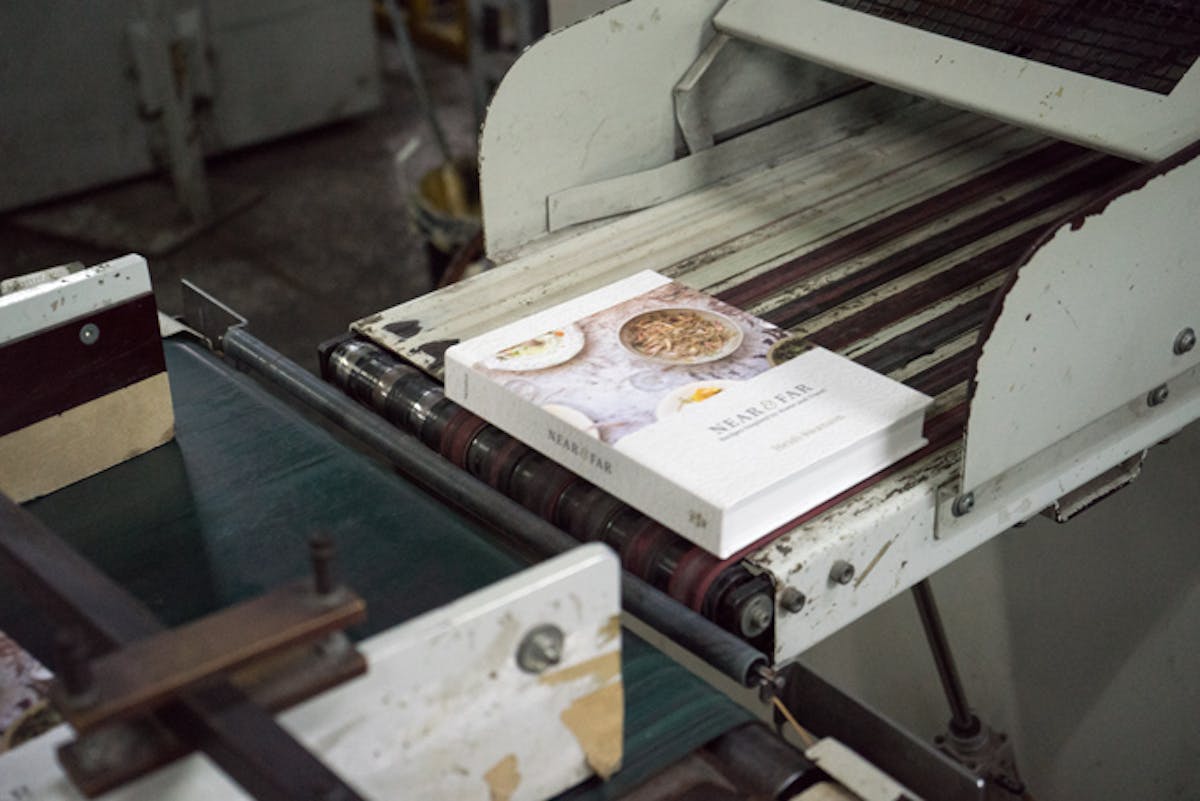 Settle in for a longer post than usual - this one covers some territory. I took a bit of a field trip a couple of weeks back. I went to see where my book was being printed because, more than anything else, I was curious. I had an idea of what happens when a cookbook goes to the printer, a general concept of what it might be like, but at the end of the day, I really had no clue. I spent twelve hours at a printer far from home, with a group of individuals who care deeply about how books are made, and I walked away with my understanding of the whole process flipped on its head. Let me start again. I thought I was flying to Hong Kong to see Near & Far "at the printer", but I now understand "printer" isn't the right term. I saw Near & Far at the bookmaker. Printing is just a fraction of what transpires in the final part of the bookmaking process.
For those of you who are jumping in here, I've been writing, on occasion, about my process related to a cookbook I've been working on for the past few years: Near & Far: Recipes Inspired by Home and Travel. You can read other posts here, here, and here. I flew to Hong Kong with Serena Sigona, Senior Production Manager at Ten Speed Press to spend time at C & C Joint Printing Co. C & C is a historic (100+ year-old) printing company, known for being progressive on many fronts, and producing some of the best art, photography, cookbooks, and intricately designed titles available. On my radar: Polpo, The Andy Warhol Catalogue Raisonné, Christine Manfield's Tasting India, and Taschen's Palmeras. This is in addition to a lot of work they've done with smaller independent imprints producing beautiful, limited editions. I was excited to have Near & Far in their hands. They're known to be technically on point, creatively adventurous, and, when it comes producing highest quality, four-color, illustrated books, a dream partner.
So, let's talk more about making books. Each book has a different creation cycle. Mine started in the physical world - the ingredients, smells, and textures of my kitchen, the film and slides from my cameras, and the food on my table. It then evolved, and shape-shifted in different ways to exist in the computer world - Word files, TIFF photo files, everything in pixels, everything digitized. This is what I relay to Ten Speed Press, they work on the files, and eventually, over many months, the files are approved by author, publisher, and printer. I think the process starts to get hazy at this point for most authors. They've been working towards the date when their files are sent to the printer, it happens, and at some point (weeks or months later) an example of their finished book arrives in the mail. I was interested in understanding more about what goes on during that vague period, and I have to tell you, I was completely fascinated by what I saw.
The amount of steps in the bookmaking process - the care, hand work, attention, experience needed, all of it was deeply humbling. People make these books - not giant machines, or factories. Skilled people. Yes, there are a bunch of crazy machines and tools in the process, but whether or not your book emerges as you imagined, is very much about the people, and the collaboration between the publisher, the place your book is made, and the individuals attending to each step. My book was in the binding process when I arrived. This means all sorts of things had already taken place, in different stages, and at different stations. For example: all of my pages had been proofed, printed, and trimmed. Take a look at the shot below. Those are the cover cases ready to receive the block of pages. But look more closely in the bottom left corner. You can see the way the cardboard has been cut into three pieces - front cover, back cover and spine. That happens at one station, those pieces are then wrapped and glued with the cover material at another station. My cover has a slight deboss texture, that happens at yet another station on another machine. So, as you walk around the floor, all the stations are working on different books at various stages in their production. I spied some INCREDIBLE books on deck for this Fall.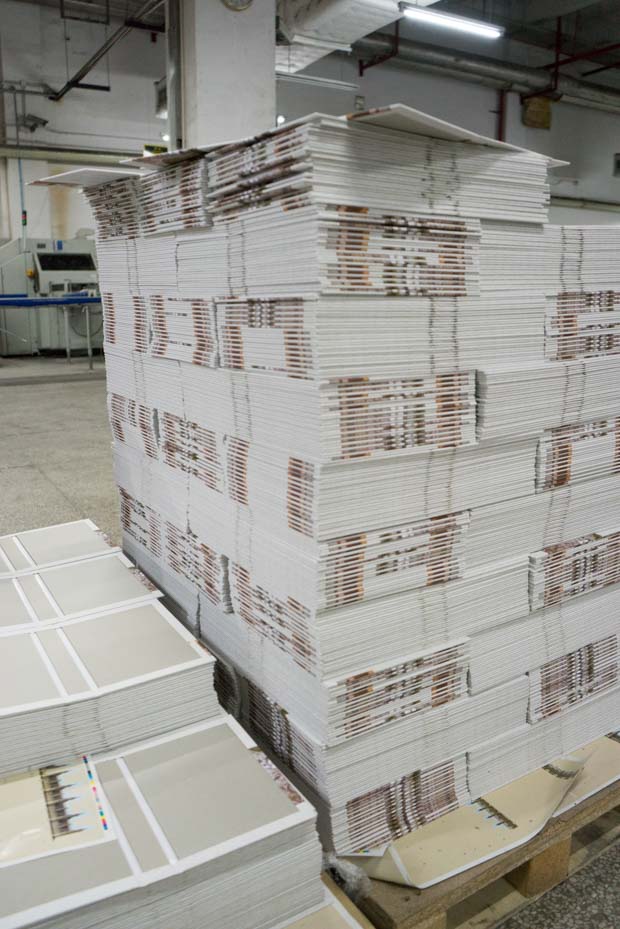 Cover cases stacked and ready to be fed into a hopper.
There were some fascinating machines to see. Over the course of the day a sampling of the machines I saw included: case maker machine, paper cutting machine (across the way from what must have been the world's largest blade sharpener), binding strength testing machine, paper folding machine, shipping container heat emulating machine, laminating machine, metallic press, die-cut making jigsaw, and on and on. Check out this machine below, it stitches the folded and stacked signatures (folded pages) together in preparation for the final binding process. If your book or project doesn't fit on one of the machines, for example, if it is too large or too small, it might be hand-stitched. Same thing goes for any step in the process - if you're only doing a small run of books, it might be produced almost entirely by hand.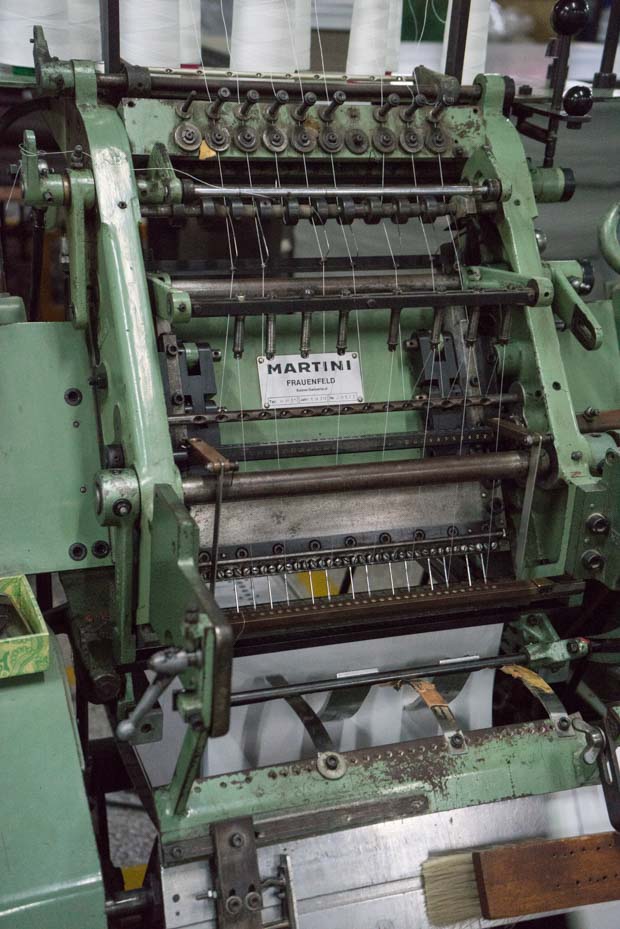 Below - the signatures have been folded, stitched and now glued together, and are here on a conveyer belt just before being paired with the aforementioned Near & Far cover cases.
I posted a short video of this stage - after the pairing of cover case and pages, the books emerge, are looked over, and are stacked on palettes. It's a real book!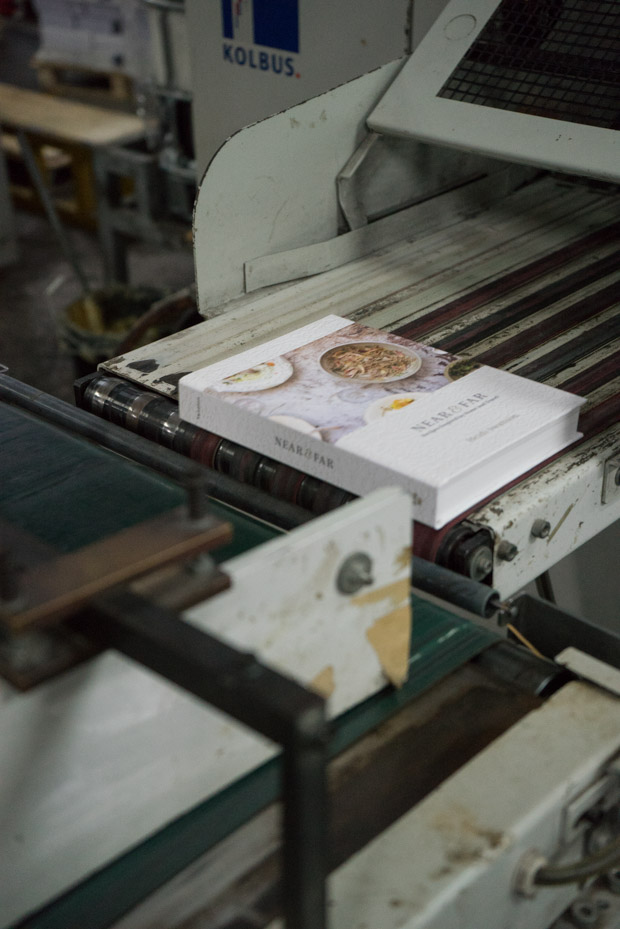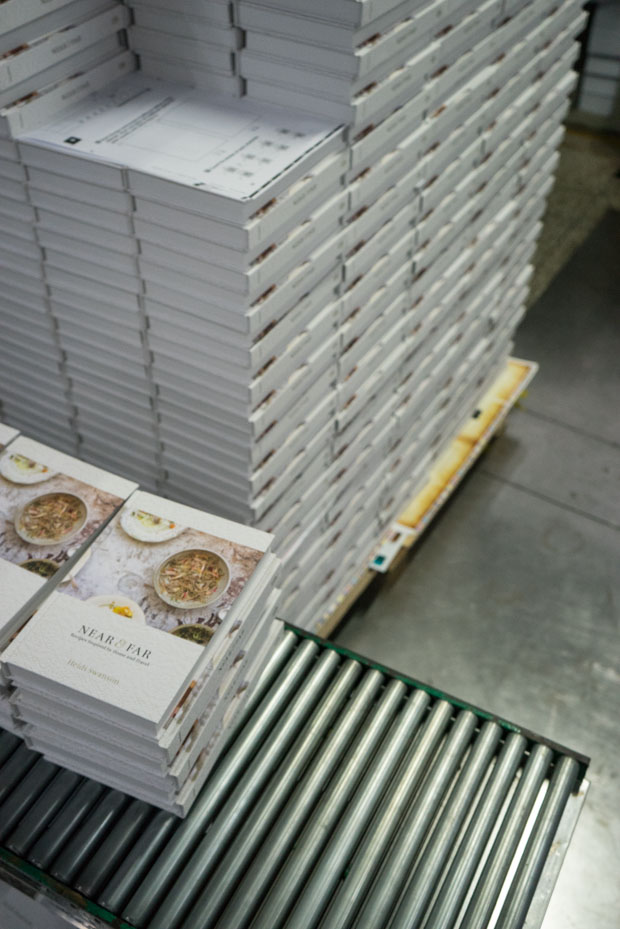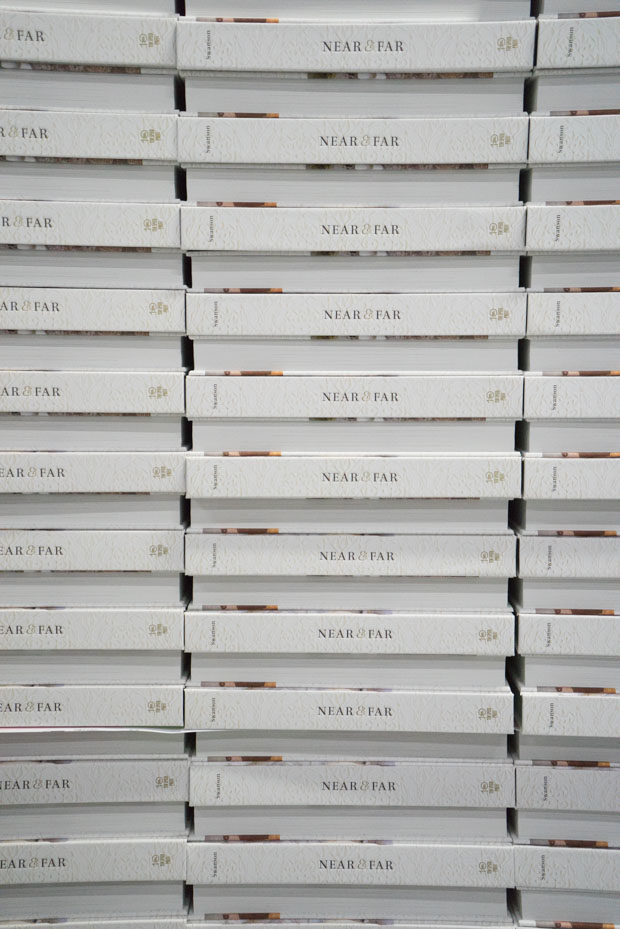 Below - Paper samples. Authors are rarely involved in choosing where their books are printed. It's my understanding that publishers typically rely on a network of printers, often a combination of domestic and overseas. Some of the considerations are: ability of a printer to produce to a book's creative and technical specification, timeline for reprints, four color vs b/w (or one-color), cost, available paper stock, ability to get on a printer's schedule - it goes on and on. For example, below, you see a sampling of paper stocks. There is different paper availability at different printers, you want to be sure your paper will be available immediately if you need to do another print run.
Below - These are cover/case remnants. Early in any book process, publishers often request "dummy books" from the printer. These are one-of-a-kind "example" books made to a publisher's specification. It's a white book of whatever trim size you like, filled with blank pages of the paper you are considering. At C & C they're made, by hand, at a table of friendly ladies. The blank books are great to have because they give you a sense of what a finished book might feel like as a physical object, incredibly helpful. I've carried around a number of dummies for Near & Far over the past few years, and we've made tweaks to the paper weight and trim size because of it. And I can't resist the urge to fill the blank pages. So, these are materials used to make this sort of thing.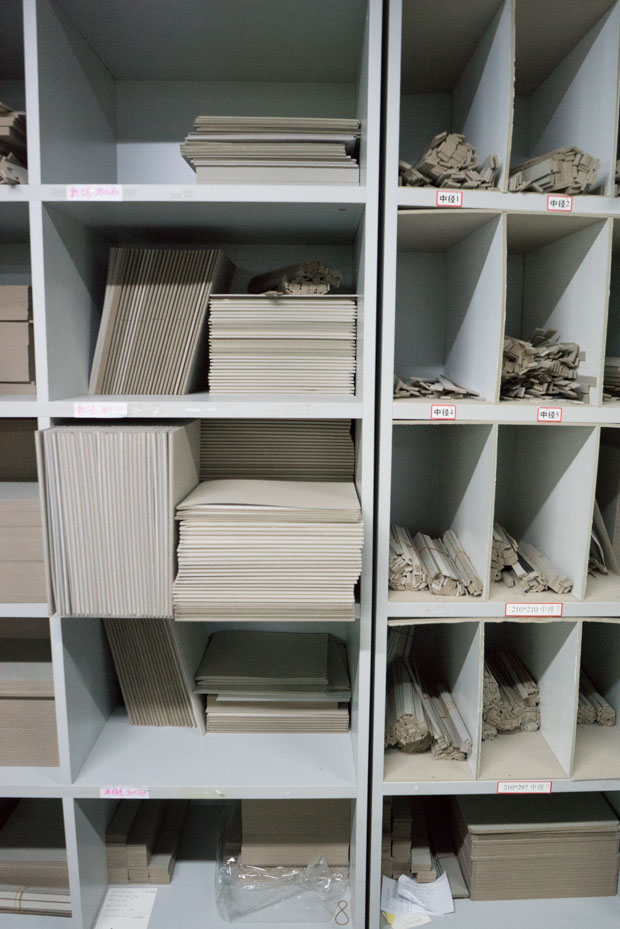 From the front of C & C - as far as scale goes - it reminded me, roughly, of a middle-sized American high school campus. There were the big press rooms, and then offices, workshops, canteen, storage, and a bunch of different task-specific neighborhoods.
Below - A floor plan map of C & C.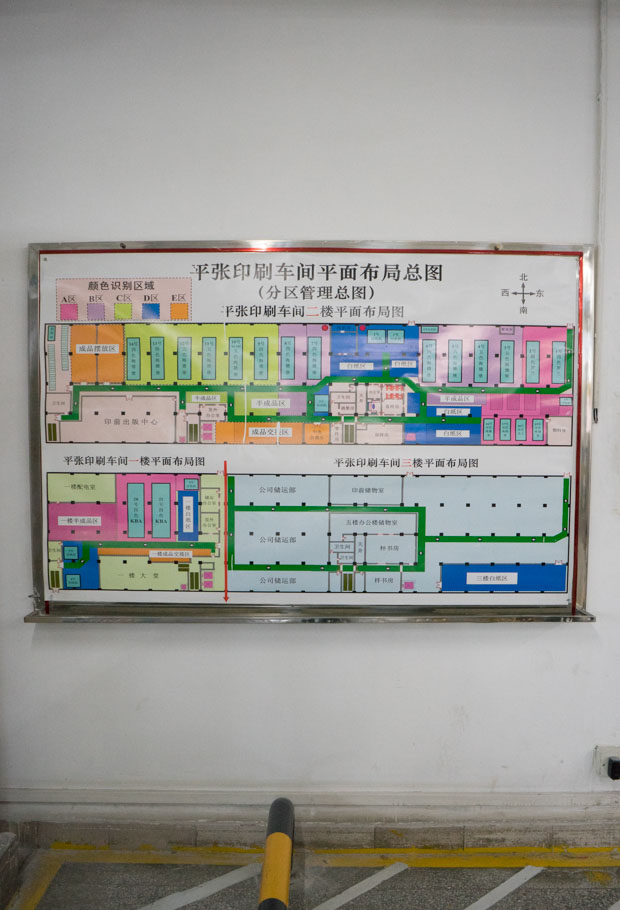 Below - On the factory floor, everyone brings a unique water bottle and keeps it on these shelves. To the right - you know the little bookmark ribbons? These are spools of remnant ribbon.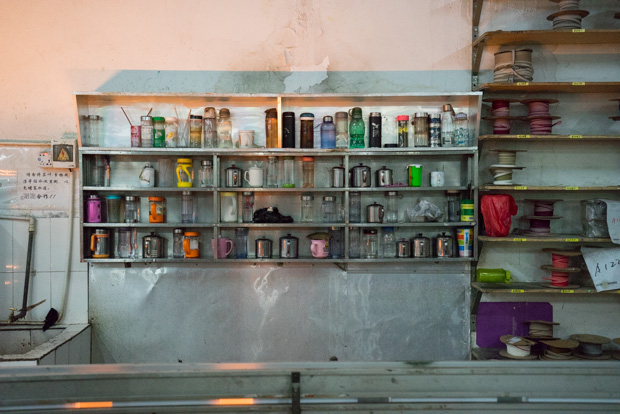 Remnant cover material. You know that canvas-like material that is often under a hardback book's paper cover? This is what it looks like before it is glued on the cardboard structure of the book.
Below - The big guns. This is one of (I think four?) big, offset presses at C & C. The new Heath Ceramics book was on this exact press at this exact moment, and it looked beautiful.
Below - covers being made.
Below - one of the workshops where some of the hand work happens. These were special covers being made for a small print run. If you look closely in the back, you can see a woman with an incredible wide brush used for gluing. I took a closer shot of it down below. I think I'd like to go back and just look more closely at all the amazing little tools, brushes, and devices that are used in their bookmaking process - so much of the work is very detailed and precise.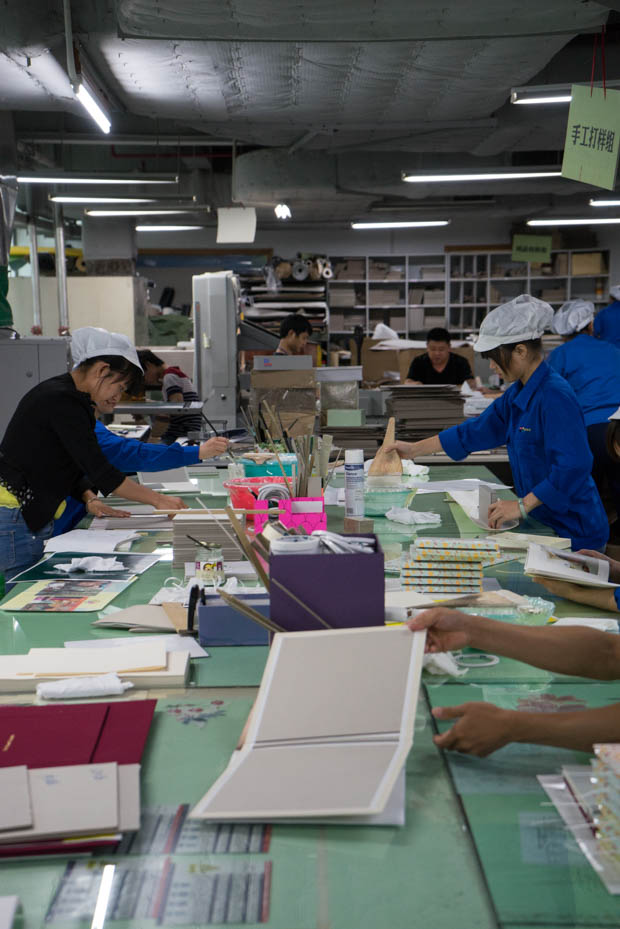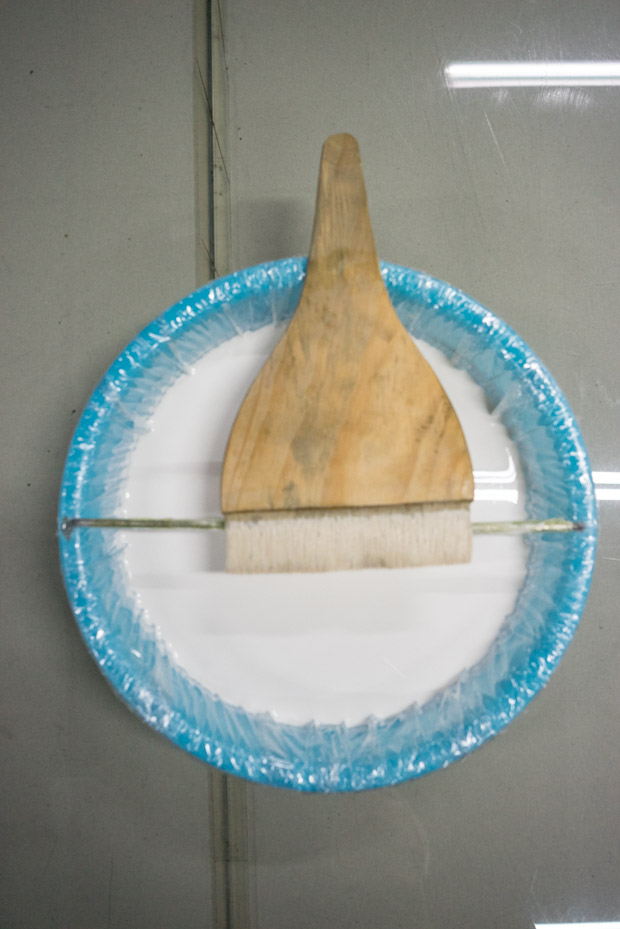 Below - One of the things that has always been important to me professionally is to be able to collaborate with individuals who are inspiring. I also tend to be friends with many of the people I work with over long periods of time, so I think about that as well. Nice, generous, easy to spend time with, curious - all important to me. This was my crew at C & C, and they checked all the boxes - Ken, Margaret, Viviana, Serena, (Me), Quenton. They were the best, and it meant a lot to me that they took so much time to share the details of their work with me. I hope I get to go back someday to understand the process even more, maybe on a future book. And I hope I have an opportunity to show them what I love about San Francisco at some point soon.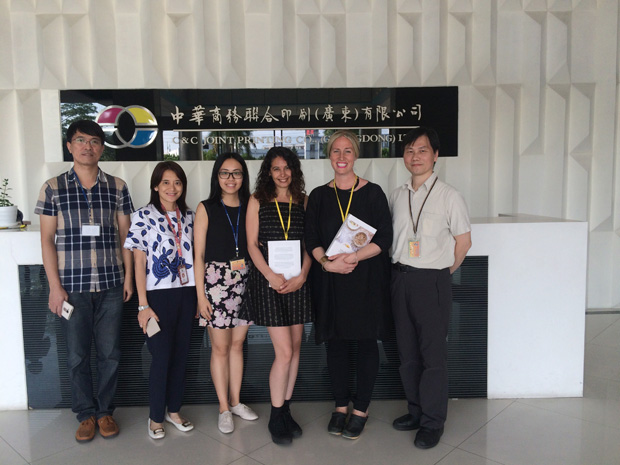 Near & Far Series:
- A New Cookbook
- Writing a Cookbook Proposal
- Making a Cookbook
- Printing a Cookbook (this post)