Quinoa Cloud Cookies Recipe
Cookies made from toasted quinoa and wheat flours, flecked with chocolate shavings, rolled and stamped into cloud shapes.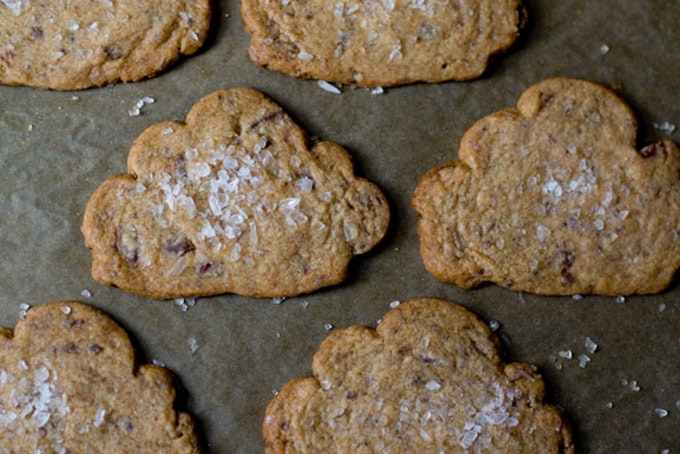 It's spring here. I know because I'm standing in my kitchen, looking out onto the porch, watching a robin gather bundles of dried grass (from a neglected planter) to use as bedding in her nest. I was feeling bad about the state of my patio garden, but this makes me feel a bit better. I'm watching the robin, the sun is out, and I have a batch of cloud-shaped cookies in the oven. Even better, I'm excited to finally put my hand-crafted cookie cutter from Herriott Grace to use.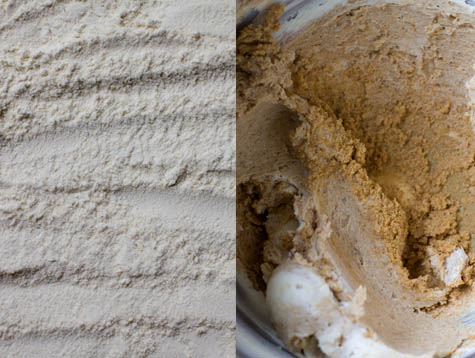 The inspiration for these cookies came from a quinoa shortbread recipe in a new cookbook focused exclusively on cooking with quinoa - Quinoa 365. Whitecap sent me a copy, rightly thinking I'd enjoy the ideas and recipes in it (the photography is quite nice as well). The quinoa shortbread recipe caught my attention, many people use rice flour in their shortbread to achieve a more crunchy shortbread texture, so making a shortbread with quinoa flour made sense to me. Both are gluten-free flours that crisp up nicely in certain preparations. So, although I made some pretty significant changes to my version of the cookies (mainly in relation to technique, measurements, ingredients I had on hand), they were certainly inspired by Patricia and Carolyn's version.
One of the things that makes these cookies great is toasting the flours ahead of time. It's one of those steps that takes a bit of time, but is well worth it. The resulting cookies are buttery, nutty, and rich. They are good after cooling and settling a bit, but best the next day (after sitting on the counter uncovered over-night). The flavor and texture seem to come together after spending the night together.
I think it may be obvious, but because of the shade of the quinoa flour and the flecks of chocolate shavings, these clouds are of the stormy variety. And, I know not many of you have cloud-shaped cookie cutters - you can certainly cut these into whatever shapes you like.
Quinoa Cloud Cookies
I know some people like to toast flours in the oven, but I find toasting them in a large skillet gives me more control, resulting in even browning, less occurrences of burning. Also, avoid big chunks of chocolate, it makes it hard to roll out the dough into uniform thickness.
3/4 cup / 3.5 oz / 100g quinoa flour
1 cup / 5 oz / 145 g all-purpose flour
1/2 teaspoon fine grain sea salt
1 cup / 8 oz / 225g unsalted butter, room temperature

1 cup / 5 oz / 140 g sifted fine-grain natural cane sugar (or light brown sugar)
1/2 cup / 2.5 oz / 70 g shaved chocolate
3 tablespoons large-grain sugar flakes (or turbinado)
Combine the flours in your largest skillet over medium heat. Toast the flour stirring constantly, until they get slightly golden and fragrant. If the flour takes on an acrid smell you've likely gone too far, or the pan is too hot. Remove from heat, sift the flours into a bowl, add the salt, then place in the refrigerator or freezer for 10 minutes or so to facilitate cooling.
Cream the butter either by hand or using an electric mixer. Add the sugar, then cream some more, scraping the sides of the bowl a couple times along the way. Stir in the flour until it is just incorporated, then stir in the chocolate shavings.
Gather the dough into a ball, flatten into a 1/2-inch thick patty, wrap, and place in the refrigerator to chill - roughly 45 minutes.
In the meantime, preheat oven to 350F / 180C, placing racks in the center. And line a baking sheet (or two) with parchment paper, and set aside.
After the dough has chilled, roll it out on a lightly floured counter-top 1/4-inch thick. Cut into desired shapes, sprinkle with the big sugar grains, and place at least 1 1/2-inches apart on the prepared baking sheet. Bake for 12 - 14 minutes, until the bottoms of the cookies are nicely golden. Remove and let cool for 10 minutes before moving to a cooling rack.
Makes 12+ large cloud cookies. Your yield will vary depending on your cutter shape.
Prep time: 60 minutes - Cook time: 15 minutes