Roasted Delicata Squash Salad Recipe
I used my friend Molly Watson's recipe as a jumping off point here, and ended up with a roasted squash salad of sorts. It uses the pretty, scalloped-edged cross-cuts of the delicata squash, a few small potatoes, chopped kale, radishes, Marcona almonds - and a bold miso harissa dressing.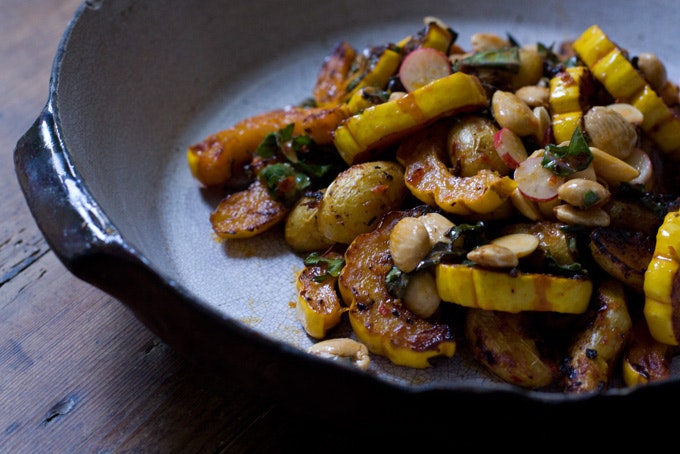 I have Molly Watson to thank for the inspiration here. A while back she posted a recipe featuring a miso-harissa slathered roasted delicata squash. Quite frankly, a combination of ingredients that had never crossed my mind. Building on her idea, I decided to do a roasted squash salad of sorts. I used the pretty, scalloped-edged cross-cuts of the delicata squash, a few small potatoes, chopped kale, radishes, Marcona almonds - and her miso/harissa idea. You know it was good, right? It really was. The flavor was bold and vibrant and it was a breeze to make - no need to peel this type of squash. The vibrant yellow-rimmed slices along with pink-skinned radishes and flecks of green kale were a nice way to bring some color to the winter table.
I suspect you could do endless riffs on this depending on what you have on hand, or what is in season. I hapened to grab for the kale to get some green in the mix, and the nuts for their texture and crunch, but feel free to play around with general idea.
Thank you Molly for the inspiration, lunch is on me next week ;)...
Miso Harissa Delicata Squash
1/2 pound / 8 oz / 230 g small fingerling potatoes, washed and dried

3/4 pound / 12 oz / 340 g delicata squash
1/4 cup / 60 ml extra virgin olive oil
scant 1/4 cup / 50 ml white miso
scant 1 tablespoon harissa paste
3 tablespoons freshly squeezed lemon juice

1 1/2 ounce / 45 g kale, de-stemmed and finely chopped

4 radishes, very thinly sliced
1 1/2 ounces / 45g Marcona almonds, toasted pepitas, or other toasted nuts
Preheat the oven to 400F / 200C degrees. If the potatoes aren't tiny, slice them into pieces no larger than your thumb. Cut the delicata squash in half length-wise, and use a spoon to clear out all the seeds. Cut into 1/2-inch wide half-moons. You can leave the peel on these squash.
In a small bowl whisk together olive oil, miso, harissa. Place the potatoes and squash in a large bowl with 1/3 cup / 80 ml of the miso-harissa oil. Use your hands to toss well, then turn everything out onto a baking sheet. Bake until everything is baked through and browned, about 25-30 minutes. Toss once or twice along the way after things start to brown a bit. Keep an eye on things though, you can go from browned to burned in a flash.
In the meantime, whisk the lemon juice into the remaining miso-harissa oil. Taste, it should be intensely flavorful, but if yours is too spicy or salty, you can dilute it with a bit more olive oil or lemon juice. Stir the kale into the leftover dressing and set aside.
Place the warm roasted vegetables in a bowl and toss with the kale mixture, radishes, and almonds.
Serves 2 to 4.

Prep time: 10 minutes - Cook time: 30 minutes