Miso Sesame Winter Squash Recipe
Inspired by a recipe in Bryant Terry's new cookbook, The Inspired Vegan. Roasted winter squash (and tofu) with a miso, maple, sesame, citrus sauce.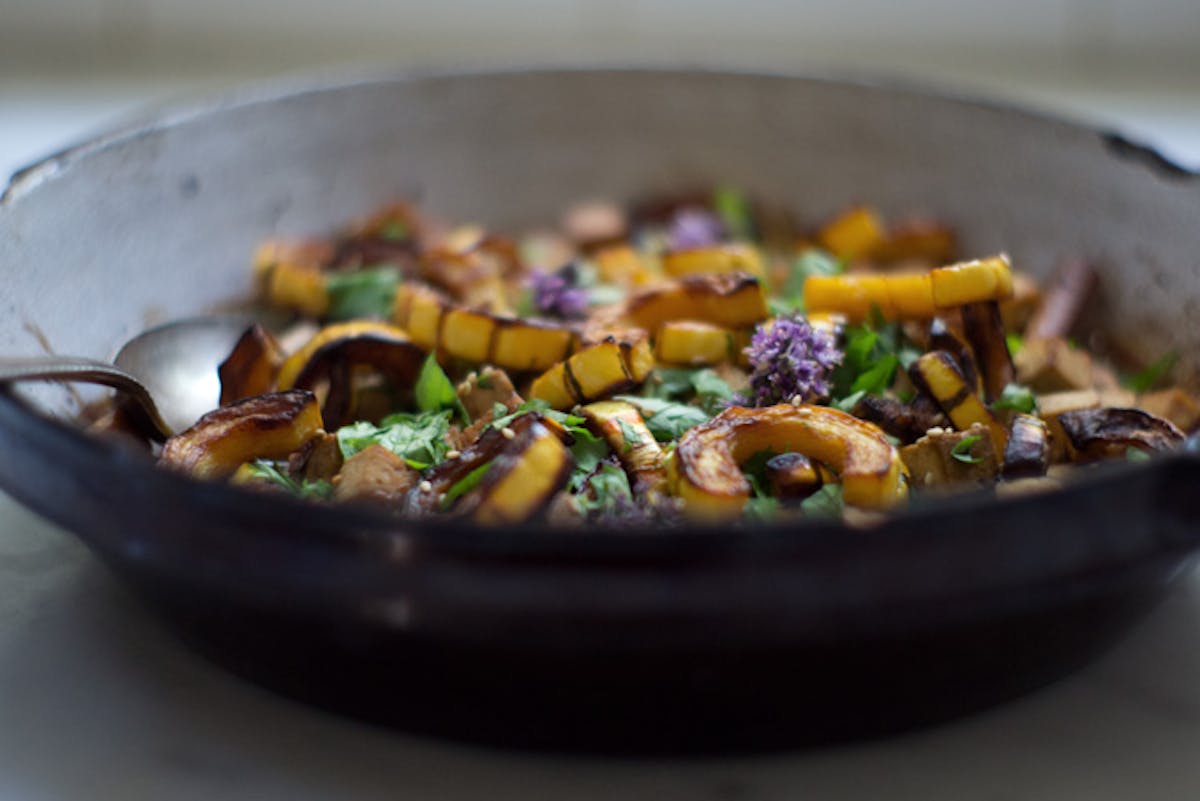 In the last week I've done a bunch of things. I returned to a vintage shop, just up the street, to buy a pair of old metal kitchen stools (painted a muted shade of robin's egg blue). Someone beat me to it. I baked a granola pound cake (a bit of a miss), brewed two batches of California common, and bought a sack of stinging nettles at the Farmers market to work into the cottage cheese pancakes I can't seem to get enough of. There were three loads of laundry, two runs of the dishwasher, and lots of friends who've stopped by. And I made this Miso Sesame Winter Squash for lunch yesterday.
It's a riff on one of the recipes in Bryant Terry's new cookbook - his Molasses, Miso, and Maple Candied Sweet Potatoes. I swapped in some delicata squash and tofu for his sweet potatoes, and had myself a pretty spectacular one-pan meal. I'm a big fan of Bryant's recipes (remember these?) They're always flavor-forward, and across the span of a book he tends to pull from a global pantry. He has the ability to put together unexpected flavor combinations, and he's just the sort of person I like to turn to when I need someone to yank me out of one of those occasional culinary ruts every cook finds themselves in.
Here's how today's recipe shapes up. You've got your primary ingredients tossed with a citrus-spiked, maple-molasses marinade of sorts. The sappy sweetness is balanced by the salty complexity of miso and tamari/shoyu, and a toasted sesame backdrop is added for good measure. It works brilliantly. Thinking more about it, I imagine you could use the sauce/marinade to roast any number of ingredients beyond winter squash or sweet potatoes - for ex: tempeh, broccoli, cauliflower. Let me know if you do a take on this that works particularly well.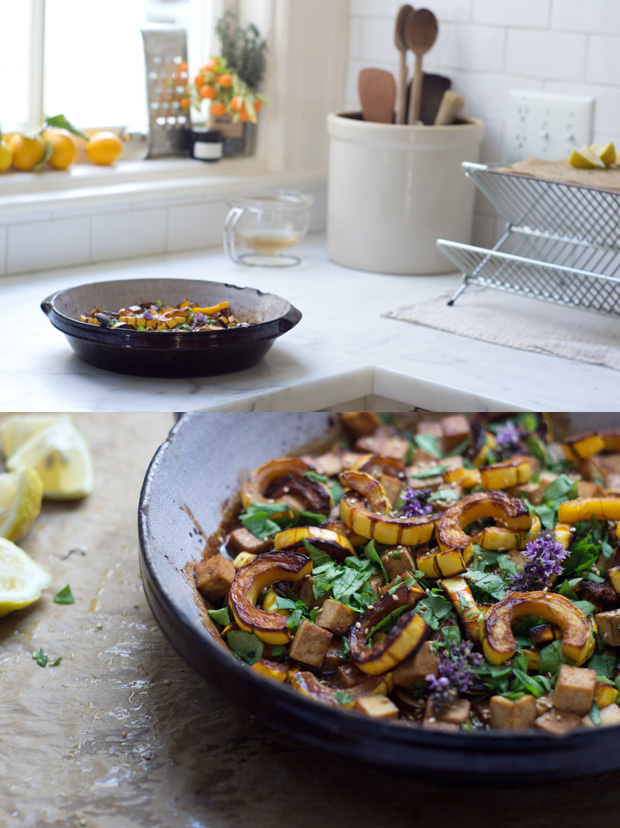 Thanks for the inspiration B. :) Cheers, and congrats on the new book.
Miso Sesame Winter Squash
As I mention up above, I used unpeeled, seeded delicata squash here, but you can use other winter squash. Peel it first though. Bryant uses 2 1/2 lbs. peeled sweet potatoes / no tofu.
2 pounds delicata squash (~3), halved, seeded, and cut into 1/2-inch inch thick pieces

2 tablespoons toasted sesame oil
2 tablespoons molasses
1 teaspoon tamari or shoyu
2 tablespoons pure maple syrup
1 heaping tablespoon white or yellow miso
1/4 cup freshly squeezed orange juice
1 tablespoon freshly squeezed lemon juice
1/4 teaspoon grated lemon zest
5 tablespoons water

8 ounces organic extra-firm tofu, pressed, cut into 1/2-inch cubes

Various toppings: toasted sesame seeds, chopped arugula, basil, basil flowers, lemon wedges
Preheat the oven to 425F / 220C, with a rack in the middle.
In a large bowl, toss the squash with 1 tablespoon of the sesame oil. Spread the squash on a parchment-lined or well-greased baking sheet in a single layer and roast for 40 minutes, turning over with a fork after 20 minutes. Or, until golden on both sides.
In the meantime, in a medium-size bowl, whisk together the molasses, tamari, maple syrup, miso, orange juice, lemon juice, lemon zest, water, and the remaining tablespoon of sesame oil. Add the tofu, toss to coat, and set aside.
When the squash is deeply golden on both sides, remove from the oven.
Transfer the squash to a 2-quart baking dish. Pour the tofu mixture over the squash, and gently toss. Bake, uncovered, for 30 minutes, or until a good amount of the marinade boils off. Toss a couple times along the way. Finish under the boiler if you like, or if you like a bit of extra color on top. Remove from the oven, and season with salt, if needed. Finish with some toasted sesame seeds, chopped arugula, and/or herbs, and serve immediately with lemon wedges on the side (to squeeze on top).
Serves 4-6.
Adapted from the Molasses, Miso, and Maple Candied Sweet Potatoe recipe in Bryant Terry's The Inspired Vegan.
Prep time: 10 minutes - Cook time: 70 minutes