Green Curry Porridge
A green curry porridge to keep you cozy as the weather changes season. This is a great way to use up winter squash and any herbs you have on hand. Rice and coconut milk form the base, and you get a kiss of spicy from serrano chile.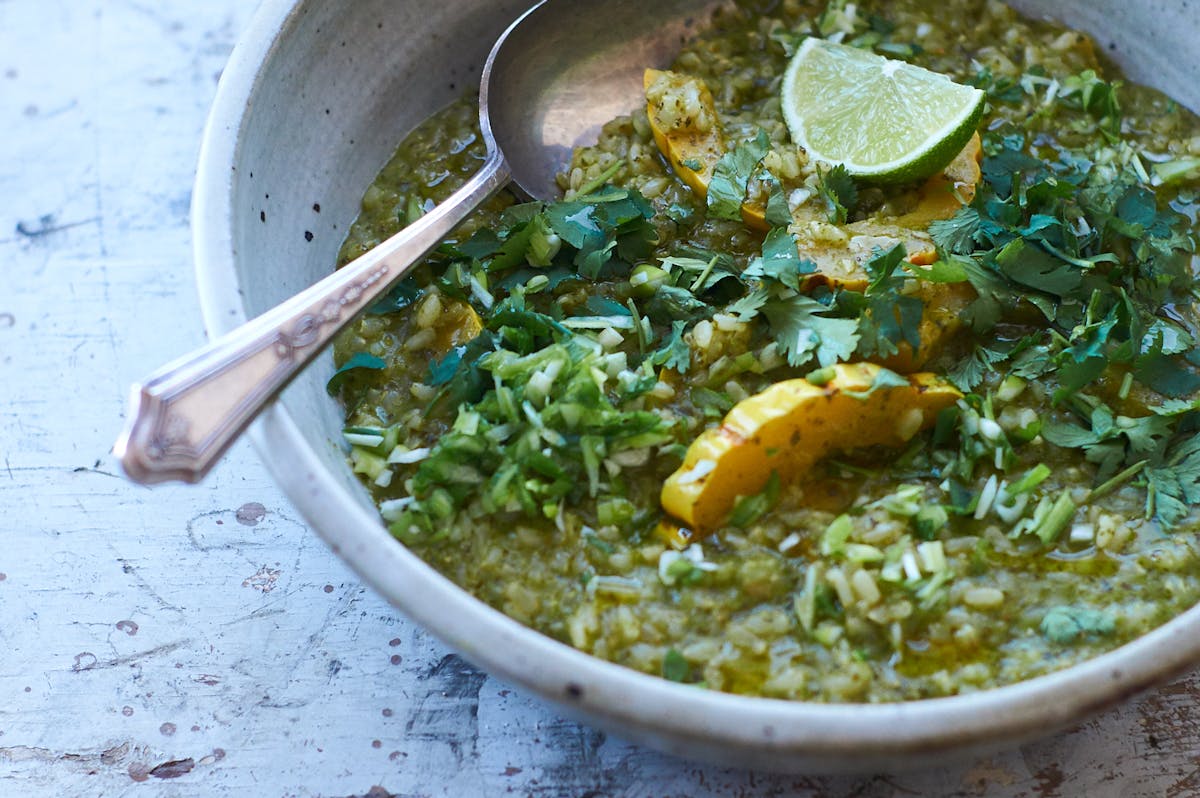 This is a boisterous green curry porridge made with pan-toasted brown rice, spicy herb-packed green coconut broth, all punctuated with winter squash and lots of green onions. It's the kind of bowl that keeps you warm, full, and happy from the inside out.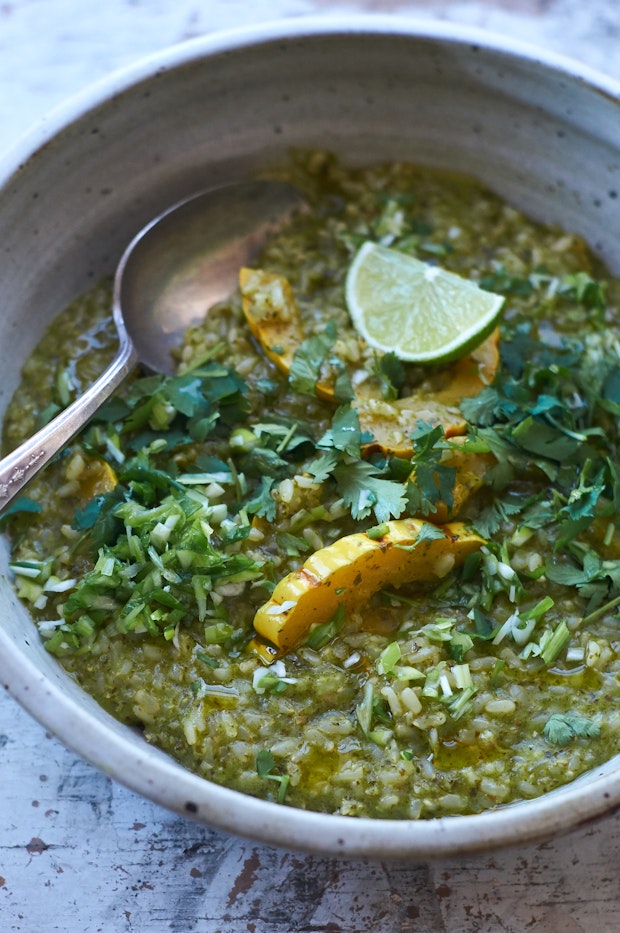 Green Curry Porridge: Variations
A good number of you have made this over the years. Here are a few stand-out riffs on the recipe from the comments. Over here, sometimes we like to serve it with a poached egg on top. Other times we work in some chickpeas and a bit of pan-fried tofu to top things off.
Mix it up! Drops of Jupiter swapped out the rice…"

My boyfriend made this last night substituting rice with a high fibre grain mix (wheat, buckwheat, rice, chinese barley, wild rice) and it was stupendous! we didn't even saute the rice. We used organic veg broth and in place of sorrel, baby spinach and arugula that was lying in the fridge. Eating this for lunch now too as it makes for great leftovers."

Other squash: Claire notes, "

 I used acorn squash, stirred in some tofu, and garnished with chopped peanuts"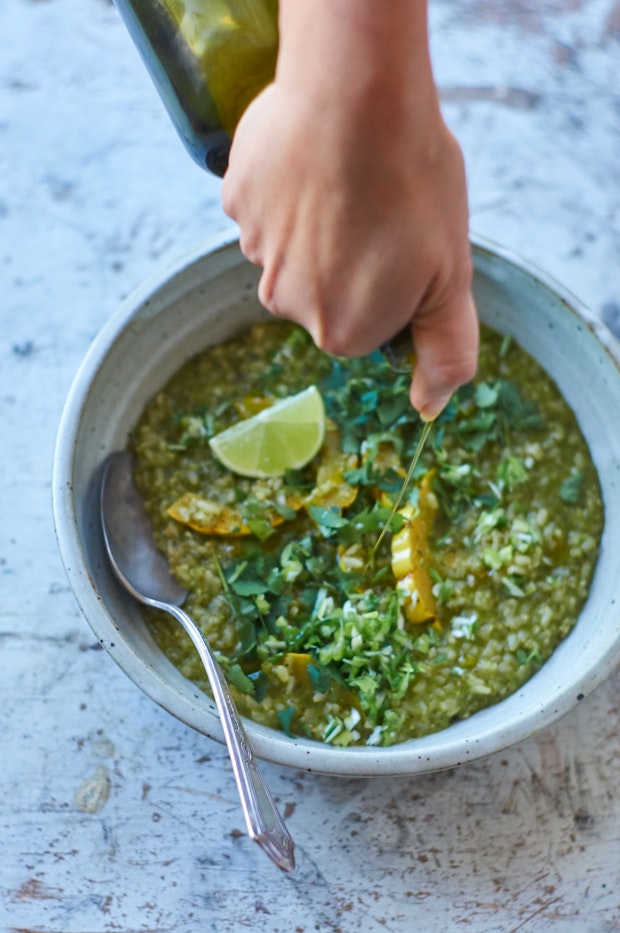 The key with this recipe is to get the seasoning right. If you under salt, it'll be bland. So, pay close attention. You also want it to have nice acidity from a generous squeeze of lime, a kick of spiciness from the chile pepper, and a jolt of green from the sorrel or spinach, cilantro, and green onions. The creamy coconut milk brings it all together. You can dial any of the variables to your liking and, of course, experiment with other toppings.
More delicata squash recipes
More Rice Recipes
Green Curry Porridge
If you remember, soak your rice overnight. Drain before jumping into the recipe. On the sorrel front, use it if you have it! But don't worry if you can't source it. An alternative is to use spinach and a splash of lime juice. If you use a winter squash, something other than delicata squash, consider peeling it first. Also! This recipe can easily be doubled and cooked an extra-large pot. The leftovers are well worth it.
Ingredients
2

tablespoons

extra-virgin olive oil

2

tablespoons

fresh lemongrass, minced

4

medium garlic cloves, minced

1

tablespoon

freshly ground coriander (seeds)

1 3/4

cups

uncooked brown rice

5

cups

water

2 1/2

teaspoons

fine grain sea salt, plus more to taste

1 14-

ounce

can full-fat coconut milk

1

tablespoon

grated ginger, peeled

1

medium serrano chile, stemmed and chopped

1

cup

cilantro, plus more for serving

1

cup

chopped green onions

1

cup

sorrel (or 1 cup spinach + 2 T. lime juice)

1

medium delicata squash, halved, deseeded, cut into thin 1/4-inch thick crescents

For serving: chopped green onions, chopped cilantro, lime wedges, olive oil
Instructions
To a large pot over medium heat, add the olive oil, lemongrass, garlic, coriander, and rice. Stir constantly until the rice kernels are toasted and fragrant, 7-10 minutes. Add the water, slowly, while stirring. The heat will cause the water to bubble. Stir in 2 teaspoons of the salt and bring to a simmer. After 10 minutes or so, stir in the squash. Continue simmering for another 15 minutes or so, until the rice is cooked through and is completely tender. If you see a good amount of split rice grains, you're done.

In the meantime, combine the coconut milk, ginger, serrano chile, cilantro, half of the green onions, sorrel, and remaining 1/2 teaspoon of salt in a high-speed blender. If you don't have a traditional blender, an immersion blender will work here. Blend until smooth, then taste and adjust, if needed.

Add the herbed coconut milk to the porridge. Stir gently, and simmer for another 10 minutes or just until the squash is completely tender. Taste for seasoning and adjust to your liking.

To serve, ladle the porridge into bowls and top each with chopped green onion, a small heap of chopped cilantro, a drizzle of olive oil, and a wedge of lime.
Related Recipes
More Recipes
Popular Ingredients