Sake Mushrooms Recipe
Going through a stack of papers in my kitchen I found a note to myself, a recipe to try. The note simply said: big mushrooms, dunk in sake, dredge in rice flour, sauté, salt, dot with miso butter.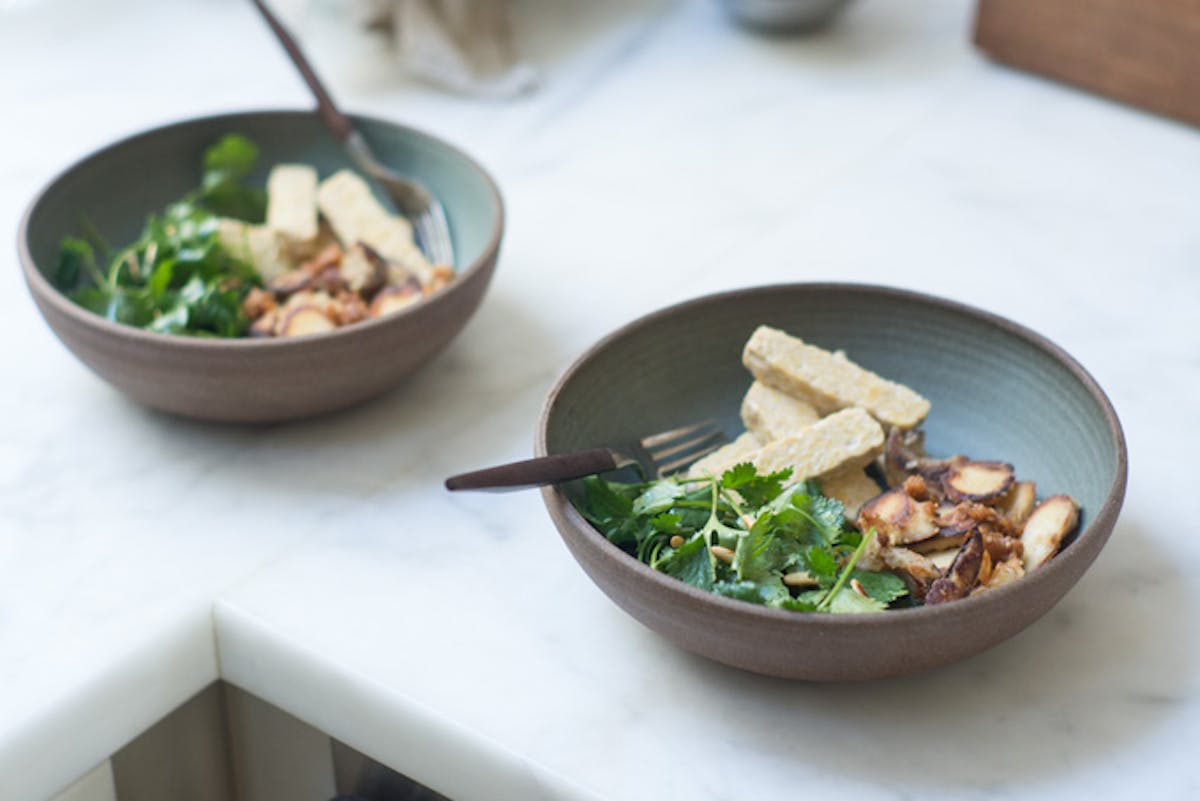 Do you all keep piles of *very important things* around? Bills, notes, magazine clippings - that sort of thing? I do, but inevitably, the most important documents disappear into the depths of the piles. Sadly, I've taken to taping things to the walls of my house. It's a last ditch effort to keep important things in my line of sight. Any flat surface is fair game - walls, cupboards, doors. I regularly go through the piles, take the most pressing items from said pile, and attach them to the wall. Sometimes I find real gems! For example, I was going through my kitchen stack the other day, and found a note to myself, a recipe to try. The note simply said: big mushrooms, dunk in sake, dredge in rice flour, sauté, salt, dot with miso butter. Bruce Cole via Hank Shaw. I can't remember if I encountered it on Bruce's instagram feed (probably), but it sounded like a great idea.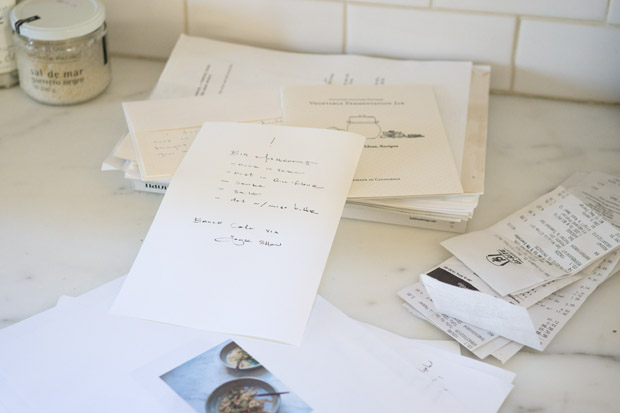 I used my little note as a jumping off point. The mushrooms came together quickly, and I served them as part of a larger bowl. I tossed some cilantro with a bit of olive oil and shoyu/soy sauce, and then pine nuts as the salad component. Then steamed some tempeh while the mushrooms where cooking. All in all, an incredibly satisfying meal. The mushrooms become golden-crusted, tender fleshed coins of more, please. They're the sort of thing you might use to top a salad, or a tangle of soba noodles, or -- if you want to head out on the decadence spectrum - a dip in a bowl of yuzu aioli would do the job.
Thanks for the inspiration guys! xo - h

Sake Mushrooms
You can also use the same technique with a dry white wine and regular flour - ingredients typical in many pantries. Also, Eric Gower noted in the comments below a fantastic suggestion - grind up raw rice using a mortar and pestle, and use that for a nice crust in place of the rice flour. I used king trumpet mushrooms here, but most mushrooms you can slice into flat slabs would work nicely - the more flat surface you have, the more tasty browning you'll get.
1 cup of rice flour
scant 1/2 teaspoon fine grain sea salt
8 ounces mushrooms, sliced 1/3-inch thick
1 cup of sake
1 tablespoon extra virgin olive oil
1 tablespoon unsalted butter

Miso Butter:

1 tablespoon room temperature butter
2 teaspoons miso
1 teaspoon toasted sesame seeds
Combine the rice flour and salt in a wide, shallow bowl. Dunk each mushroom slice in sake, dredge in rice flour, shake of any loose flour and arrange on a plate or rack. Repeat until all of the mushrooms are coated.
In your largest, widest skillet over medium-high heat, heat the olive oil and butter. Arrange the mushrooms in a single layer in the skillet, and allow to cook until the bottoms are deeply golden. Use a thin metal spatula to flip the mushrooms, and cook the other side until golden as well.
While the mushrooms are cooking make the miso butter by combining the room-temperature butter, miso (I used a red miso here), and sesame seeds in a small bowl. Mix until uniform.
Serve the mushrooms dotted with miso butter, on their own, or as part of a bowl*.

*I served the mushrooms in a bowl along a few strips of tempeh steamed for 5 minutes, drizzled with a touch of shoyu/soy sauce, and a cilantro salad. The cilantro salad was made with a particularly vibrant bunch of cilantro trimmed of any raggy ends, and picked over for any wilted leaves. Wash and dry well, toss with a splash of olive oil, a drizzle of shoyu/soy sauce, and sprinkled with a handful of toasted pine nuts.

Serves 2-4.
Prep time: 5 minutes - Cook time: 10 minutes