Sesame Banana Bread Recipe
A banana bread absolutely packed with sesame seeds, made with a blend of whole wheat and white flour, yogurt, ripe bananas, and lemon zest.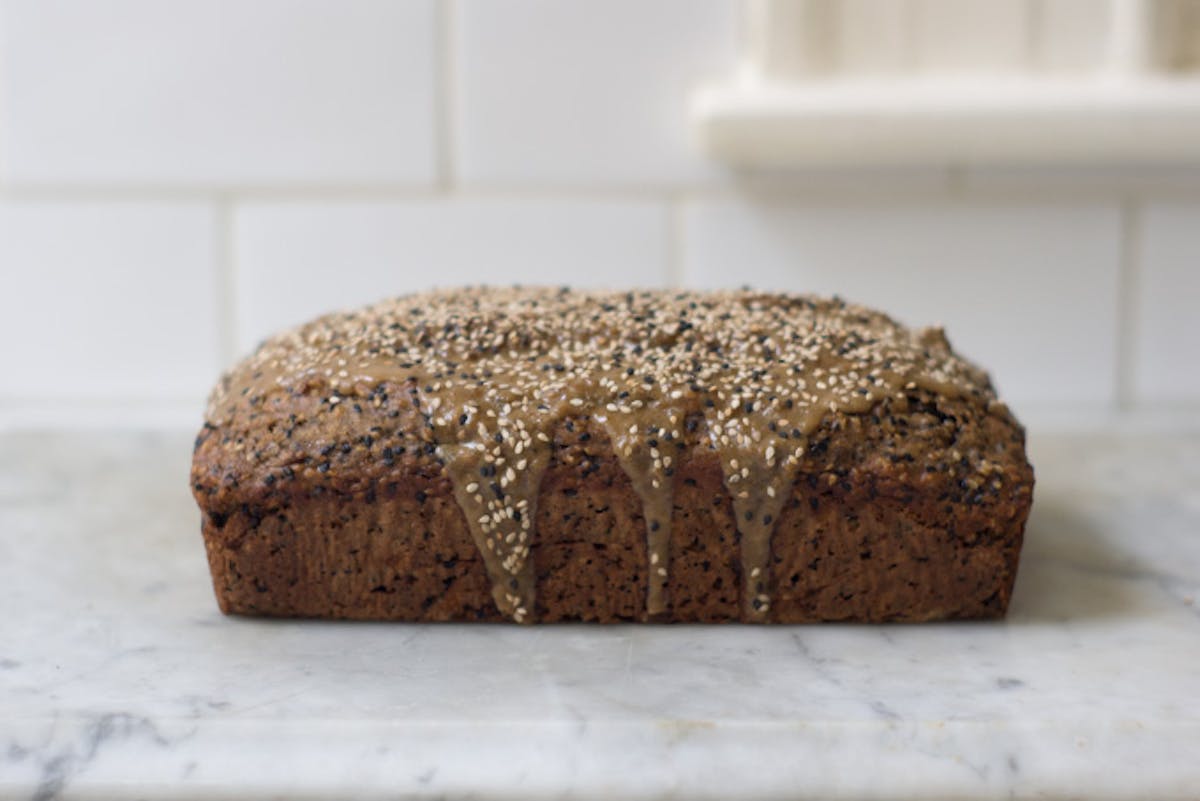 I brought this twist on banana bread on our ill-fated camping trip. I imagined a slice of it would be perfect mid-hike, preferably somewhere near an alpine lake. We have an endless amount of toasted sesame seeds around the house (jars, bags, bins), because Wayne bakes the sesame version of the Tartine country loaf a couple times a week. I was set on the idea of banana bread for the hike, and it occurred to me that a sesame banana bread might be something worth trying, with a tangy lemon icing that cuts. And the way I imagined it, this loaf wouldn't have just a sprinkling of sesame seeds, it would be sesame madness.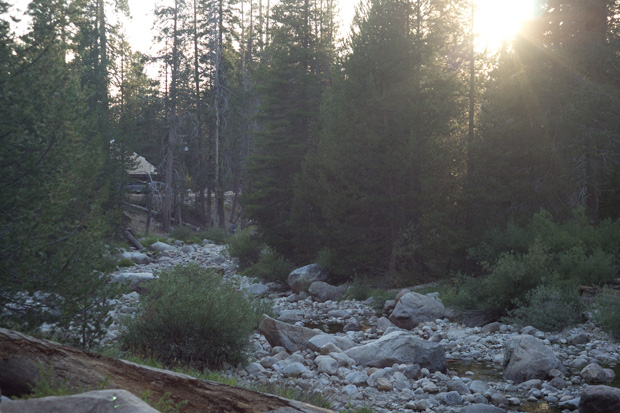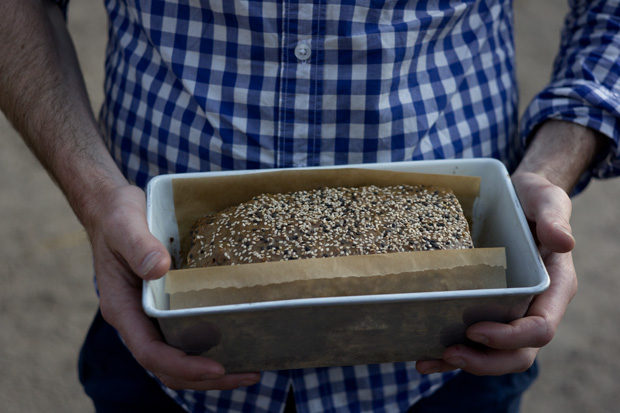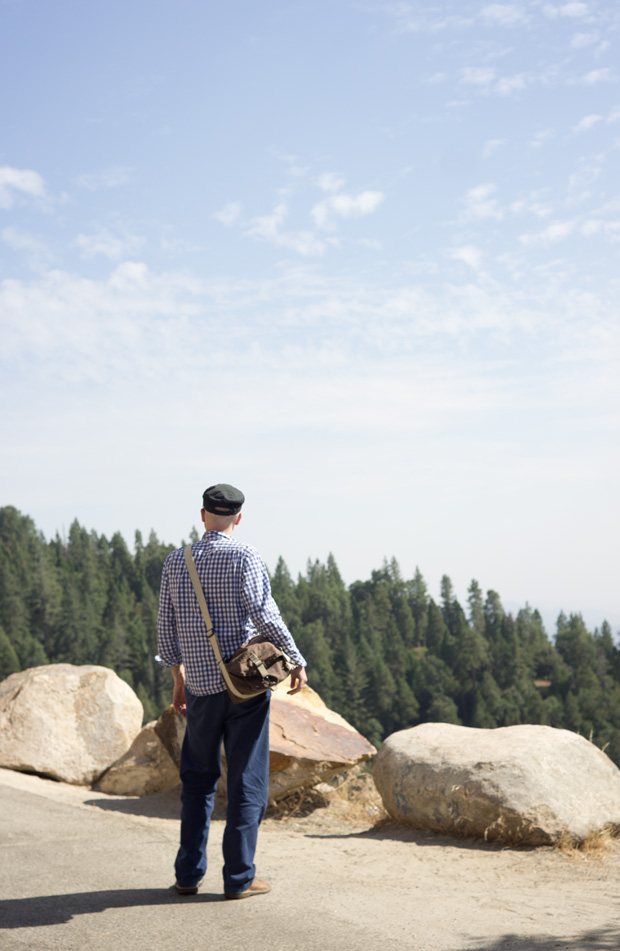 A couple shots for the campsite and the drive in. I think I took five frames with my camera, before getting sick. These were three of them :/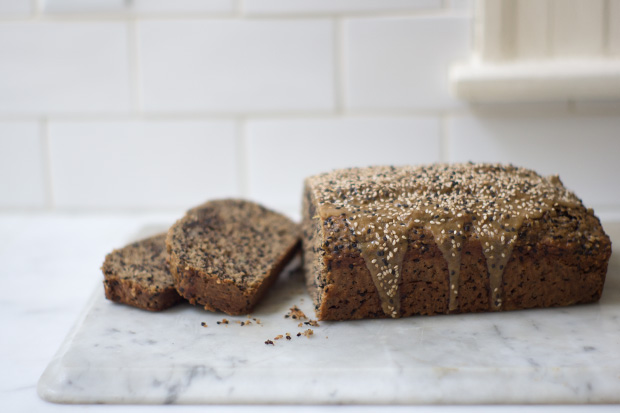 If you make the bread, I'll tell you, I like the mix of black and white sesame seeds. The black ones are more visible and seem to lend a more direct sesame flavor. Also, feel free to experiment with the glaze. Initially, I thought I'd try to make a vanilla-tahini glaze, but in the mad dash to get the car packed, I went for the lemon glaze I knew set nicely, (and because the lemon offsets the denseness of the banana crumb nicely)...
Sesame Banana Bread
As I mention up above, I use a mix of black and white sesame seeds. More than anything, it makes the seeds more visible.
1 cup / 4.5 oz / 125g all-purpose flour

1 cup / 5 oz / 140g whole wheat flour

3/4 cup / 4.5 oz / 125 g dark brown sugar (or muscovado)

3/4 teaspoon baking soda

1/2 teaspoon fine grain sea salt

1 1/3 cups / 7 ounces / 200 g toasted sesame seeds

1/3 cup / 80 ml extra-virgin olive oil

2 large eggs, lightly beaten

1 1/2 cups / 12 oz / 340 g mashed, VERY ripe bananas (~3 bananas)

1/4 cup / 60 ml plain, whole milk yogurt
 (or keffir)
1 teaspoon freshly grated lemon zest

 


For the glaze:

1/2 cup / 3 oz / 85 g sifted dark brown sugar (muscovado)

1/2 cup / 2 oz / 55g confectioners' sugar

4-6 teaspoons freshly squeezed lemon juice
Preheat the oven to 350° F, and place a rack in the center. Butter and flour a 9- by 5- inch (23 x 13 cm) loaf pan, or equivalent.
In a large bowl, whisk together the flours, sugar, baking soda, and salt. Add 1 cup / 5 1/2 oz / 150g + 1 tablespoon of the sesame seeds and combine well.
In a separate bowl, mix together the olive oil, eggs, mashed banana, yogurt, and zest. Pour the banana mixture into the flour mixture and fold with a spatula until just combined. Scrape the batter into the prepared pan and bake until golden brown, about 45 minutes. You want to achieve beautiful color on the cake, but at the same time you don't want to bake all the moisture out of it. So the minute you're in that zone, pull it, erring on the side of under-baking versus over.
Transfer the pan to a wire rack to cool in the pan for 10 minutes, then turn the loaf out of the pan to cool completely.
While the cake is cooling, prepare the glaze. In a bowl, whisk together the sugars and the lemon juice until smooth. When the cake is completely cool, drizzle the glaze on top of the cake, spreading with a spatula to cover, and finish with the remaining sesame seeds.
 

Serves 10.
This is a quirky variation of Melissa Clark's beautiful banana bread (which I wrote up last year).
Prep time: 10 minutes - Cook time: 45 minutes