Ten Reasons to Embrace Mojo de Ajo Garlic Sauce Recipe
Mojo de ajo - let's discuss. It's a simple sauce made from olive oil roasted garlic cloves combined, primarily, with fresh orange and lime juice. You need it in your cooking repertoire. Here's a list of ways I used it this week.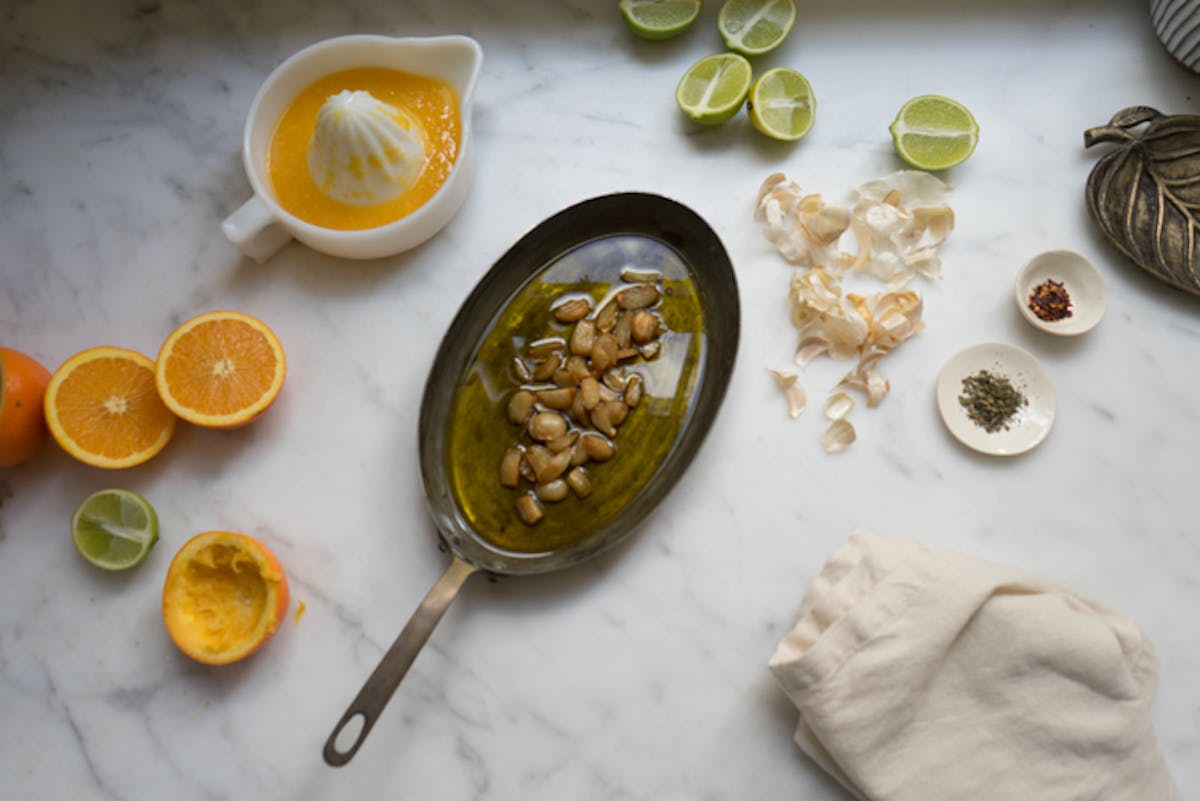 Mojo de ajo - let's discuss. It's a simple sauce made from olive oil roasted garlic cloves combined, primarily, with fresh orange and lime juice. You mash and blend the caramelized garlic with a short list of other ingredients until you have a thick, unctuous sauce capable of being both drizzled or slathered. You need it in your repertoire. I tend to use mojo de ajo more as a condiment versus a sauce, but you can go either route. It's great when you want to add a touch of flare, punch, or punctuation to a dish. There's a fantastic version in the new Gjelina cookbook, and I thought I'd list off all the ways I've been using it this week, and also show off some snapshots of the cookbook itself.
- Drizzled and swirled over this carrot soup.
- Mixed into plain Greek yogurt, dolloped on a frittata.
- Slathered on grilled or broiled slabs of good bread.
- Hand-rolled marbles of goat cheese covered with mojo de ajo for a cheese plate.
- Marinated tofu (and then tempeh) in it overnight, then steamed to cook.
- Tossed with various grains and greens, and noodles throughout the week.
- As a finishing splash to a pan of sautéed mushrooms.
- As a dipping sauce (or drizzle) on bites of deeply roasted sweet potato.
- Whisked into aioli as a finishing flavor tweak. Great on quinoa patties.
- Used that boosted aioli on the first sautéed artichokes of the season.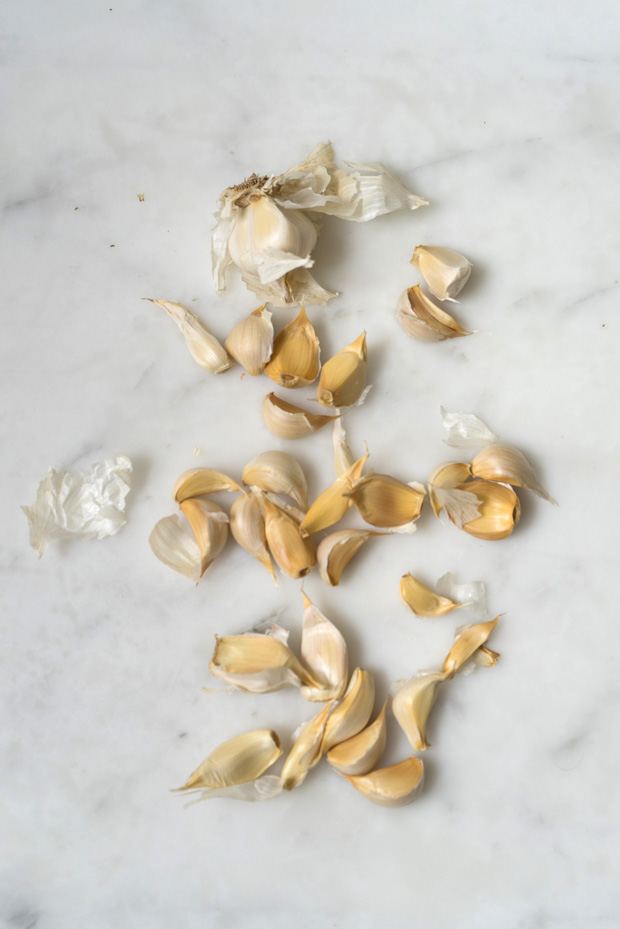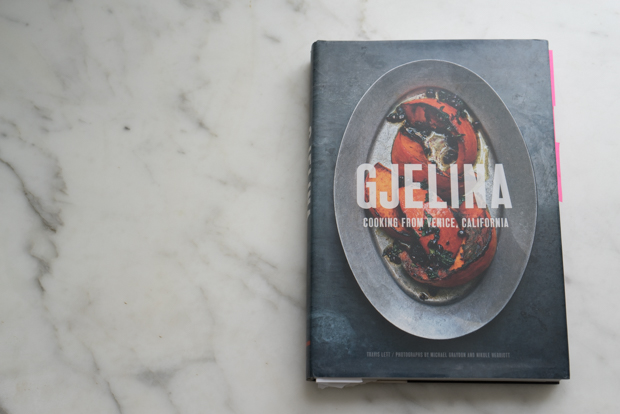 A few shots of the Gjelina book. It's a beauty. The whole package. Travis Lett + Nikole Herriott + Michael Graydon is the magic. Notice all the flagged recipes! :)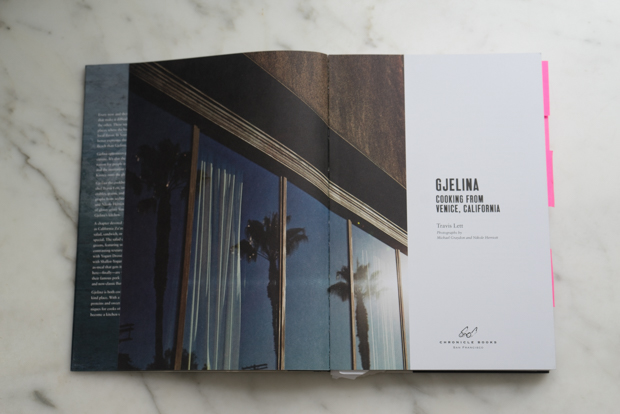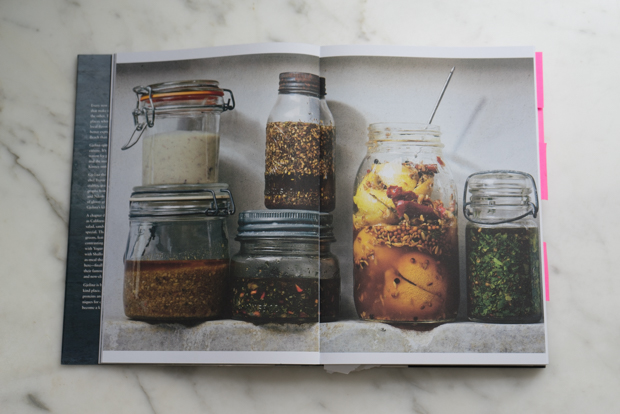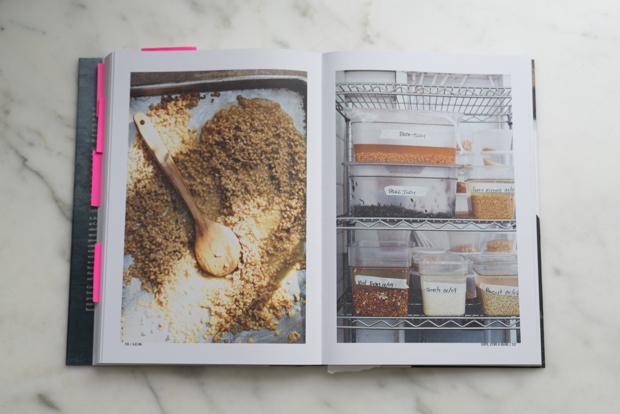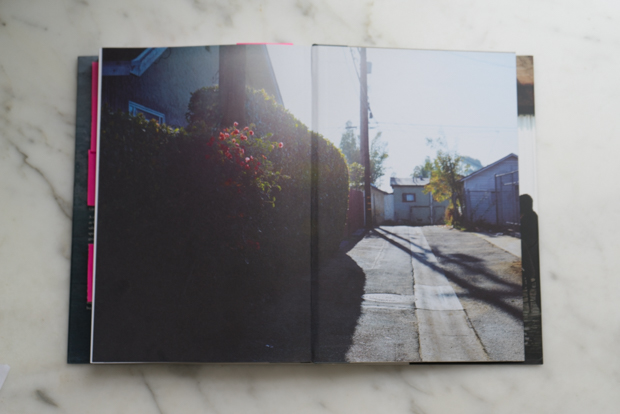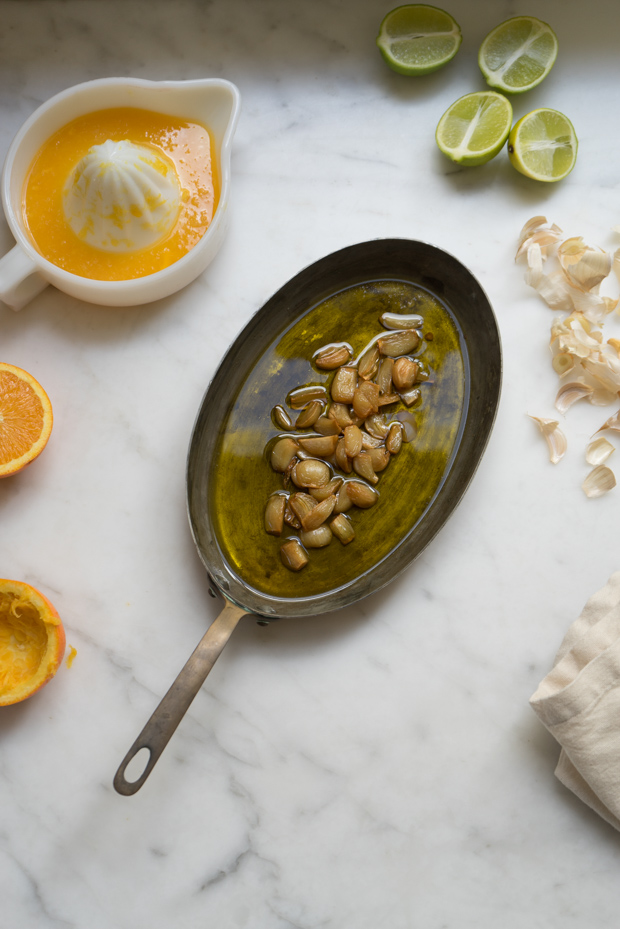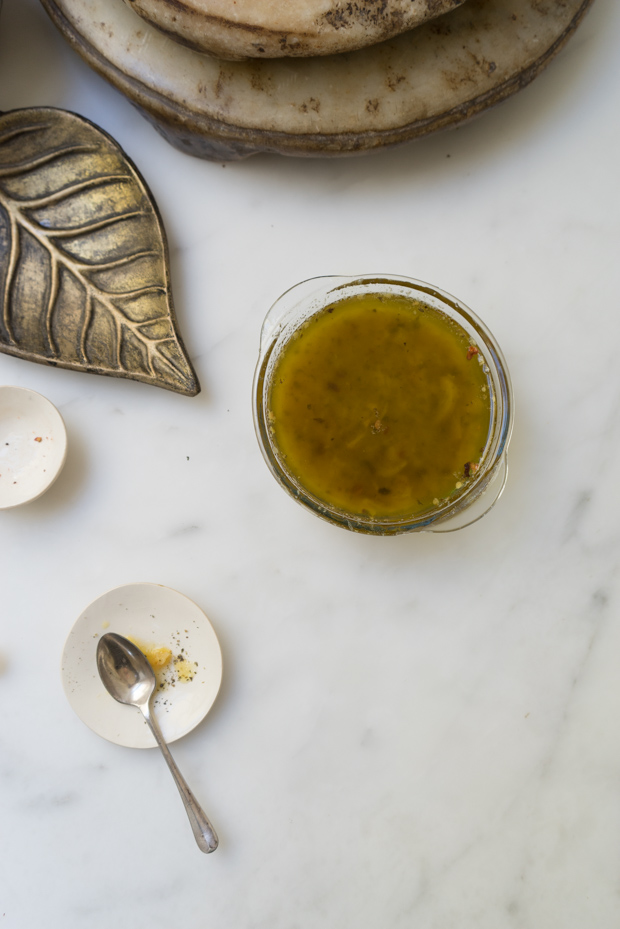 It probably goes without saying, but reminders are always helpful - condiments and other concentrated, flavor-forward sauces are an easy way you can take a simple preparation and make it something exceptional. Think of all you can do with pesto, harissa, peanut sauce, or this magic sauce (a riff on chimichurri). Mojo de ajo falls in this camp. Just put it on the table when you sit down, and you'll come up with all sorts of ideas to add to my list! xxh
Mojo de Ajo
1/2 cup / 120 ml extra virgin olive oil
30 garlic cloves, peeled
1/2 cup / 120 ml fresh lime juice
1/2 cup / 120 ml fresh orange juice
1 teaspoon dried oregano
1/2 teaspoon crushed red pepper flakes
scant 1/2 teaspoon fine grain salt, or to taste
Preheat the oven to 350F / 180 C.
In a small cast-iron or other type of ovenproof pan, combine the olive oil and garlic, making sure the garlic is completely submerged. Place in the oven and cook until the garlic is very soft and golden brown, about 45 minutes. Stir in the lime juice and orange juice and return to the oven until slightly thickened, about 15 minutes longer. Carefully remove from the oven and let cool slightly.
With a fork, smash the garlic to make a rough paste. Stir in the oregano and re pepper flakes. taste and season with salt. The sauce will not emulsify; it will be very oily, and should be stirred before use.
Store in an airtight container in the refrigerator for up to 1 month. Bring to room temperature before using. Makes about 2 cups.
Adapted from: Gjelina: Cooking from California by Travis Lett (Chronicle Books, 2015)
Prep time: 5 minutes - Cook time: 60 minutes