Tomato Tarte Tatin Recipe
A simple savory tomato tarte tatin made with ripe market tomatoes, plenty of caramelized onions, a wee splash of balsamic vinegar, and whatever pie dough you might have on hand (or in the freezer)...
Friends, my freezer is near empty. It's clean, anything remaining is labeled, and I can see every item top to bottom. It feels great. One of those small accomplishments that, for weeks, will give me a boost every time I open the door. I baked this simple tomato tarte tatin with a round of frozen pie dough (leftover from this) and some ripe market tomatoes. It's silly simple, and I keep thinking of variations you could do on the overall idea which I'll list off below...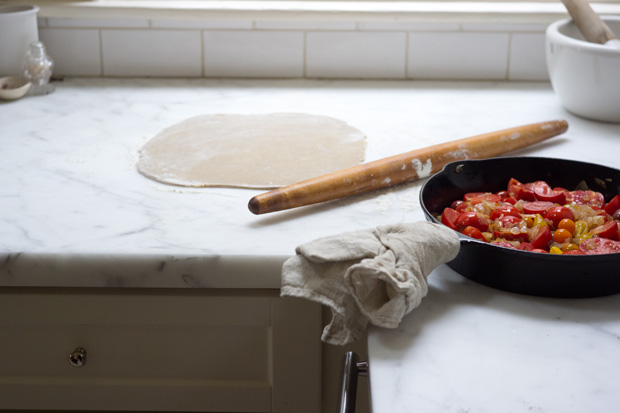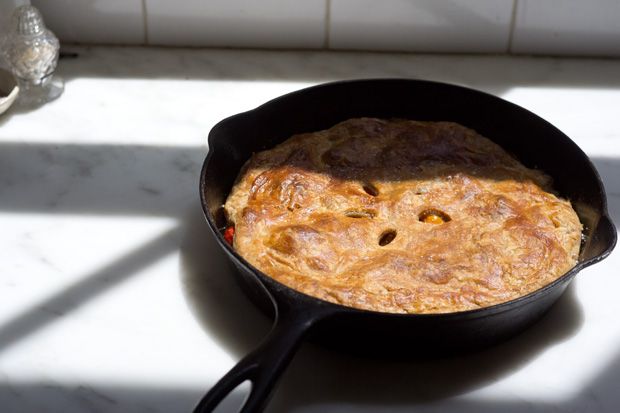 As you can see in the photos, I baked this in my cast-iron skillet. I know most people avoid cooking acidic ingredients like tomatoes in cast iron, but this pan is black, slick, and well-seasoned - so baking the tomatoes in it wasn't a problem. If you're on the fence or have new cast iron, switch up your baking pan - anything ovenproof. Then, simply roll out your crust to fit the shape of your pan.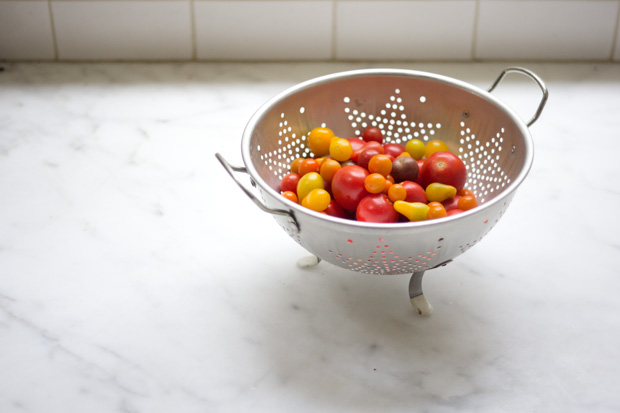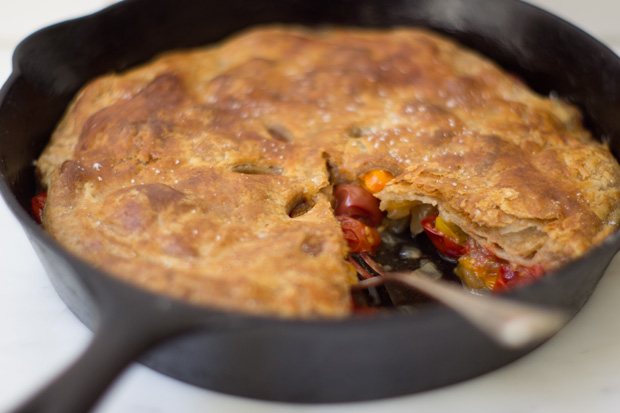 A couple other thoughts I had related to other directions you could take this:
- Skip the balsamic, add 1 - 2 tablespoons harissa & more zest.
- Add a generous drizzle of herb oil before topping with crust.
- Add some cheese, dollops of ricotta or grated gruyere before topping with crust.
- Instead of topping with a pie crust, top with biscuit dough instead of pie crust (there's a good yogurt biscuit recipe in Super Natural Every Day).
Enjoy!
- Or, top with a savory version of a crumble topping - skip the sugar in the crumble.

Tomato Tarte Tatin Recipe
2 medium yellow onions, chopped
2 tablespoons extra-virgin olive oil or clarified butter

1 1/2 pounds / 24 oz small tomatoes (here it's a mix of heirloom cherry & early girls)

scant 1/2 teaspoon fine grain sea salt
2 teaspoons balsamic vinegar
a bit of flour
zest of one lemon

1 pie crust, this rye crust is my go-to
1 egg whisked with a tablespoon of water
Preheat the oven to 400F / 205C.
While the oven is warming, uses a large skillet over medium heat to saute the onions and a couple pinches of salt in the oil/clarified butter. Cook, stirring regularly, until the onions are deeply golden and caramelized, 10-15 minutes. Remove from heat.
While the onions are cooking, cut any larger early girl tomatoes in half. I typically leave the small cherry tomatoes whole. Add to the caramelized onions along with the sea salt and balsamic vinegar. Transfer to a 10 or 11-inch cast iron skillet or equivalent deep pie dish. If you get the sense that your tomatoes are quite juicy, and might release a lot of liquid, you can toss the mixture with a tablespoon or two of flour at this point. Sprinkle mixture with lemon zest.
Roll out your pie dough, and use it to cover the tomato mixture - tucking in the sides a bit. Brush the crust with the egg wash, cut a few decorative slits in the crust, and bake in the top third of the oven until the crust is deeply golden and the tomatoes are bubbling a bit at the sides, 25 - 30 minutes.
Serves 6-8.

Prep time: 10 minutes - Cook time: 45 minutes