Vegan Caesar Salad Recipe
Vegan Caesar salad recipe from best-selling authors Isa Chandra Moskowitz and Terry Hope Romero - no eggs, no dairy. Delicious, creamy lemon-caper dressing and garlic croutons.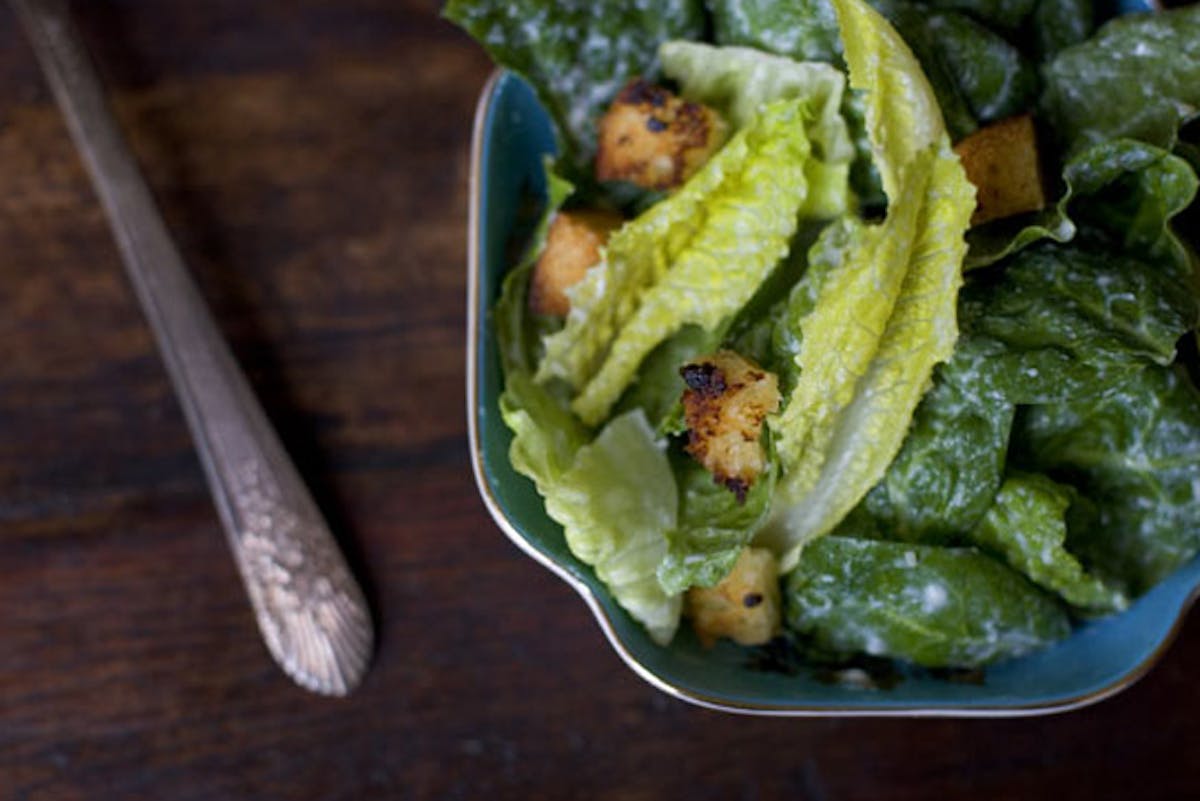 I almost spit out my cappuccino the other day when my dad told me he was reading The China Study. I think he even said the V-word. Vegan. I'm not sure why I was so surprised, the number of people wanting to explore a (more) plant-centric and less meat-focused diet/lifestyle is expanding and many people are looking for inspiration. Enter Isa Chandra Moskowitz and Terry Hope Romero (of public access television's Post Punk Kitchen) with their recently released, and much acclaimed, vegan cookbook - Veganomicon. I'm featuring their Vegan Ceasar Salad recipe today for a few reasons. First, it's a fantastic recipe from a fantastic volume of recipes - a whopping 250 of them. Second, I'd like to point you to a handful of books and studies that make compelling arguments for incorporating more vegan-centric meals into your life. Vegan in this context simply means free of animal products - eggs, meat, milk, cheese, and the like.
There's a growing chorus of accomplished scientists, researchers, and writers documenting the toll our diet (processed, meat-centric) is having on our personal health and the well-being of our environment. There's been something in the air for a while, but as I mentioned before, I knew something was really starting to shift when my dad told me he was reading The China Study. "I'm totally into it," he said. The way the research was presented and explained in the book made sense to him. It should be noted, my dad is a strict meat and potatoes guy. The China Study surveyed death rates for twelve different kinds of cancer in more than 2400 Chinese counties - the most comprehensive study of nutrition in relation to health ever conducted. Read it for yourself, but I assure you - the book puts forth a compelling argument for shift toward a diet that emphasizes vegan meals.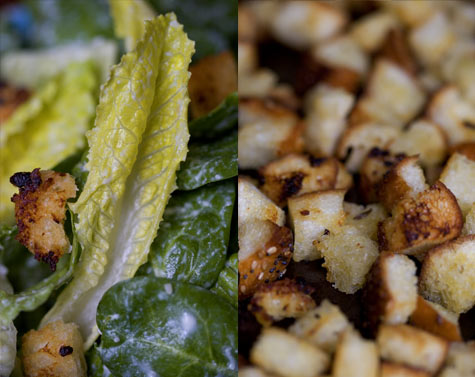 I also stumbled upon John Robins latest book, Healthy at 100 (recently out in paperback), and a big portion of the book is dedicated to understanding four unique cultures who produce some of the worlds healthiest and longest-living people. The communities are sprinkled around the globe yet one of the things they all have in common is a primarily vegan diet, meaning 90%+ calories coming from plant-based sources in those communities.
We've seen Dr. Ornish offer up the veg-centric Spectrum. And in a stroke of irony, the Minimalist delivered a thousand pages of vegetarian recipes while Michael Pollan offered up seven simple words - Eat food. Not too much. Mostly plants.
So Isa and Terry's book comes at a time of increased awareness, and whether you're a carnivore looking to eat more non-meat meals, or vegetarian, or vegan, or maybe you have an allergy to dairy/eggs - many people will be able to find culinary inspiration in Veganomicon. The recipes are approachable and a good percentage of them have tight, unintimidating ingredient lists. There are plenty of twists on classics, like enchiladas, sloppy joes, baked beans, po' boys, and lasagne. Another thing I love is that they cook from a minimally processed palette of ingredients - this isn't one of those vegan books that calls for a bunch of processed fake meat products. The book incorporates helpful icons alongside each recipe noting recipes that are soy-free, low fat or reduced fat, gluten free, doable in under 45 minutes, and supermarket friendly. The index in the back also breaks the recipes out into these categories which is helpful. The book is two-color with a 16-page color photo insert.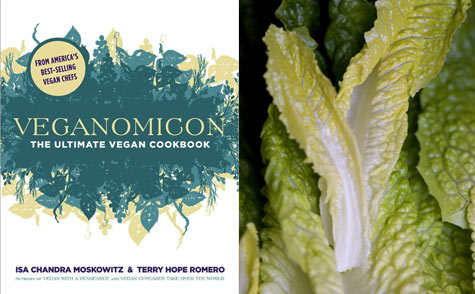 And onto the Caesar Salad - which was great. I made it for lunch today and ended up topping it with a few heart slices of hickory smoked tofu. Don't get too hung up on the name - whether or not it is an "actual" Caesar salad shouldn't send you into a tail-spin. Naming the recipe this way helps people understand what general realm of salad we are talking about. Use the best, freshest lettuce you can get your hands on to really make this salad shine. And keep in mind, you will have plenty of the creamy, anchovy-free lemony-caper dressing leftover - I'm going to drizzle it over some grilled kabobs this evening. The only remotely time consuming aspect of this recipe was making your own croutons. If you really need to shave of some time, pick up a bag of good quality croutons and use those. I've also found that tearing your bread into bite-sized pieces instead of diligently cutting it into perfectly uniform petite cubes is much more efficient (and oddly satisfying) if you want to D.I.Y. and still save time.
A few lInks:

- Directory of vegan recipes on 101 Cookbooks.

- More recipes to test-drive from Veganomicon.

- Watch episodes of Post Punk Kitchen via Google Video

- Photos tagged Veganomicon on Flickr.

- Portland-based Jess (of Get Sconed!) was one of Veganomicons all-star recipe testers - you can see some of her photos here.
Before I log off, I recognize that many of my readers aren't vegan (or even vegetarian for that matter). And many who are. I want this site to be a place where there is room for everyone and their ideas. Figuring out where you stand in relation to food politics and personal nutrition is an individual journey, please respect each other. Whether or not you believe a strict vegan diet is right for you or others, I think we can all agree that getting more real, plant-based food on our plates is a good thing. A book like Veganomicon is a great source of inspiration on this front (whether you are a hardcore vegan or not).
Vegan Caesar Salad Recipe
HS notes: If you don't have time to roast the garlic for the croutons, you can use raw - the flavor will be more pronounced, with less depth and mellowness. Feel free to use your favorite multi-grain bread for the croutons. If a salad like this is going to be a main meal for me, I make it topped with something like smoked tofu, something with some protein (for staying power) but use your imagination. If your dressing is too thick just thin it with a bit of warm water.
Caesar dressing:
1/3 cup slivered or sliced almonds
3-4 cloves garlic, peeled and crushed
3/4 cup silken tofu
1/4 cup olive oil
3 tablespoons fresh lemon juice
1 heaping tablespoon capers
4 teaspoons caper brine
1 teaspoon sugar
1/2 teaspoon mustard powder
Salt

Croutons:
1/4 cup olive oil
4 cloves roasted garlic
1 tablespoon fresh lemon juice
1 medium size loaf French or Italian bread (little less than 1 pound), stale and torn or sliced into bite-sized pieces
1/4 teaspoon salt

Salad:
1 large head romaing lettuce, chopped
Freshly cracked black pepper
Handful or two of spinach and/or arugula, torn into bite-sized pieces (optional)
Prepare the dressing: Pulse the sliced almonds in a food processor or blender until crumbly. Empty the ground almonds into an airtight container that you'll be using to store the finished dressing. Blend the garlic, tofu, and oil in the food processor or belnder until creamy. Add the lemon juice, capers, caper brine, sugar, and mustard powder, and pulse until blended. Adjust the salt and lemon juice to taste. Put into the container with the ground almonds and whisk to combine. Cover and allow the dressing to chill in the refrigerator for a minimum of 30 minutes, optimally 1 to 1 1/2 hours.
While the dressing is chilling, prepare the croutons: Preheat the oven to 400F. Combine the olive oil, roasted garlic, and lemon juice in a large bowl. With a fork or immersion blender, mash orblend the mixture until creamy. Add the torn bread and toss to coat each piece with the oil mixture. Spread onto a rimmed baking sheet, sprinkle with salt, if desired, and bake for 12 to 14 minutes until golden brown. Toss the croutons twice during the baking process. Remove from the oven and cool the croutons on the baking sheet.
To assemble the salad, place in a large bowl 2 to 3 cups of lettuce/greens per individual serving (amount depending on whether it's a side or an entree). Ladle on 1/3 cup of the dressing (or more or less to taste), and use kitchen tongs to toss the greens and coat them with dressing. Add the warm croutons, toss again, and transfer to a serving dish. Sprinkle with a little freshly cracked pepper. If not serving right away, warm croutons in 300F oven for 5 to 8 minutes before adding to the salad.
Serves 4 to 6 as a side, 2 to 3 as a main.
from Veganomicon by Isa Chandra Moskowitz and Terry Hope Romero (Marlowe & Company, 2007) - reprinted with permission.