Instant Pot Brown Rice Bowl with Chickpeas
This Instant Pot brown rice bowl was one of the simplest lunches I've cooked in a long time, using the pot-in-pot method! Loaded with toppings: peanuts, herbs, sliced avocado, and scallions.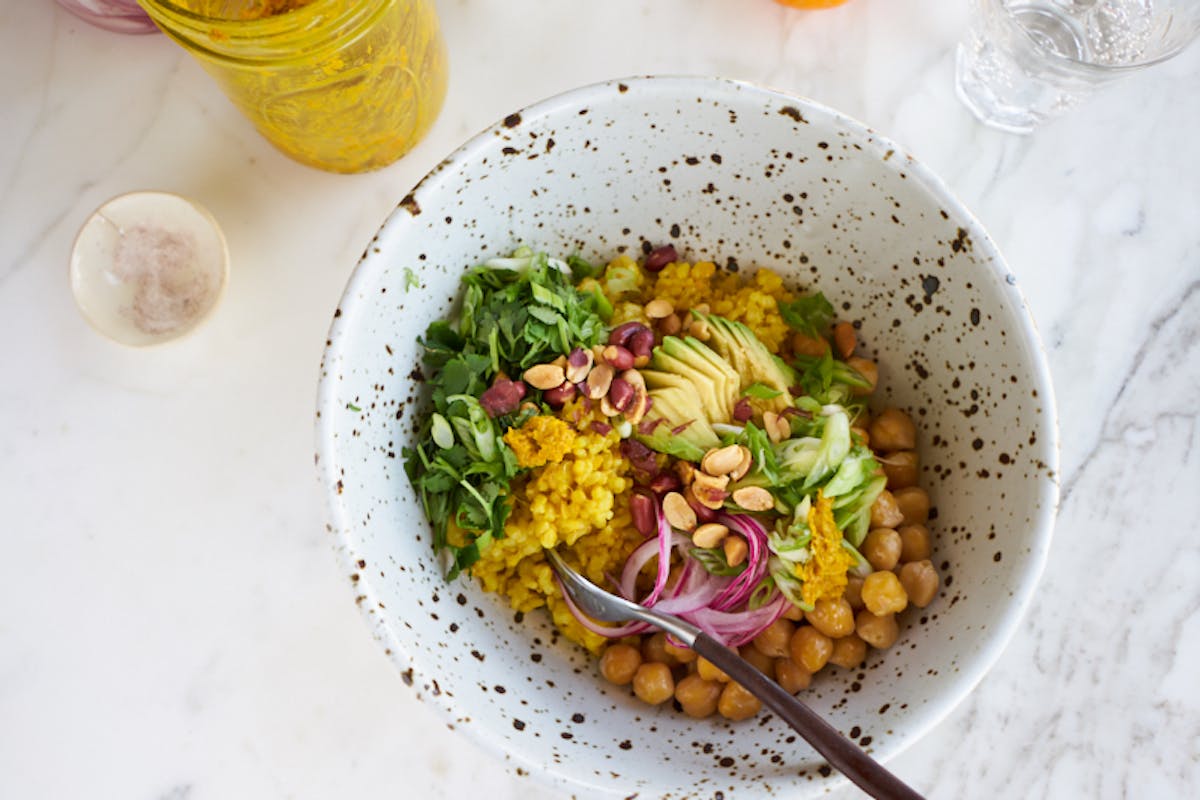 The first thing I made in my new Instant Pot was beans and rice. Not a surprise to anyone who has been a longtime reader here ;) The beans were chickpeas, the rice was brown, and it was spiked with a dollop of curry paste. The resulting brown rice bowl was one of the simplest lunches I've cooked in a long time - effortless, fragrant, and good. Toppings were pulled from whatever was around - peanuts, herbs, sliced avocado, and scallions.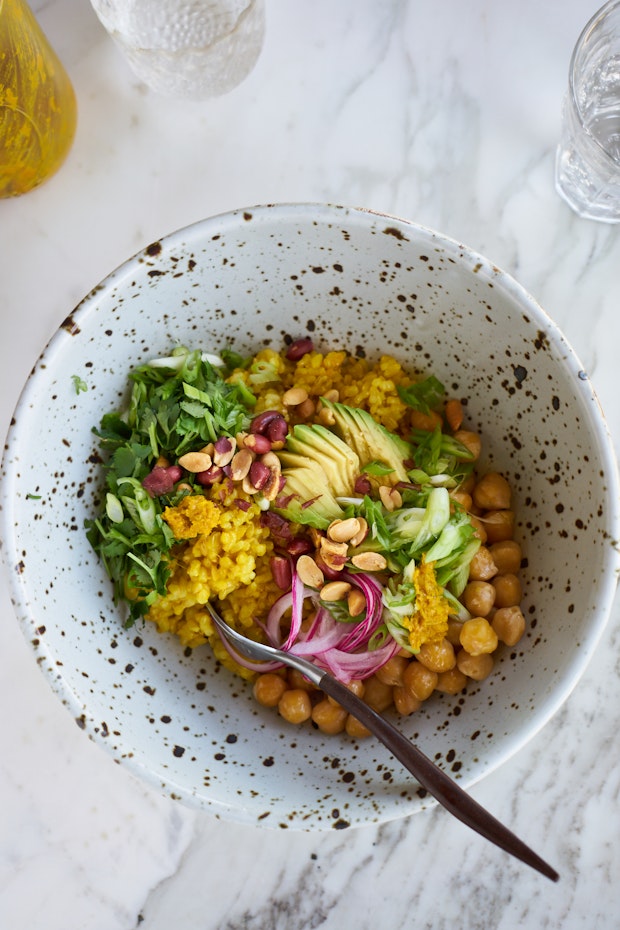 My favorite part about the whole thing? Keeping the rice separate from the beans while they were cooking. To be honest, I wasn't sure this was really work going to work, certainly not on first attempt, but it was legit good! Have a look at the photos below. Here's how it works. You can place the beans in an oven-proof or stainless steel container, and insert those into your electric cooker / Instant Pot - they cook at the same time, but aren't combined. This, in my mind, opens up a world of possibilities. It's a "pot-in-pot" or "PIP" approach.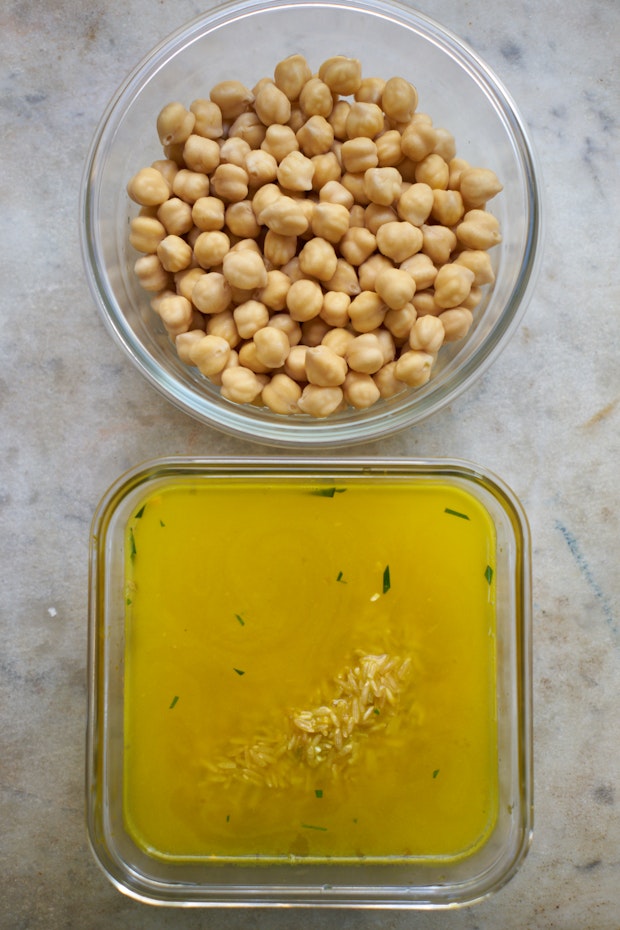 If you have an Instant Pot (or other electric pressure cooker), and you want to cook a simple brown rice bowl, this is a good place to start. You'll have to figure out two containers that will stack, without bumping up against the lid of your cooker. I tested this a few more times, which was easy because everything goes so quickly! And I'm writing up the recipe and process using brown basmati rice and (soaked) chickpeas.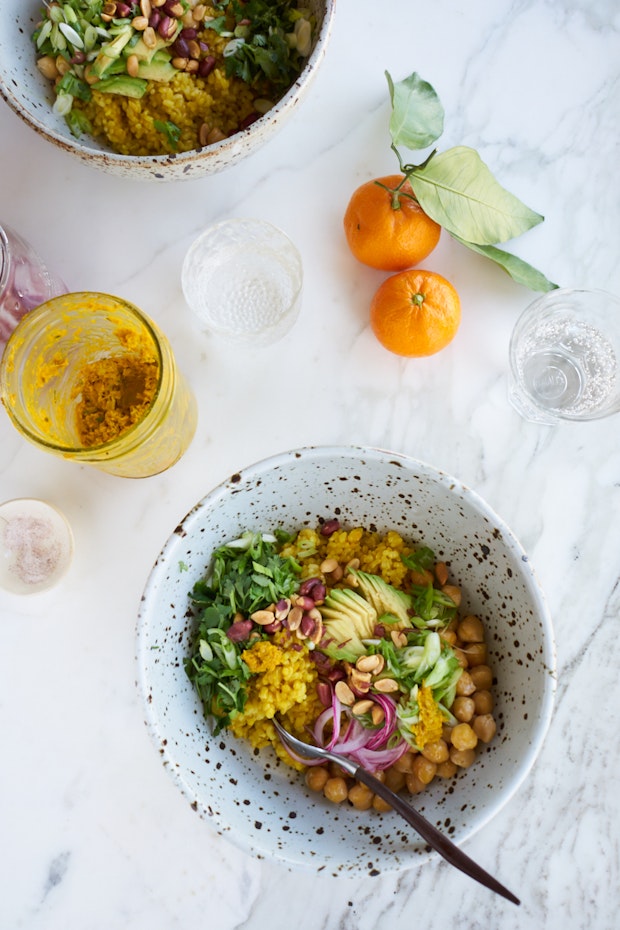 Let me know how it goes! Also, for quick reference I'm putting all my Instant Pot recipes in one spot. Let me know if you have any requests. xx, -h
Instant Pot Brown Rice Bowl with Chickpeas
HS: High pressure for 22 minutes in the Instant Pot is what you're after here. If you're using an alternate electric cooker, you may have to adjust the timing accordingly (and make note for next time!).
Ingredients
2

cups

water

1-2

tablespoons

of a favorite curry paste, to taste

1/2

teaspoon

fine grain sea salt

1 1/2

cups

brown basmati rice, rinsed

1

cup

chickpeas, soaked for 4-6 hours, or overnight

to serve toppings (any or all of the following): toasted peanuts, green onions, avocado, cilantro, hot sauce, quick pickled red onions
Instructions
This recipe uses the pot-in-pot method. You'll need two oven-proof or stainless steel containers you can stack inside your Instant Pot without obstructing the lid. I use two Pyrex containers (pictured above).

Pour the two cups of water into the first container, the one you're going to use for rice. Whisk in the curry paste, and the salt. Taste, and add more salt or curry paste if you like. Add the rice. Place the chickpeas in a second container (no additional water in this container).

Arrange the steamer rack in the bottom of the Instant Pot, add 2 cups of water. Put the chickpea container inside the pot, and stack the rice container on top of the chickpea container. Close the pot, close the valve, and PRESSURE cook for 22 MINUTES. Let the pressure naturally release for ten minutes, and then, carefully, quick release. Carefully remove from the pot.

Serve each bowl with brown rice, some chickpeas, and all sorts of toppings - avocado, peanuts, herbs, and scallions. Whatever you have on hand! There are suggestions in the ingredient list. A dollop of salted yogurt is also delicious here.
Notes
Alternative: Sprouted brown rice bowl - bump the timing up to 26 minutes, everything else remains the same.
For reference, this is the Instant Pot I used for this recipe: Instant Pot DUO Plus 6 Qt 9-in-1
Related Recipes
More Recipes
Popular Ingredients