Homemade Celery Salt
Homemade celery salt couldn't be easier to make. I keep a bottomless jar of it on hand and use it on just about everything - eggs, soups, salads. It's hard to go wrong with it.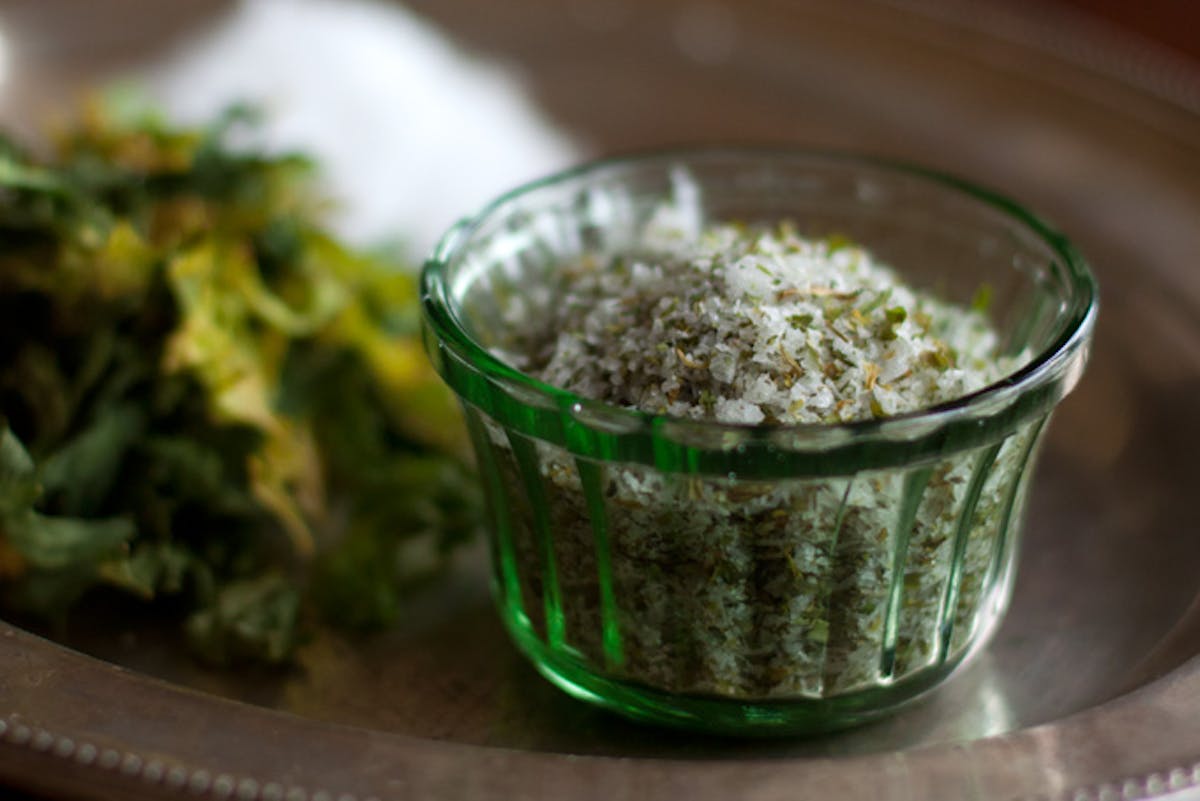 A number of you requested I post about making homemade celery salt. It's great. I mean it. You should make it too. If you make some each time you buy a bunch of celery, you end up with a bottomless jar of celery-spiked salt. And this way, minimal celery parts go to waste, except the celery strings - my suspicion is there won't be many tears shed over that.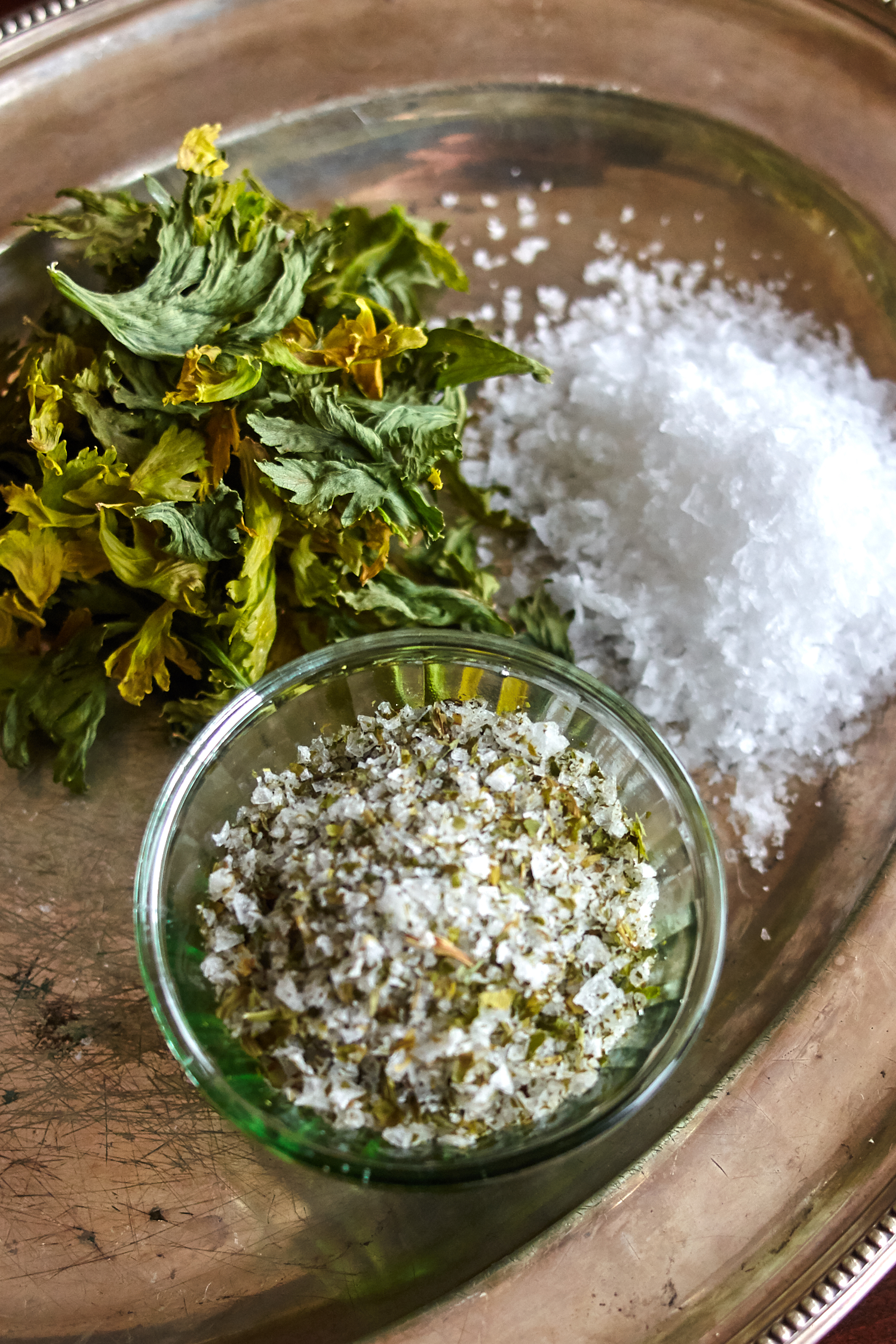 How to Use Homemade Celery Salt
So many ways! Celery salt is good on buttered corn-on-the cob, green beans, in soups, in yogurt, sprinkled over eggs. It's great on things like macaroni salad, or egg salad, this shaved fennel salad, or this buttermilk farro salad. I bet it'd be great on Sara's Green bean salad, or Deb's Israeli salad. You get the idea.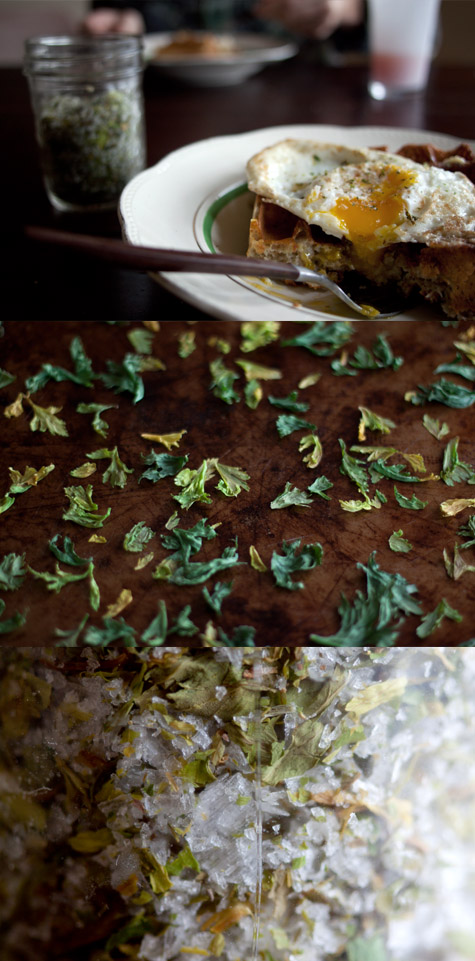 The Key to Buying the Right Celery
Here's the catch. You have to find celery with leaves still intact. You'll likely have more luck at farmers' markets, but I've noticed more and more grocers sparing celery leaves from the trash. Also, leaves hide. You'll find more and more as you work your way from outside stalks to inside ones.
I make other salts on occasion too - a citrus salt version comes to mind. Also, one with herbs de Provence. Have fun experimenting!
More Homemade Spice Blends
Homemade Celery Salt
I've made celery salt with a number of different types of salt, and the flaky, whispers of Maldon sea salt is my current favorite. The shards are similar in size to the crumbled celery leaves, which works nicely. With some of the finer sea salts, you get more separation. Which is not what you want.
Ingredients
Leaves

from one bunch of celery

flaky sea salt (see head notes)
Instructions
Pick the leaves from each celery stalk, leaving the stems behind. The outer leaves tend to be dark green and hearty, the inner leaves pale green and tender. I use them all.

Rinse the leaves with cold water in a strainer, then shake off as much of the water as you can. At this point you want to dry the leaves as much as possible, so they toast (not steam) when you cook them. Gently pat them dry in a clean dish towel, or paper towels. Once dry you have two options for toasting the leaves.

If I have a lot of leaves, I arrange them in a single layer on a baking sheet, then bake in a 350F / 180C oven for about 5-7 minutes. Bake until dehydrated and crispy, but not browned.

If I have fewer leaves, or just don't feel like heating the oven, I'll throw them in a large skillet. Single layer if possible, over medium-low heat. Again, you want to barely toast them, not brown the leaves much.

In either case, when you're done cooking. Remove from heat and let the leaves cool completely. They'll crisp up even more at this point. When cool, use your fingers to crumble the leaves completely, discarding any leaves that aren't crispy.

Combine equal parts celery leaves and salt in a jar, and either stir or shake to distribute the celery leaves evenly throughout.
Notes
Roughly 1 cup. But yield depends on the amount of leaves.
Related Recipes
More Recipes
Popular Ingredients