Za'atar Recipe
Za'atar is an incredibly versatile Middle Eastern spice blend, one of my favorites. Particularly this time of year when it's a welcome addition to all sorts of roasted vegetables, soups and stews, or simply sprinkled over everything from yogurt, to eggs, to savory granola.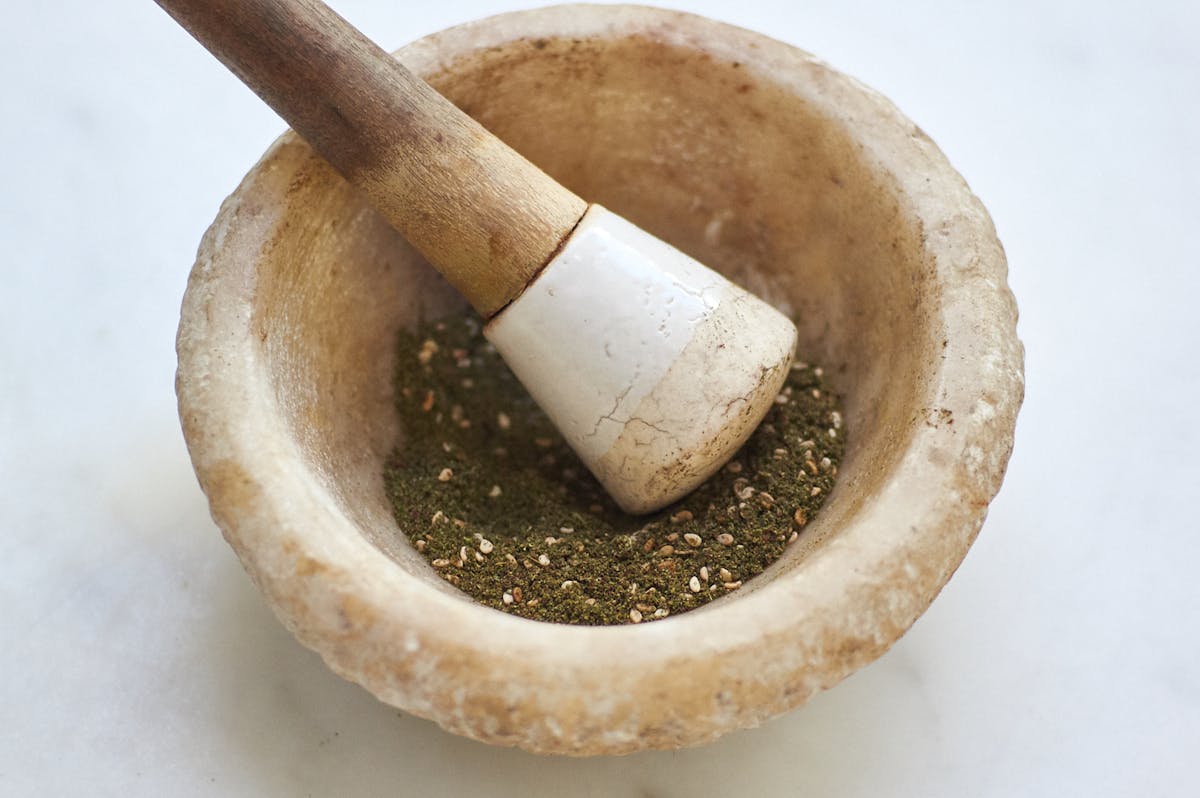 Za'atar is a wonderfully tangy, herb-forward Middle Eastern spice blend. Do you know it? I'm sure a many of you do. It's the sort of ingredient that has become a staple in my kitchen. Right now it sits on my counter next to essentials like sea salt and olive oil. This is the time of year I find za'atar a welcome counterpoint to the sweetness of deeply roasted winter squash and a nice wildcard element in big hearty soups. It is ideal sprinkled generously over eggs of all kinds, and is just the right accent on everything from quiche to breakfast casseroles, labneh to pasta salad. It's just good all around.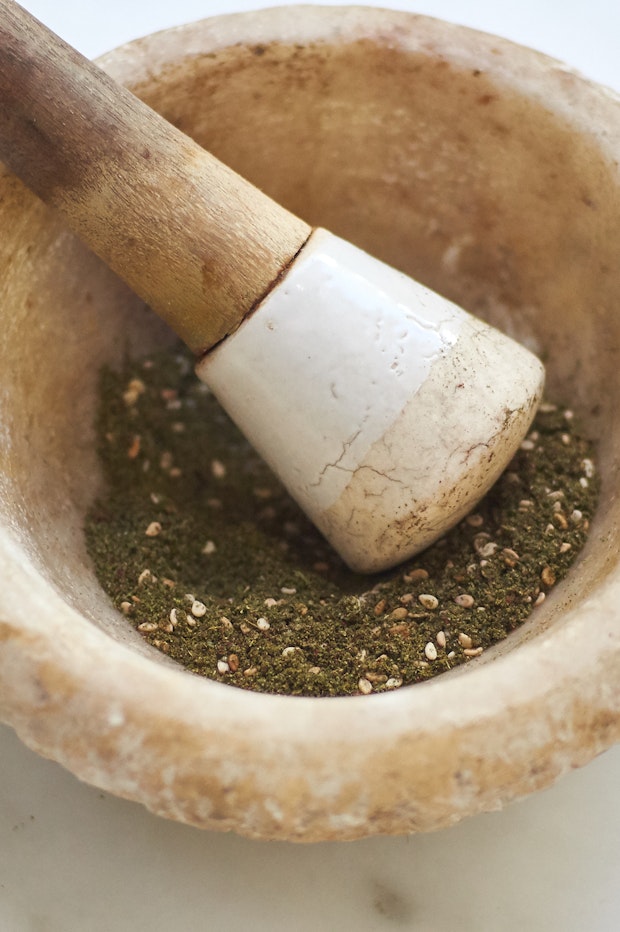 What is Za'atar?
Za'atar is a traditional Middle Eastern spice blend that varies from country to country, family to family, and cook to cook. Generally speaking it is quite simple to prepare. The base recipe for the version I make is a simple ratio of dried thyme, sumac, toasted sesame seeds, and sea salt. Pre-made za'atar is easy to find, and I've sampled a good range, but it's one of those things worth making yourself. Use good sesame seeds, recently dried thyme, vibrant sumac, and the za'atar you'll have will have an intensity nearly impossible to find in pre-packaged blends.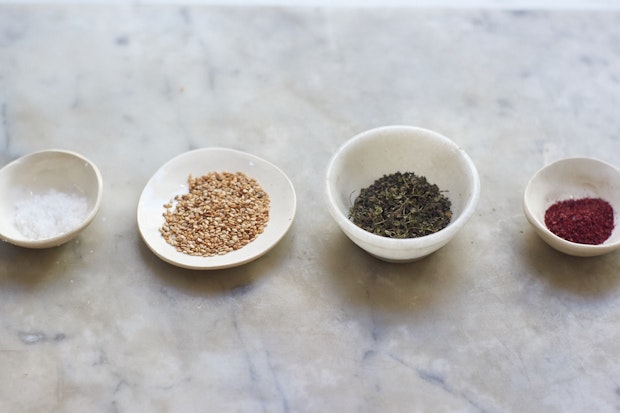 za'atar ingredients before blending
Why the confusion?
There is always some confusion surrounding za'atar because it is the name of the spice blend, and also the name of a class of herbs. We're talking about the blend here today. I believe the version I make is closest to what is typical in Lebanon, but there are times I like to add other components.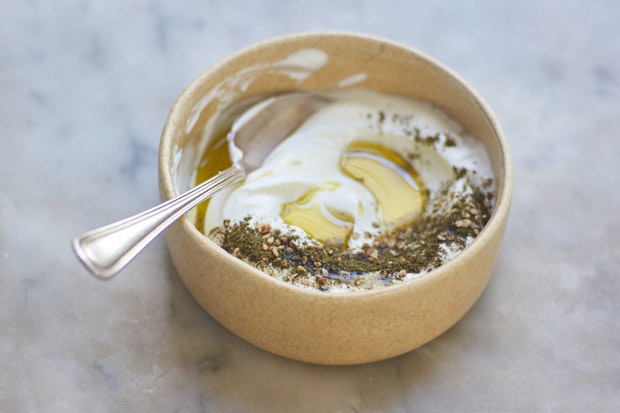 Shaping Your Za'atar Flavors
If you do a survey of za'atar blends you'll find some use marjoram, or oregano. You read of pistachios, turmeric, hyssop. Like any other spice blend, it's great to start with a good, basic recipe, but it's even more important for you to tweak it from there to your liking. I like a very thyme-centric za'atar with just enough tangy citrus reaching through from the sumac - herb first and balanced. From there, not too many sesame seeds, and just the right amount of salt.
The Za'atar Recipe
I'll include the ratio of ingredients I use in the recipe down below. But related to my point above, sometimes I add to it. I like how this Mexican oregano tastes ground into the sumac and thyme. Or, a bit of fennel pollen is a kiss of magic - particularly when I'm planning on using the za'atar swirled with great olive oil into thick yogurt or labneh. Just remember, tweak it to your liking.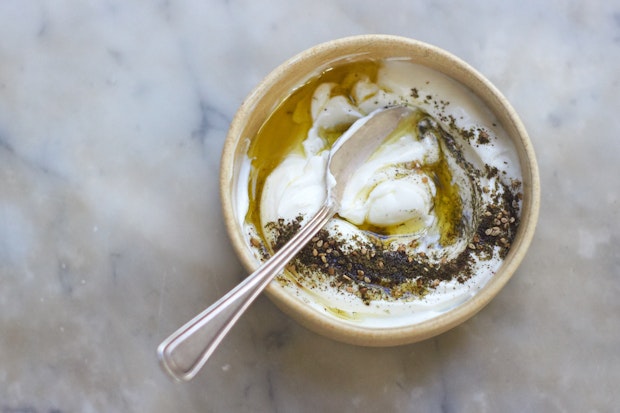 What is Za'atar used for?
Here are a few more ideas related to how you might use this herby, earthy, slightly green, sesame flecked seasoning. Za'atar can be used in place of fresh herbs in these deviled eggs. Whisk a teaspoon or two into an omelette before cooking. Use it to flavor your next batch of cottage cheese muffins. Sprinkle it generously across roasted cherry tomatoes after they are romped from the oven. Use it to finish your next grilled pizza along with a generous thread of great olive oil.
More Homemade Spice Blends
Za'atar
While you can used pre-packaged dried thyme here, I prefer to dry my own fresh thyme in the oven just before making this blend. The thyme retains a nice green color, the flavor is bright and fresh, and there is none of the mustiness you sometimes get with herbs or spices that are past their prime. It's one of those little details that make enough of a difference to be worth it.
Ingredients
4

tablespoons

fresh thyme leaves, stripped from stems (or equivalent dried)

2

teaspoons

ground sumac*

scant 1/2 teaspoon fine sea salt, or to taste

1

tablespoon

toasted sesame seeds
Instructions
Place thyme leaves on a baking sheet in a 300°F oven until dry, just ten minutes or so. Just long enough that they'll crumble between pinched fingers after cooling. Allow to cool completely.

Use a mortar and pestle to grind the thyme leave finely. If your thyme is at all stem-y or fibrous, sift to remove any larger particles. Transfer to a small bowl, and aside.

Crush the sumac finely with the mortar and pestle, add the salt and crush with the sumac. Add the thyme back, and grind together a bit. Stir in the sesame seeds, taste, and adjust to your liking, perhaps with a bit more salt, or sumac, or sesame seeds. Any za'atar you might not use in the coming days keeps best refrigerated (or in the freezer) if you make a double or triple batch. Or in a light-safe container on your counter for daily use.
Notes
Makes 1/3 cup.
*If you're having a hard time finding sumac, check the spice rack at your local market (it is increasingly common), specialty foods stores and/or Middle Eastern markets.
Related Recipes
More Recipes
Popular Ingredients