Lime & Blistered Peanut Coleslaw
This feather-light, mayo-free, coleslaw recipe uses blistered peanuts, cherry tomatoes, and lime vinaigrette and is perfect alongside fajitas, or whatever you have coming off the grill. Keep in mind - great coleslaw is rooted in great knife skills.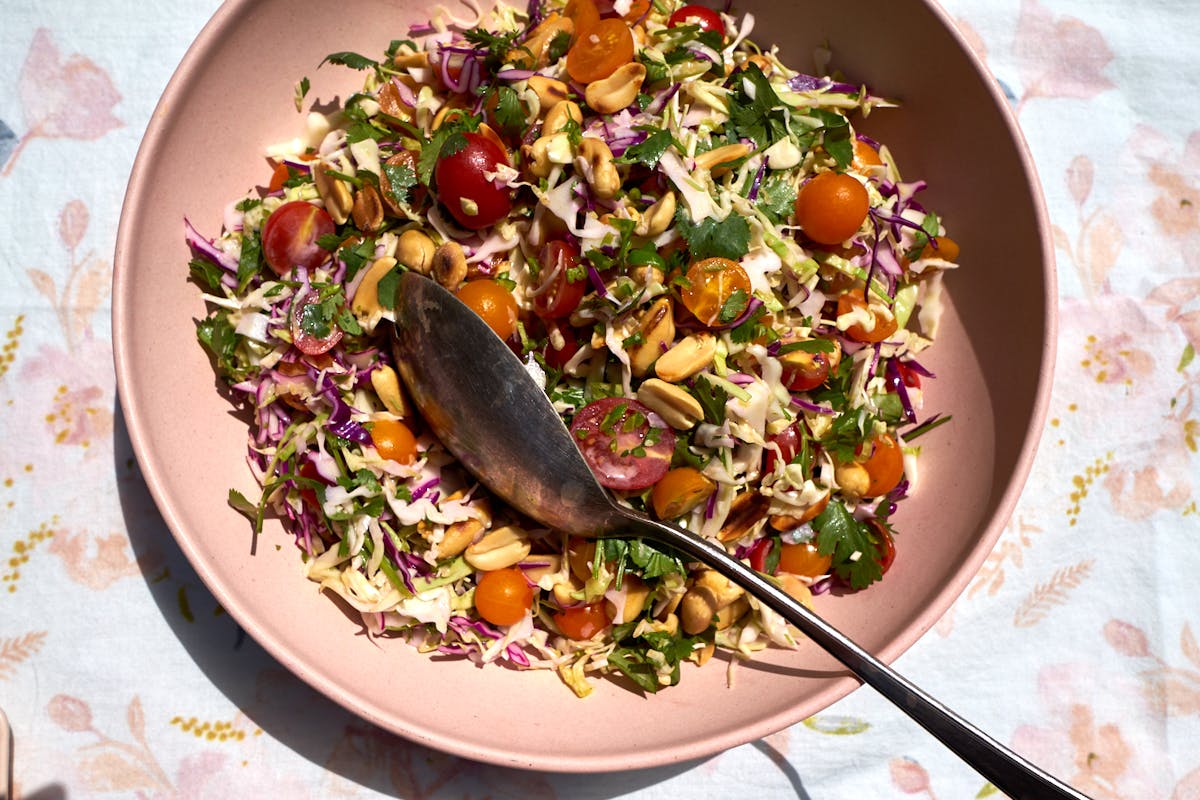 If you ask me, a great coleslaw recipe is created with good knife skills and a short list of easy-to-find ingredients. Equal importance being placed on both ingredients and the cut of the cabbage. When cabbage is cut into ribbons that are too wide, the slaw ends up awkward, heavy, and daunting on the fork. If the pieces are too long, cheeks get dirtied with dressing-soaked cabbage sticks - awkward and messy. I like to shred my cabbage into ribbons that are thin as can be, half a pencil width at most. The cabbage becomes feather light and yet each bite maintains the perfect amount of coleslaw crunch.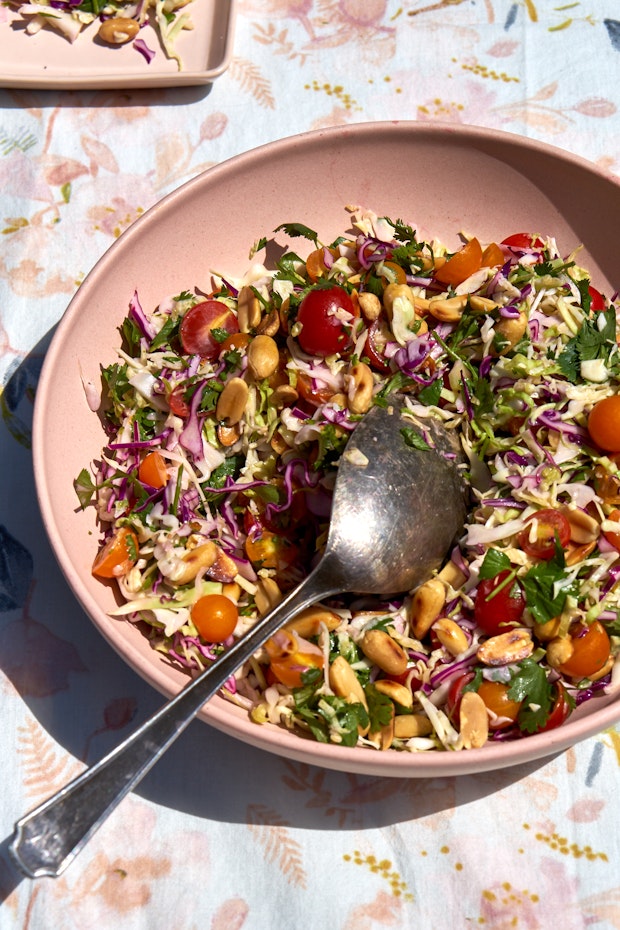 Inspiration for this Coleslaw
When Wayne and I visited Mexico City I discovered a simple snack that quickly became a favorite - salt-kissed peanuts that tasted as if they had been misted with lime. I made this coleslaw the other night with those flavors in mind. It builds on the peanut salad I included in Super Natural Cooking and is a tasty (and colorful) alternative to more typical, mayo-based coleslaws. I made it to go along with fajitas, but I suspect it would be a welcome addition to any potluck, BBQ, or summertime party or picnic - tacos, burgers, or whatever else you have planned for this holiday weekend.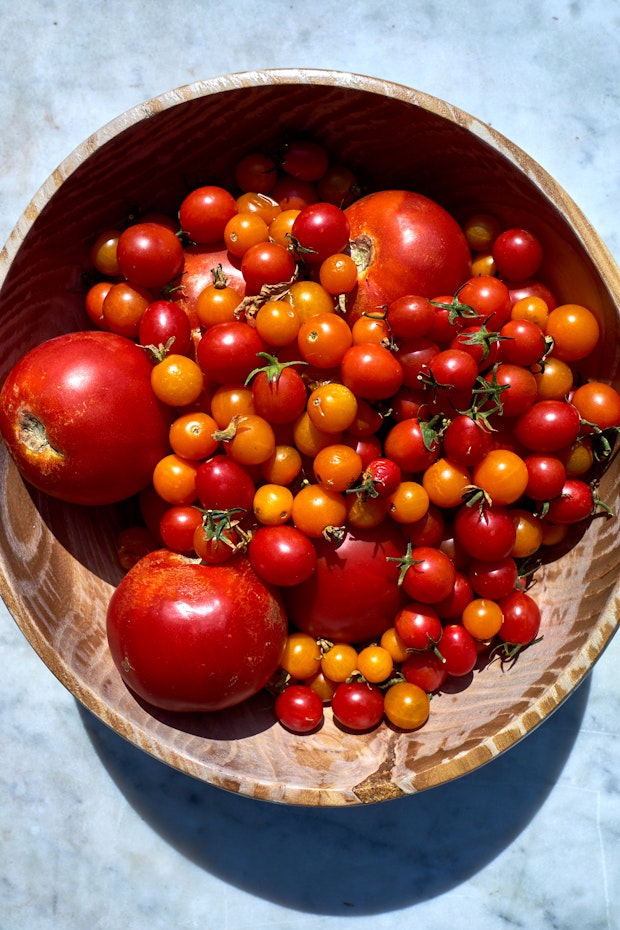 Ingredients & Variations
I've been buying my tomatoes direct from farmers. If tomatoes aren't your thing right now, I would substitute chopped avocado and red onion. Or, now that I'm thinking about it - shredded apple, or apple slices, or jicama. Other ideas: roasted cherry tomatoes in place of the fresh ones - would take longer but would add an entirely different flavor profile. 
Creamy Coleslaw
You can easily make this a creamier coleslaw by adding a dollop of your favorite mayo or yogurt after the initial tossing of ingredients - before you add the peanuts. It's one of those things that is all about personal preference. Sometimes a hint of creamy is perfect, but some people really like to go for it! I mean, I've definitely had conversations with people convinced that a good coleslaw is as much about the mayo as it is about the cabbage.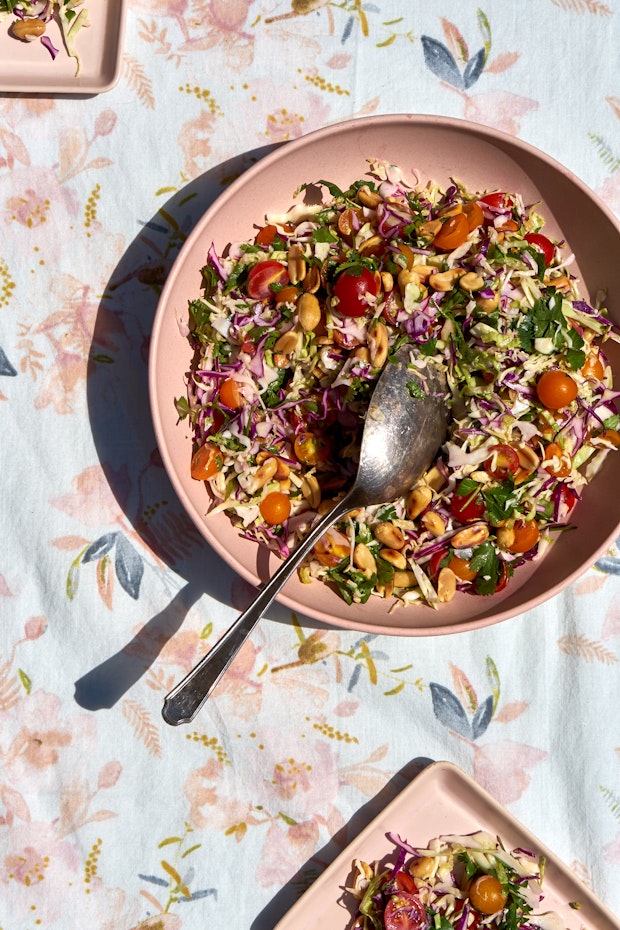 This coleslaw is great for picnics and BBQs, alongside other classics like macaroni salad, this sriracha rainbow noodle salad, ultimate veggie burgers, corn salad, and the like. There's a whole list of salad recipes if you'd like to browse, as well as lots of summer recipes here. Enjoy!
Lime & Blistered Peanut Coleslaw
Go ahead and leave out the jalapeño if you like it milder. I also thought about adding shredded, baked tortilla chips (like the ones from the tortilla soup recipe). Also, I've mentioned this before - I try to seek out organic peanuts. As far as the choice of cabbage goes, you can use green cabbage, or a blend of purple and green. If you like a more creamy coleslaw, go ahead and add a dollop of mayo, or Greek yogurt!
Ingredients
1 1/2

cups

unsalted raw peanuts

1/2

of a medium-large cabbage

1

basket of tiny cherry tomatoes, washed and quartered

1

jalapeno chile, seeded and diced

3/4

cup

cilantro, chopped

1/4

cup

freshly squeezed lime juice

2

tablespoons

olive oil

1/4

teaspoon

+ fine-grain sea salt

honey, to taste
Instructions
Blister the Peanuts
In a skillet or oven (350F) roast the peanuts for 5 to 10 minutes, shaking the pan once or twice along the way, until golden and blistered.
Prepare the Coleslaw Ingredients
Cut the cabbage into two quarters and cut out the core. Using a knife shred each quarter into whisper thin slices. The key here is bite-sized and thin. If any pieces look like they might be awkwardly long, cut those in half. Combine the cabbage, tomatoes, jalapeno (opt), and cilantro in a bowl.
Make the Dressing
In a separate bowl combine the lime juice, olive oil, salt. Taste, and whisk in a teaspoon or two of honey if the lime is too strong for you. Add to the cabbage mixture and gently stir to combine. Just before serving fold in the peanuts (add them too earl and they lose some of their crunch). Taste and adjust the flavor with more salt if needed.
Related Recipes
More Recipes
Popular Ingredients