Aran's Double Chocolate Buckwheat Crinkle Cookies
From Aran Goyoaga's new baking book, these buckwheat & chocolate crinkle cookies are spiked with almond butter, gluten-free, and the perfect cross between a brownie and a cookie.
Many of you know that I consider Aran Goyoaga a close friend and colleague. We first messaged each other over a decade ago, and made an effort in the years since to get to know each other. We'll meet up if we're in the same city, and travel together on occasion. I love hearing about what Aran is working on and enjoy catching glimpses of her work-in-progress. She works on a lot of cool (beautiful!) projects, but recently she has been writing and photographing a book that is exceptionally close to her heart. A baking book.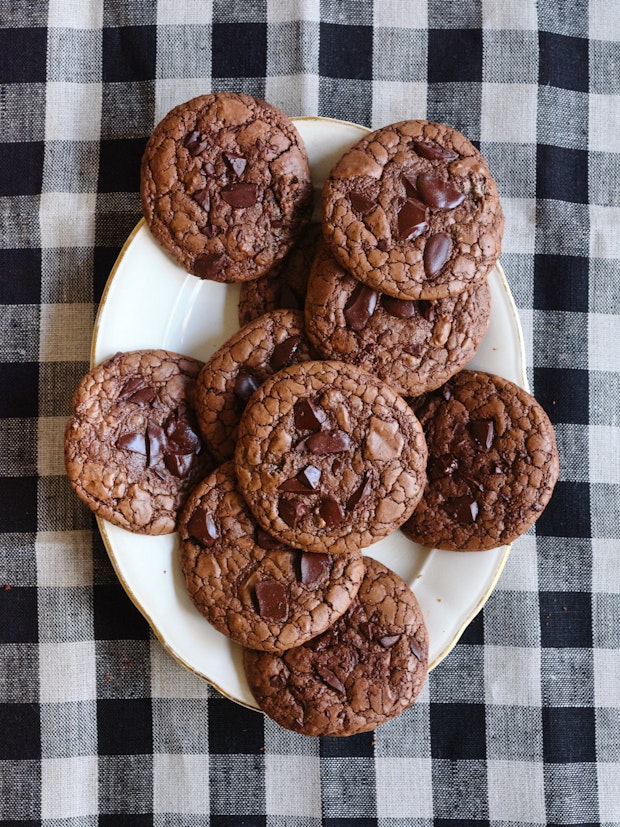 Cannelle Et Vanille Bakes Simple is the culmination of Aran's deep knowledge of baking. She mailed me an early copy of the book and I walked straight to the oven and dialed it to pre-heat. Cookies were going to get baked, pronto. I'll tell you more about the book down below (and share some pics), but the first thing you need to know is that these puddles of fudge-y goodness were amazing. They're her Double Chocolate Buckwheat Crinkle Cookies, and Aran says about them, "…these cookies are crispy and gooey at the same time- a cross between a brownie and a cookie."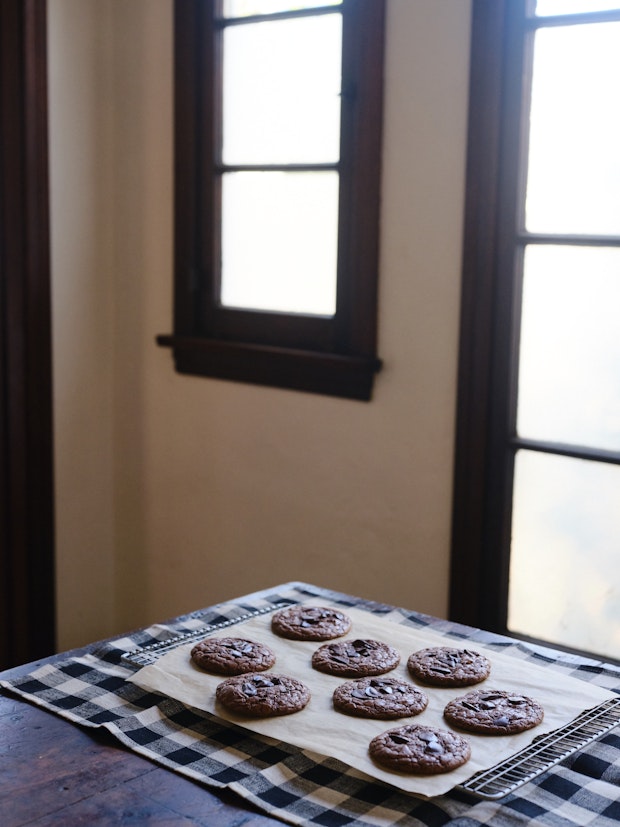 The flavor! I love the chocolate-buckwheat combination which adds depth and dimension working alongside a good amount of brown sugar. They're delicious. If you rarely explore the realm of flours beyond general all-purpose flour (and want to!), these cookies would be a great place to start. Also, if you're looking for a great gluten-free cookie recipe to take for a spin, these fit the bill. They were the first thing I baked and were much loved at the potluck I took them to.

Variations // Double Chocolate Buckwheat Crinkle Cookies:
Double Chocolate Fennel-Buckwheat Crinkle Cookies

: Aran makes her cookies with a teaspoon or so of crushed fennel seeds. I couldn't find my fennel seeds (in any of my seven spice drawers LOL), so we went for straight chocolate & buckwheat for this round. Though I imagine the anise-scented fennel seeds with the chocolate would be wonderfully fragrant and special.

Espresso Double Chocolate Buckwheat Crinkle Cookies

: A bit obvious, but if you love a coffee-chocolate combination add a tablespoon of finely ground espresso beans with the cocoa powder.

Black Cocoa Buckwheat Crinkle Cookies

: I can imagine replacing 1 of the 3 tablespoons of cocoa called for in this recipe with a black cocoa, making note, and dialing it up from there if you love the richness of black cocoa as much as I do.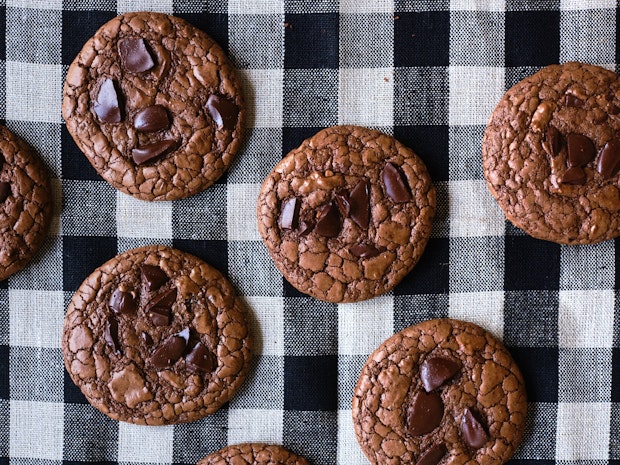 Below are a few snapshots of the interior of Cannelle Et Vanilla Bakes Simple. The photography is stunning, as is the beautiful book design. I'll weave in some thoughts between some of the spreads below.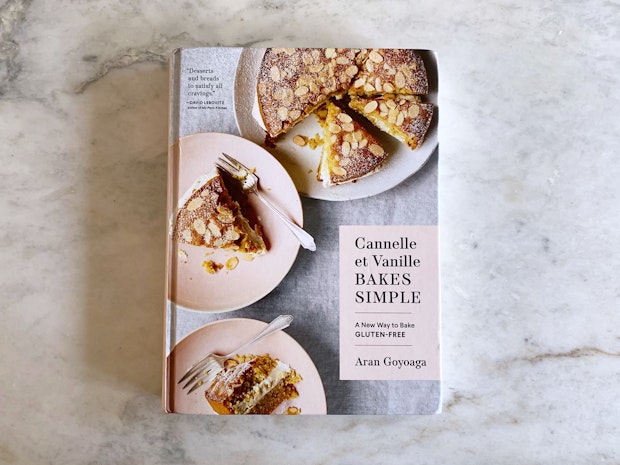 Who is this book for? This is the book I would buy for anyone wanting one fantastic, substantial deep dive into gluten-free baking. It's all here. You're covered on the sourdough front. GF Breads, baguettes, brioche, bagels, babkas? Check. Cakes, pie dough, scones, shortbread, thumbprints? All there. I also love the inclusion of a holiday baking section as the final chapter in the book. Linzertorte! Hot cross buns! Rugelach! Challah! Alternately, if you're a baker wanting to explore the wonderful realm of baking with alternative flours you'll find much inspiration here as well.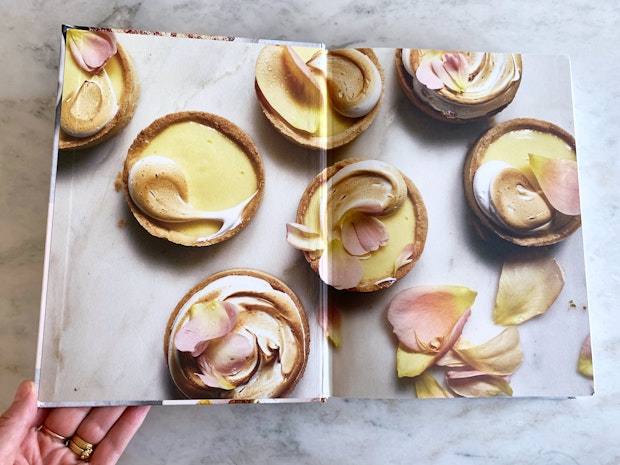 Cannelle Et Vanilla Bakes Simple will be available October 26, 2021 and my pro-tip here is this - if you think this is a book you might want to give as a holiday gift, pre-order it now. I suspect it will sell fast. I'm not just saying that as a friend of Aran's, I'm saying it as someone who is buying multiple copies to give to friends and family with gluten-sensitivity because it covers so much in a beautiful package.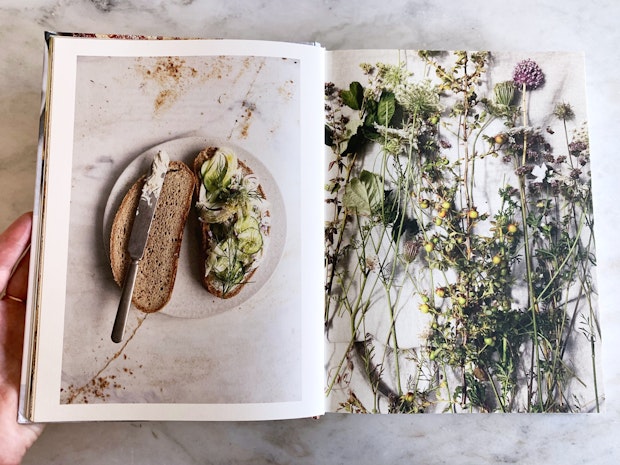 Beyond the book, if you're interested in more Aran goodness you're in luck. She has a fantastic Instagram account, and you can keep track of her events and new projects on her site.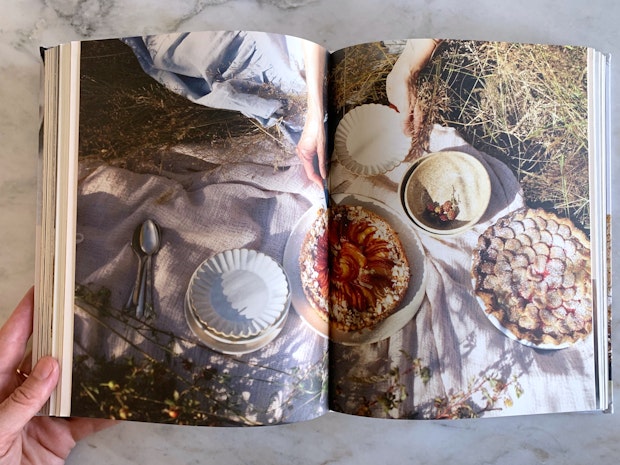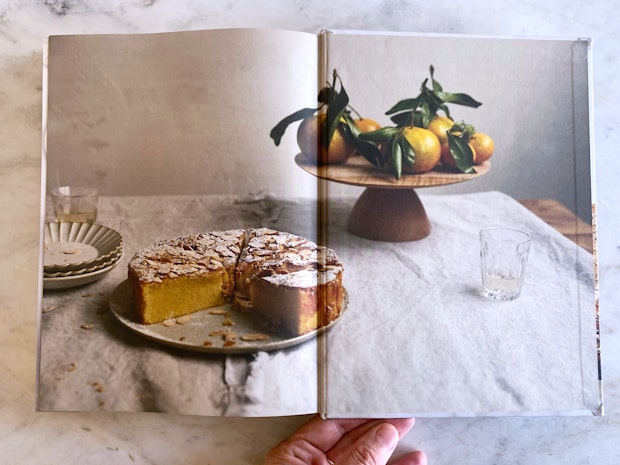 Before I sign off, just know that there is a lot of chocolate in the archives, and plenty of gluten-free recipes as well. Here's where you can find more chocolate recipes, as well as lots of cookie recipes: Don't miss these favorites: my all-time favorite brownies, this flourless chocolate cake, please please please make this chocolate pudding, and don't miss out on this chocolate devil's food cake.
Double Chocolate Buckwheat Crinkle Cookies
I used a small flea market-find ice cream scoop to place the dough on the baking sheets here. It makes for wonderfully uniform cookies. Keep your eyes peeled!
Ingredients
8

ounces

/ 225g 70% chocolate, coarsely chopped, divided

1/4

cup

/ 55g unsalted butter or dairy-free butter

3

tablespoons

almond butter

2

large eggs

1

cup

200g light brown sugar

2

teaspoons

vanilla extract

3/4

cup

/ 105g buckwheat flour

3

tablespoons

unsweetened cocoa powder

1/2

teaspoon

baking soda

1/2

teaspoon

fine grain sea salt
Instructions
Preheat the oven to 375 F. Line two baking sheets with parchment paper.

Fill a medium saucepan one-quarter full with water and bring to a simmer over medium-high heat. In a large heatproof bowl combine 7 ounces (200g) of the chocolate, butter, and almond butter, and place over the simmering water. Stir until the chocolate is nearly all melted, then remove from the heat. Stir again after a minute or so, the residual heat will continue to melt the chocolate.

In the bowl of a stand mixer fitted with the whisk attachment, combine the eggs, brown sugar, and vanilla and beat on high speed until the eggs are pale and thick, about 5 minutes. Pour in the melted chocolate and beat on medium speed until thick, another minute or so.

In a small bowl, stir together the buckwheat flour, cocoa powder, baking soda, and salt. Fold this into the batter with a spatula. Scoop 1 1/2-tablespoon mounds of dough onto each baking sheet, leaving 2-inches of space between. Lightly press small pieces of the remaining chocolate into the top of each cookie.

Bake for 8 to 9 minutes, until the edges of the cookies are crispy but the centers are soft. These are cookies you want to be careful not to overbake. They might look a little underdone, but they will set during cooling. Cool on the pan for 10 minutes, or until you are able to pick the cookies up without them falling apart. They will keep for three days in an airtight container.
More Recipes
Popular Ingredients