Green Bean Salad with Peaches
This green bean salad with peaches can anchor many summer meals. It features caramelized onions, toasted nuts, dates, a jolt of serrano pepper and a unifying oregano-garlic drizzle.
If you're looking for the perfect side situation for all your summer meals, this green bean salad with peaches could be it. Plenty of caramelized onions, peach chunks, and toasted nuts make this salad seem a bit decadent. And then the heat of a serrano chile pepper along with a drizzle of strong oregano-garlic oil levels up the flavor in unexpected ways. Basically, it's what I'll be making with all my green beans in the coming weeks. It's peak summer deliciousness.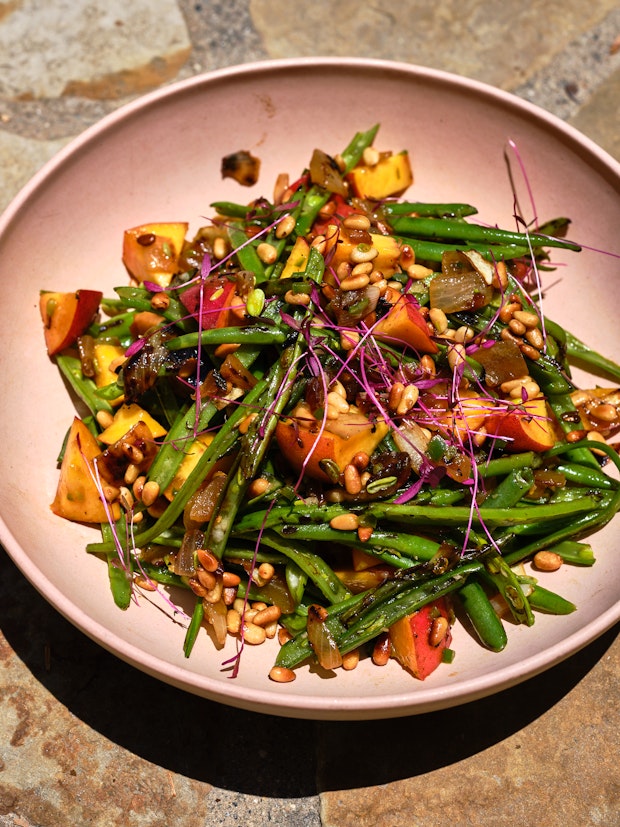 Green Bean Salad with Peaches: The Ingredients
Here are a couple pointers as you're sourcing ingredients for this recipe.
Green Beans

: Look for tender green beans. I used green beans here, but I also look forward to making it with the beautiful yellow string beans we are starting to see at the market this time of year. Either will work beautifully. If I have extra time, I like to trim the tops and tails from the beans, cut them into bite-sized segments, and (extra credit) split them in half along the length. See photo above.

Nuts

: You see toasted pine nuts used here. Toasted almond slices are also wonderful along with the peaches, and I can imagine toasted walnuts or pecans working well if you shifted into a late summer version of the salad. You could swap in roasted tomatoes for the peaches, etc.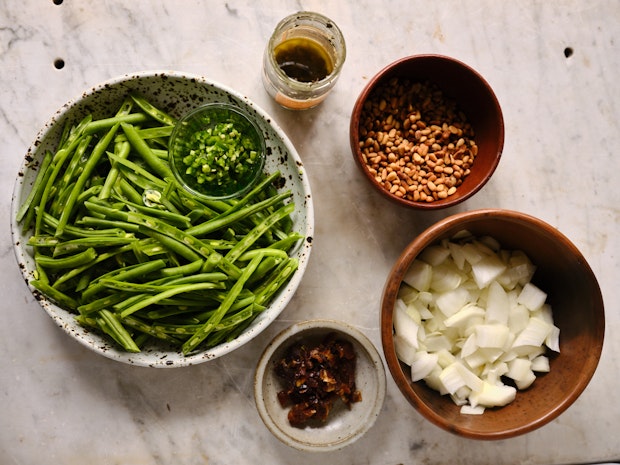 Peaches

: Aim for ripe, flavorful peaches that aren't overly soft. You want them to maintain structure when tossed with all the other ingredients.

Fresh oregano

: You can also substitute fresh marjoram if that is what you have.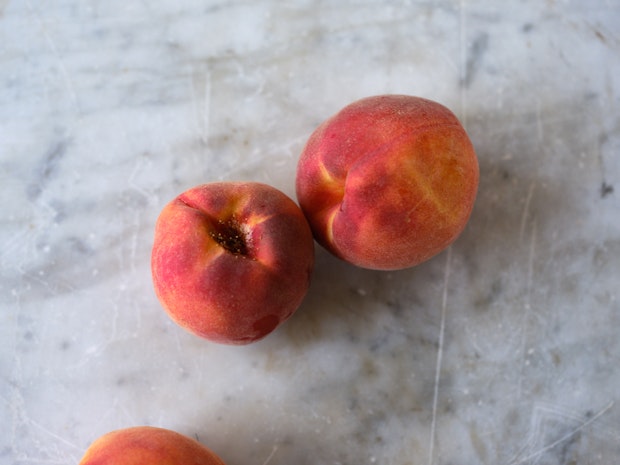 The Garlic-Oregano Oil
This is the magic component here. I have you make more of this oil than needed because you'll never want to be without it. It's perfect drizzled on just about everything. Drizzle on grilled vegetables, quesadillas, tacos, baked pastas, fresh pastas, bean dishes, green salads. I could literally go on forever.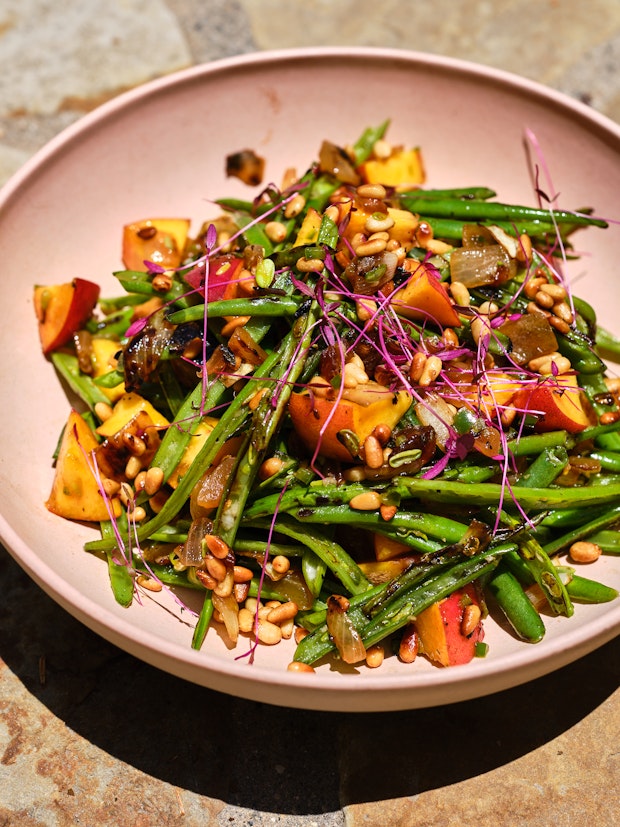 More Salad Recipe
- more salad recipes
Green Bean Salad with Peaches
The great thing about this salad is it is adaptable throughout green bean season. When peaches are in season, use those. Swap in roasted cherry tomatoes are great later in the summer. And roasted delicata squash as fall arrives.
Ingredients
Garlic-Oregano Oil
1/4

cup

fresh oregano leaves

4

medium garlic cloves, peeled

1/4

teaspoon

fine grain sea salt

2/3

cup

extra virgin olive oil
Green Bean Salad
2

tablespoons

extra-virgin olive oil

1

medium yellow onion, chopped

fine grain sea salt, to taste

1

tablespoon

serrano pepper, minced

2

ripe peaches, cut into 3/4-inch pieces

1-2

dates, pitted and chopped

3/4

pound

/ 12 ounces green beans, trimmed

1/3

cup

toasted pine nuts or sliced almonds

For serving: sprouts (optional)
Instructions
Make the garlic-oregano oil:
Combine the oregano, garlic, salt, and olive oil in a blender or food processor. Pulse until the garlic and oregano are tiny flecks, 10 seconds or so. Set aside.
Caramelize the onions:
In a large skillet over medium-high heat combine 1 tablespoon of the olive oil with the onions and a generous pinch of salt. Toss well and allow to cook until deeply golden and sweet, stirring regularly. When you're just about done, stir in the serrano pepper and allow to cook for another couple minutes. Transfer to a bowl and stir in the peaches and dates and set aside.
Blister the green beans:
Heat the remaining 1 tablespoon of olive oil in the skillet over high heat. Add the green beans, season with a couple pinches of salt, toss well and allow to tenderize and blister. Toss a few times along the way. Remove from heat and drizzle with 2 tablespoons of the garlic-oregano oil, be sure to get plenty of chunks from the bottom. Toss well and transfer to the bowl of peaches along with the pine nuts. Taste, adjust with more salt or oil if needed and serve family-style!
Related Recipes
More Recipes
Popular Ingredients