Six Seed Soda Bread
Inspired by Hugh Fearnley-Whittingstall's soda bread recipe, this version is made with a blend of spelt flour and all-purpose flour. The dough is littered with seeds - sunflower seeds, pumpkin seeds, sesame seeds, poppy seeds, flax seeds, and fennel seeds. It bakes into a perfect, rustic, crusty loaf of bread with relatively little effort.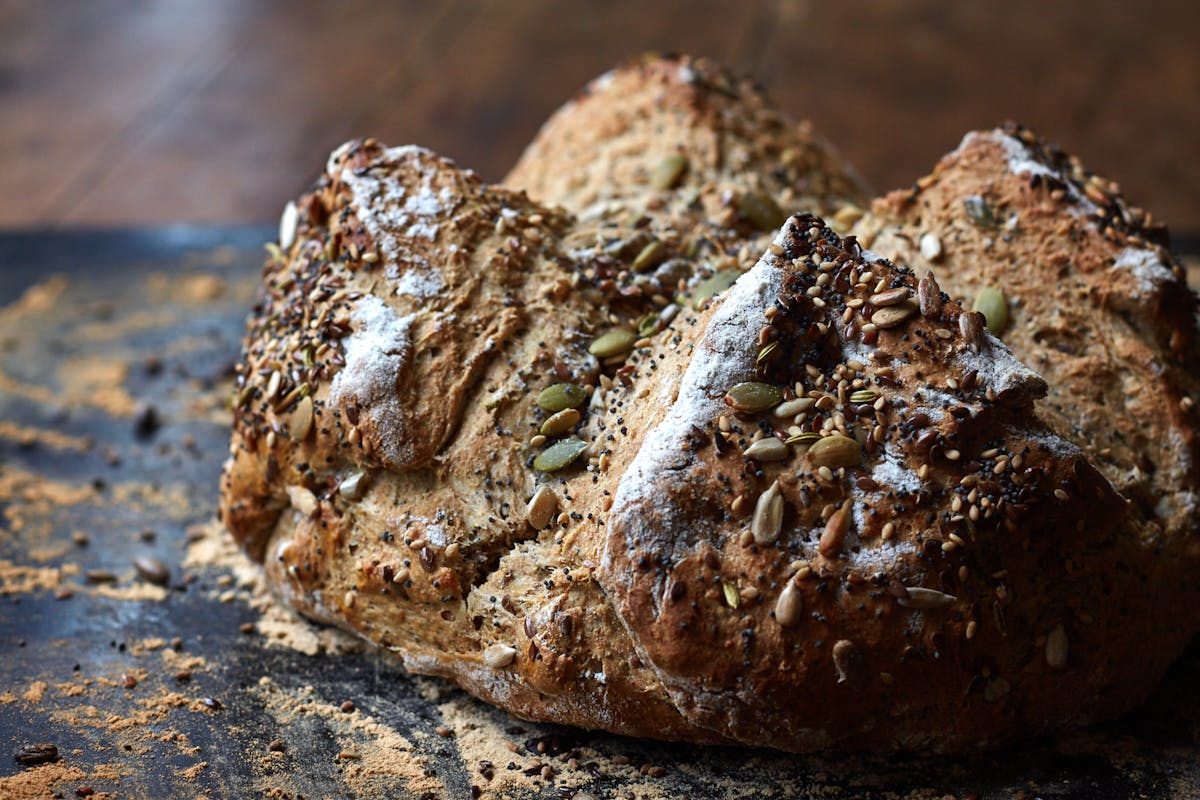 I finally had a chance to sit down this morning and sort through the pile of notes, menus, books, and magazines I brought back from a trip to Portland, Oregon. There is a loaf of six-seed soda bread baking in the oven, plus a slab of butter on the counter waiting for it. I always stock up on books when traveling and on this trip I snagged a copy of Edible Portland, a copy of Reza Mahammad's Rice, Spice, and all Things Nice, and a copy of Hugh Fearnley-Whittingstall's River Cottage Every Day.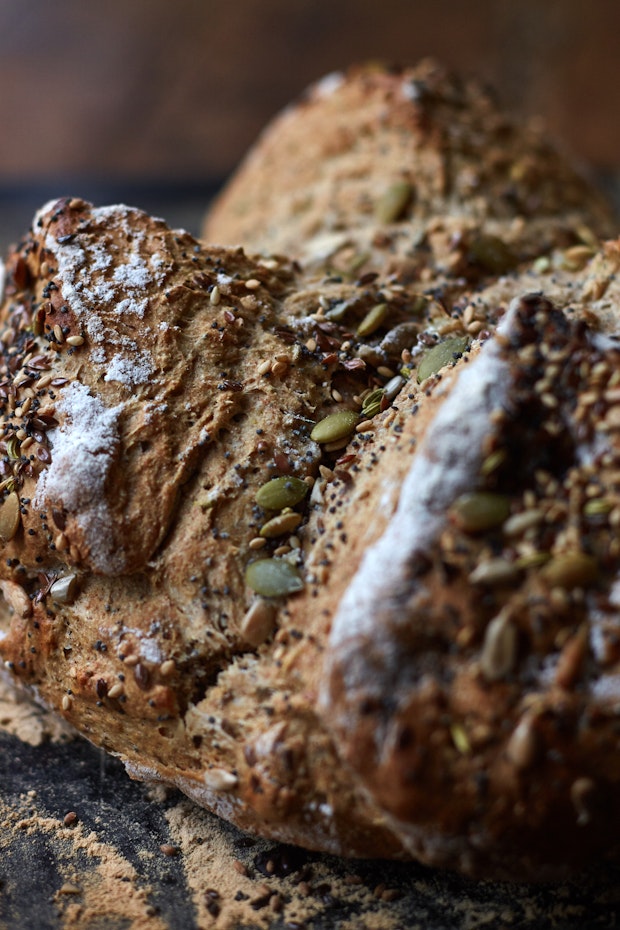 Soda Bread: Inspiration
The soda bread recipe in Hugh Fearnley-Whittingstall's book jumped out at me immediately as I flipped through the pages. I make soda bread quite often (my favorite is a rye version), in part because soda bread comes together in no time, with just a small handful of ingredients. You can have a loaf in the oven in under ten minutes.
With a few tweaks to his recipe, I've been enjoying Hugh's seeded, multi-grain flour version. His soda bread is made with a blend of spelt flour and all-purpose flour, the dough is absolutely littered with seeds - sunflower seeds, pumpkin seeds, sesame seeds, poppy seeds, flax seeds, and fennel seeds. The fennel is a nice wildcard, and the whole loaf takes on a nice crunchy crust with lots of bonus seeds on top.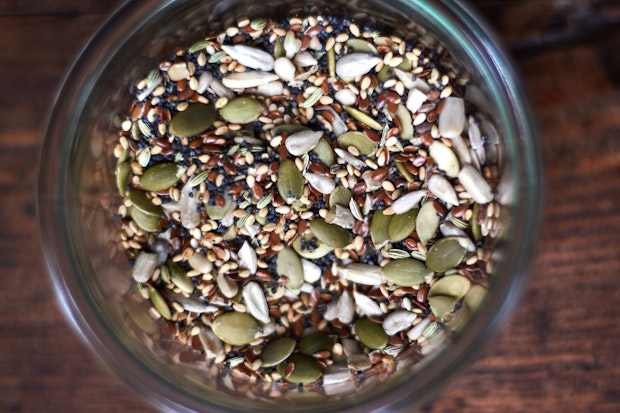 A Few Ways To Enjoy Soda Bread
This bread is fantastic in the morning slathered with bit of farmers cheese drizzled with honey. It is ideal along with a hot, hearty bowl of soup. And, tossed with a bit of olive oil and baked a second time,  leftovers make good croutons.
If you're convinced you can't bake bread, I encourage you to give this a shot. Because it doesn't rely on It's the perfect bread for beginning bakers, At the very least you'll be out a bit of flour, some buttermilk, baking soda and some seeds. The upshot is you'll be able to make fresh bread any time you like!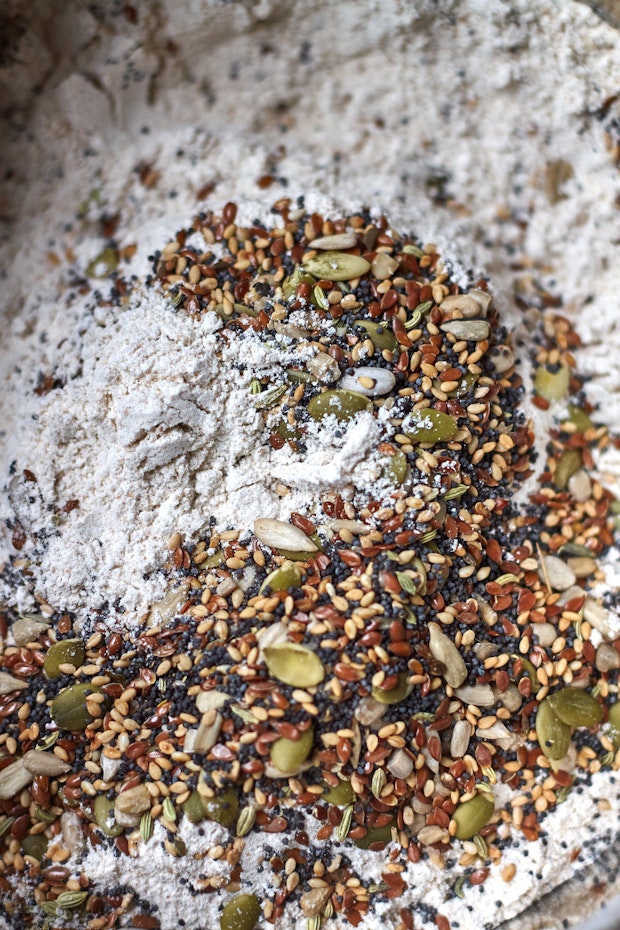 Six Seed Soda Bread: Variations
Rolls!: Adriana says,"I made this bread on Saturday, instead of a big loaf I made 8 rolls… today it's Tuesday, there's no bread left! They are so great after my morning run or with some butternut squash soup… delicious!"
Vegan Rye Version:  Joana helpfully talks though her swaps to make a version without buttermilk,"I'm eating a warm slice of this bread as I type. I did a few tweaks to the recipe that should be worth mentioning: as I didn't have spelt flour, I substituted rye flour; and because I'm a vegan, I substituted the buttermilk for rice milk mixed with lemon juice (1 tablespoon lemon juice for 3/4 cup of milk). It turned out super yummy!"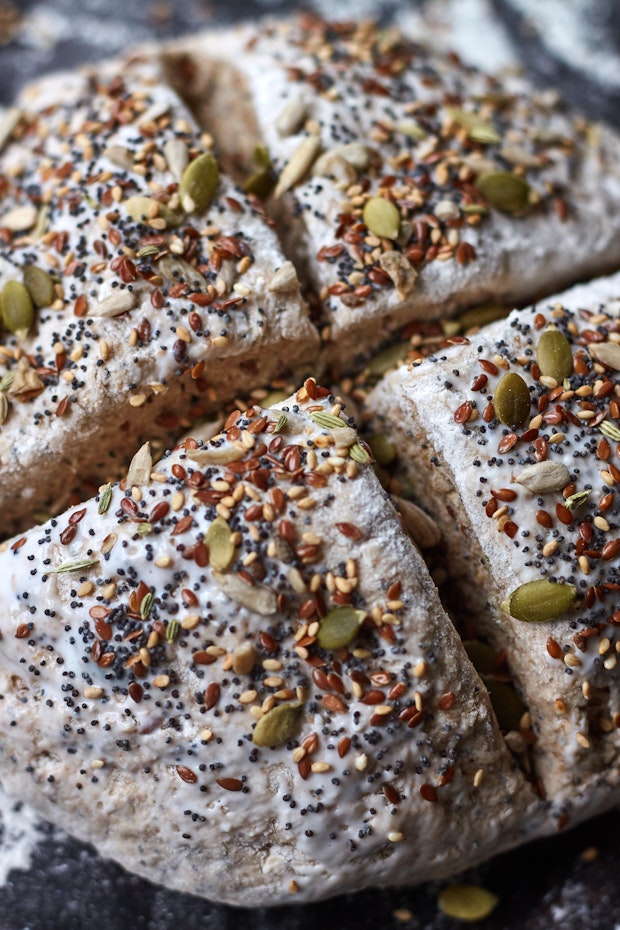 More Bread Recipes
Six Seed Soda Bread
I've been enjoying this combination of seeds, but feel free to experiment with other combinations if you prefer, based on what you have on hand, or what is available in your area. You can also make this with whole-wheat flour in place of the spelt flour.
Ingredients
2 1/2

tablespoons

EACH sunflower seeds, pumpkin seeds, sesame seeds,
poppy seeds, flax seeds

1

teaspoon

fennel seeds

1 3/4

cup

/ 9 oz / 250 g spelt flour

2

cups

/ 9 oz / 250 g unbleached all-purpose flour

2

teaspoons

baking soda

1

teaspoon

fine grain sea salt

1 3/4

cup

/ 14 oz / 400 ml buttermilk

a bit of extra buttermilk/milk
Instructions
Preheat your oven to 400°F / 205°C. Place a rack in the center of the oven. In a small bowl combine all the seeds and set aside.

Sift the flours, baking soda, and salt into a large mixing bowl. Stir in all but 2 tablespoons of the seeds. Make a well in the flour, pour in the buttermilk, and stir until the dough just comes together. If you need to add an extra splash of buttermilk because the dough is too dry, you can.

As Hugh says, "Tip the dough out onto a lightly floured work surface and knead lightly for about a minute, just long enough to pull it together into a loose ball but no longer - you need to get it into the oven while the baking soda is still doing its stuff."

Place the dough on a lightly floured baking sheet and mark it with a deep cross across the top, cutting two-thirds of the way through the loaf with a serrated knife. Brush with buttermilk and sprinkle with the remaining seeds, making sure plenty of seeds make it down into the cracks.

Bake for 35 - 40 minutes, or until the bread is golden crusted on top and bottom (you may want to move the oven rack up for the last 15 minute if you need more color on the top of the loaf). Cool on a wire rack.
Notes
Makes a single loaf.
Adapted from River Cottage Every Day by Hugh Fearnley-Whittingstall, published by Bloomsbury.
Related Recipes
More Recipes
Popular Ingredients