Perfect, Creamy Mashed Potatoes with Garlic Butter
My all-time favorite mashed potatoes recipe with buttery peaks and creamy, cloud-like potatoes with garlic butter.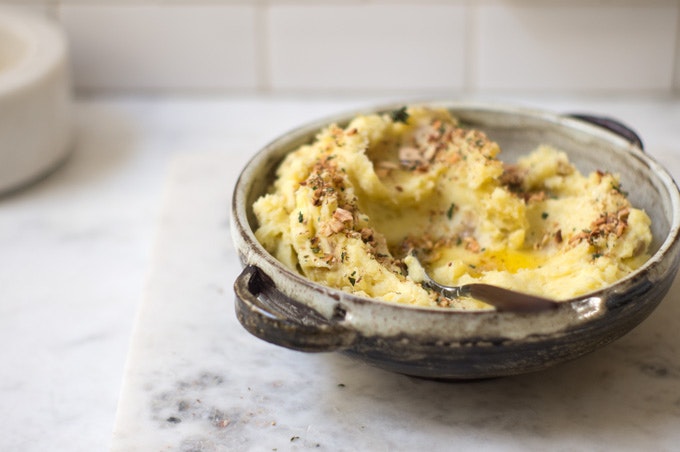 I posted this mashed potato recipe years ago, and hundreds of you have cooked them! But, seeing as mashed potato season is just around the corner, I thought I'd update the recipe with a few notes and suggestions. Creamy, buttery peaks and cloud-like potatoes are drizzled with a saffron garlic butter. Top the potatoes with a toasted almond, coriander, sesame sprinkle, and it's incredibly delicious. Simple, but with enough of a twist to make them special.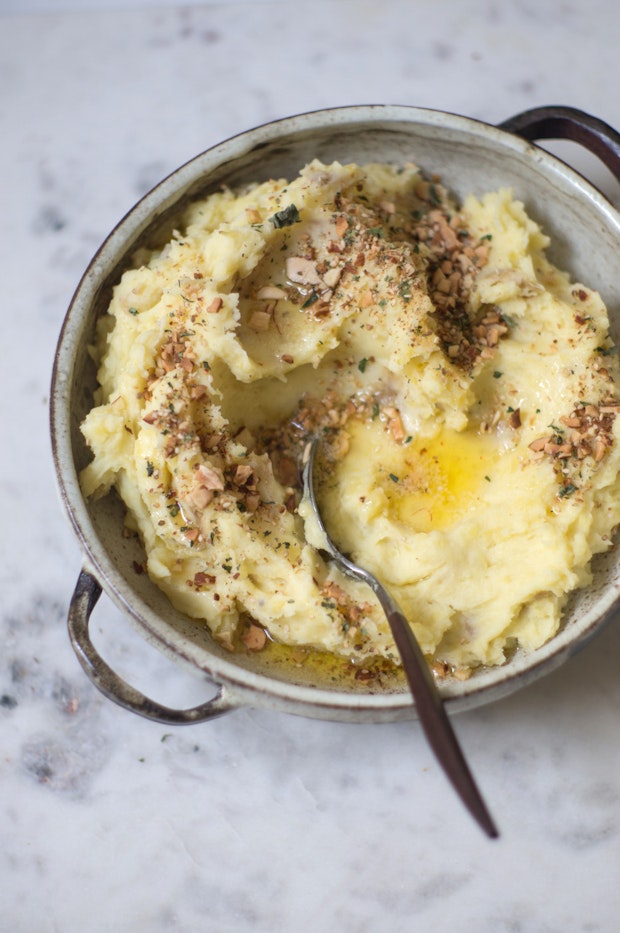 Best Type of Potato to Use
People really dig in with opinions about what type of potato is best when it comes to making mashed potatoes. I like the creamy texture most waxy "new" potatoes bring to the party. Yukon golds or yellow finns are my go-to. That said, many people use russet potatoes. Russets have a higher starch quantity, and can contribute to a beautiful, fluffy bowl of potatoes for sure. But my secret weapon is smaller, waxy potatoes. They're so creamy, and lend a beautiful, naturally rich texture you can't get otherwise.
Skin off or Skin on?
This is completely a personal preference. If you're serving a crowd that appreciates a rustic mashed potato, by all means, leave the skins on. If your people like uniform billowing clouds of mashed potato, get out the peeler. I tend to bounce back and forth between the two.
The Secret Drizzle Magic
The thing that takes these mashed potatoes over the top is the special butter. It's the simple combination of butter, garlic, saffron, and a pinch of salt. When you drizzle it over the potatoes, it smells incredible, and is the perfect way to finish your beautiful potatoes. As a last touch, a dusting of almonds and herbs brings an updated accent to classic mashed potatoes, but you can skip of you're more old-school, and like your potatoes straight.
Mashed Potato Variations
I also love these Kale Mashed Potatoes from forever ago. And if you're open-minded about a sweet potato variation - these Vanilla Mashed Sweet Potatoes are in need of an updated photo (laugh/cry), but so good.
A few other favorite potato recipes include this super-spiced potato salad, perfect homemade gnocchi, these amazing oven fries, classic baked potatoes, and my take on potato chowder.
Perfect, Creamy Mashed Potatoes with Garlic Butter
I like the creamy texture new potatoes, Yukon golds, and yellow finns lend here, but good russet potatoes yield light, fluffy, beautiful mashed potatoes and are delicious as well. You can easily make these vegan by substituting olive oil for the butter, and your favorite non-dairy milk. Also, don't be thrown off by the saffron, you can leave it out if you don't have any. Enjoy!
Ingredients
3

pounds

potatoes, washed and cut into 2-inch chunks

8

tablespoons

unsalted butter

3

medium garlic cloves minced

1

pinch

of saffron (optional)

1

teaspoon

dried coriander

1/3

cup

toasted sliced almonds

1

tablespoon

toasted sesame seeds

2

tablespoons

dried oregano

1

cup

whole milk, gently warmed

1 1/2

teaspoons

sea salt, plus more to taste
Instructions
Boil the Potatoes
To a large pot of boiling, salted water add the potatoes. Cook until tender throughout, but not falling apart, about 15 minutes - it really depends on the potatoes.
Prepare the Garlic Saffron Butter
Melt 6 tablespoons of the butter gently in a small saucepan over medium-low heat. Stir in the garlic, and allow to steep there over low heat for 5-10 minutes. Remove from heat. You can either leave the garlic bits in, or strain them out. Either way, at this point, stir in the saffron (if using), and a pinch of salt, and set aside.
Prepare the Almond Mixture
Crush the coriander seeds in a mortar and pestle. Add the almonds, and crush them, but not so much that they turn to paste. Stir in the sesame seeds, and then the oregano. Crushing the oregano in between your palms as you add it.
Mash the Potatoes
When the potatoes are tender, drain them, and return to the cooking pot over the lowest heat. Mash together with the milk, the remaining 2 tablespoons butter, and the salt. Serve hot, topped with the garlic butter and almond mixture.
Related Recipes
More Recipes
Popular Ingredients