Pasta with Etruscan Sauce
From the Pasta Grannies series, this is a simple pasta with a special sauce made from a quick puree of sun-dried tomatoes, black olives, parsley, and garlic. It's fast, strong, adaptable, and doesn't disappoint.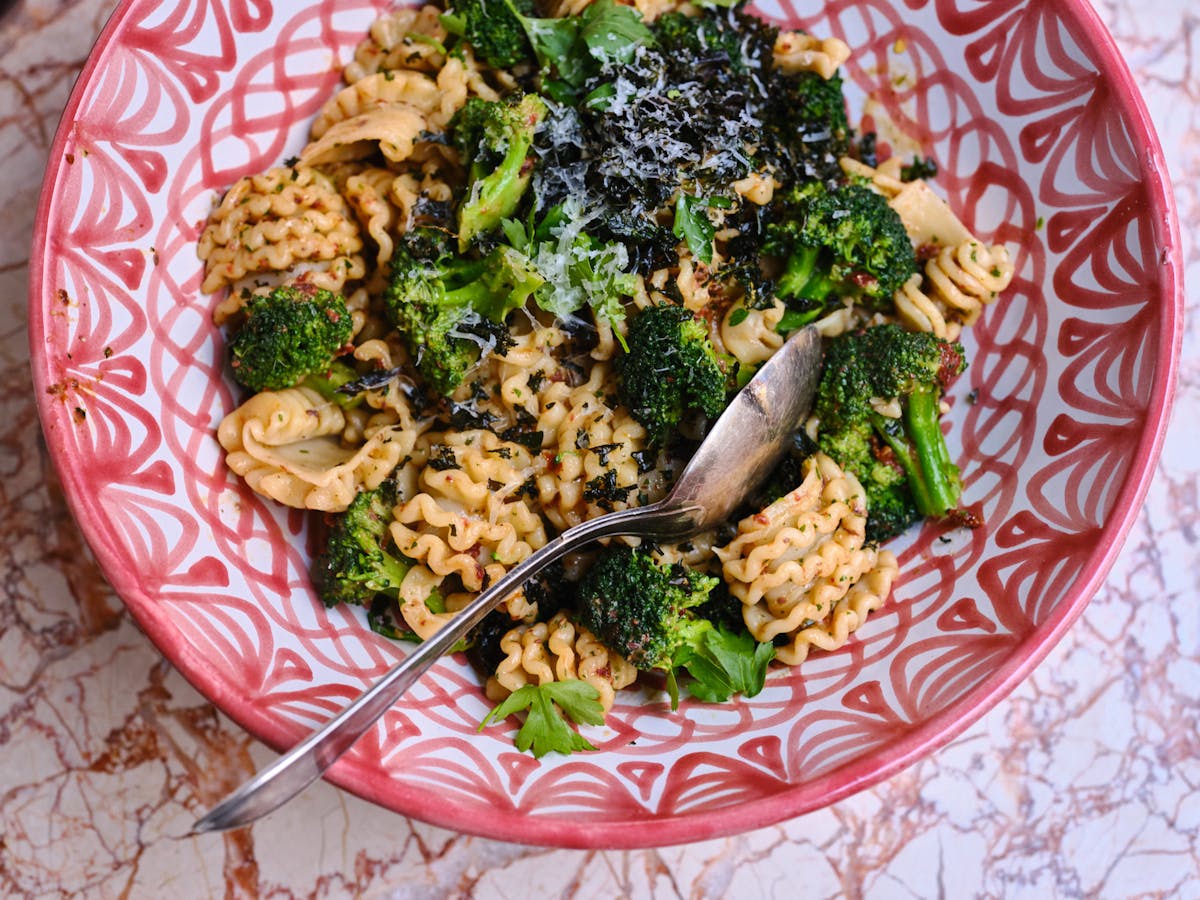 I thought it might be fun to cook some recipes together this year. Recipes that are new to me, and likely new to you as well. I keep an ongoing list of recipes I want to try from cookbooks, magazines, websites, and e-books, and this Pasta with Etruscan Sauce has been at the top of it for a while. I spotted it while watching Vicky Bennison's Pasta Grannies series on You Tube. It was the sauce in the video with nonna Luigina at La Vialla, an Agriturismo near Arezzo, Italy that got me. A quick puree of sun-dried tomatoes, black olives, parsley, and garlic, is tossed with pasta. It's fast, strong, adaptable, and doesn't disappoint.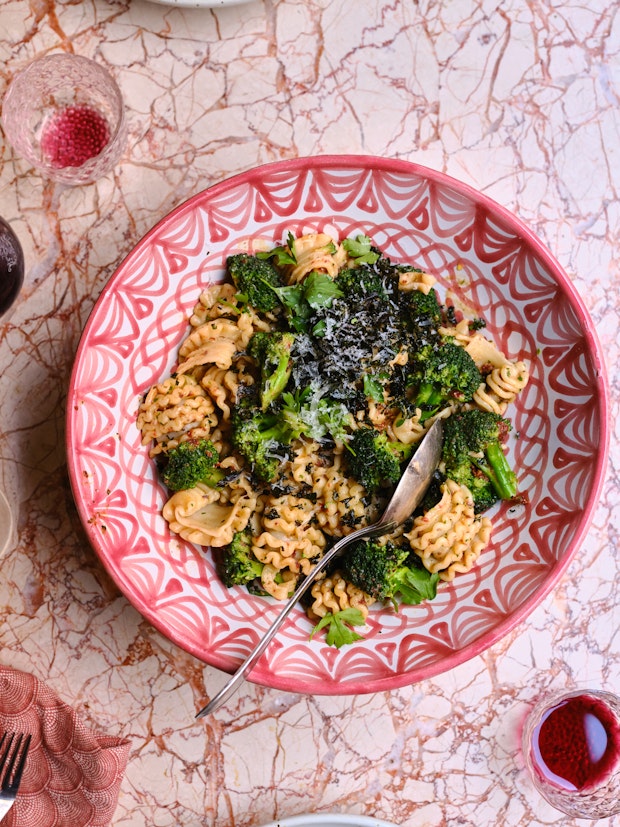 The Pasta Grannies video demonstrates how to make a handmade pici pasta to serve with the Etruscan sauce. If you have the time and inclination, by all means make the pici! It's one of my favorite pasta shapes, easy to do even if you've never tried making fresh pasta before. That said, I was a bit pinched for time when I cooked this and reached for a box of ruffled radiatori pasta instead. The Etruscan sauce got wonderfully caught up in all the ridges and curves, and there were no regrets. If you're Italian, and upset about my pasta choice, I apologize in advance. It might not be "right" but it sure was delicious.


I've watched my way through much of the Pasta Grannies archive ( I love them all!), and was lucky to meet the series creator, Vicky, when she came to Los Angeles to promote the Pasta Grannies cookbook at Now Serving. If you haven't seen it yet, keep your eyes peeled. I'm so inspired by these women, and the book with its stories, is such a nice companion to the video series. If you're more of an Instagram person vs. You Tube, you can also find Vicky & Pasta Grannies here.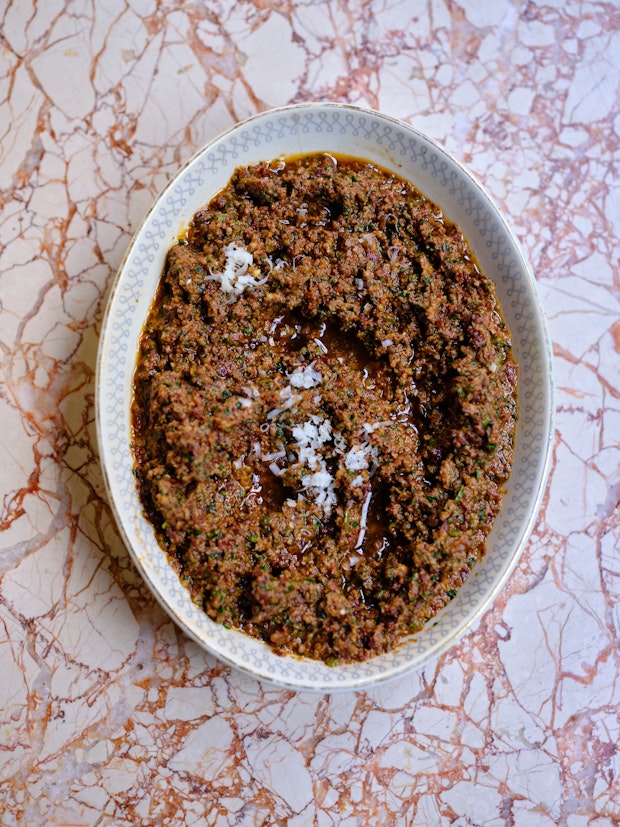 Etruscan Sauce
Back to the recipe - the sauce is a tapenade of sorts, it gets thinned out (a bit) when you add it to the pasta along with a bit with reserved pasta water. The way the recipe is written below, you'll have a good amount left over, so here's a quick brainstorm of other ways to use it.

For starters, this is a sauce that is A+ slathered on all things flat and bread-y or toasted - crostini, flatbreads, pizza, paratha, sandwiches, etc. You can add a dollop to a bowl of beans, for a quick bean salad. I tossed a spoonful with some sturdy lettuces for a side salad at lunch, so good. And you won't be sorry if you pair it with pan-fried artichokes. Let me know any other ideas you have in the comments.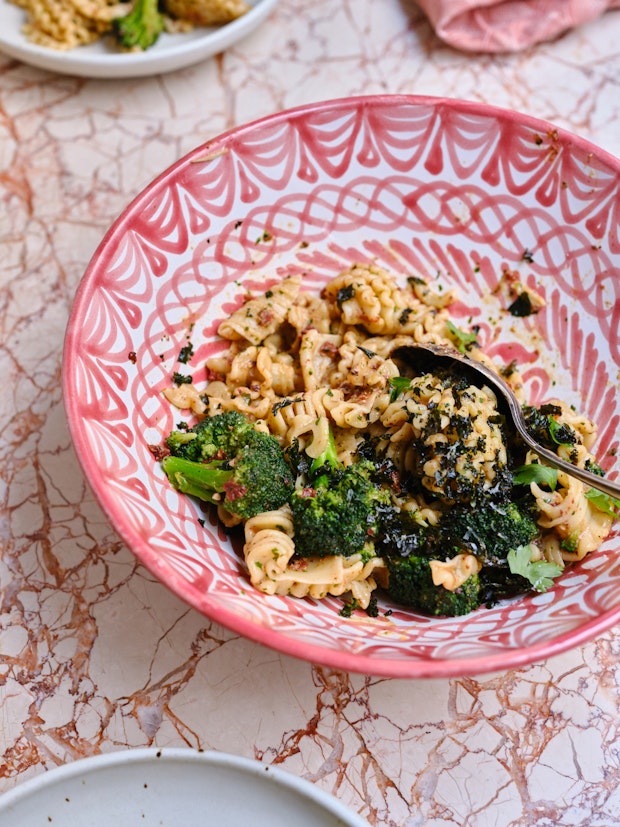 Let's Cook!
I like the idea of taking this site back to its roots - cooking from inspiring recipes and cookbooks, vintage & contemporary. So that's going to be the theme this year. And, I think it's going to be more fun if we cook recipes together! If you end up making this pasta in the next week or two, send a note, or tag a photo or video on Instagram so I'll see it (@heidijswanson // #101cookbooks) ! I'll regram helpful tips, photos, insights, ideas, and riffs we collectively come up with. I'll also posting some video clips in my "highlights" tomorrow, if you want to see how Pasta with Etruscan Sauce came together for me.

For more pasta recipes, for more vegetarian recipes.
Pasta with Etruscan Sauce
You can make the Etruscan sauce up to a few days in advance. Keep refrigerated until ready to use. Victoria notes in her her video, the sauce sometimes includes the optional addition of 2 small anchovies. I didn't include them in this vegetarian version, but you would add them along with the other ingredients. As far as pasta choice here - homemade pici is featured in the Pasta Grannies video, but I opted for radiatori (because it is what I had on had) - and its grippy ridges were great. I also tossed in some broccoli, and finished it with crushed kale chips, but you'll see that's optional in the recipe. Enjoy!
Ingredients
1/2

cup

pitted Kalamata olives

3/4

cup

sun-dried tomatoes in olive oil

1 1/2

cup

/ 3 ounces grated pecorino cheese

1

large handful of parsley (leaves and stems)

1

hard-boiled egg

2/3

cup

extra-virgin olive oil

2

cloves of garlic, peeled


1/2

teaspoon

red pepper flakes

1/4

teaspoon

fine grain sea salt


1

pound

dried pasta

1

head

broccoli florets (optional)


1/2

cup

kale chips, crumbled (optional)
Instructions
Bring a large pot of water to a boil over medium-high heat.



In the meantime, prepare the Etruscan sauce. Place the olives, sun-dried tomatoes, cheese, parsley, egg, olive oil, garlic, red pepper flakes, and salt into a food processor and blend well, but not too much. You still want a bit of texture. Set aside.

Salt the boiling water, and stir in the pasta. Cook until al dente, and reserve 1 1/2 cups of the pasta water for later. Stir in the broccoli if using, one minute before draining. After draining, return the pasta and broccoli to the pot, over medium heat, along with about 1 cup of the reserved pasta water. Stir in half of the Etruscan sauce and toss until everything is well coated, adding more sauce to your liking (taste as you go). Serve sprinkled with crushed kale chips (if you like), or dusted with more Pecorino.
Related Recipes
More Recipes
Popular Ingredients