Spaghetti with No-Cook Sauce
A tangle of spaghetti, olives, nuts, vegetables, and torn mozzarella in a no-cook, lemon-zested tomato sauce. A recipe for a hot night when tomato season is at its peak.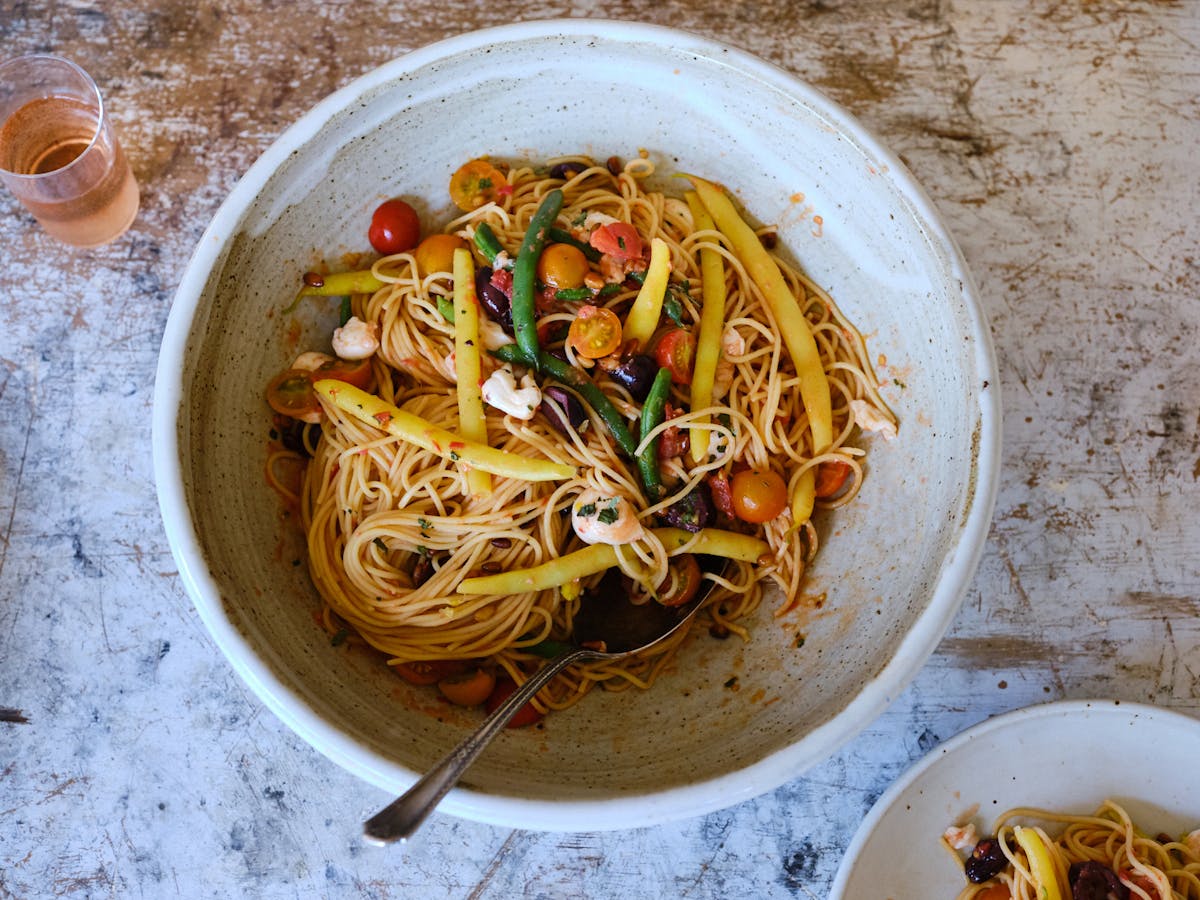 You can tell by the streak of tomato recipes here lately, I'm in the thick of it. And today is no exception. I made this for dinner last night, and if you have a box of spaghetti and some good tomatoes you're half way there. What you see is a tangle of spaghetti, olives, nuts, vegetables, and torn mozzarella in a no-cook, lemon-zested tomato sauce. It's bright, summery, colorful food, easy to adapt based on what you have on hand. The key? Make it on an extra hot night when tomato season is at its maximum. And don't even mess around if your tomatoes aren't on point.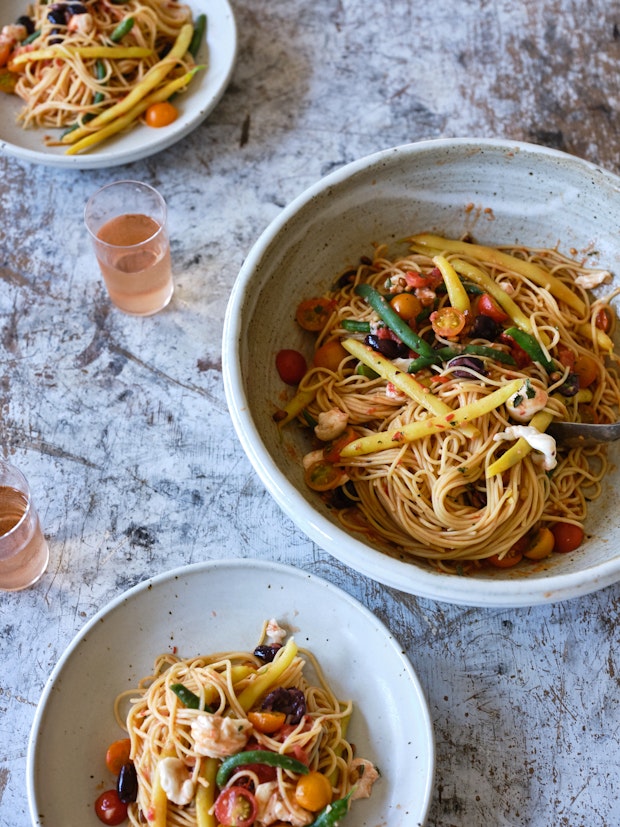 So Many Variations!
This is a quintessential pantry meal. I added olives, pine nuts, and a bit of cheese to the base ingredients of spaghetti and tomatoes, but you can experiment with endless other directions. I love the pine nut component here, but toasted almonds, walnuts, hazelnuts, or cashew would all be great. You could do a spicy version by adding a dollop of harissa to the sauce, or some chile flakes, or a tablespoon of toasted sesame chile oil. On the vegetable front, you see string beans pictured (because that's whats coming out of my garden right now), but load up on anything from broccoli and cauliflower florets, or asparagus - basically, any quick cooking veg that you can throw in the pasta water at the last minute.
The Spaghetti
Use your favorite spaghetti noodle here. I love a traditional spaghetti noodle, don't get me wrong, but one of the big surprises to me over the past few years is how good some of the whole grain and pulse-based pastas are. There is a wide range of brands around, so you'll need to experiment. My advice on this front is to "date around" until you find a few brands and shapes you like. For day to day pasta eating when you compare nutritional labels, the noodles made with more whole ingredients can deliver significantly more vitamins, minerals, fiber, protein and the like. So it's worth it to play around.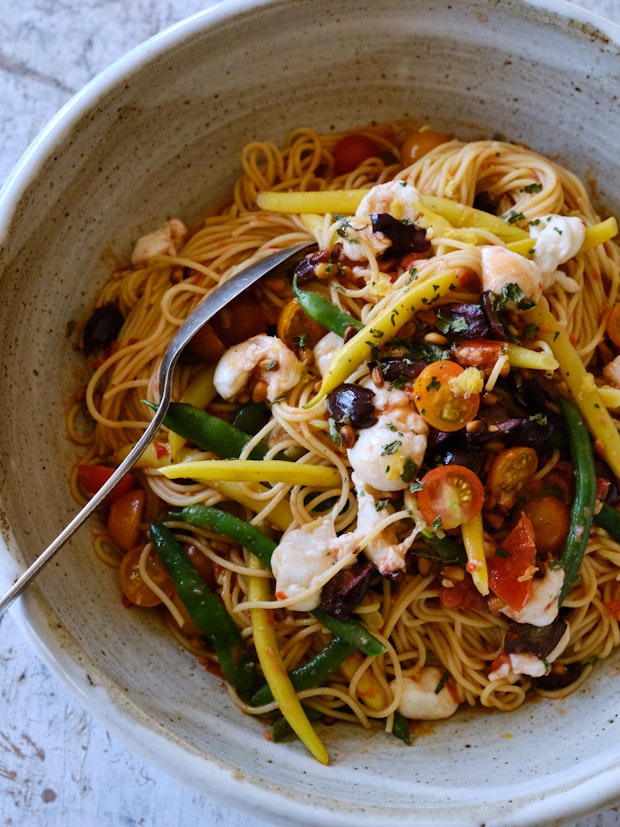 If you're looking for more tomato-centric recipes -- I posted this tomato tart recently. Try a fresh version of this tomato sauce. Make this favorite salsa. Or add them into a summery coleslaw. And you can never go wrong with gnocchi or classic bruschetta. If you're just looking for summery favorites, try this Grilled Zucchini & Bread Salad, this Pasta with Smashed Zucchini Cream, or this Zucchini Bread.

And if you're looking for a real treat, make this with homemade pasta. It's incredible.Enjoy!
Spaghetti with No-Cook Sauce
Use the best, most flavorful tomatoes you can find.
Ingredients
1 1/2

pounds

ripe tomatoes (~3 large), quartered, seeds removed

3

tablespoons

extra virgin olive oil

2

garlic cloves, minced

scant teaspoon fine grain sea salt

2

lemons

1

pound

whole grain spaghetti

1

pound

string beans or broccoli florets

2/3

cup

torn Kalamata olives

1/2

cup

toasted pine nuts

1/2

pound

cherry tomatoes, halved (~2 cups)

1

cup

torn mozzarella

Slivered fresh basil or fresh lemon verbena (or crushed dried lemon verbena), to serve
Instructions
Bring a large pot of water to a boil.

In the meantime, slice the larger tomatoes (1 1/2 pounds) into bite-sized chunks and place in a large serving bowl. Drizzle with the olive oil, sprinkle with the garlic, salt, and zest of one of the lemons. Squeeze a tablespoon of lemon juice into the mixture, and use a hand blender to pulse a few times, into a chunky sauce.

Salt the pasta water well, and cook the pasta per package instructions. Add the sting beans or broccoli to the pasta water in the last minute of cooking. Drain the pasta and vegetables and transfer to the bowl with the tomato sauce. Toss well. Add half the olives, half the pine nuts, and half of the cherry tomatoes. Add all of the mozzarella. Toss well, and top with the zest of the second lemon, and the remaining olives, pine nuts, and tomatoes.

Top with basil or lemon verbena & serve immediately.
Related Recipes
More Recipes
Popular Ingredients