Simple Whole Wheat Sugar Cookies
This is the recipe I use anytime I want perfect sugar cookies. Great flavor, and the dough is a dream to work with.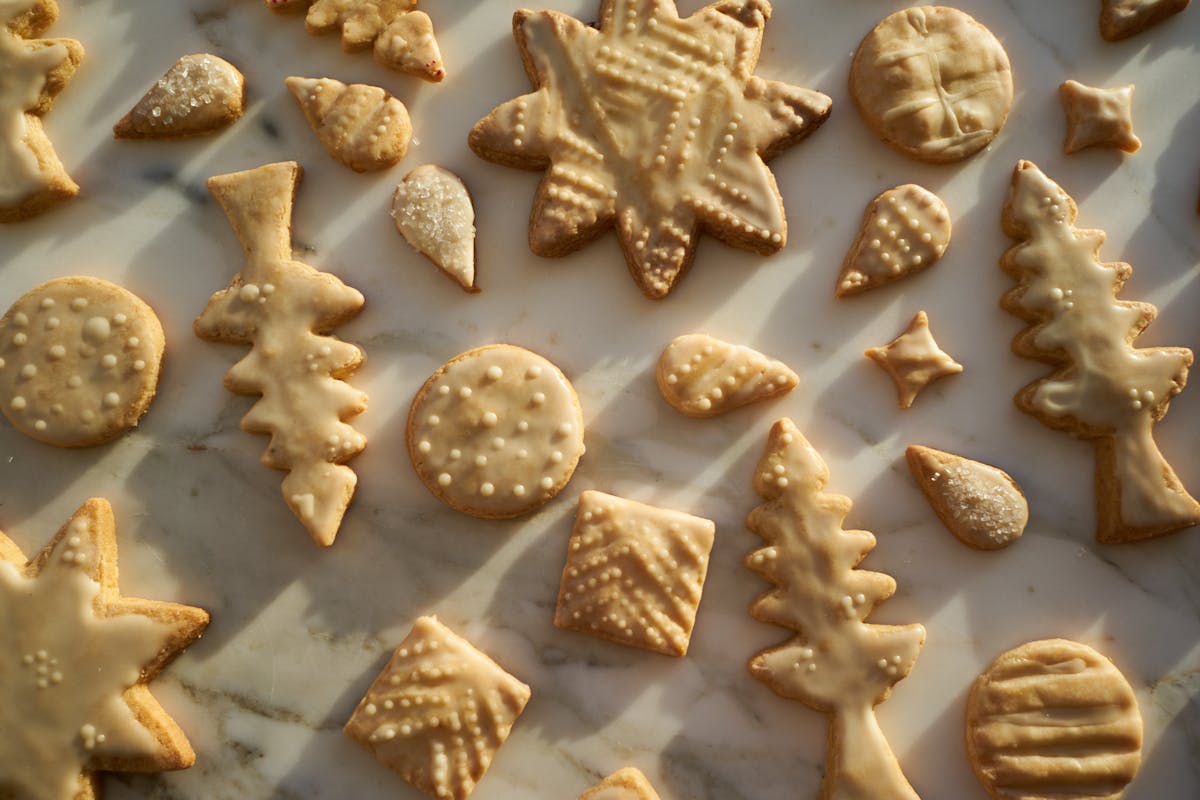 This is the recipe I use anytime I want perfect sugar cookies. They bake up beautifully with nice structure and a hint of snap when you break them in two. Especially true if you can wait that extra minute or two before taking them from the oven. So they have time to shift from just-plain-baked to golden, crisp, and toasted. The dough is an absolute dream to work with. And the flavor? They have just the right amount of salt to counter the sweet.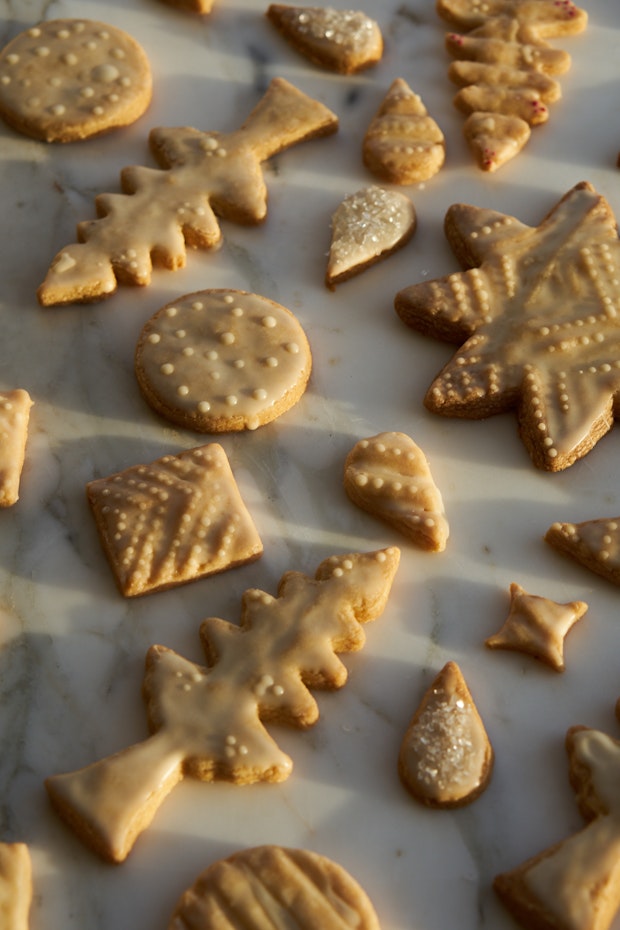 This recipe makes enough dough to yield plenty of cookies, with dough left over to freeze. I typically run out of energy before I run out of dough. I thought I'd posted this recipe long ago(!), but a search through the archives proved me wrong! I'm also including the icing I like.
Icing
As far as icing goes, I have a lot of thoughts. ;) I have a base recipe I use and then tweak it from there. Sometimes, I like my icing somewhat translucent, like a wash - so I add more water. Other times, I want it more opaque, so I leave it as written (below). I always like it to be a bit matte, and not hyper-glossy, so that's what you'll get here. Also, have fun with natural colors. You could do tiny hot-pink dots on the trees pictured with some raspberry powder plus a bit of the icing added to it. I like saffron for yellow, matcha for green, etc. Play around!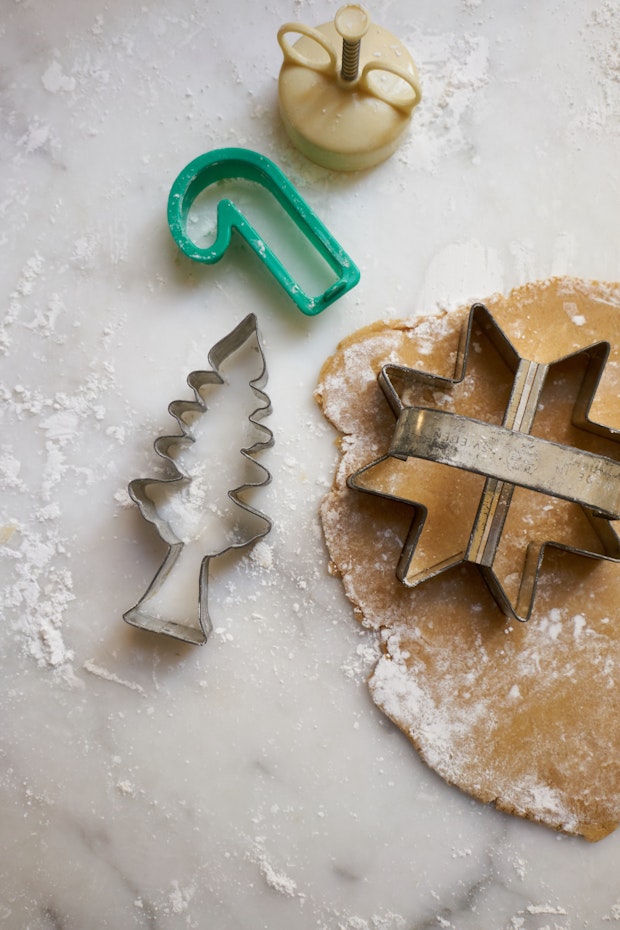 Pro-tip! Keep your eyes peeled at yard sales, flea markets, and the like for special cookie cutters - that's where you'll find the gems. I have a bin of favorites that I can go to each time I make cookies.
Simple Whole Wheat Sugar Cookies
To get some of the texture you see in the photos, roll out your dough, and then roll a textured bottle or stamp across the dough before stamping out shapes (and be sure to chill the dough pre-bake). *Also, as noted below, this recipe does feature raw egg in the icing. The standard disclaimer recommends children, pregnant women, the elderly, and anyone with an immune system disorder should avoid eating uncooked egg because of salmonella risk. You can substitute water or milk, or even buttermilk for the egg white called for in the icing if you avoid raw egg.
Ingredients
1

lb.

unsalted butter

2

cups

sugar

2

eggs, beaten

2

tablespoons

milk or almond milk

6

cups

whole wheat pastry flour

1

teaspoon

fine grain sea salt

1 1/2

teaspoons

baking powder
Matte Icing:
4

cups

/ 400g powdered sugar (just shy of a full bag)

2

egg whites*

water to thin (~1 tablespoon - 1/4 c.)
Instructions
Let the butter soften at room temperature in the bowl of a stand mixer. When soft, beat until billowy and light. Add the sugar, and mix again until well integrated. Add the eggs and milk, and mix until uniform in color. Combine the flour, baking powder, and salt in a separate bowl, then gradually stir into the butter mixture, either by hand, or with the mixer on low. Divide the dough into four, shape into flat disks, wrap in parchment or plastic, and refrigerate for an hour or two.

When you're ready to bake, preheat the oven to 350F. Roll out the dough onto a well-floured (or powdered sugared) countertop to 1/4-inch thick. Cut into desired shapes and arrange on parchment (I reuse the parchment I wrapped the dough in earlier), leaving 1/2-inch between cookies. Chill again in the refrigerator (or freezer) for a few minutes (optional, but the shapes end up with more definition if you do). Bake for 8-10 minutes, until toasty around the edges. Rotate once along the way if your oven has hot-spots. Cool on a rack completely, and proceed with icing.

To make the icing, whisk together the powdered sugar and egg whites* until smooth and silky. It takes a few minutes. Reserve a bit of this mixture if you like a more opaque icing. You can thin with water from here depending on your preference. You can also add any coloring you like at this point. Use a brush to paint the icing on the cookies, allow to dry completely, store in an airtight container for up to a week.
Notes
Makes 5-6 dozen small-medium cookies.
Related Recipes
More Recipes
Popular Ingredients