Gingerbread Cookies
Everything you want in a classic gingerbread cookie. These are fragrant, spice-flecked, and delicious.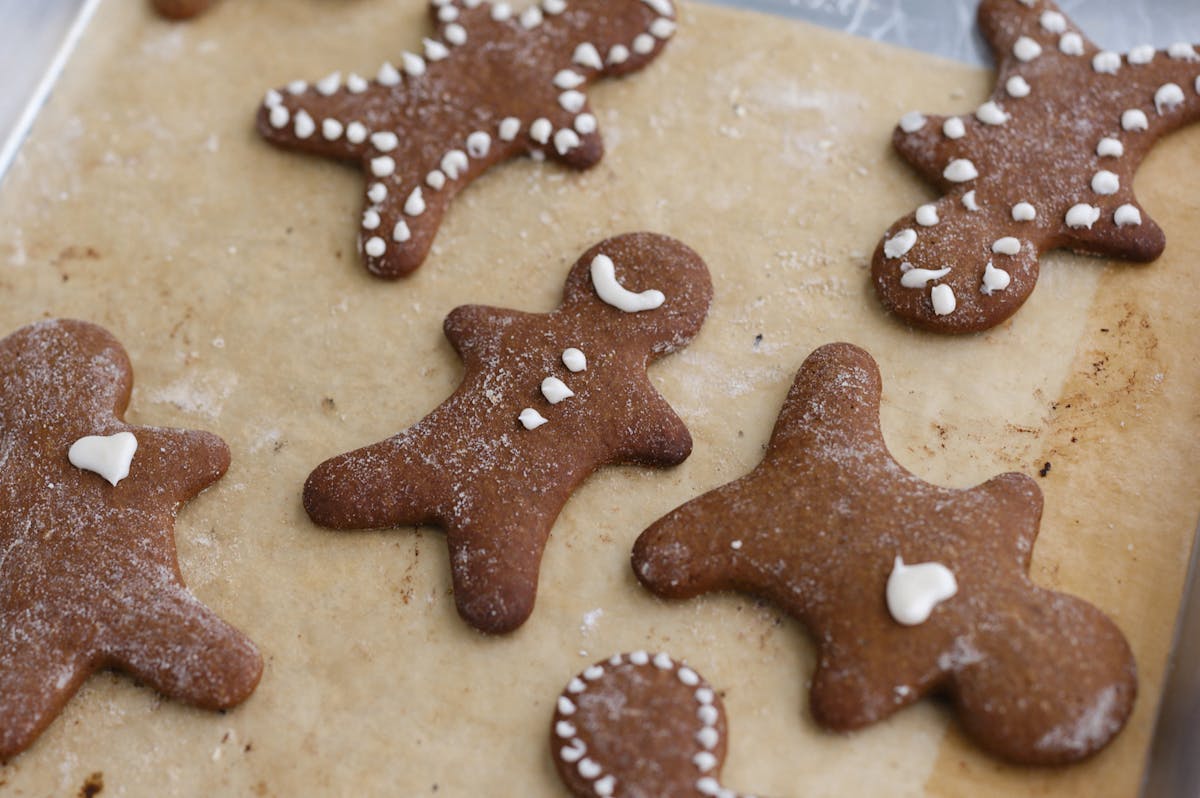 Gingerbread cookies are the best. I like to bite their heads off first, then each arm, and then each leg. These are always the second cookie I include in my holiday cookie boxes, these shortbread cookies are always the first. Shortbread forever.  That said, I have a few strong opinions on how I like my gingerbread and this recipe checks every box. These cookies are tasty, classic, spice-forward and a rich shade of brown. The smell like spice-kissed magic when baking.

Let's Make Strong Gingerbread Cookies
Gingerbread cookies have a job to do. This isn't the time for chewy, moist, or flaky cookies. When you are making gingerbread men (or women) it's important to make a cookie that is sturdy. This is especially important if you are making large + tall gingerbread men, or using the recipe to create walls for a gingerbread house or structure. You should be able to hold you gingerbread cookies by one leg and not have the leg crumble or bend off. I'm not talking about making a gingerbread cracker here, but hopefully you get my drift. As you can see from the picture my gingerbread cookie is standing tall and straight. That's what you're after.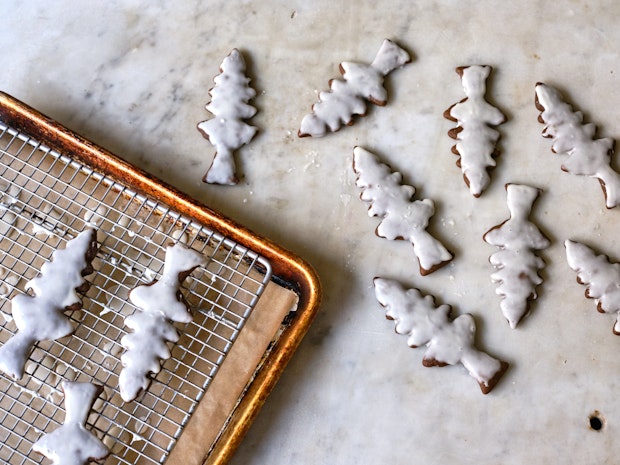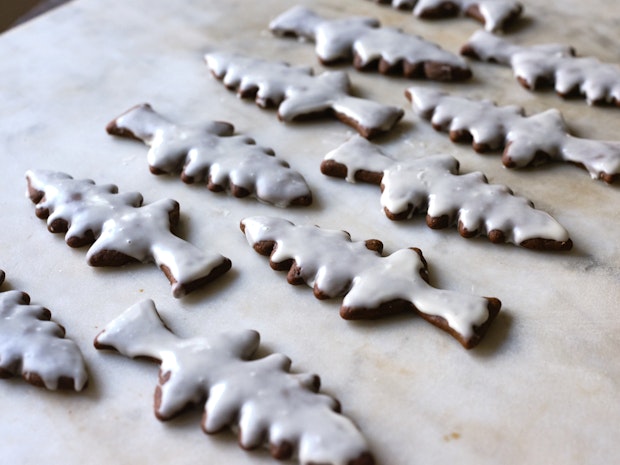 Big Flavor
I love gingerbread cookies with some kick. No skimping on the spices please. This recipe is loaded with a generous dose of ground ginger, cinnamon, ground cloves, and pepper. Every bite should have a spicy tingle to it. I've recently started adding freshly grated nutmeg as well. Even better. As they are baking, people should flock to the oven from the far recesses of the house to have a peek at the source of the wonderful smells. You can't be shy with the spices.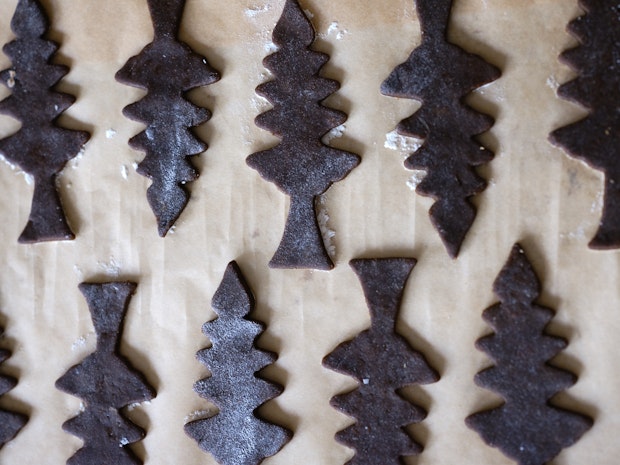 Appearance
Gingerbread cookies look best when they're deep ginger in color, and spotted from head to toe with freckles of spices. The molasses in this recipe along with the generous amount of spices make for a nice, classic gingerbread appearance. I'm also picky about the shape and physique of my gingerbread people, always on the lookout for cookie cutters that are just the right shape for them. I love digging around for vintage cookie cutters at yard sales and flea markets. Keep your eye peeled!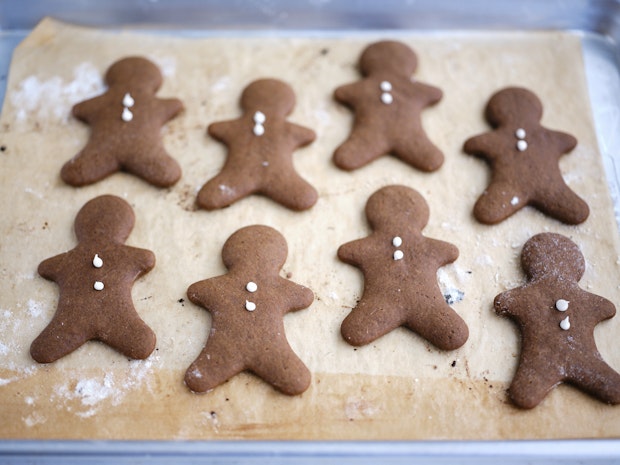 Decorating Gingerbread Cookies
I tend to opt for simplicity here. Sometimes just two little button dots are enough, or a simple slather of icing. I may do a few gingerbread without the buttons and go for one tiny white heart sprinkled with a touch of sugar sparkles instead. A little variety is nice.  And, although I tend to like a cookie with higher frosting to cookie ratio (sugar cookies for example), I'm in the less is more when it comes to icing gingerbread.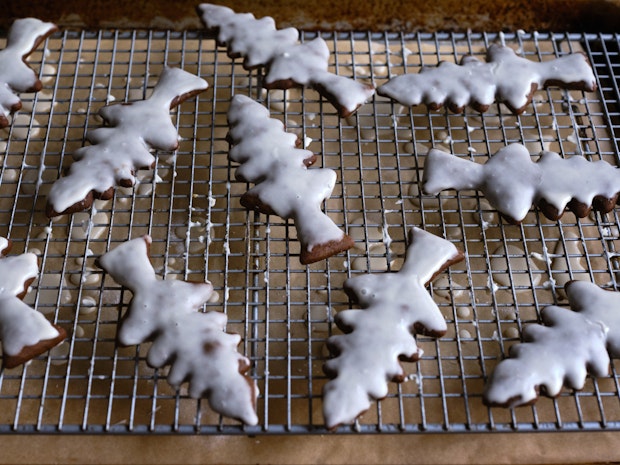 Gingerbread Cookie Baking Tips
Getting the baking time key. Whatever you do, don't over bake these guys. They will dry right out. If anything, under bake them just a shade. They will continue to bake for another couple of minutes once you pull them from the oven. Big cookies take longer to cook than tiny ones, keep that in mind as well.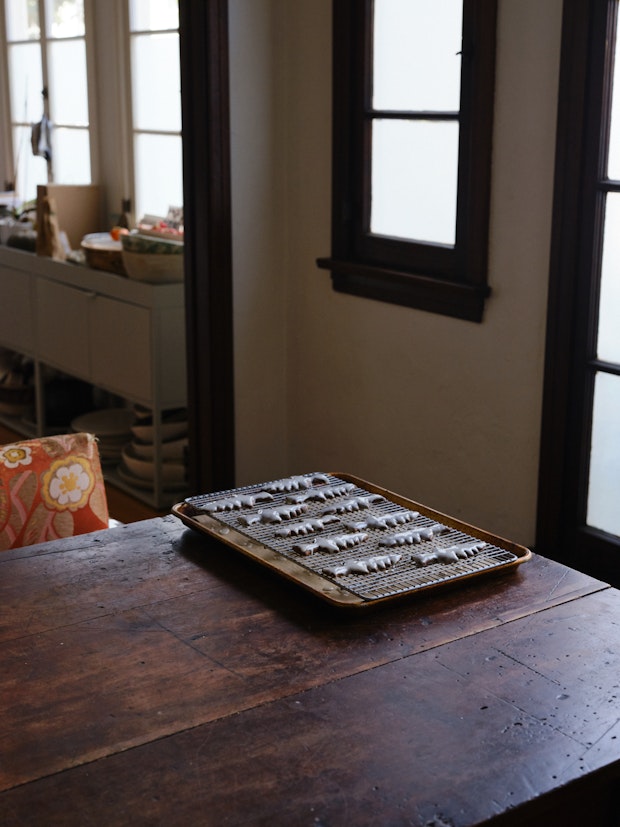 How Long to Bake Gingerbread Cookies?
Knowing how long to bake gingerbread can be tricky because the dough is so dark. I end up relying on my nose as much as my eyes to know when to pull them from the oven. You can smell the spices blooming and the dough starting to toast, and that's how to know you're close. Look carefully at the dough where it touches the pan, that will get darkest first, once you see it starting to shift, consider removing the cookies.
A Clever Serving Idea
I was at a holiday part once where gingerbread cookies were baked onto popsicle sticks. They were arranged, bouquet-like, in a container filled with sugar. Kids loved eating them like lollipops.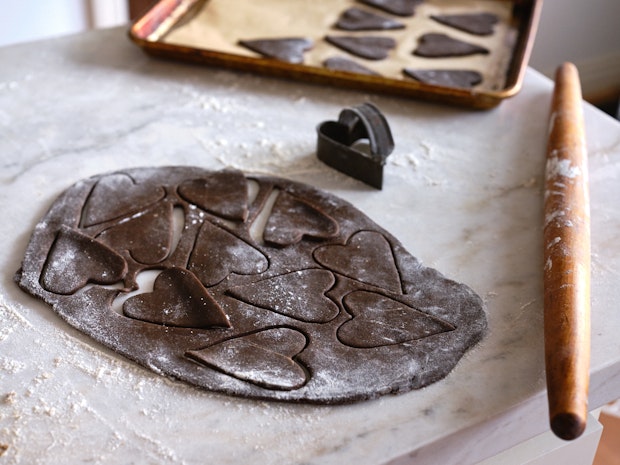 Use all the Cookie Dough

My gingerbread men and women tend to bake alongside tiny gingerbread stars, hearts, and gingerbread candy canes. All made from dough scraps. You can gather your scraps and re-roll a couple of times to use as much of the dough as possible.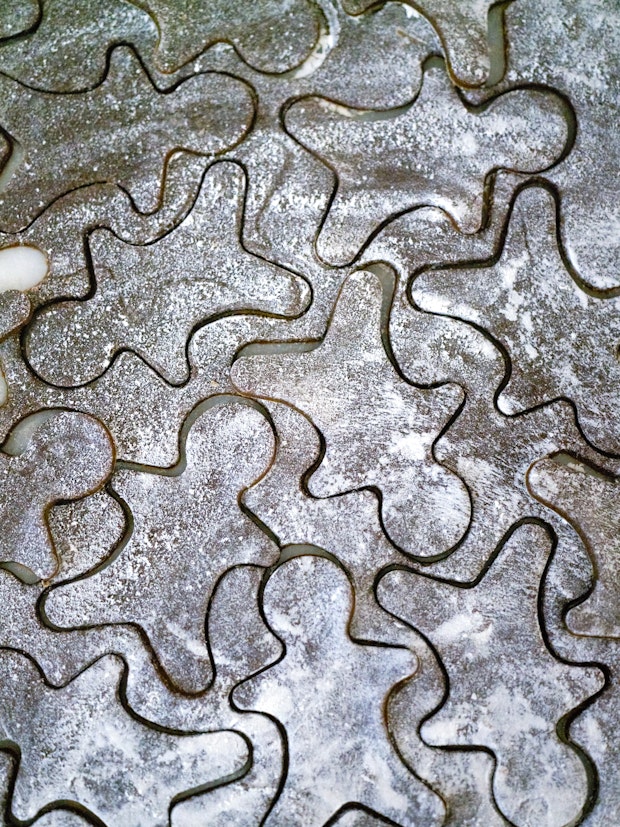 Overall, I love this gingerbread recipe, especially for cookies (and beyond!). It's a classic dough that could easily be adapted for other gingerbread endeavors. Give it a try. I should also mention you can make this dough using 4 cups of white whole wheat flour in place of the all-purpose flour. Or even go half and half - all-purpose flour and white whole wheat flour. Have fun!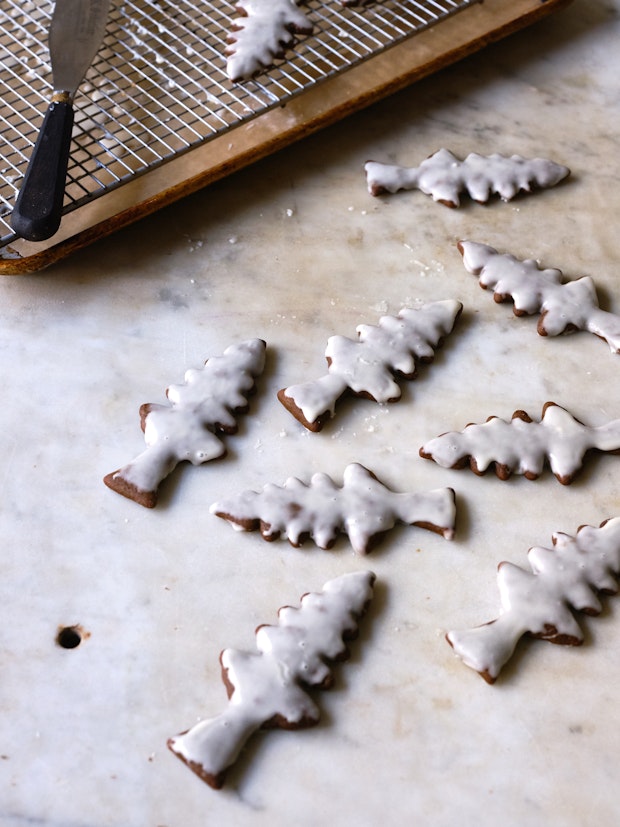 If you're a huge ginger fan, these Triple Ginger Cookies and these Sparkling Ginger Chip Cookies.
More Christmas Cookie Recipes
Gingerbread Cookies
I like to use muscovado sugar for these cookies if I have it on hand. The deep molasses flavor is nice. That said, any dark brown sugar (preferably cane sugar) works great as well. *Also, as noted below, this recipe does feature raw egg in the icing. The standard disclaimer recommends children, pregnant women, the elderly, and anyone with an immune system disorder should avoid eating uncooked egg because of salmonella risk. You can substitute water or milk, or even buttermilk for the egg white called for in the icing if you avoid raw egg.
Ingredients
4

cups

/ 500 g unbleached all-purpose flour

3/4

teaspoon

baking soda

1

teaspoon

salt

4

teaspoons

ground ginger

1

teaspoon

ground cloves

1

tablespoon

ground cinnamon

1/2

teaspoon

freshly grated nutmeg (optional)

1/2

teaspoon

finely ground black pepper

11

tablespoons

/ 155 g unsalted butter, room temperature

2/3

cup

/ 145 g dark brown sugar, packed

3

large eggs

2/3

cup

organic unsulfured molasses (blackstrap)
Icing
2 

cups 

/ 200g powdered sugar

1 

egg white*

For decorating: large grain sugar (turbinado), and icing
Instructions
Make the Gingerbread Cookie Dough:
In a medium bowl, sift together flour, baking soda, salt and spices. Set aside.

In a large bowl, by hand (or with an electric mixer), cream the butter until it is light and fluffy. Add the sugar and mix again until light and creamy. Blend in the eggs one at a time and then the molasses. Add the flour mixture in two additions either by hand or on low speed. The dough should be easy to handle, and not overly tacky. If needed, add more flour, one tablespoon at a time, until it isn't overly sticky. Divide the dough into two pieces, wrap each in plastic and chill for an hour or so.

 Heat oven to 350F degrees, racks in the middle, and line a couple baking sheets with parchment paper. Set aside.

Roll the dough out onto a lightly floured countertop roughly 1/8-inch thick and cut into gingerbread cookie shapes. Transfer to baking sheets. If the dough has really warmed up a lot, place in the refrigerator for 15 minutes to chill. Bake for 7 -10 minutes (for 3 - 4-inch cookies), less for smaller cookies, more for larger. Allow to cool completely before icing.
Make the Icing:
Whisk together the powdered sugar and egg white until smooth and silky. It takes a few minutes. Reserve a bit of this mixture if you like a more opaque icing. You can thin with water from here (one teaspoon at a time) depending on your preference. You can also add any coloring you like at this point. Use a brush (or piping bag) to paint the icing on the cookies, allow to dry completely, store in an airtight container for up to a week.
Notes
Makes about 3 dozen four-inch gingerbread cookies.
Related Recipes
More Recipes
Popular Ingredients