20 Fantastic Noodle Soups to Cook this Winter
Everyone needs an arsenal of great noodle soup recipes for winter. Here are twenty fantastic options from ramens and pho, to soba bowls.
A good brothy noodle soup is great anytime of year, but it's particularly good in the middle of winter. And you have options! Between the broth, the type of noodles, and whatever else you put in the bowl, the possibilities are nearly endless. Below you'll find a collection of A+ noodle soups to try. There are interpretations of classics like pho and ramen, alongside seasonal ideas, and unique seasoning approaches. Enjoy! - h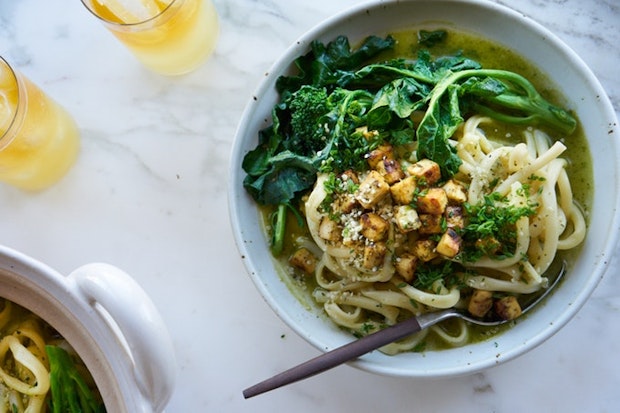 1. Winter Green Miso Noodle Soup - (101 Cookbooks) The noodle soup above is built on my green miso paste. Simply add water, whatever fresh noodles, and some winter greens, and you're good. 
2. Pumpkin Miso Broth with Soba - (My New Roots) Perfect winter combination and colors. The combination of sesame seeds and sautéed shiitake mushrooms on top looks wonderful.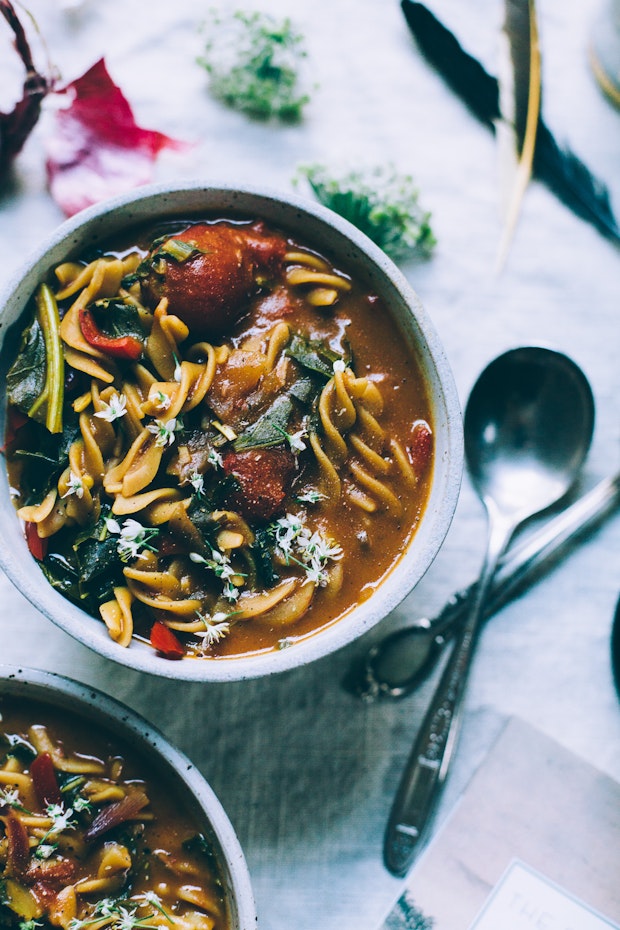 3. One-Pot 5-Spice Chickpea Noodle Soup - (Will Frolic for Food) A hearty soup made with rotini. It highlights an array of five spices along with a combination of balsamic, apple cider vinegar, and yogurt to create a rich stew-y soup.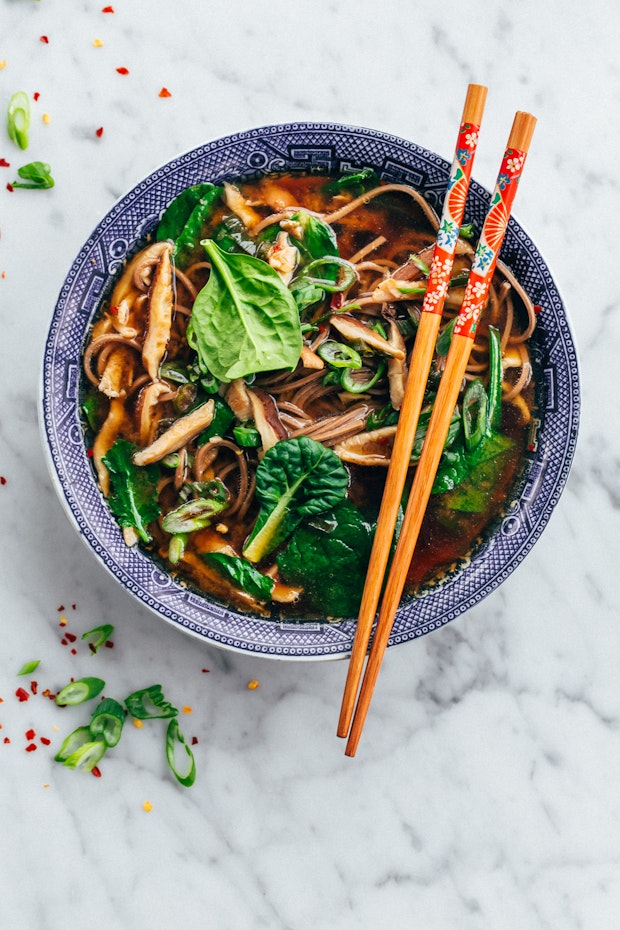 4. Shiitake and Spinach Miso Soup - (A Beautiful Plate / Love and Lemons ) Originally from the beautiful Love and Lemons cookbook, this recipe will inspire you to source some perfect shiitake mushrooms. Two cups of spinach means you'll get a healthy dose of greens.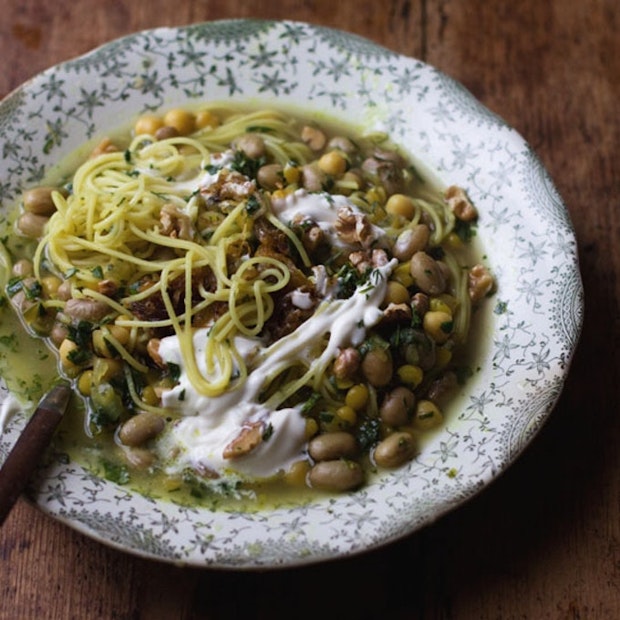 5. New Year Noodle Soup Recipe - (101 Cookbooks) This is an all-time favorite traditional Persian noodle soup. It features thin egg noodles, borlotti beans, herbs, turmeric, cumin, and all sorts of other ingredient magic.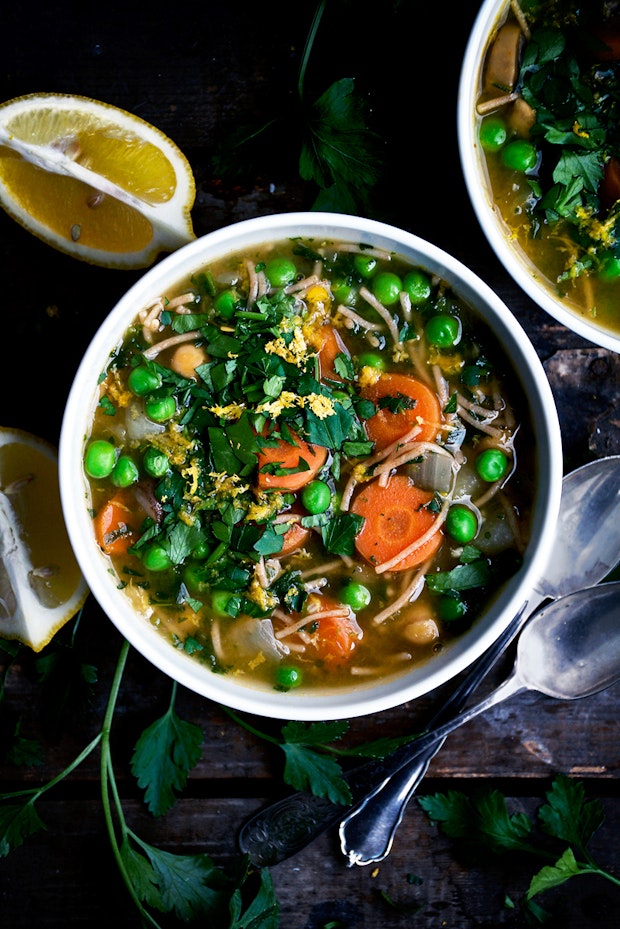 6. Chickpea Noodle Soup with Parsley and Lemon - (Occasionally Eggs) Chickpeas, carrots, cayenne and a squeeze of lemon make this a good candidate for cold season.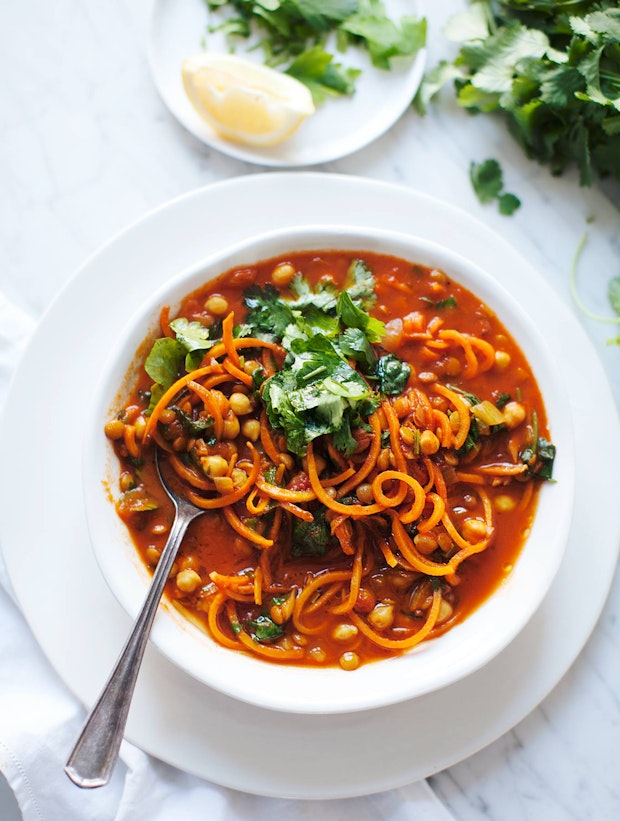 7. Chickpea & Sweet Potato Noodle Soup - (My New Roots) This is one of those recipes that makes taking out the spiralizer worth it.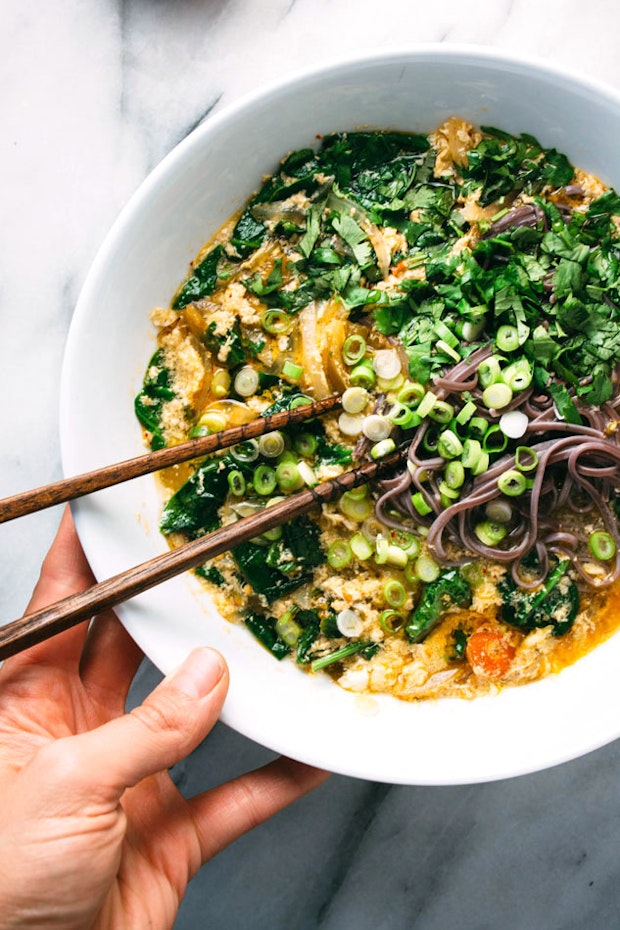 8. Kimchi and Buckwheat Noodle Egg drop soup - (Nyssa's Kitchen) For kimchi fans. This one is for you. Kimchi + Egg drop soup - you know it is going to be good.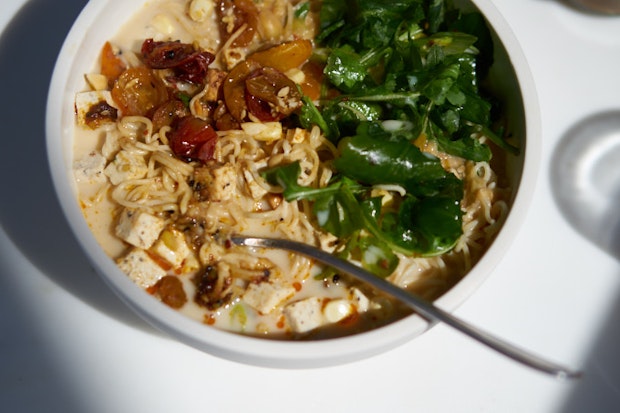 9. Really Great Vegan Ramen - (101 Cookbooks) Here's my take on a vegan ramen. Bonus - all the components are great on their own (if you have leftovers), and there are seasonal ideas, for year round ramen.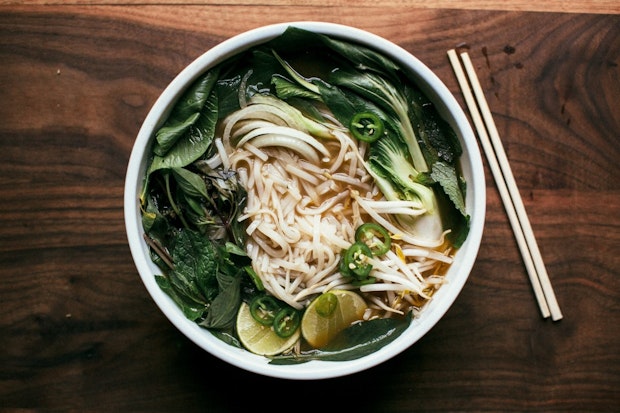 10. Vegetarian Pho - (Happy Yolks / Green Kitchen Travels) An beautiful, inventive take on pho - bok choy, bean sprouts and basil with fennel.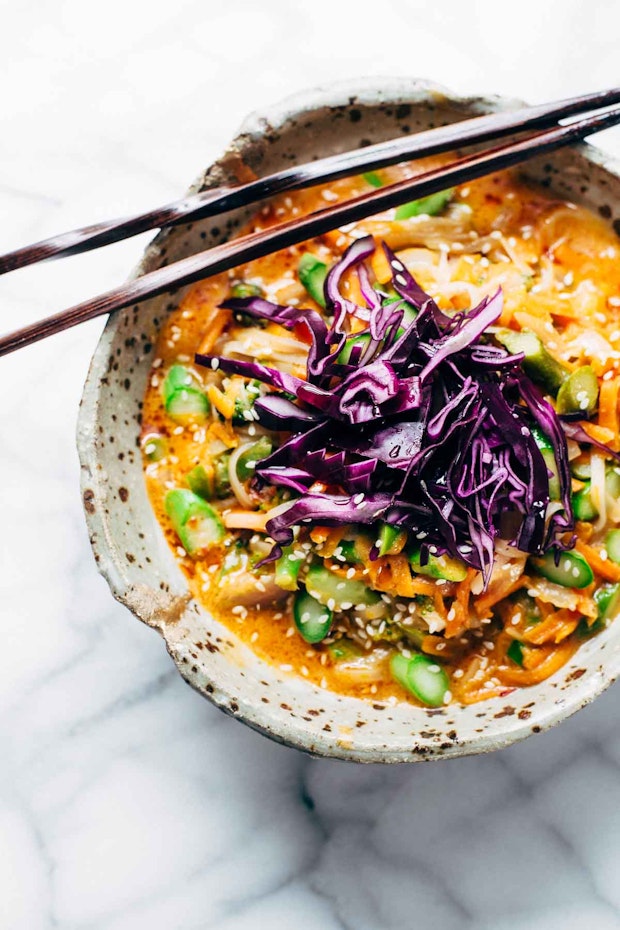 11. Bangkok Coconut Curry Noodle bowls - (Pinch of Yum) Love the mix of colors in this one. Based on rice noodles and a mix of veggies, swap out the fish sauce for one of the veg versions out there and this is a hearty, straight-forward weekday meal.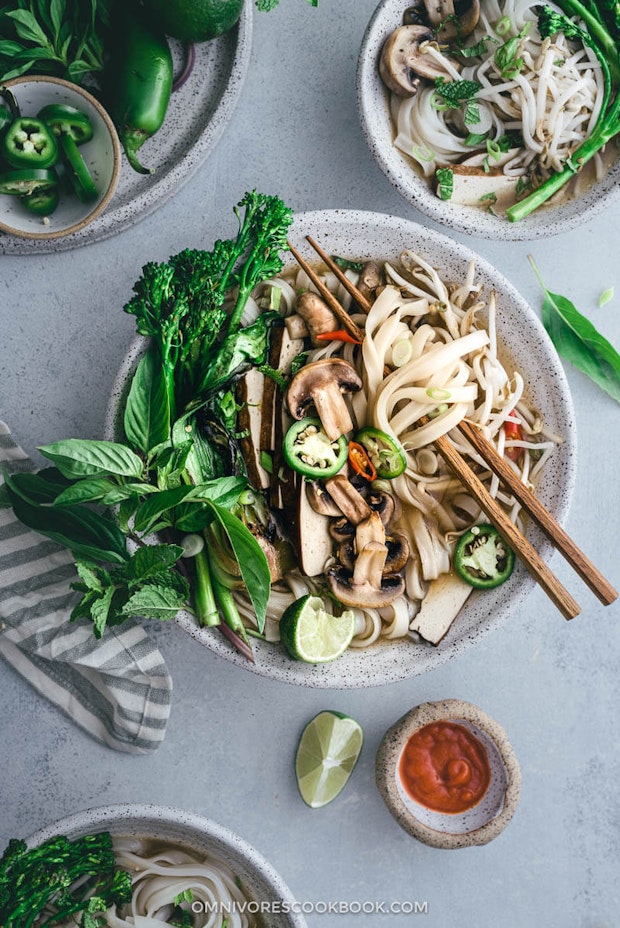 12. Vegetarian Pho Noodle Soup - (Omnivore's Cookbook) Here's another pho, but a different technique is used to prep the ingredients. Deep smoky flavors are created by charring ginger and onions.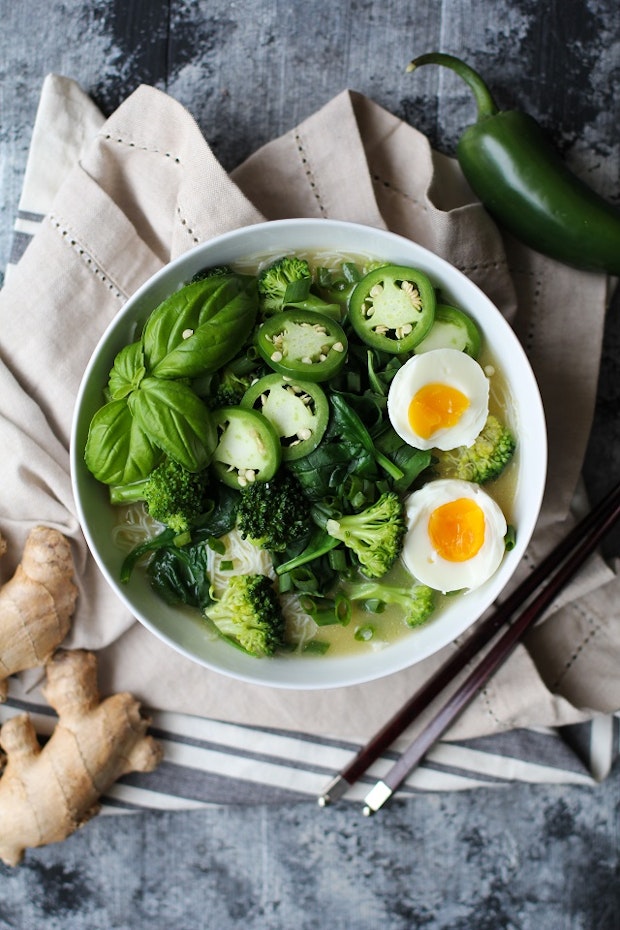 13. Vegetarian Ramen with Garlic-Ginger Broth - (The Roasted Root) All the greens, four or five different shades(!) layered on top of rice noodles.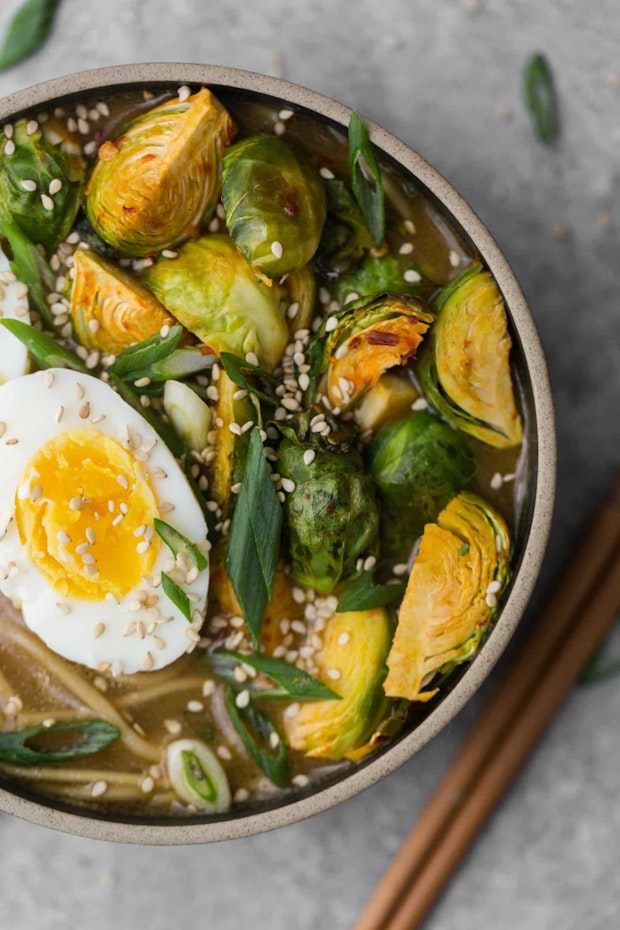 14. Vegetarian Ramen Bowl with Spicy Brussels Sprouts - (Naturally Ella) A ramen bowl with a wild card - brussels sprouts roasted with sambal oelek.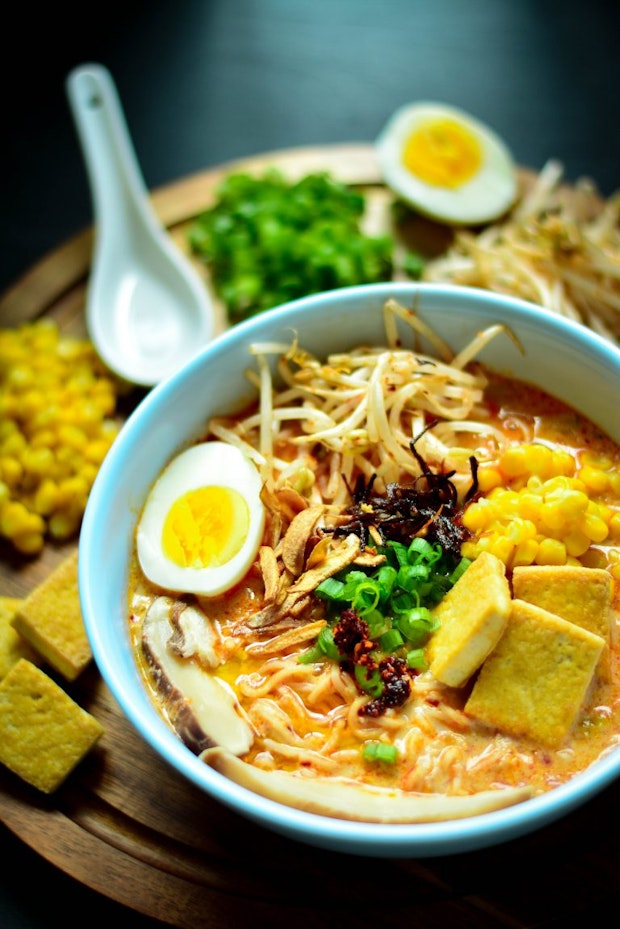 15. Vegan Ramen Spicy Noodles - (Love is in My Tummy) Time to get your kombu on.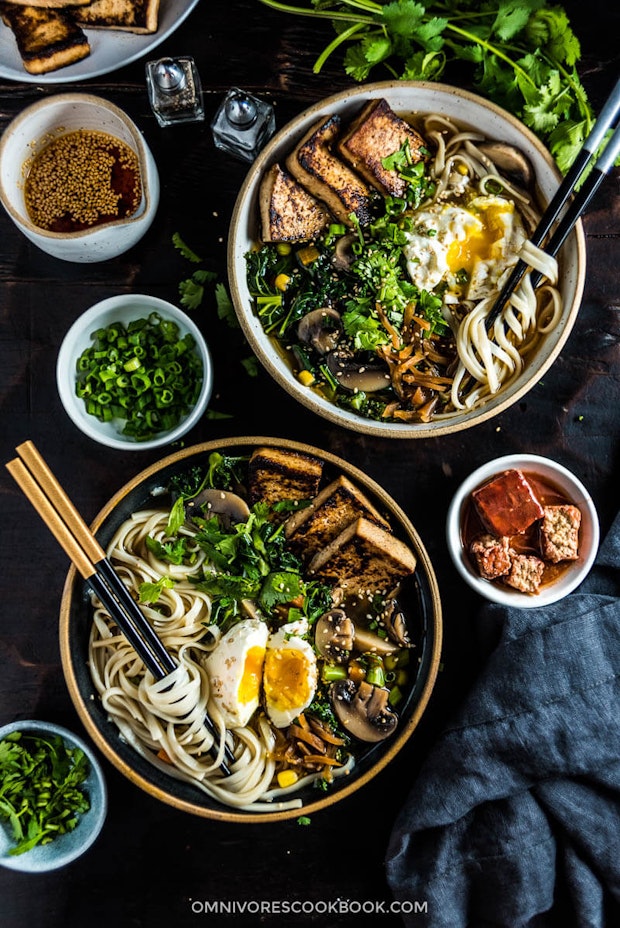 16. Chinese Vegetarian Noodle Soup (中式素汤面) - (Omnivore's Cookbook) This veg noodle soup features tofu marinated in maple syrup, kale and an optional "detox vegetable broth."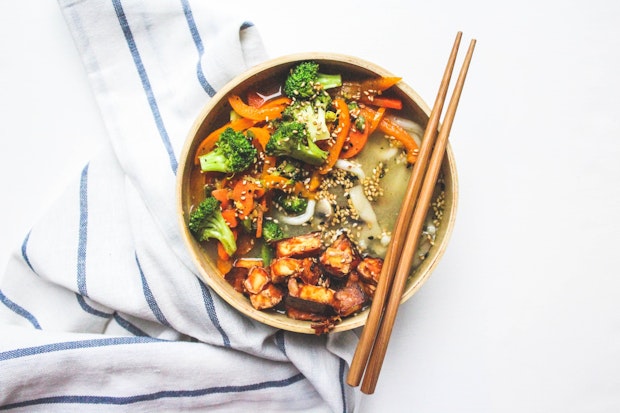 17. Mushroom and Spicy Tofu Udon Soup - (But First Plants) This is one you'll want to try if you can find some good, fresh udon noodles. Sriracha and sesame seeds provide a flavor twist.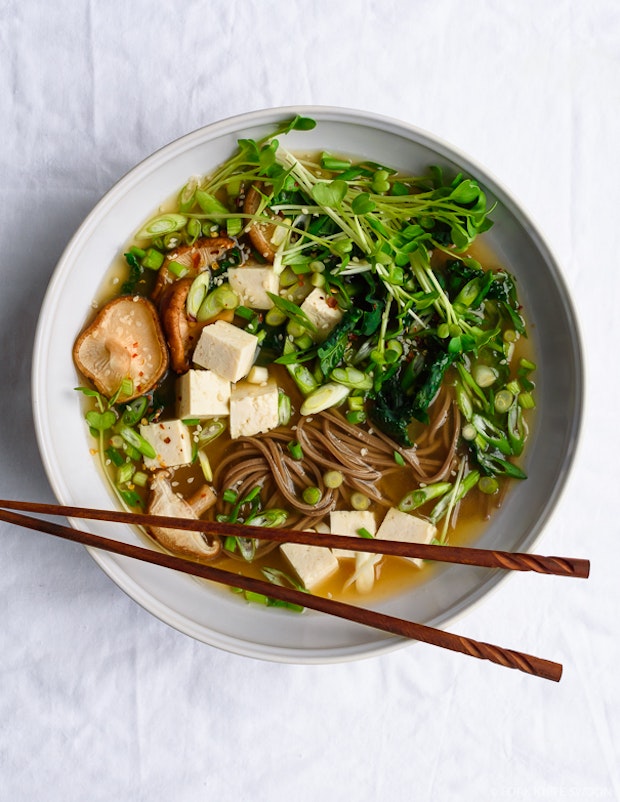 18. Green Miso Soba Soup - (Fork Knife Swoon) This miso + soba combination uses a healthy dose of onion, ginger and garlic to provide a good clearing of the sinuses.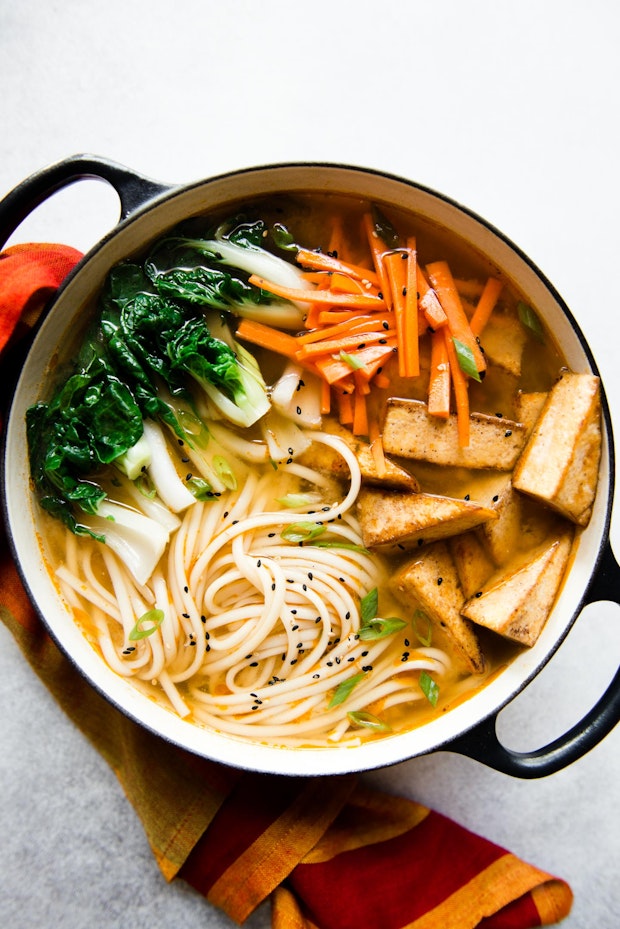 19. Ginger Miso Udon Noodles with Five-Spice Tofu - (Healthy Nibbles and Bits ) Here's another take on miso with ginger, but this time with udon. Ground coriander and a five-spice blend for the tofu offer unique flavors for a noodle soup.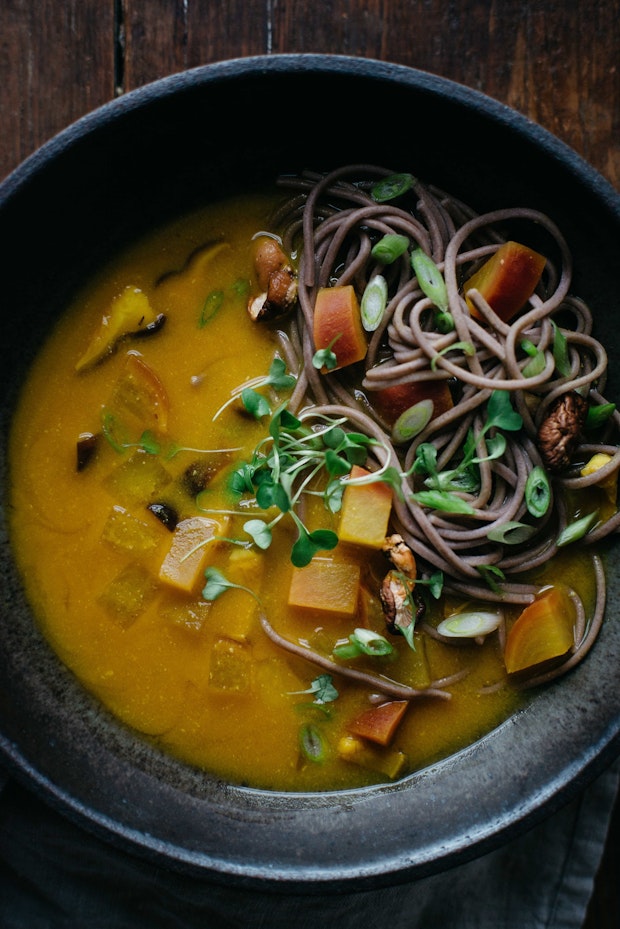 20. Turmeric Miso Soup with Shiitakes, Turnips and Soba - (Lindsey Love) Here's a soba soup that uses fresh turmeric, yellow miso and the surprise: turnips.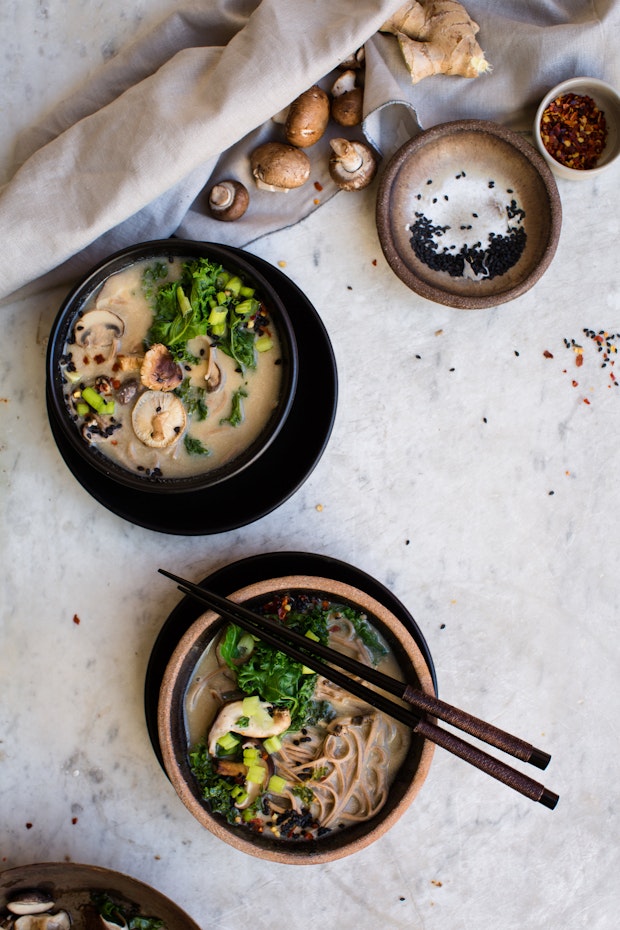 21. Vegetable Miso Soup with Soba Noodles - (Marie Reginato) This is another miso soup recipe that creates a solid flavor base with kombu / kelp, so seek it out at the store (also easy to find online). Cabbage and sweet potato provide a winter veg base, but you could adapt this to different seasons.

And if for some reason noodles soups aren't your thing, there are dozens of my favorite soup recipes all in one spot.