Really Great Vegan Ramen
Vegetarian or vegan ramen can absolutely be as good as its meat-based counterparts. You introduce your favorite noodles to a rich, miso-scallion nut-milk broth. Add a blitz of seasonal toppings, and spicy turmeric oil to finish.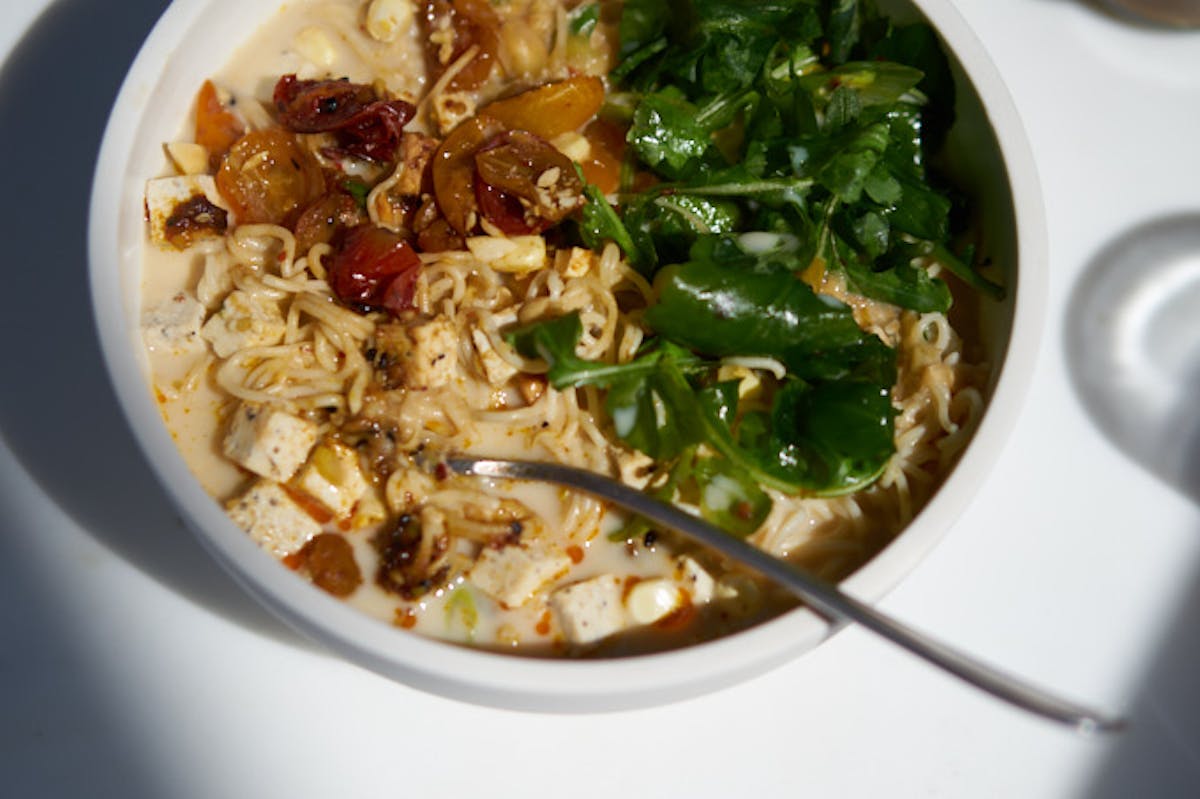 Today we're going to tackle vegan ramen. Slurping noodles from a big bowl of feisty, aromatic broth is hard to beat, and I wanted to share how great ramen bowls can come together relatively easily, year round. Ramen is incredibly versatile, and I play fast and loose with the concept overall. You have the ability to adapt the noodles, the tare (seasoning), the broth base, and the toppings. I'll talk through a bunch of the ways you can play around below. The goal here is to give you a great jumping off point. This approach allows you to wing it on a weeknight based on what you have on hand.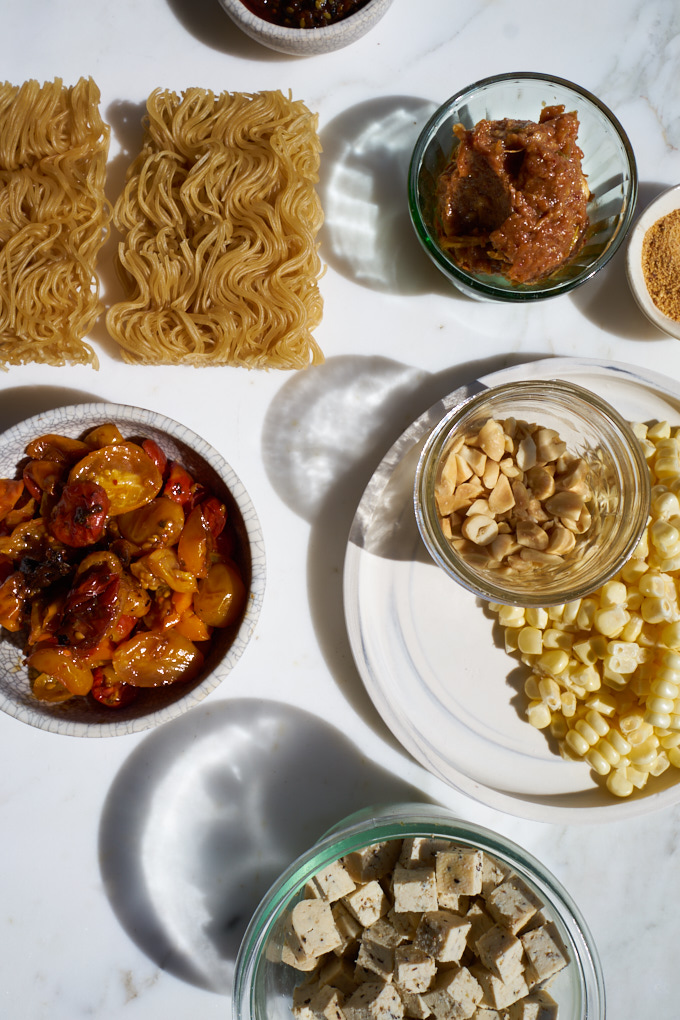 What Makes a Great Vegetarian or Vegan Ramen?
If I'm eating out, and a vegetarian or vegan ramen is on the menu, I'll order it. I've had some incredible versions, but broadly speaking they can be very salty, and quite oily. This version is not that. In fact, part of what I love about making ramen at home is that you can season your broth to be just how you like it. You can really personalize it. This version delivers a rich miso-scallion nut milk broth. You introduce your favorite noodles, a blitz of seasonal toppings, and spicy turmeric oil to finish.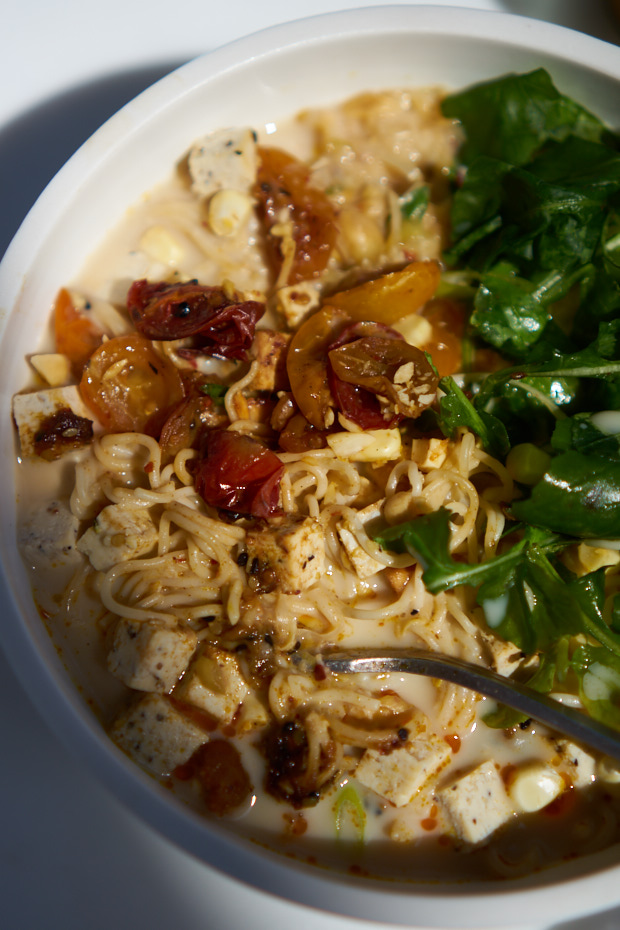 How to Choose Your Noodles
There are many different noodles you can use here. Seek out fresh udon or ramen noodles, or keep a variety of dried noodles on hand for last-minute ramen. Soba noodles work great. I've also been using some of the whole-grain noodles, and they're pretty good. The one in the photograph is a millet & brown rice ramen.
What is Miso Tare?
Think of this as the seasoning paste for your ramen broth. I've included a base recipe here, but please(!) use it as a jumping off point. It's fine to adapt with other chopped herbs and spices as well. My main advice here - make a big batch of the miso tare and keep it on hand. I keep some in the refrigerator, and the bulk portioned out in the freezer. This is the secret to quick weeknight ramen. If you're avoiding soy, use a chickpea miso.
The Importance of Great Broth
You want to get the broth right. My favorite broth base for this is a blend of homemade cashew milk & almond milk. It has beautiful body and flavor, and grips the noodles nicely. That said, there are plenty of nights when I'm feeling lazy, and I just grab for whatever almond milk is in the refrigerator. Still delicious.
The Secret Turmeric Weapon
This is another component you can keep on hand. Both in the refrigerator and/or freezer. If you have everything else needed to make a ramen bowl, but don't have the spice oil - cheat with a dollop of something spicy from the condiments in your refrigerator, or stir some crushed chile flakes into a bit of oil over gentle heat, and use that as a finishing drizzle, or to toss the raw veggies.
Keep your Vegan Ramen Seasonal
The ramen you see pictured is a late-summer version, but part of the fun here is adapting through the year. Toss quick-cooking vegetables like broccoli, asparagus, and cauliflower into the noodle water for the last minute, and drain everything together. No need to get an extra pot going.
If you like this recipe, be sure to browse all these other favorite soup recipes as well! Other favorite noodle recipes include: my favorite pad thai, sriracha rainbow noodle salad, and black sesame otsu. Pasta with Smashed Zucchini Cream is also really good, or browse this list of tasty noodle soups!
More Vegan Recipes
Really Great Vegan Ramen
You'll have lots of leftover miso tare and spice oil here. Keep it on hand for quick ramen nights later in the week. The spice oil is also good on breakfast congee, savory oatmeals, eggs, etc. I've even use it on salad greens, or vegetable salads as a quick dressing
Ingredients
2

tablespoons

Spicy Turmeric Oil, or to taste (recipe below)

12

ounces

dried ramen noodles, or favorite noodles of your choice

4

cups

cashew milk or almond milk

3

tablespoons

Miso Tare (recipe below), or to taste
For each season add any/all of the following:
Summer:
2

small cucumbers, cut into 1/4 inch cubes

basket of halved cherry tomatoes (fresh or roasted)

1/2

of a bunch of broccoli florets (toss into noodle water at the last minute)

1 1/2

cups

of fresh corn

1 1/2

cups

cubed tofu

arugula

torn fresh basil

sliced scallions

chopped peanuts
Fall:
sliced green beans (toss into noodle water at the last minute)

shredded kale massaged with a bit of lemon juice and olive oil

roasted brussels sprouts*

roasted sweet potatoes*

roasted onion*

toasted hazelnuts
*Roast them all together on a sheetpan at 400F until golden.
Winter:
toasted nori

shaved radish

shredded cabbage

shredded kale massaged with a bit of lemon juice and toasted sesame oil

roasted cauliflower
Spring:
asparagus

peas

fava beans

toasted pine nuts or sliced almonds
Instructions
Toss whatever raw vegetables you're using with the Spicy Turmeric Oil, and divide them between bowls. Cook the noodles according to package, and divide into four bowls. Gently heat the cashew milk (if serving hot), just until very hot (not simmering). Stir some of the milk into the 3 tablespoons of Miso Tare to thin it out, and then add it back to the cashew milk. Taste, and add more Miso Tare if needed. The broth should taste great at this point!

Pour one cup of broth over each plate of noodles. Top with any extra toppings, nuts, or vegetables you might be using.
Miso Tare
Ingredients
1

cup

white miso, or chickpea miso

1

teaspoon

crushed chile flakes

4

scallions (or shallots), thinly sliced, including greens

3-

inch

piece of ginger, peeled and grated

4

medium garlic cloves, peeled and grated

2

tablespoons

mirin

1

tablespoon

spicy paste (for ex: fermented gochujang paste or a favorite curry paste)
Instructions
Combine the miso, chile flakes, scallions, ginger, garlic, mirin, and spice paste in a small saucepan over gentle heat. You just want to warm this for a few minutes, to get the ginger, garlic, and scallions to sweat a bit.
Spicy Turmeric Oil
Ingredients
2-

inch

segment of ginger, peeled and grated

1

teaspoon

turmeric powder

3

tablespoons

seeds (blend of sesame and hemp)

2

tablespoons

crushed red pepper flakes

2

tablespoons

hot paprika

2

tablespoons

toasted sesame oil

6

tablespoons

organic sunflower oil

2

tablespoons

sake

1

tablespoon

brown sugar

2

tablespoons

white or chickpea miso
Instructions
Combine the ginger, turmeric, seeds, red pepper flakes, and paprika with the sesame and sunflower oil in a small saucepan over very gentle heat. Bring barely to a simmer. Stir constantly for a minute, remove from heat and add the sake, brown sugar, and miso. Return to heat, and allow the flavors to combine, stirring constantly for another thirty seconds or so.
.
Related Recipes
More Recipes
Popular Ingredients