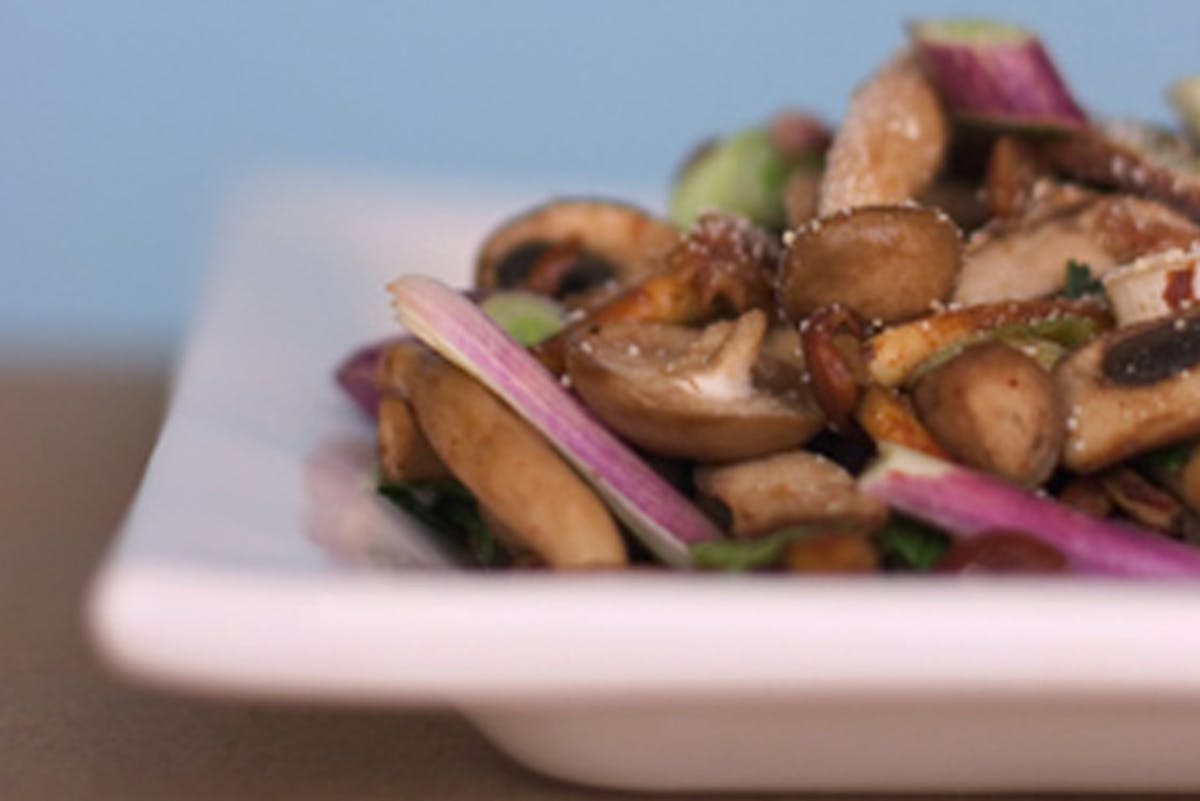 Wild Mushroom Salad Recipe
As many of you know, I travelled to both Thailand and Sri Lanka over the past year and was overwhelmed by the warmth, kindness, and hospitality from people of both countries. It was awful to watch the news coverage document the destruction of so many families, homes, and businesses in the towns and villages that I remembered as being so vibrant and unique before the tsunami devastation. So, when Pim emailed me recently about participating in a fundraiser to help the people in tsunami affected areas, I happily obliged -- along with quite a number of other people who have food blogs or online culinary journals.
The bottom line is that people in these areas still need ongoing support from the global community. If you can afford to donate right now, please do. All donations go directly to UNICEF. This is the first fundraiser I've done through this site, and I know that the readers on my site donating in conjunction with the readers on all the other food blog sites can make a significant impact.
If you have already donated to UNICEF and are looking for another option-- I want to put a word in for my good friend Meg who has been working for the non-profit PSI out of New Delhi (PSI is a Washington DC based non-profit). They have set up a special tsunami relief program - the push is to raise funds to purchase and deliver PuR safe water sachets to communities affected by the tsunami disaster. I like how PSI leverages corporate and private sector support/ partnerships to support high-impact initiatives, and in the case of this special fund I like that they have a single focus: clean water packets. If you are interested in donating to PSI's tsunami relief program: click here.
Pim asked us each to contribute a recipe/write-up to an overall menu (see below). If you click on any of the recipe names in the menu (they are highlighted green) you will be taken to a different site and can see each contributer's photos, read the individual write-ups, and try the recipes. I made a delicious Wild Mushroom Salad (pictured above) from the beautiful book, Thai Food, written by David Thompson. The salad was hearty and delicious -- and the only thing I would do different next time is scale back a shade on the lime juice. I think my limes may have been extra punchy, because they were on the verge of overpowering the nice flavor of the wild mushrooms. Just err on the side of caution at first because while you can always add more lime juice, it is hard to take it out once you've added it. I will include David's recipe at the very end of this post for anyone who wants to try it.
Wild Mushroom Salad Recips
Any type of mushroom can be used in this salad. Wipe off any dirt, twigs, or sand that may still be attached.
150 g (5 oz) assorted wild mushrooms
2 tablespoons stock
pinch of salt
pinch of white sugar - optional
3 tablespoons lime juice (you might use less)
2 tablespoons fish sauce (for veg: substitute a splash of soy sauce)
large pinch of roasted chili powder
4 shallots, sliced
handful of mixed mint and coriander leaves
2 tablespoons shredded pak chii farang (long-leaf coriander)
1 tablespoon chopped spring (green) onion
1 tablespoon ground roasted rice
Clean the mushrooms and cut into attractive slices. Heat stock in a small pan and add sugar and salt (if using). Add the mushrooms and simmer until cooked - the cooking time varies wildly, depending on the variety: pine mushrooms need to be simmered at least 10 minutes, while the delicate grey ghost mushroom takes mere moments. If using and assortment, add the mushrooms accordingly.
Remove from heat and season with lime juice, fish/(soy) sauce and chili powder; the salad should taste equally hot, sour and salty. Add shallots, herbs and spring onions. Serve sprinkled with ground roasted rice.
Serve with:

-a few sprigs of Thai basil
-sliced cabbage and cucumber
(hs note: to make ground roasted rice, just toast rice grains in a skillet until golden and fragrant. Grind with a mortar and pestle)
From Thai Food by David Thompson (Ten Speed Press, 2002)