Bay Leaf Pound Cake Recipe
An incredibly moist and fragrant bay leaf pound cake from David Lebovitz's new cookbook. A perfect road trip cake.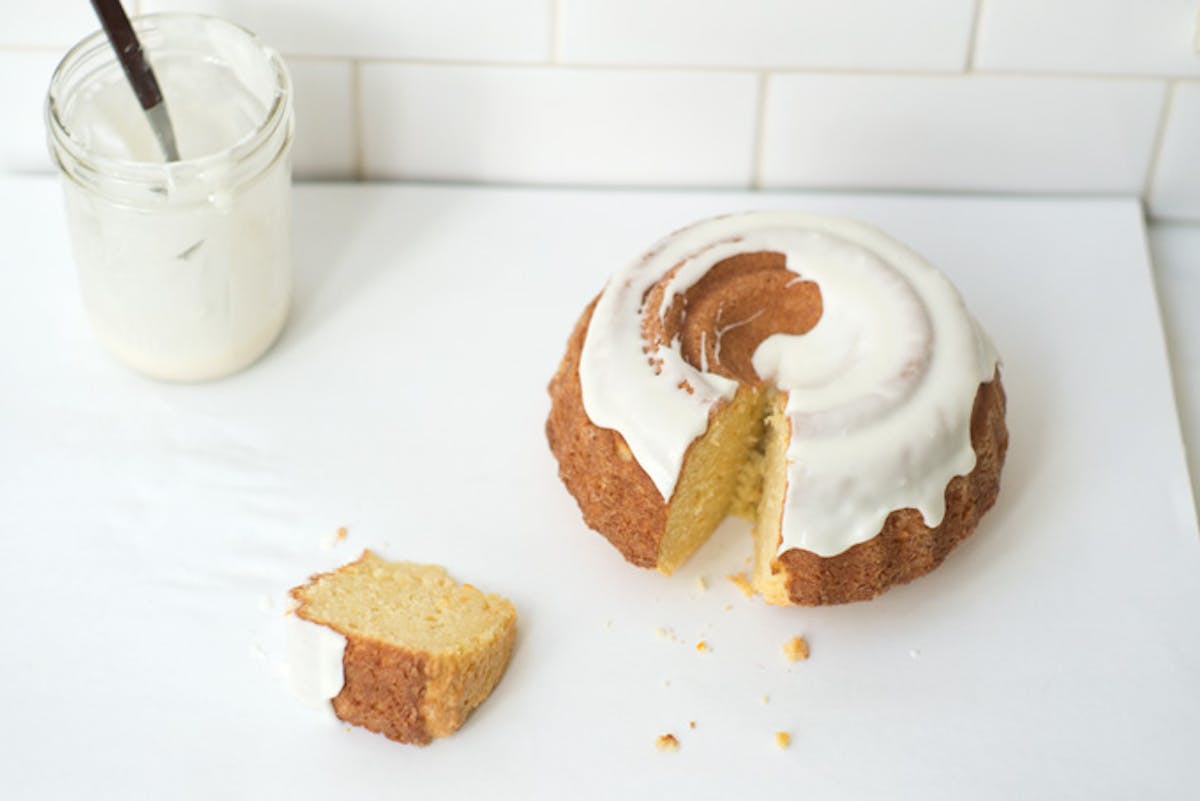 An impromptu road trip happened over the weekend. We hopped in the car and decided to drive south to Los Angeles. It felt great. I packed a small weekend bag, a single pair of shoes, a hot thermos of White Peony Bai Mudan, and a small cake. I think we've talked about this before, but I like the combination of road trips and cake. Tiny, tasty, unfussy, resilient cakes. The sort of cakes you can slice from with a pocket knife while taking in those little moments that make traveling by car instead of plane worth it. Like when you're looking at the sunrise illuminating the painterly palm-lined hills west of the interstate, or stretching in the bright sun at a rest stop. For me, the definition of a special occasion. This time I made the Bay Leaf Pound Cake from David Lebovitz's new book.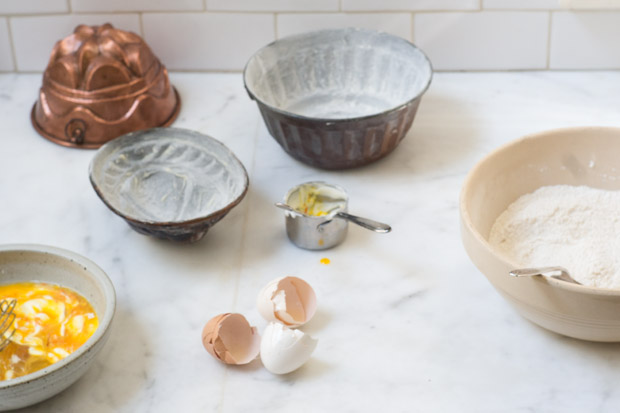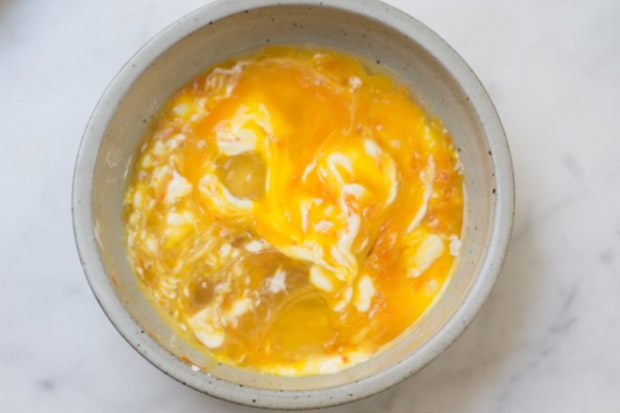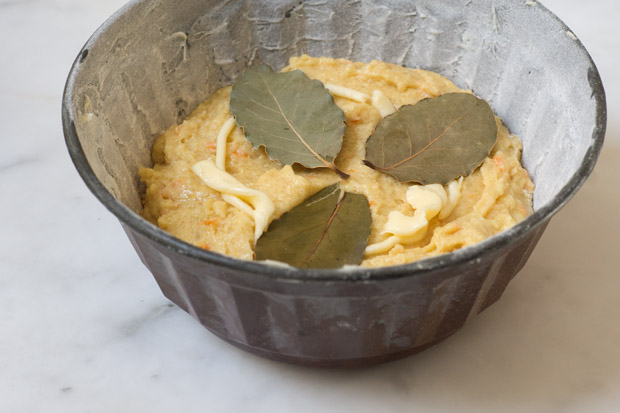 This is a moist-crumbed, beautifully perfumed pound cake. The bay is a lovely back note against a punch of fragrant orange. This is a cake that perfumes the entire house, and those of you who bake it will likely agree, the name of the cake in French captures its spirit better than in English - Gâteau Week-End Parfumé au Laurier Nappage à l'Orange :)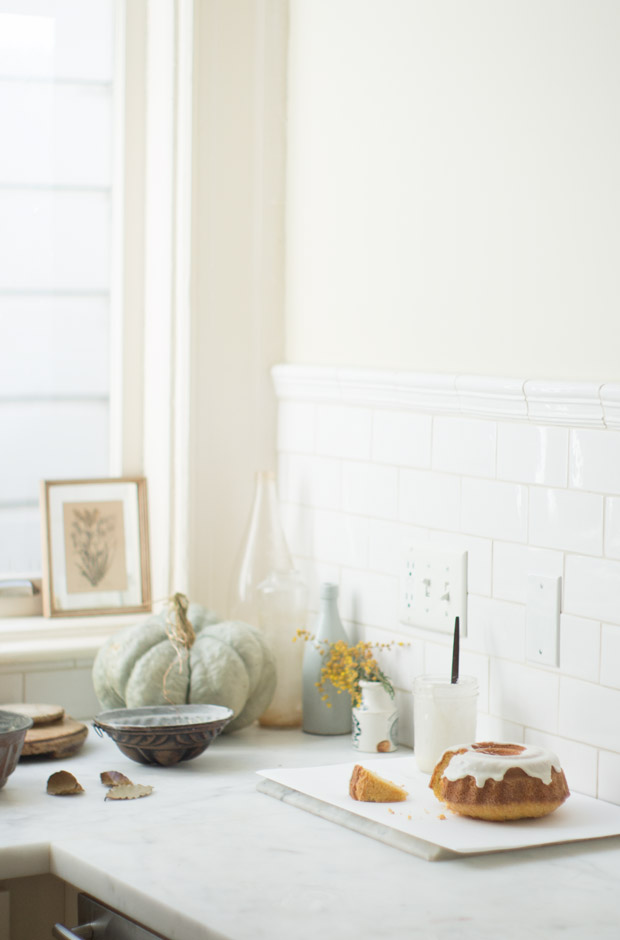 The only thing better would have been having David in my kitchen to bake it with me. xo -h
Bay Leaf Pound Cake
You can make this pound cake with whole wheat pastry flour as well. Just be extra mindful not to over bake. Also, as David suggests, substituting rose geranium or another (edible) scented leaf is a fine idea, just make sure the leaves are unsprayed. You can bake this in a 9-inch pan, or equivalent, I like to experiment with different pan shapes.
6 tablespoons / 3 ounces / 85 g unsalted butter, cubed, at room temperature, plus 1 tablespoon butter, for piping

10 fresh or dried bay leaves
1 2/3 cups / 230g all-purpose flour
1 cup / 200 g granulated sugar
1 teaspoon aluminum-free baking powder
1/2 teaspoon fine grain sea salt
3 large eggs, at room temperature
1/2 cup / 125 g sour cream
finely grated zest of one orange
1/2 teaspoon vanilla extract

Orange Glaze:
1 cup / 140 g powdered sugar
1 1/2 - 2 1/2 tablespoons orange juice
1 teaspoon orange liquor, such as Grand Mariner or Cointreau (optional)
Melt 6 tablespoons (85g) of butter in a small saucepan. Remove from the heat and add 3 of the bay leaves. Let steep for 1 hour.
Preheat the oven to 350F / 180C. Butter a 9-inch loaf pan (or equivalent). Dust with flour and tap out any excess. If possible, line the bottom with parchment paper (if the shape of your pan makes it impossible to line with parchment, skip the paper). If you have a flat-bottomed pan, dab one side of the remaining 7 bay leaves with a little bit of butter and place the leaves, evenly spaced, on the bottom of the prepared pan, buttered side down. Alternately, if your pan doesn't have a flat bottom, you can wait, and place the remaining bay leaves atop the batter just before placing in the oven (as shown above).
In a large bowl, whisk together the flour, sugar, baking powder, and salt. In a small bowl, whisk together the eggs, sour cream, orange zest, and vanilla until combined. If needed, barely rewarm the butter to liquify it and pluck out the bay leaves. Whisk the butter into the egg mixture.
With a spatula, gently stir the egg mixture into the dry mixture, just until the batter is smooth. Do not over mix. Scrape the batter into the prepared pan, being careful not to disturb the leaves (alternately, top the cake with any remaining leaves). Put the remaining 1 tablespoon of softened butter into a plastic bag, snip off a corner, then draw a straight line of the butter down the center of the cake (alternately, a circle if your pan is round). Bake for 40 to 50 minutes, until a toothpick inserted into the center comes out clean. It's better to slightly under bake, than over bake this cake.
Remove from the oven and let cool for 10 minutes. Run a knife around the perimeter of the cake and then tip out onto a cooling rack, remove leaves, and let cool completely before glazing.
To make the glaze, combine the powdered sugar, orange juice, and orange liquor (if using). Stir until smooth, then spread the glaze over the cooled cake, allowing it to drip down the sides and harden.
Makes one 9-inch cake.
Slightly adapted from David Lebovitz's beautiful new book, My Paris Kitchen.
Prep time: 60 minutes - Cook time: 50 minutes