Chile Blackberry Syrup Recipe
Inspired by a recipe in the September 2007 issue of Gourmet Magazine - a slow-burning, sweet and spicy, chile-infused blackberry syrup. It's great in spritzers, cocktails, on toast, in oatmeal, and on and on.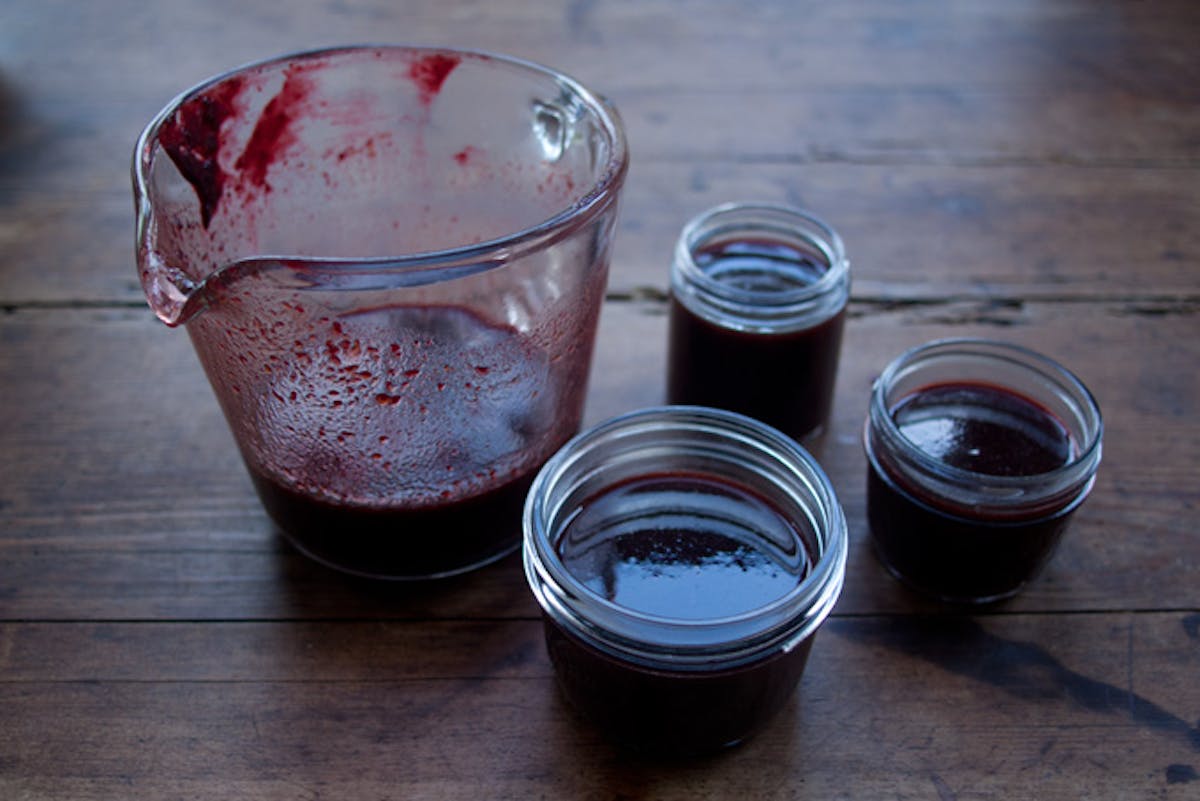 For those of you with summer blackberries on hand, you must must must try this recipe. It doesn't lake long, and you are left with enough sweet & spicy, chile-infused blackberry syrup to keep your taste buds tingling right into August. I clipped the recipe out of an issue of Gourmet Magazine years ago. Actually, here we go, it was September 2007. I switched up the chiles, made a few other tweaks, and have been using the syrup to spritz up sparkling water all week. It's also great swirled into yogurt, oatmeal, and crème fraîche. Other good ideas: use it to slather on buttered toast, drizzle over goat cheese, and I imagine it'd be a flashy, unexpected offering at any pancake, crepe, or waffle brunch.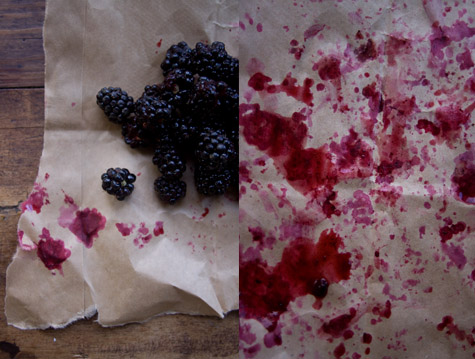 Gourmet highlighted their original version of the syrup alongside a bourbon-based cocktail (Briar Patch recipe here), and a version of a Desert Sunrise (can't find a version of it online). If you think of it as a homemade spicy grenadine, I suspect you can imagine all sorts of cocktail applications. But don't limit it to cocktails, quite frankly, it seems like its uses are boundless. I keep thinking about working it into a cheesecake. You know how Humboldt Fog goat cheese has a thin layer of vegetable ash running through it? What if, using that as inspiration, you had a thin vein of the chile blackberry syrup run through the cream cheese filling - where you'd only see it after slicing into the cake? So the flash is a bit understated and unexpected. Or you could use it in a simple vinaigrette, or as part of a fruit salad. On the savory front, I'm tempted to make a chile blackberry yogurt, and use it to top some lentil soup.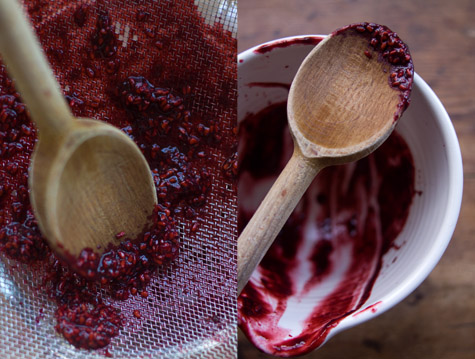 Anyhow, I'm sure there are a thousand things you could think of here. Let me know if you try anything particular interesting, or find a pairing that works particularly well.
I hope those of you in the U.S. enjoy the long summer weekend and get plenty of sunshine, spritzy drinks, and sparklers.
Chile Blackberry Syrup Recipe
The original recipe calls for 4 dried pasilla chiles (1 oz). I had guajillo chiles on hand and substituted those. Either way, the resulting syrup is going to pack a good amount of punch. Actually, its more like a slow-motion punch, where - for minutes - the heat smolders and lingers as it moves through your body. I suspect two or two-and-a-half chiles will yield a mild syrup, for those of you weary of too much heat. The syrup keeps covered, and chilled for a few weeks.
4 dried guajillo peppers (1 oz - see head notes)

1 cup / 6 oz / 170g dark Muscovado sugar or dark brown sugar

1 cup / 7 oz / 200 g organic sugar
1 1/2 cups / 355 ml water
1/4 cups fresh lemon juice
3/4 cups / 3.5 oz blackberries
Trim the stems from the dried chiles. Tear chiles into pieces and drop (along with seeds) into a medium saucepan. Stir in the sugars, water, and lemon juice, and bring the mixture to a boil over medium heat. Boil, stirring regularly, until the mixture has reduced to 2 cups / 475 ml, roughly 20 - 30 minutes.
In the meantime, puree the blackberries. I used a hand blender in a small bowl, but a standard blender is also an option. Force the berries through a fine-mesh strainer, and discard any seeds. Set the berry puree aside.
Once the chile mixture has reduced, remove from heat, and (carefully) puree it with a hand blender until smooth. Strain through a sieve into a heat-proof bowl. Press on the remaining solids in the strainer to squeeze out any syrup, and discard the remaining solids.
Whisk the berries into the chile syrup and set aside to cool. Place in a jar, or smaller jars, and refrigerate.
Makes about 2 1/2 cups.
Adapted from a recipe in the September 2007 issue of Gourmet Magazine, who adapted it from a Junior Merino recipe.
Prep time: 10 minutes - Cook time: 30 minutes