Classic Berry Swirl Ice Cream
If you love a classic berry swirl ice cream, this is your recipe. Intense, bright strawberry or raspberry sorbet threaded with the creamiest waves of vanilla.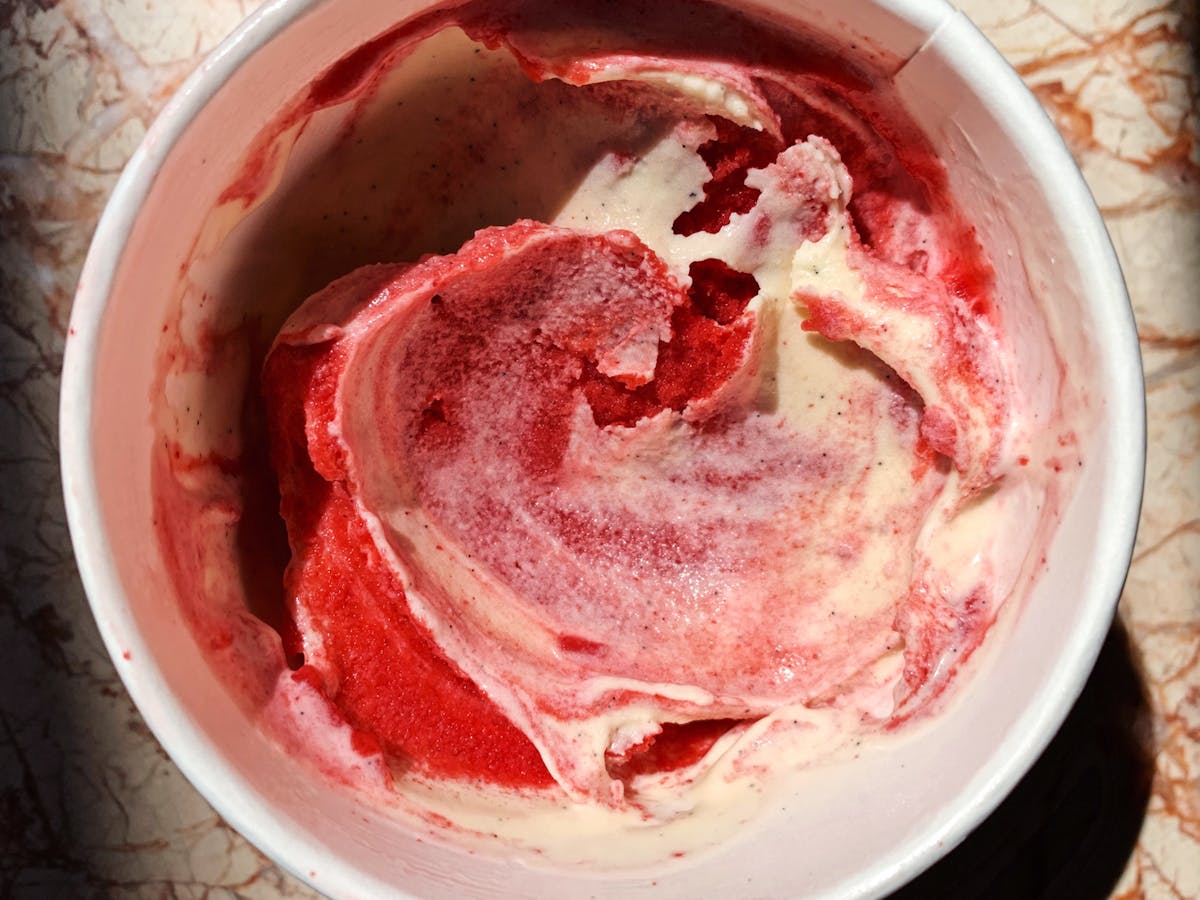 If you love a classic berry swirl ice cream, this is your recipe. Intense, bright strawberry or raspberry sorbet threaded with the creamiest waves of vanilla. This version is made with cream, but I've also posted a non-dairy version here. It is my absolute favorite flavor, and yes, you can absolutely use frozen (thawed) berries!

Berry Swirl Ice Cream: The Recipe
The berry sorbet component couldn't be easier to make. You use a blender to puree whole fruit with some sugar, strain, and you're in business. The vanilla swirl is a bit more intensive. You need to make a classic vanilla custard, and then churn from there. I like to make the swirl components up to a few days ahead of time, when I have a few minutes, and then churn a couple hours before serving. It's great for days after, but is full-stop magic enjoyed just shortly after churning.
More Summer Fruit Recipes
Classic Berry Swirl Ice Cream
A couple things - make the vanilla first, it typically takes longer to churn than the fruit sorbet. Also, I call for strawberries, here, but you can use raspberries, blueberries, blackberries, or a blend! I love the bright intensity of the strawberry though. Last thing, churn the vanilla and berry one after the other, this way your ice cream should still be quite creamy, allowing you to produce a nice swirl.If one of your flavors are too frozen, swirling becomes more challenging.
Ingredients
Vanilla Swirl:
2

cups

heavy cream

1

cup

whole milk

3/4

cup

sugar

1/4

teaspoon

fine grain sea salt

1/2

vanilla bean, split

6

egg yolks, whisked

2

teaspoons

vanilla extract

2

tablespoons

vodka (optional)
Berry Swirl:
12 

ounces 

strawberries, hulled

1/4 

cup 

sugar

2 

tablespoons 

lemon juice

1/8 

teaspoon 

salt

1 

tablespoon 

vodka (optional)
Instructions
Make the vanilla swirl:
In a saucepan over gentle heat, warm 1 cup of the cream, the milk, sugar, and salt. Scrape the seeds, with the edge of a knife, from the vanilla pod into the warming milk mixture, and add the pod as well. When hot, remove from heat, cover, and allow to steep for at least 15 minutes, or up to an hour.

Place the egg yolks in a mixing bowl. Slowly pour the vanilla mixture into the yolks while continuously whisking, and then transfer the mixture back into the saucepan. Stir the mixture constantly over medium heat until it thickens and coats your spoon - as thick as an eggnog or melted milkshake. Remove from heat.

Pour the remaining cup of cream into a mixing bowl. Strain the hot custard mixture into the cold cream, removing the vanilla bean. Stir in the vanilla extract, and taste. If you'd like a bit more salt, add it now. Cool over an ice batch or cool completely in a refrigerator for a few hours, or overnight. Churn in an ice cream maker, per manufacturer's instructions. Smear along the inside of a freezer-proof container or carton, and place in freezer while you churn the berry sorbet.
Make the berry swirl:
Puree the berries in a high speed blender. Add the sugar and blend for another minute. Add the lemon juice and salt, blending for a few more seconds, strain to get rid of any seeds or chunks. Refrigerate for up to a few day, churn per manufacturer's instructions, adding vodka near the end. Transfer to the container with the vanilla, and use a big spatula to pull and stir the vanilla through the berry in two or three big swirls. Resist the urge to over stir.
Notes
Makes about 2 pints.
Related Recipes
More Recipes
Popular Ingredients