Coconut Broccoli Soup Recipe
Lunch at the studio today involved broccoli soup heated on a new hotplate - a simple broccoli and spinach affair made with a coconut milk broth, topped with good stuff like pan-fried tofu croutons, toasted almonds, and shredded scallions.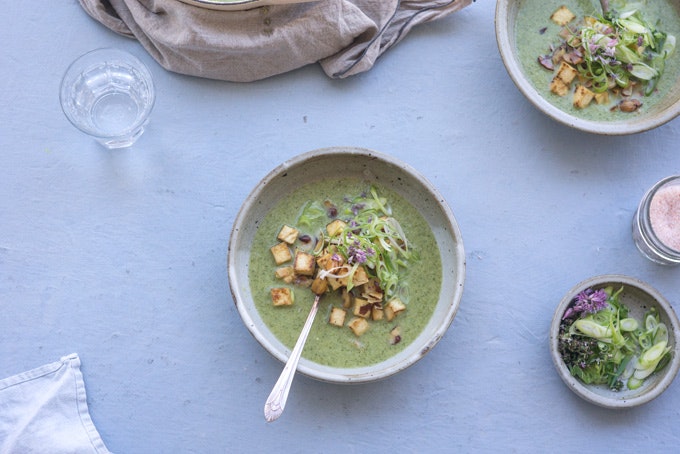 For the time being the QUITOKEETO studio has no kitchen. It has a warhorse of a sink with two of the legs truncated, but that's about it. If we want to expand our lunch options to warm or hot foods, appliances need to be involved. This has become a favorite topic of discussion. The question is: if you can only have three appliances, what are they? A hotplate seems to be the obvious first pick. A toaster oven and/or microwave also seem like contenders - but my argument is, we don't have either of those at home, so why would we have them at the studio? I'm lobbying for a wine refrigerator to stock with rosé for the summer, and a coffee grinder. This is a position that triggers much eye rolling. Jack thinks the waffle maker should live at the studio. While we figure out appliance #2 and #3, the hotplate was purchased, and made its efficient and unsexy debut this afternoon at lunch - reheating a pot of broccoli soup from its perch atop a beer garden bench. The soup - a simple broccoli and spinach affair - was made with coconut milk broth, double greens (broccoli & spinach), and was topped with good stuff like pan-fried tofu cubes, lots of toasted almonds, and shredded scallions.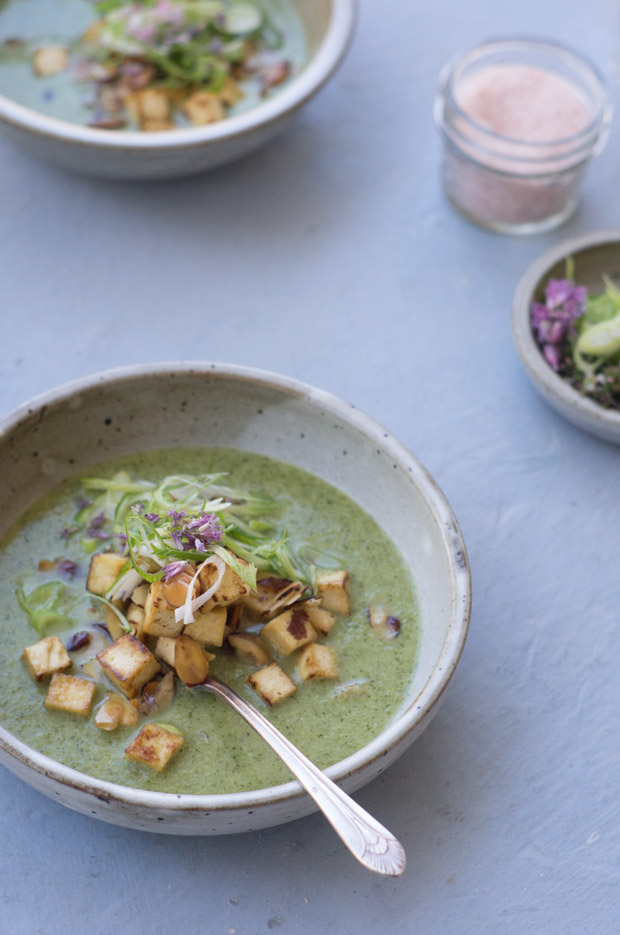 For those of you who like options: I blended the soup for dinner last night, so I could bring the leftovers to the studio in a jar for a quick reheated lunch. I think blended is the way to go, with broccoli soup, if you're going to enjoy leftovers. That said, if you're going to serve the soup immediately, you can play this soup entirely differently by leaving the broccoli florets whole - skip the blend. With the bright broccoli, and thin, white coconut broth, simply douse everything with a good amount of lime juice, and the soup takes on an entire (equally delicious) different personality - same toppings (tofu/almonds/scallions). Enjoy! xoh

Coconut Broccoli Soup
Because this soup has just a small list of ingredients, you want them all to shine. Look for deeply green, tight heads of broccoli. I typically avoid any heads that have yellowing florets or seem dried out.

1 14-ounce can of full fat coconut milk
3 cloves garlic, smashed

1 large yellow onion, chopped
1 small serrano chile, stemmed and chopped
2 teaspoons fine grain sea salt


4 1/2 cups water
2-3 large heads of broccoli (~1 1/2 lb.), cut into small florets
2-3 large handfuls of spinach

to serve: lots of pan-fried tofu cubes, toasted almonds, scallions, chive flowers (optional)
Scoop a big spoonful of thick coconut cream from the top of the coconut milk can. Add it to a large pan over medium-high heat. When hot, stir in the garlic, onions, chile, and salt. Sauté for a couple minutes, just long enough for everything to soften up. Add the remaining coconut milk, and the water, and bring to a simmer before adding the broccoli and spinach. Simmer just long enough for the broccoli to get tender throughout, 2 - 4 minutes. Immediately remove the soup from heat and puree with an immersion blender. Add more water if you feel the need to thin the soup out. Taste and add more salt if needed.
Serve sprinkled with tofu cubes, toasted almonds, and lots of scallions.
Makes a large pot - 8 servings or so.

Prep time: 10 minutes - Cook time: 10 minutes