Cumin-spiked Tofu Recipe
Slabs of tofu marinated in a cumin, garlic, yogurt slather and cooked on a grill or in a grill pan or skillet.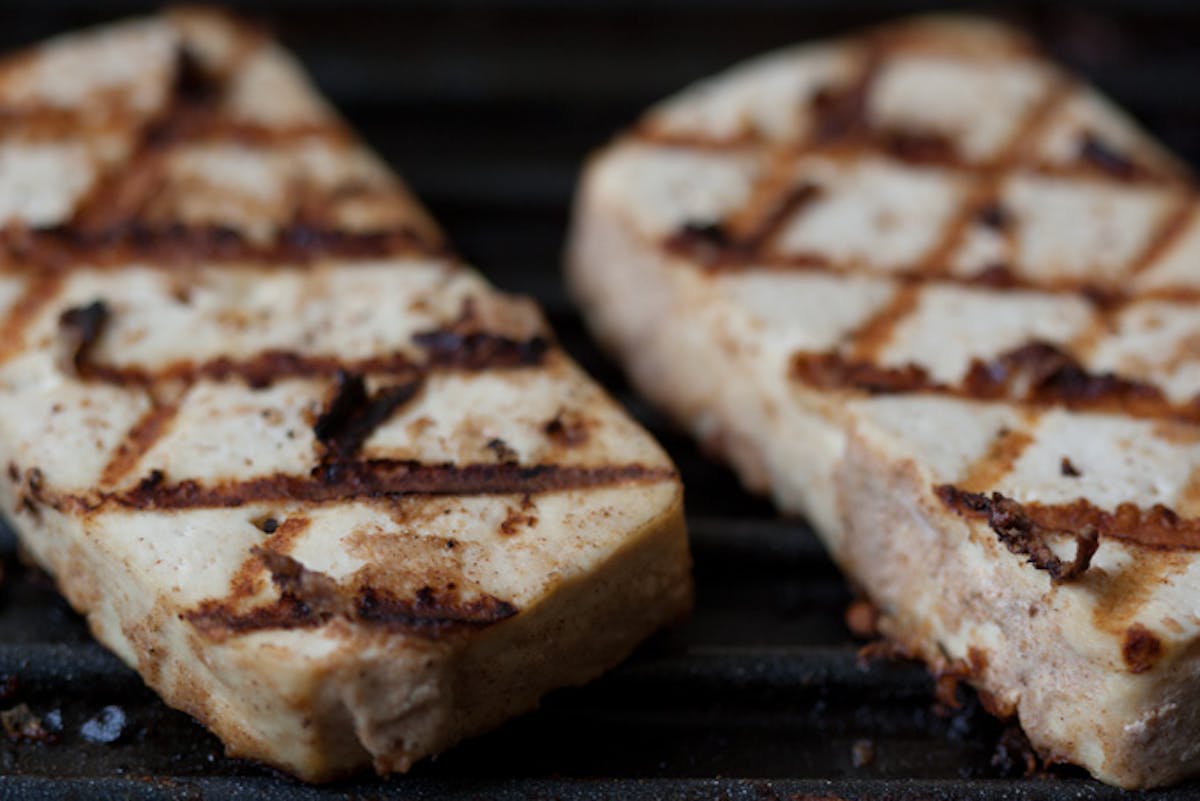 My friends are a diverse lot. Some are sixteen, others are seniors. They are technophiles and technophobes. On the culinary front they run the spectrum from honey-shy vegans to those who hunt and butcher their own meat. I'm not at all interested in spending my time with people who are just like me with interests and beliefs that are just like mine, and when it comes to mealtime, more times than not, I'm the only vegetarian in the room. As you can imagine, all this mixing and intermingling leads to lively conversation. On occasion the topic is tofu. There is a subset of my friends that can't be convinced tofu is anything other than flavorless, amorphously textured, hippie food. Trying to convince them otherwise is an exercise in futility for me. But as I was going about making the fragrant cumin-yogurt slather for this recipe, the heady smell of the cumin and crushed garlic wafted up at me and I thought to myself - this is one of those recipes. I think of them as gateway recipes, where an ingredient (in this case tofu) is featured in a way that is appealing across the board. Even those who think they might not like tofu find comfort and familiarity in the grill marks and are willing to give it a go. And as I mentioned last week, the cumin-spiked tofu and this carrot salad make a great pair.
It is a bit early in the year (even here in California) for grilling, so I use my Le Creuset grill pan. It leaves great marks and because there is minimal surface contact between the tofu and pan, you keep much of the marinade/cumin-slather intact throughout the cooking process. That being said, there is no reason you can't bake the tofu slabs on a parchment-lined baking sheet. Try 350F degrees for 20-30 minutes.
If you are new to tofu, it is important to know not all tofu is alike. There is a wide range available and they vary widely in taste and texture. I encourage you to try a range over time. For a recipe like this, look for an extra-firm tofu that will hold its shape and not fall apart in the cooking/grilling process. I use more delicate, creamy tofus for other recipes, but structure is important for a recipe like this (or for kabobs). While I'm using tofu here in a more elaborate fashion, I'll also mention that a simple piece of high-quality, artisan tofu, with just a touch of salt, it wonderful. It's hard to beat simple preparations when using the best tofu you can find.
Other favorite tofu recipes:
- Caramelized Tofu Recipe
- Garam Masala Tofu Scramble Recipe
- Garlic Soba Noodles
- Lazy Day Peanut Noodle Salad Recipe
- Grilled Kabob Recipe with (outrageously good) Muhammara
- The Otsu recipe in Super Natural Cooking
Cumin-spiked Tofu Recipe
It is important to let the marinating tofu do its thing (at the very least) for a few hours - preferably overnight. I'll also mention that I always seek out organic soy products.
12 ounces extra-firm organic tofu

1 teaspoon ground cumin
1 tablespoon garam masala spice blend
6 medium cloves garlic, crushed then chopped
3 tablespoons olive oil
1/4 teaspoon fine grain sea salt
1 tablespoon lemon juice, freshly squeezed
1 7 or 8-ounce container of Greek yogurt
Unwrap the tofu. Dry it off by patting and pressing with a few paper towels. Cut the tofu into slabs roughly the size of a business card, with the thickness of a pencil.
In a wide, shallow rimmed dish (a tart pan or pie dish works great) whisk together all the remaining ingredients. Place the tofu in the marinade in a single layer and gently coat the tofu with the yogurt. Cover and refrigerate for (at least) a few hours. I sometimes leave it marinating for a few days, cooking the tofu when needed.
In a grill pan, or on a grill, cook the tofu (retaining some of the yogurt slather on each piece) over medium heat until the tofu is cooked through and the surface of the tofu has nice color. Flip once along the way. If the pan/grill is too hot the outside of the tofu will overcook before the inside is hot, so be mindful of this.
Serve over this carrot salad.
Serves about 4.