Favorite Cookbooks: Jennifer Carden Recipe
Cookbook author Jennifer Carden shares a list of her favorite cookbooks.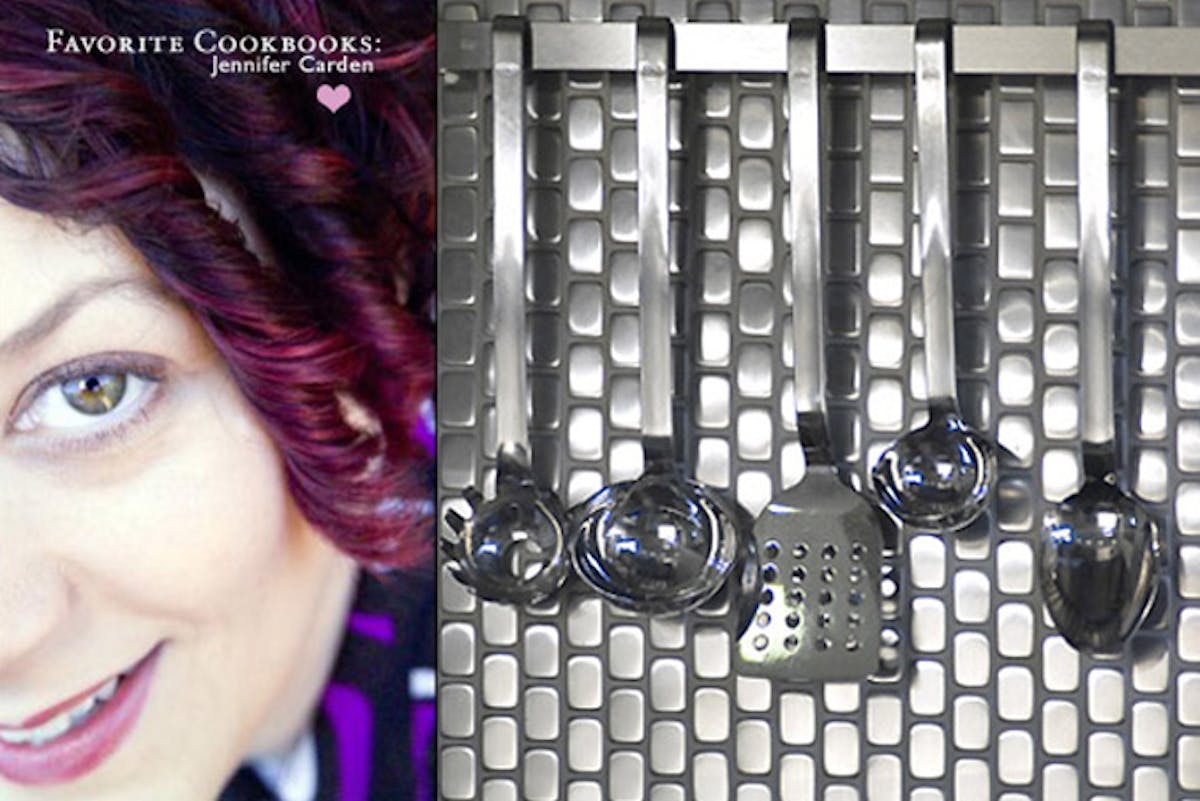 Take one part artist, one part chef, one part stylist, another part mom, and you have Jennifer Carden. Actually, I'm sure there are many other parts worthy of a mention, but in relation to her latest project, Toddler Cafe - these are the parts that really shine through. Let me back up a bit - Jennifer and I were introduced by mutual friends year ago, and we bump into each other here and there. I knew she was working on a kid-friendly cookbook, and was excited to finally get a good look at it at a recent book party. After trying on many different culinary hats, Jennifer got into food styling alongside her husband, photographer Matthew Carden. In one of those instances where life and work converges, they began working on Toddler Cafe: Fast, Recipes, and Fun Ways to Feed Even the Pickiest Eater. The book was shot by Matt, and as the title indicates, it's a fun book all about cooking for (and involving) kids in the kitchen. As she says,"one of the hardest jobs around." I asked Jennifer to share her favorite cookbooks with us today, and she happily obliged.
JENNIFER'S COOKING STYLE (in her own words):
I have to say, to my surprise, after working on this I realized that most of the books I chose were about joy and happiness. Before doing all this cooking with kids I think I may have chosen different titles. Thanks Heidi, I learned something about myself!
My cooking style is currently dictated by cooking for and with a toddler. My core belief lies in, texture, texture, texture and color. I started as a sculptor and collage artist and my cooking style reflects that. It is all about what looks good and how the textures intermingle. I'm a terrible recipe follower so my most successful meals come from ingredients I already have on hand or want to experiment with.
I like uncharted territory, the mystery ingredient, the challenge.There's nothing better than making a dish that focuses on one special ingredient I may have picked up on a whim, say the lemon grass that caught my eye. The distinct smell of the lemongrass gives me a perfect staring point, for rice, soup or whatever. This way I can teach my daughter how things smell, look and combine with other foods, and at the same time make meals playful.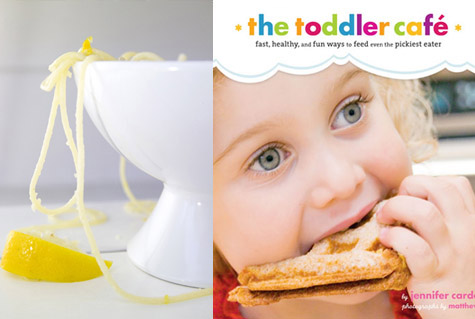 FAVORITE COOKBOOKS (the ones Jennifer turns to most):
- Happy In The Kitchen, this is why I love Michel Richard! He is so joyful. To him it is all about play and fun - and that's what I'm about too. His recipes are full of color and texture, and inspire me to make simple foods that taste great. He inspires cooks to use his recipes as a jumping off point to then create their own masterpieces. His techniques are illustrated well and the book is well laid out and easy to use. He sometimes speaks as if he were a carrot, cooking from the ingredient's perspective - and that cracks me up.
- Celebrate!! Jacques Pépin Celebrates, I love anything that Jacques does. And I have to say, one of the reasons I love this book is because I was lucky enough to have been one of the production kitchen crew for the taping of the companion show. I know this book and all the recipes inside and out. This book is close to my heart from a guy who really knows how to make great food. Enough said.
- The Joy of Cooking - Inside the cover there is a Shakespeare quote, "Joy's soul lies in the doing." First written in 1931 this book is a classic and continues to be my most tattered and torn book - I call it, "my old gold." It is my go-to on how to make just about everything. I use it as a reference for cooking times, techniques, and doughs all the time. It has been with me since I was in college, and that was a while ago.
Japanese cooking - not something I grew up with, but close to my heart. The new art of Japanese Cooking by Chef Morimoto is one of my favorite inspirational recipe books. The colors and flavors are clean, and simple.
Because I'm such a visual person, I was immediately drawn to Donna Hay in the early 2000's. Entertaining is my favorite because it was the one I bought my first. Her bright, clean, and playful photographs inspire me. I love her style and I love the fact that she is such an amazing food stylist.
Cookwise: The Secrets of Cooking Revealed by Shirley Corriher: This lady knows her stuff, she's a food science wiz. I first met Shirley at a Food Styling conference in Minnesota. She was there giving a workshop on information from her book, I was totally enamored! Her book is something I keep on hand all the times. I'm a bit of a cookbook nerd, so you may find me reading it just for fun. I've learned a ton from this book and recommend it to anyone who develops recipes.
Related links:
- Toddler Cafe website
- Toddler Cafe in the New York Times
- Toddler Cafe Video on the Chronicle Books website
- Past cookbook list: Fashion designer Isaac Mizrahi shares his favorite cookbooks.
- Past cookbook list: Grace Bonney of design*sponge shares her favorite cookbooks.
- Past cookbook list: Cookbook author Eric Gower shares his favorite cookbooks.
- Past cookbook list: Rookie Moms Heather Flett and Whitney Moss share their favorite cookbooks with us.

A big THANK YOU to Jennifer for sharing her favorites with us!