Herbal Rice Salad with Peanuts Recipe
An herb-packed rice salad recipe with peanuts, toasted coconut, and a strong boost of fresh lime. A recipe to keep in your back pocket this summer.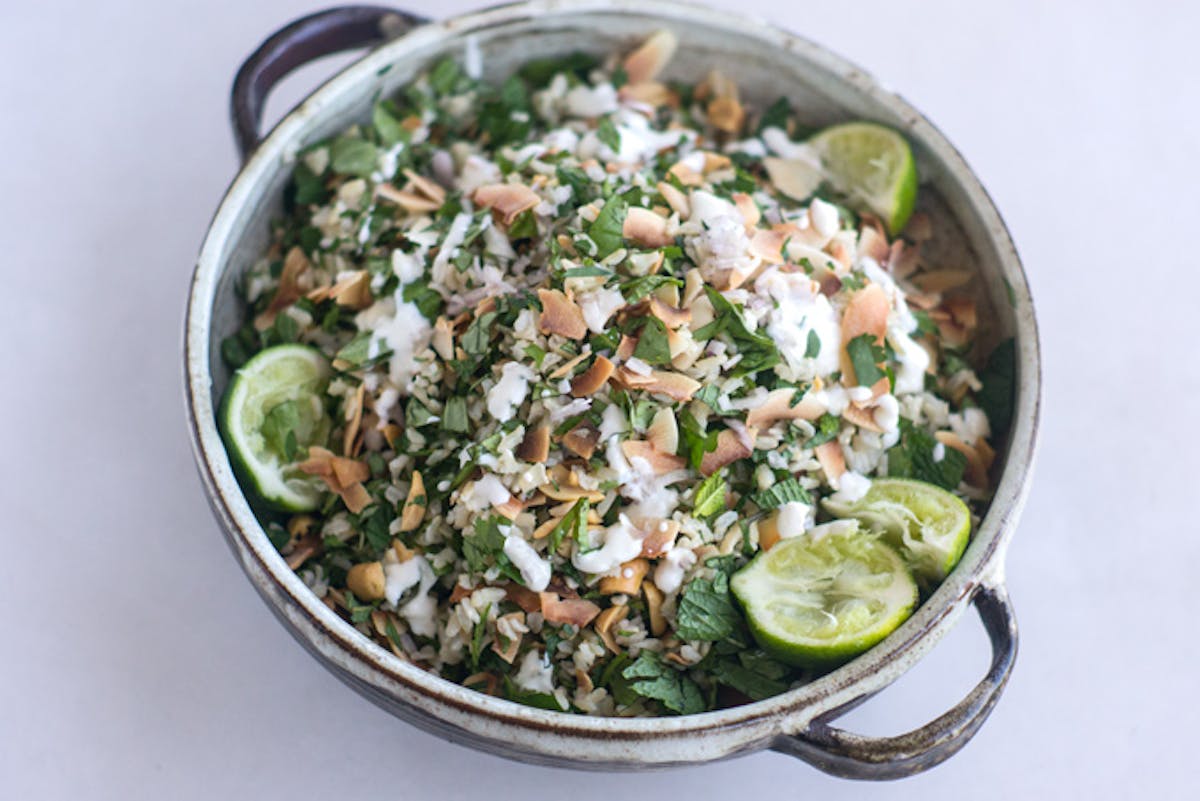 Hi friends - I'm back from New York, and excited to be back in my own kitchen. I miss it when I travel! This was first up, and I'm telling you, you're going to want to keep this herb-packed rice salad in your back pocket this summer. It's for those occasions when basil, and mint, and cilantro are booming in your garden, or at the market. And it's a great way to use leftover rice (or other favorite grain). I'm not shy with the amount of herbs I use in relation to the quantity of rice here, and I also like to deploy a generous amount of toasted coconut and peanuts. A bold boost of lime pulls everything together and keeps it all bright.
A couple side notes - aside from the chopping of the herbs, you can prep the components of this salad a couple of days ahead of time - rice, coconut, peanuts. I like to make it with brown jasmine rice, but it might also be nice with any number of other grains - farro or quinoa come to mind.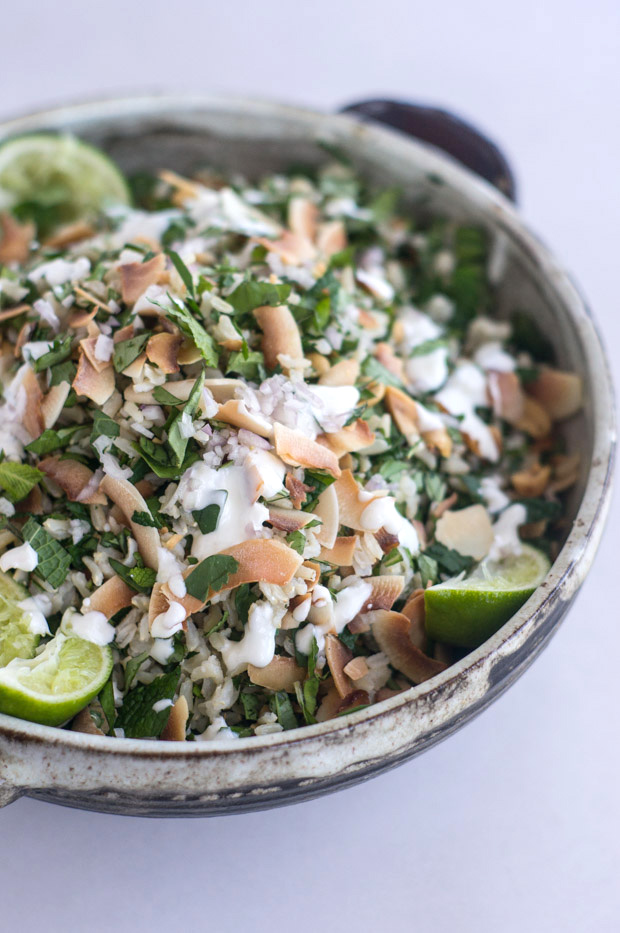 I make note of this in the recipe below, but adding roasted cherry tomatoes later in the year, when they're in season, will really take this over the top in a great way. Enjoy!
Herbal Rice Salad with Peanuts
When they're in season, roast halved cherry tomatoes, and add them to the salad just before serving. *You can use whatever rice you have on hand, but I like to use the wonderfully fragrant brown jasmine rice for this salad.
4 cups cooked rice, room-temperature*
1 cup toasted coconut
1 cup chopped, toasted peanuts

3/4 loosely packed cup of EACH of the following: mint, basil, & cilantro leaves

2 small shallots, minced
2 tablespoons fresh lime juice, or more to taste
fine grain sea salt, to taste

1 garlic clove
1 cup plain yogurt
Ideally, you're going to want to toss this salad, just before serving. It keeps the herbs bright, and green. In a large bowl, combine the rice, coconut, peanuts, mint, basil, cilantro, and shallots. Season with the lime juice, and salt. Toss again.
Mash the garlic clove into a paste with a generous pinch of salt. Whisk the salted garlic into the yogurt, and drizzle generously over the salad, serving the rest on the side.
Serves 6.