Marathon Cookies Recipe
I made these cookies for Wayne to eat when he finished the San Francisco Marathon. The batter is made with pureed white beans, lots of oats, and whole wheat flour. The resulting cookies are sesame coated and flavored with aniseed, lemon zest, olive oil and chopped dates. They are beautifully tender, licorice-scented, with a bit of crunch from the sesame seed coating.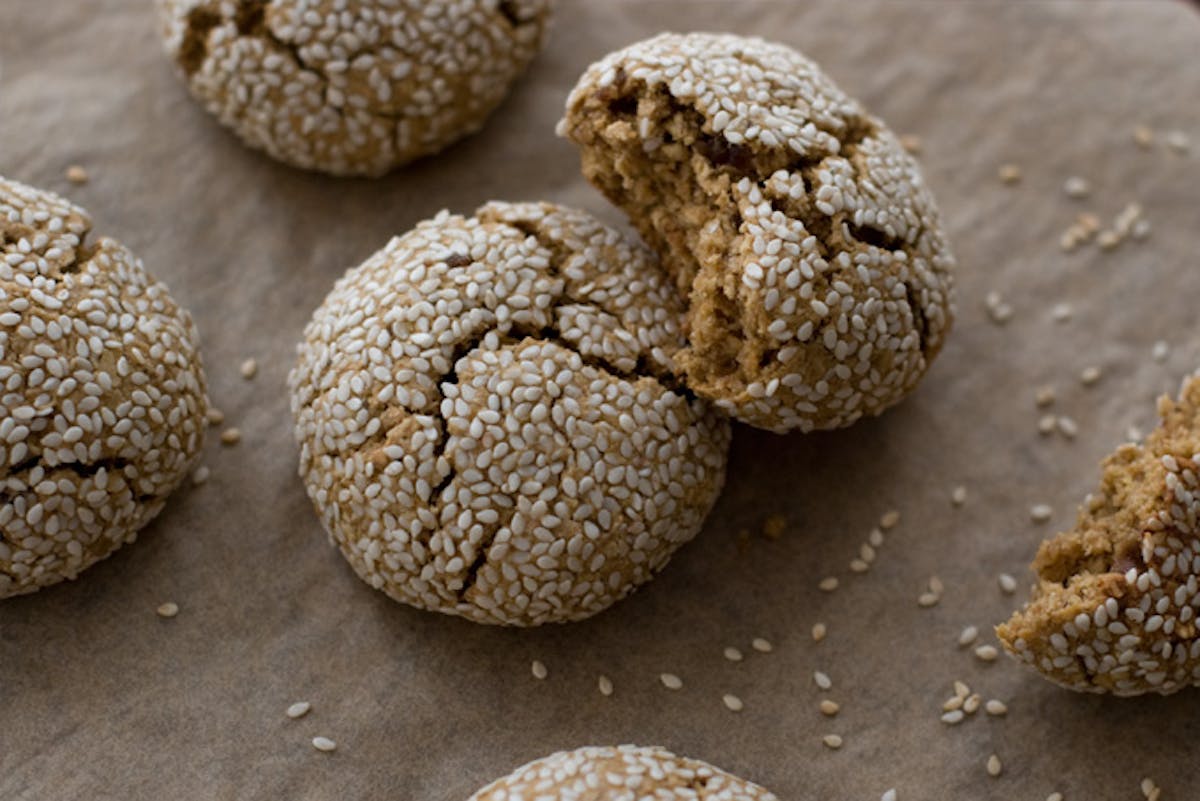 Wayne ran the San Francisco Marathon on Sunday. He ran it last year, but because I hopped a last-minute plane to Chile and Argentina, I missed his first-ever 26-miler. Needless to say, I had some making up to do this year. The alarm clock went off at 5 o'clock the morning of the race, and I groggily assumed my role of chauffeur and post-race food supplier. We were in the car by 5:20, and he was at the start line ready to go by 5:45. Again, this is a.m. On Saturday I put some thought into what I might pack for him to eat after crossing the finish line. There's no lack of cyber-drinks or muscle bars at these sorts of things, but I thought he might like something homemade. I've done the granola bar thing to death around here, so that was out. But I remembered a breakfast bean cookie recipe that made the rounds a while back (I came across them on Nicole's beautiful the habit of being site via Definitely Not Martha), and I used that recipe as a jumping off point. The cookies use pureed white beans in the dough, lots of oats, and whole wheat flour. After a bit of experimenting, I had a baggie full of palm-sized, sesame coated, bun-shaped cookies flavored with aniseed, lemon zest, olive oil and chopped dates. The cookies are beautifully tender, licorice-scented, with a bit of crunch from the sesame seed coating.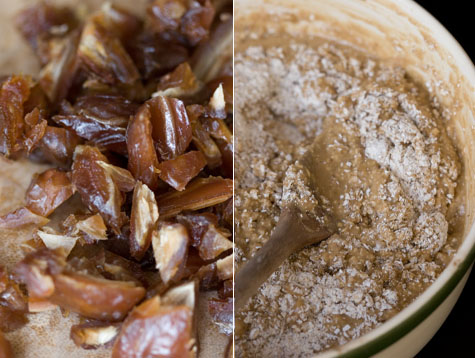 A couple technical notes: I tried a few different things here, with varying degrees of success. I baked off a sheet of small drop-style cookies first. They tasted good, but the texture was off, they weren't attractive, and they dried out a bit during baking. The second round was much much better and the key was shape and size. I decided to go for a much larger cookie (3x the original), shaped into balls and fully coated with sesame seeds. They were great, and you could certainly slice them in half for a satisfying snack. I made a hodge-podge of other departures from the original recipe - I decided to use olive oil instead of butter, and thought dates would be interesting as well. And for those of you who are skeptical about beans in your cookies - you'd never know they were in there.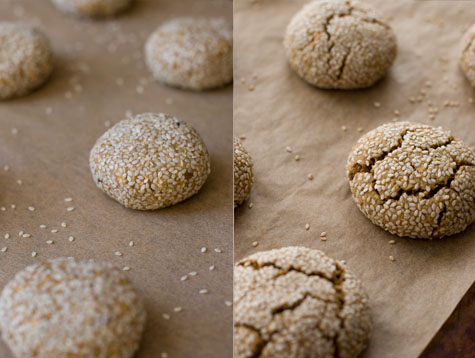 I should also mention the inspiration for the flavors at play here. I tasted a cigar cookie last week at the new Blue Bottle Cafe at the SFMOMA. It was sesame-coated, tender, with a hint of what I thought was aniseed, but was actually absinthe. I wrote "aniseed/sesame" on a post-it note when I got home and slapped it on my desk. There it was staring at me when I sat down to think about these cookies.
Marathon Cookies
My guess is that you could substitute spelt flour or all-purpose flour if you don't have whole wheat pastry flour on hand, or have difficulty finding it.
2 cups rolled oats (not instant oats)
1 cup whole wheat pastry flour
1 tablespoon aniseed, crushed in mortar and pestle (or spice grinder)
1 teaspoon baking powder
1 teaspoon baking soda
zest of one lemon
1/2 teaspoon fine grain sea salt

one 15-ounce can white kidney, great northern, or navy beans, rinsed & drained
1/4 cup olive oil
1 cup natural cane sugar (or brown sugar)
1 large egg
1 teaspoon vanilla extract
1/3 cup chopped dates
1/3 cup sesame seeds
Preheat your oven to 350F degrees and place a rack in the top third. Line a cookie sheet with parchment paper and set aside.
Pulse the oats in a food processor (or blender) until they resemble a raggy flour. Transfer the oats to a large mixing bowl and whisk in the flour, aniseed, baking powder, baking soda, lemon zest and salt.
Pulse the beans and olive oil in the food processor until they are creamy. Add the sugar, egg, and vanilla extract and pulse until smooth. Scrap down the sides of the bowl once or twice along the way.
Pour the wet ingredients over the dry ingredients and stir until the ingredients start to come together. Sprinkle the dates across the top of the batter and stir until everything just comes together.
Place the sesames seeds in a bowl. Make each cookie with a scant 1/4 cup scoop of dough. Roll each scoop of dough into a ball then coat it with sesame seeds. Set each ball on the prepared baking sheet and with the palm of your hand flatten the dough just a bit (see photo). Repeat with the remaining dough, leaving at least an inch or so between each cookie - they'll spread a bit, but not much. Bake for about 15 minutes or until the sesame seeds around the bottom start to get golden.
Makes about 1 1/2 dozen cookies. I'm not 100% sure about the yield here because I tested a variety of cookies sizes.
Prep time: 10 minutes - Cook time: 25 minutes