Sourdough Galette with Delicata Squash
A fully loaded winter sourdough galette topped with delicata squash, green chile yogurt, shallots, and scallions.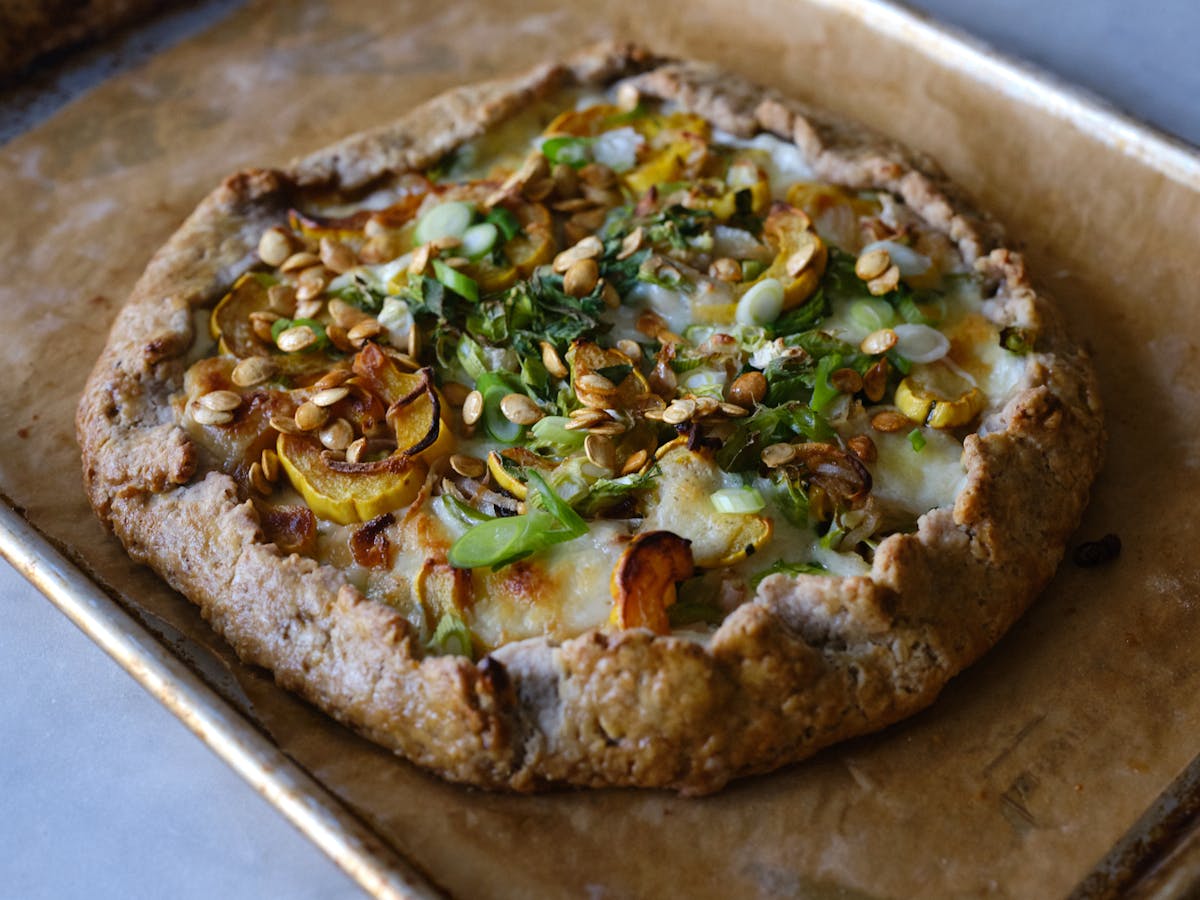 What you see here is a fully loaded winter (or autumn!) galette. I started making it a few months back inspired by a recipe in Sarah Owens' masterful Sourdough book. Her whole-grain boosted sourdough crust caught my attention. I also didn't need convincing related to the garlic-spiked labneh slathered beneath summery toppings. I don't need to tell most of you, as I initially typed this, we were a long way from summer.
Sarah's galette was loaded with beautiful tomatoes, but by the time I spotted her recipe, tomatoes were long gone for the year. My tart needed to be more of a cold weather affair, and the delicata squash and shallots I had on hand seemed a natural evolution. I've baked this galette four or five times since, and it's omg-so-good. If you love savory tarts this is for you. And please don't sweat it if you don't maintain a sourdough starter, I'll note a couple alternative paths you can take down below.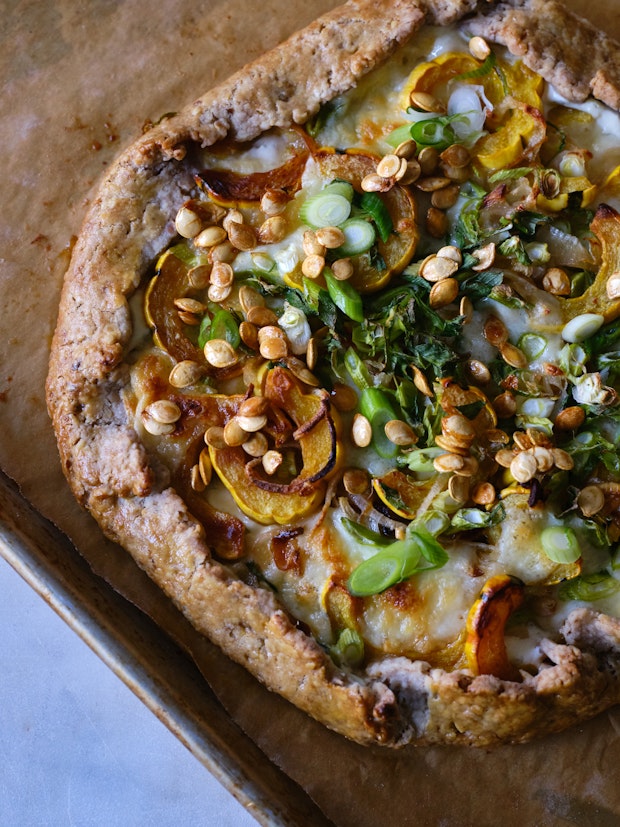 Make it Easy!
This galette is a bit of a project if you start from zero at late in the evening with dinner as your intention. Pre-make most of the components when you have a few minutes here or there in the days prior, and it will come together effortlessly when you're ready to bake the finale.
What Can you Do Ahead of Time?
You can make the dough for the crust and freeze or refrigerate. You can pre-make the yogurt spread in five minutes - total breeze. And if you roast the delicata and shallots the night before (or have them as a component of your meal that day) you can use the leftovers on the galette.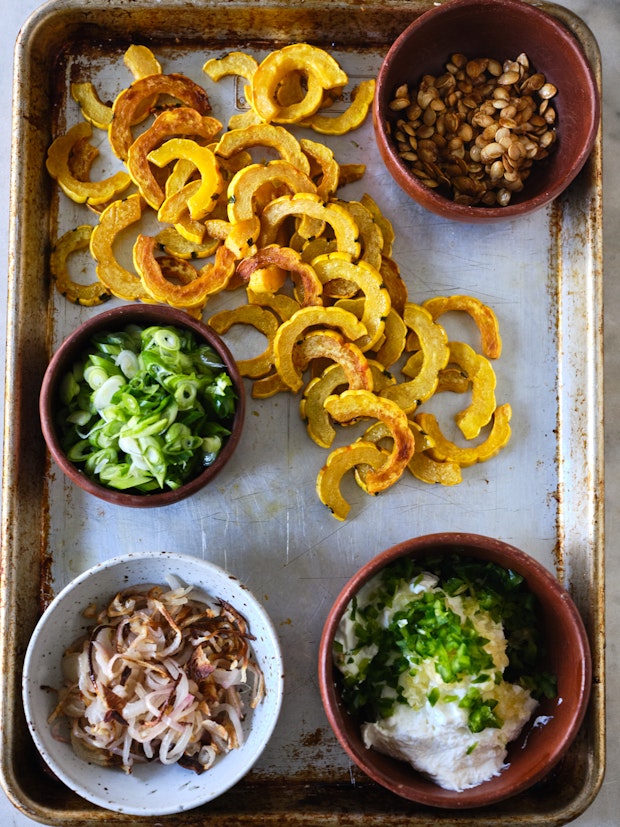 What If You Don't Have Sourdough Starter?
Here'a another tart crust I love - you can simply swap in this one. Alternately, you can follow the recipe below omitting the sourdough starter, and adding and extra 25g of ice water and 25g flour in its place. Adjust with a bit of extra water or flour depending on the feel of the dough. If you want to maintain your own sourdough starter, there are endless books, and tutorials on how to do that, or you might ask your local bakery if they could spare a bit of theirs instead of starting from scratch!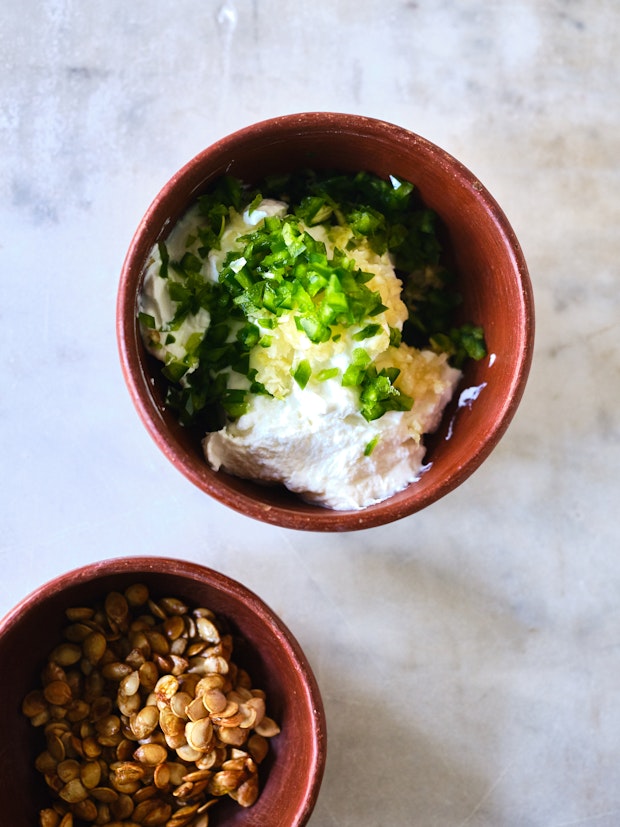 Kitchen Scales are the Best!
This recipe is written in weights (I meant to convert for volumes, but ran out time trying to pop off photos before it got dark! Apologies). If you bake a lot, I'm sure you've heard it before, a kitchen scale is a godsend. I love my Escali Primo, it costs roughly $20, and will last a long, long time. This tart dough has volume measurements if you are scale-less. Both are buttery, rich and crowd-pleasers.
Extra credit! I love the cute, tiny seeds inside delicata squash, you can see them pictured here. Pre-roast them tossed with a bit of olive oil in a hot oven, and then sprinkle them on everything from tarts and salads, pastas and pizzas. It's a bit of a pain to clean the gunk off them, but worth the extra effort.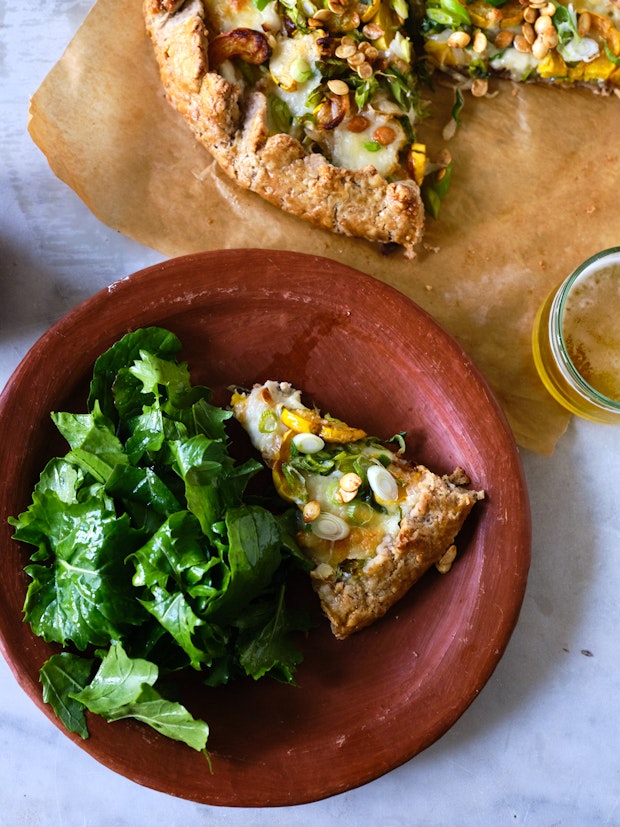 I hope you all like this one, I was so excited to see how many of you made stunning braided breads! Xo to Sarah for the inspiration!
Sourdough Galette with Delicata Squash
This galette is a bit of a project if you start from zero at seven in the evening. Pre-make most of the components when you have a few minutes here or there in the days prior, and it will come together effortlessly.
Ingredients
Green Chile Yogurt
2

garlic cloves, peeled

150

g

Greek Yogurt

2

tablespoons

minced jalapeño or serrano chile, or to taste
Walnut Pâte Brisée
45

g

walnuts

30

g

rye flour

80

g

unbleached all-purpose flour

10

g

granulated sugar

1/2

teaspoon

fine grain sea salt

75

g

unsalted butter, chilled

50

g

100% hydration sourdough starter*

20

g

gin, vodka, or ice water
Toppings
2

medium delicata squash

2

medium shallots, peeled and thinly sliced

extra virgin olive oil

4

ounces

/ 115g mozzarella

salt, to taste

1

bunch scallions, thinly sliced with greens

1

egg yolk
Instructions
To make the green chile yogurt, chop the garlic into a paste, transfer to a small bowl and combine with the yogurt and minced chiles. Set aside. Keep in mind you can make this, and refrigerate, a day or two in advance.
Prepare the crust dough:
The same goes for the Walnut Pâte Brisée crust, I usually make it a day or two in advance. Combine the walnuts, flours, sugar, and salt in a food processor. Pulse until the walnuts are ground fine. Cut the chilled butter into little cubes and add to the processor. Pulse until the mixture is like cornmeal with tiny pebbles. Add the starter and the gin, vodka, or ice water, and pulse until everything comes together. Transfer the dough onto a lightly floured surface, and knead once or twice until the dough comes together. Shape into a round disk, roughly an inch-thick, wrap in plastic, and refrigerate for at least 30 minutes.
Pre-roast toppings:
Heat the oven to 400F. Slice the delicata squash in half lengthwise, clean out the seeds (wash and toast those as well!), and then slice the delicata into 1/4-inch thick crescent moon shapes (see photo). Toss with a generous splash of olive oil and the sliced shallots, sprinkle with a bit of salt, and arrange on a baking sheet. Bake until the squash starts to take on some color - 20 - 25 minutes. Allow to cool.
To assemble the galette:
Remove the dough from the refrigerator and allow to soften for 5-10 minutes. Roll out on a lightly floured countertop (or parchment paper) until 1/4-inch thick. Transfer to a baking sheet. Spread the yogurt mixture across the galette to within an inch of the edge. Layer with the pre-roasted delicata squash and shallots, tear the mozzarella into pieces and add that as well. Finish with most of the scallions. Fold the crust edges in toward the center about an inch or so, working clockwise (see photo). Whisk the egg yolk with 2 tablespoons of water and brush the crust. Bake for 30-35 minutes or until the crust is beautifully golden.

Remove from the oven, and finish with toasted seeds and remaining scallions.
Notes
Makes one 10-inch galette.
*If you don't have sourdough starter, you can make this tart crust instead.
Related Recipes
More Recipes
Popular Ingredients