Red Rice Salad Recipe
Indonesian red rice salad with boiled eggs and macadamias. Riveting to look at, with a wonderfully complex array of flavors and textures to enjoy.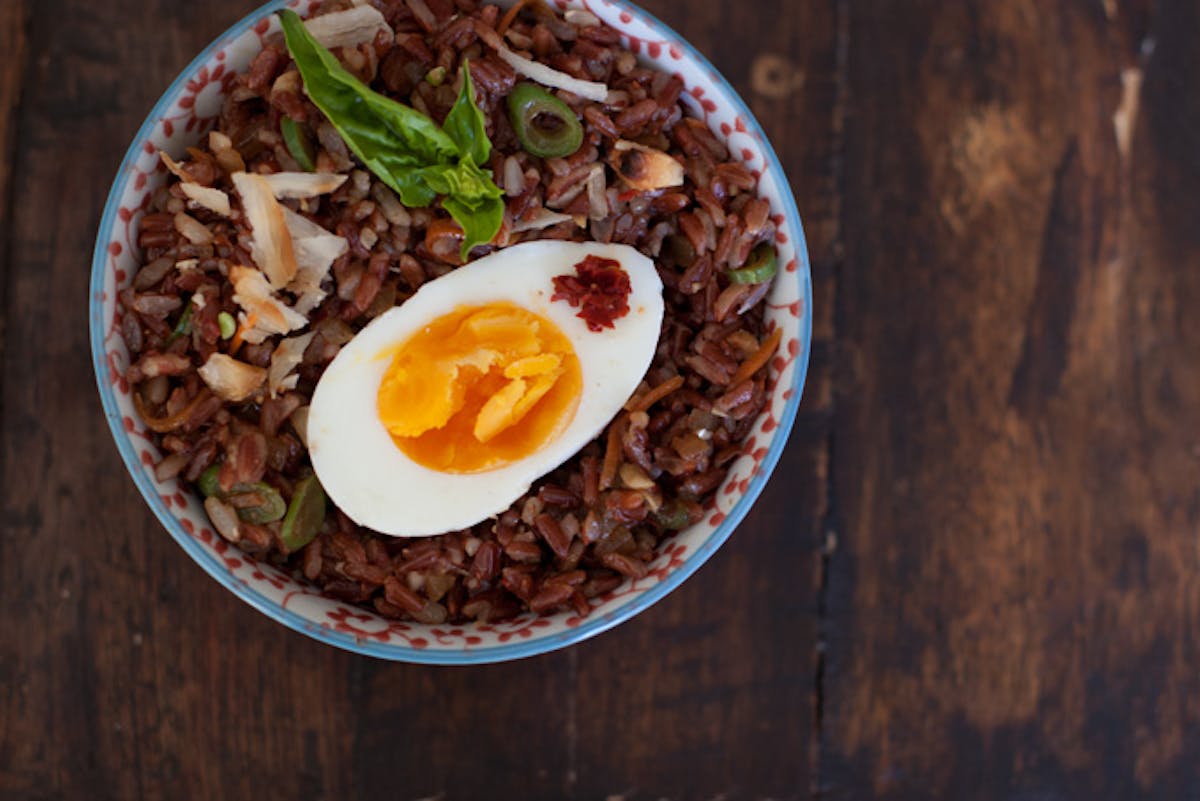 There is an entire world beyond white rice and I promise it's worth exploring. This is not to say that my knees don't go weak each time I inhale the beautifully fragrant tendrils of steam coming off a fresh pot of white jasmine rice, it just means that I'm also delighted time and time again as I explore the many (often) colorful, whole grain rices that are now readily available in markets across the country. Many are heirloom varietals, nutritionally superior to refined white grains, and each has its own distinct taste, texture, shape, and color. I was excited to come across a cookbook the other day that was putting some of these rices to use in approachable, interesting, and delicious ways. Robin Asbell's New Whole Grains Cookbook is brimming with beautifully photographed rice, quinoa, buckwheat, and millet preparations - this red rice salad made for a hearty and satisfying lunch last week. The full title hints at a few of the components at play - Indonesian Red Rice Salad with Boiled Eggs and Macadamias. The end result, a rice salad that is riveting to look at, with a wonderfully complex array of flavors and textures to enjoy.
I encourage you to give it a go, but be forewarned, this is one of those recipes where you get to bone up on your knife skills. There is chopping involved, plenty of it, so save it for a leisurely night when you aren't in a rush to get dinner on the table. The good news, it makes a big batch, it keeps well for a few days, it makes a great picnic salad, and you can do much of the prep ahead of time if needed. And it's good warm or cold.
The rest of New Whole Grains is just as inspiring. Robin uses farro in focaccia, buckwheat in a double dark chocolate pudding, bulgur for breakfast, and brown rice in risotto ball with a creamy spinach sauce - all sounds pretty good, no?
For those of you who are regular readers, you know this is a book after my own heart ;) Hope you will enjoy cooking through it as much as I suspect I will.
Other favorite rice recipes:
- Purple Jasmine Coconut Rice Recipe
- Ten Minute Tasty Asparagus and Brown Rice Recipe
Red Rice Salad with Boiled Eggs and Macadamias
Original headnote by Robin Asbell: Indonesian cuisine is a riot of flavors, with rice. I like the sweetness of one of the red rices here, but any brown rice will also be delicious. Himalayan red rice takes less water, so use the smaller measure if using it, while the other red rices need more liquid.
Heidi's headnote: If you are looking to the photo for visual guidance, you'll notice I didn't saute the hardboiled eggs as called for in the recipe. Why? Because it really killed the eye appeal. But they sure do taste good either way. This time around I used Alter-Eco's Ruby Rice - it is from Eastern Thailand, fair trade, grown sustainably, and has earthy undertones and nice separation between grains.
1 3/4 cups to 2 cups water
1 cup red rice
2 tablespoons oil
4 large shallots, chopped
3 cloves garlic, chopped
1 large red chile, seeded and chopped
1-inch piece ginger root, chopped (hs note: I grated it)
1 teaspoon ground coriander
1 large carrot, thinly sliced
8 ounces green beans, trimmed and chopped
1/2 cup coconut milk (hs note: lite is fine)
1/4 cup soy sauce
1/2 teaspoon molasses
4 large eggs, boiled and peeled
1 large lime, quartered
1/2 cup julienned fresh basil
1/4 cup macadamia nuts, toasted and chopped
In a 1-quart saucepan with a tight-fitting lid, bring the water to a boil. Rinse the rice and drain in a fine-mesh strainer. Add the drained rice to the boiling water and keep the heat high until it returns to a boil. Reduce the heat to low and cook for 45 minutes, or until the water is absorbed. Let the pot stand, covered, for at least 10 minutes, and then let cool to room temperature. (HS note: or you can start with about 2 1/2 cups precooked rice.)
In a wok or large sauté pan, heat the oil over high heat. Add the shallots, garlic, chile, ginger, coriander, carrot, and green beans. Stir-fry until the vegetables are crisp-tender.
Add the coconut milk, soy sauce, and molasses to the wok, and bring to a boil. Push the vegetables over to one side to make room for the eggs. Halve the boiled eggs lengthwise, and place in the pan, cut sides down. Simmer for 2 minutes. In a large bowl, mix the contents of the pan with the rice. Add the basil and macadamias, then toss and serve with a squeeze of lime.
Serves 8.