Simple Sautéed Zucchini Recipe
To make simple sautéed zucchini, coins of zucchini are browned in a pan. The thing that makes this version special is the toasted gold slivers of garlic combined with lots of fresh dill or scallions. Finish with a sprinkling of almonds for a bit of crunch.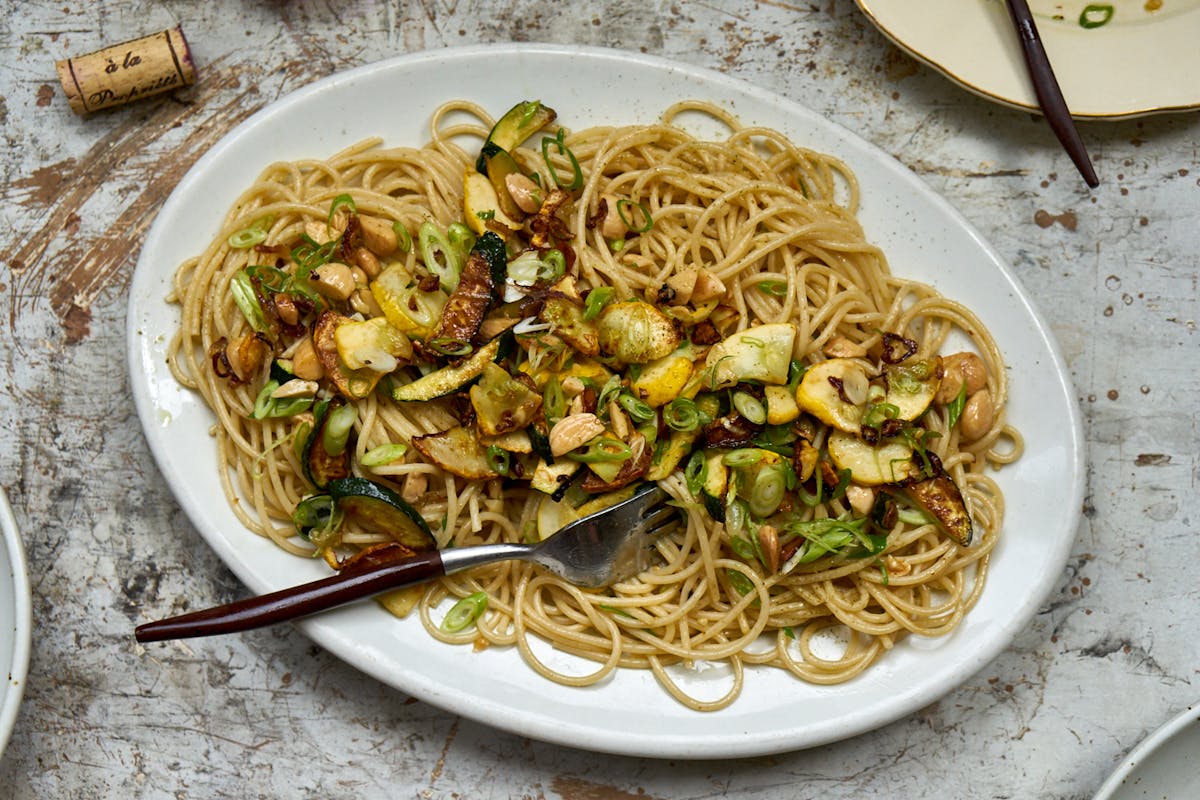 I saw a table at the market the other night groaning under the weight of a mountain of summer squash. Squash that looked like it wanted to avalanche its way into my basket. I took pity, grabbed a bunch, and made my way home. I ended up using a couple in a favorite nothing-to-it sautéed zucchini recipe. It's pictured here served over a simple plate of spaghetti.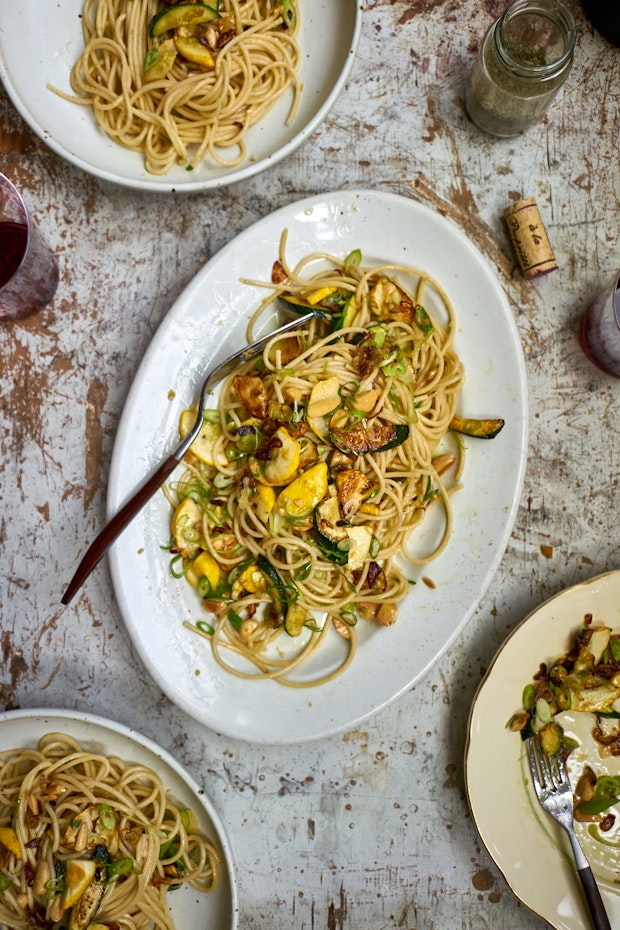 The sautéed zucchini? It's a single-skillet kind of thing. Coins of zucchini are browned in a pan, but what makes it special is the toasted golden slivers of garlic combined with lots of fresh dill. Throw in a sprinkling of almonds for crunch, and you're all good. Prep takes five minutes, if that, and you can treat this as a side dish, or use it as a component of something else...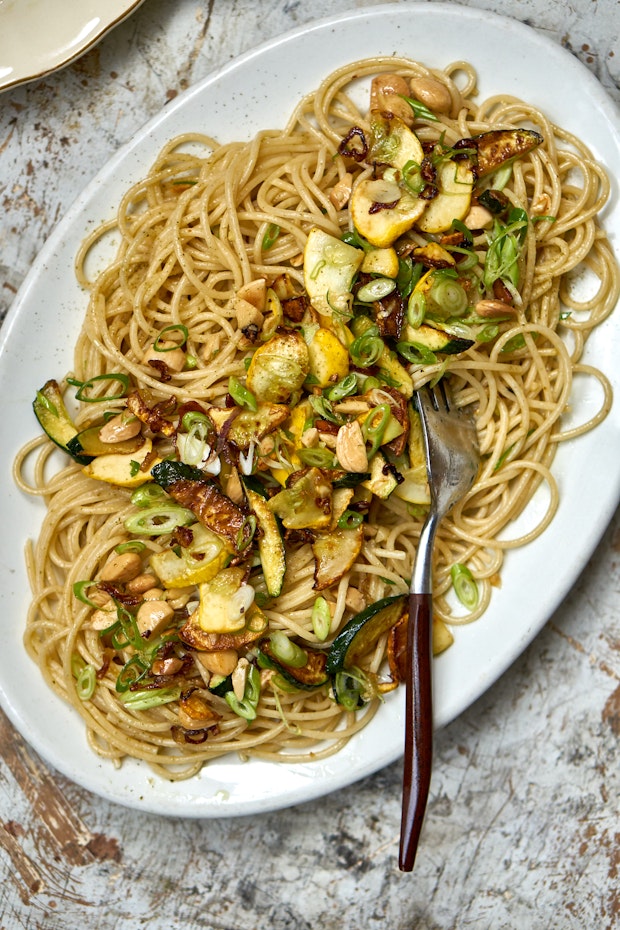 Variations
I often cook up a pan of the zucchini like this, and then use it to top off a frittata. Or toss it with a platter of pasta. Over farro with some harissa-spiked vinaigrette? Not bad. Baked as a hand-pie in a simple pastry with a smudge of goat cheese? Even better. Anyhow, it's really adaptable. And for those of you who don't use much dill in your cooking...let me just say, dill is under-rated and under-utilized. The more I cook with it, the more I love it - fingers crossed you like this spin as much as I do.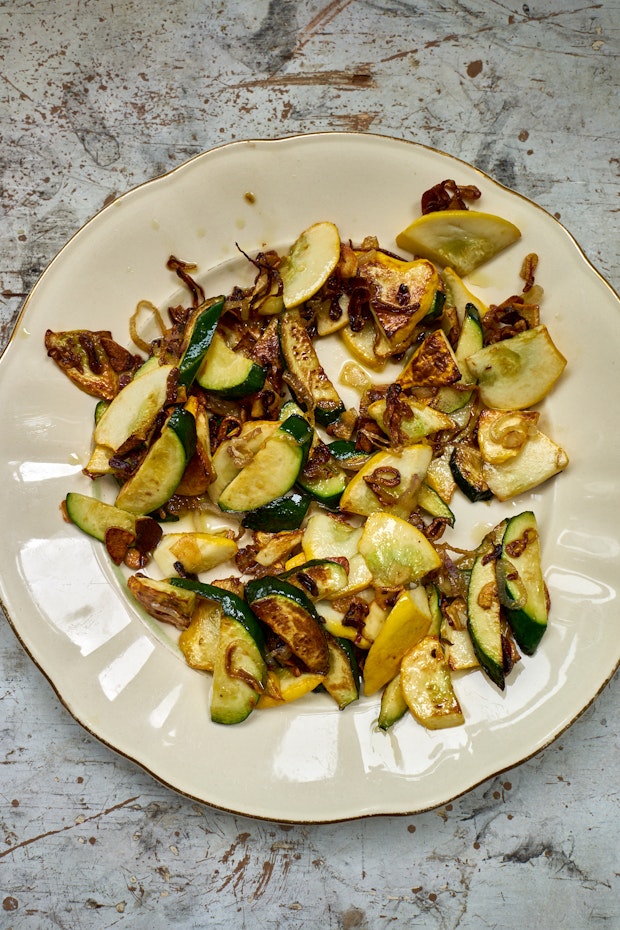 Different Types of Zucchini
You can sauté just about any kind of zucchini! Or a blend of zucchini / summer squash, as pictured here. A pro tip - attempt to slice it all the same 1/4-inch thickness. As far as shape goes - you can slice full coins, or half coins. You can slice zucchini straight across, or angle it, and slice on a bias. Feel free to experiment!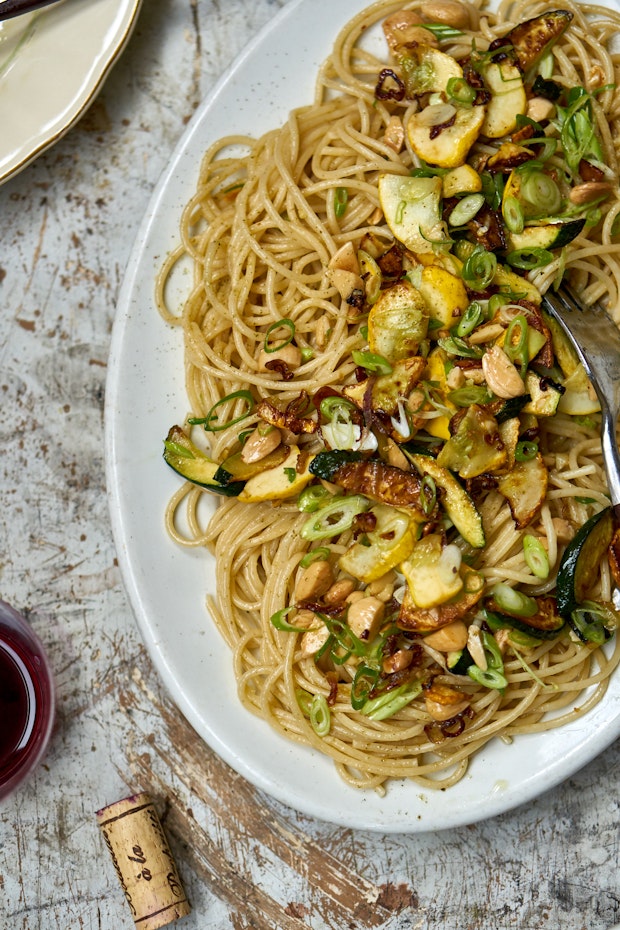 Other Zucchini Recipes!
If you have a lot of zucchini to cook through be sure to try the Pasta with Smashed Zucchini Cream. It's a real favorite, even better with homemade pasta! You can also use the simple sautéed zucchini here to make bruschetta or to toss with gnocchi - so good! Maybe with a slather of pesto, and a bit of creamy-crumby cheese? Yes please. And! Here's where I've collected all my favorite zucchini recipes. Enjoy!
Simple Sautéed Zucchini
I hate to say this, but if you want to do a larger amount, double the recipe, but divide and cook the zucchini in two pans. If you crowd the squash too much, it steams rather than browns, and loses too much structure, which isn't what you're after.
Ingredients
2

tablespoons

extra virgin olive oil

5

medium garlic cloves, thinly sliced

3

medium shallots or new red onions, thinly sliced

fine grain sea salt

2

medium zucchini, sliced into 1/4-inch thick coins

a good handful of dill and/or scallions, chopped

1/4

cup

Marcona almonds or toasted almond slices
Instructions
In your largest skillet heat the oil over medium-high heat. Stir in the garlic and cook until it starts to take on a hint of color. Stir in the shallots and a big pinch of salt, and cook until they start to soften, a couple minutes.

Add the zucchini, stir to get it coated with a bit of oil, and arrange the coins in as much of a single layer as your pan permits. Dial the heat up a bit if needed, add another pinch of salt and cook, stirring occasionally until the zucchini browns - ten minutes or so. Remove from heat and fold in the dill and almonds before serving. Taste, and adjust the seasoning if necessary.
Related Recipes
More Recipes
Popular Ingredients