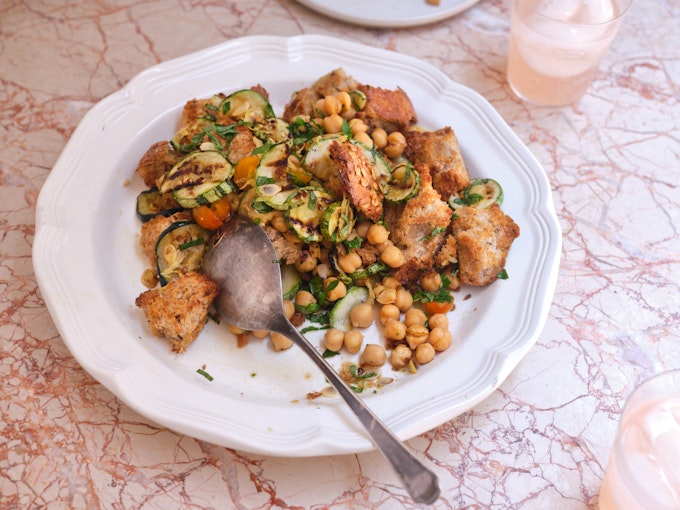 Grilled Zucchini & Bread Salad
The only zucchini recipes that have my attention right now call for pounds of it. One half cup here, or a medium zucchini there just isn't going to cut into the supply coming out of the garden. Apparently many of you feel similarly, because a lot of you made the Pasta with Smashed Zucchini Cream I posted last week (so good! Also uses 2 pounds). Today's recipe is a panzanella of sorts, a simple bread salad made with torn pieces of toasted multi-grain bread, grilled zucchini, chickpeas, and a simple, garlic-forward ponzu dressing. Like the pasta, it will also put a 2 pound dent in your zucchini haul.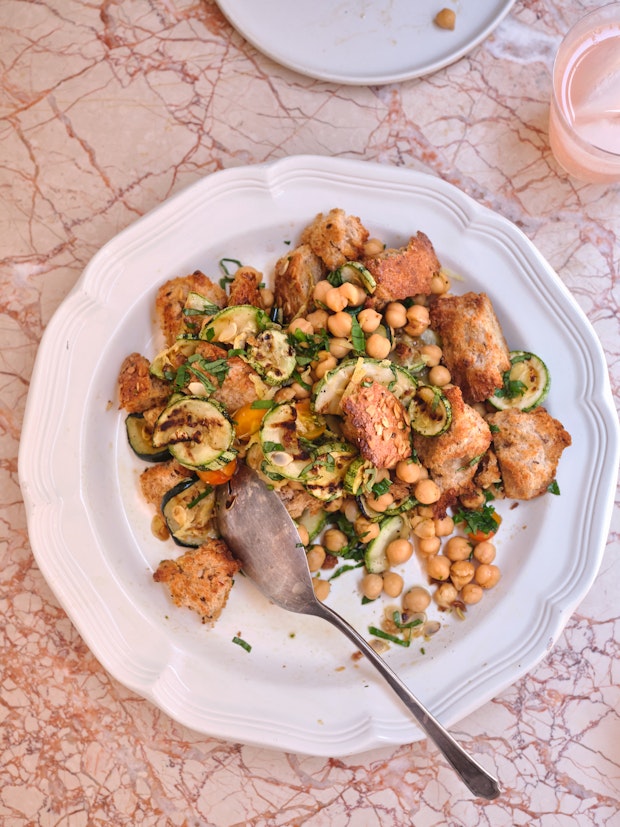 The recipe
You can toast the bread, and pull the dressing together ahead of time if you like. Beyond that, when you see an opening on the grill, get in there. Grilling the zucchini takes ten minutes or so. This is a great side for whatever else you might have coming off the grill, but I also like it as a light main for summer nights.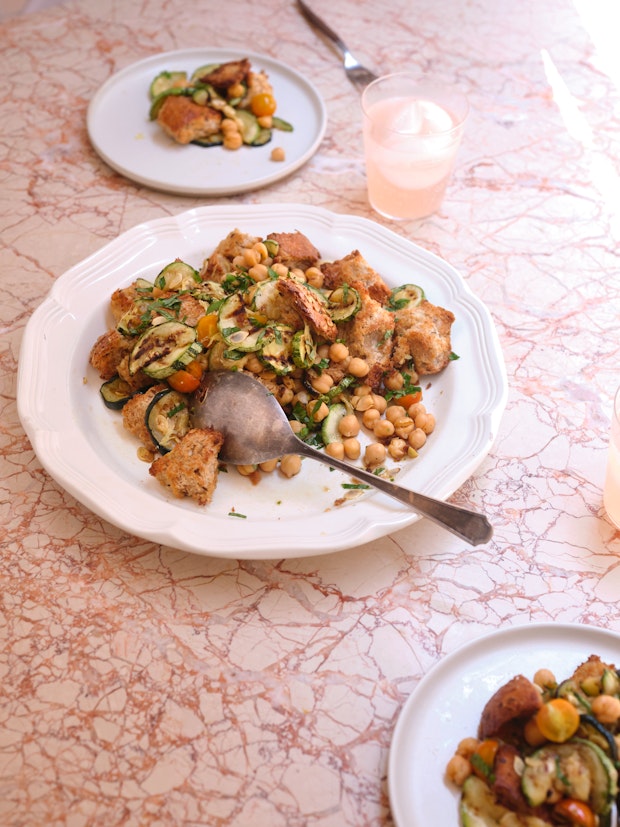 Tips
Choosing zucchini: Although, generally speaking, smaller zucchini have nicer texture and taste better, this is a great way to use up larger zucchini. Sliced zucchini with a larger diameter is easier to grill, if you're not using a grilling basket.
Thickness: You want to get the thickness of your zucchini slices right here. In the recipe, you'll notice that I I have you slice the zucchini 1/4-inch thick. The main thing is this - I'd rather you err on the thicker versus thinner side when slicing here. This way your squash will maintain some structure. It's on the grill for a bit, and if you slice too thinly, the slices are more likely to tear or disintegrate. If your slices are right on the money at 1/4-inch-ish, you should be all good.

Bread: I like a good-quality multigrain bread here. Tear bread pieces large enough that the edges get crispy, but the interior stays a bit chewy when toasting.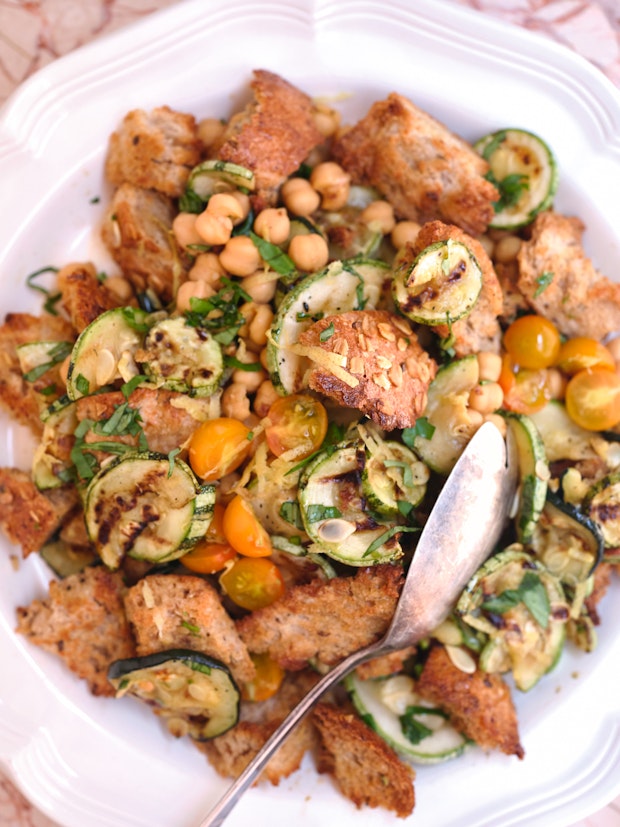 Variations
- With Crispy Fried Shallots:  I wanted to keep this recipe as simple, summery, and straight-forward as possible, so I didn't call for any intensive toppings. That said, crispy fried shallots, to finish things off, would be bonus here. If I'd had some on hand, I wouldn't have skimped using them. I use them in this cilantro salad, and the recipe is included there.
- Spicier! To let everyone dial up the heat to their liking, serve with a little jar of sesame chile oil on  the table. Drizzle to taste.
- With cheese: Not for the vegans in the crowd, but a bit of crumbled feta or cotija cheese is a nice touch here. 
Grilled Zucchini & Bread Salad
I like a multigrain bread here. Tear the bread pieces large enough that the edges get crispy, but the interior stays a bit chewy. Also, if the bottom of your loaf of bread is extra hard, I tend to trim that off before tearing into chunks. Look for ponzu near the soy sauce at the grocery store.
Ingredients
1/2

pound

loaf of multi-grain bread, torn into bits

2

pounds

(4 medium or 2 XL) zucchini, sliced into 1/4-inch coins

1/4

cup

extra virgin olive oil

1/3

cup

ponzu

1

tablespoon

toasted sesame oil

1

medium serrano pepper, seeded & minced

2

cloves

garlic, smashed

1 14-

ounce

can of chickpeas, drained

To serve: zest of one lemon // basil / cherry tomatoes
Instructions
Toss the chunks of bread in a large bowl with 2 tablespoons of the olive oil and a couple pinches of salt. Massage the oil into the bread a bit with your hands, turn out onto a baking sheet and toast until deeply golden in a 375F oven. It should take 8-12 minutes or so - tossing once or twice along the way. Set aside.

Whisk the ponzu, toasted sesame oil, Serrano, and garlic together in a small bowl. Set aside.

Prep your grill, medium-high heat. Toss the zucchini in the same bowl you used for the bread, along with 2 more tablespoons of olive oil and a couple pinches of salt. Either use a wide grilling basket, or, if your grill has narrow slats, arrange the zucchini across the grill. Cook for 10-15 minutes, turning often with a metal spatula, until the zucchini is tender and golden, with grill marks. It seems like a lot of zucchini, but it really cooks down. Remove zucchini from the grill as it finishes.

Just before serving pour the ponzu dressing over the grilled zucchini and chickpeas in a large serving bowl, gently toss. Add the toasted bread and give another good toss. Serve topped with cherry tomatoes, lemon zest and basil.
Related Recipes
More Recipes
Popular Ingredients