Swedish Rye Cookies Recipe
Powder-kissed and pretty, these Swedish Rye cookies are perfect for holiday cookie enthusiasts who are after a not-too-sweet, shortbread-style butter cookie. I make them with a blend of rye and whole wheat pastry flours, and also break with tradition when it comes adding my secret ingredient. Because I love the taste of toasted rye bread slathered with cream cheese, I use a butter/cream cheese combination for the dough - instead of only butter.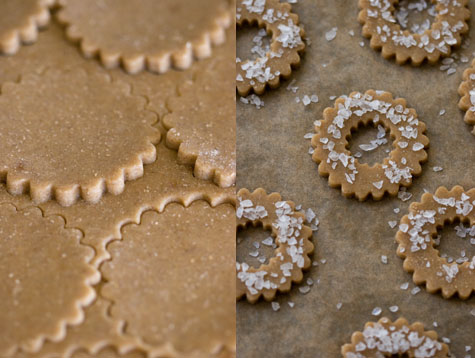 I suspect you could experiment with other flours in place of the rye and expect good results - barley or oat flours might work well. I also got to thinking about doing a savory version of this cookie with herbs and grated cheese in place of most/all of the sugar - turning it into a buttery rye cream-cheese herb cracker...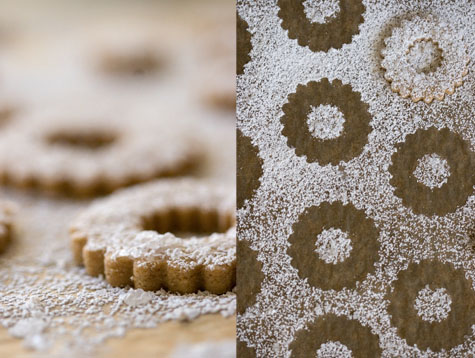 I know right now many of you are on the lookout for Christmas cookie recipes, so I've compiled a bunch from past holidays into once place.
Swedish Rye Cookie Recipe
I use whole wheat pastry flour here, but you can substitute unbleached all-purpose flour if you like.
1 cup rye flour
1 cup whole wheat pastry flour
1/2 teaspoon fine grain sea salt
1/2 cup cream cheese, room temperature
1/2 cup unsalted butter, room temperature
1/2 cup fine grain natural cane sugar, sifted

large grain sugar (for sprinkling)
organic powdered sugar (for snow)
Line a couple baking sheets with parchment paper.
In a medium-sized bowl combine the flours and salt. Set aside. In an electric mixer (or by hand) beat the cream cheese until light and fluffy, add the butter and do the same, mixing until the two are well combined. Beat in the sugar and mix until well incorporated. Add the flour mixture to the butter mixture and stir only long enough to combine the two. The dough should no longer be dusty looking. Turn the dough out onto the counter, knead once or twice to bring it together, shape into a ball, flatten, wrap in plastic and chill it in a refrigerator.
Heat your oven to 350F degrees, and arrange the racks in the top and bottom thirds.. When you are ready to roll out your cookies do so on a lightly floured work surface. Roll the dough out to 1/4-inch thickness, and cut into shapes with the cookie cutter of your choice. Place on the prepared baking sheets an inch apart, and sprinkle each cookie with a bit of large-grain sugar. Bake for six or seven minutes, just until cookies are fragrant, and getting a bit golden at the edges - avoid over-baking or they will come out on the dry side. Allow to cool, and dust cookies with a bit of powdered sugar.
Makes dozens of tiny cookies, less if you are cutting them larger.
Prep time: 30 minutes - Cook time: 7 minutes