Turmeric Chickpeas with Garlic Tahini
A quick lunch. And a compelling reason to always keep turmeric chickpeas on hand!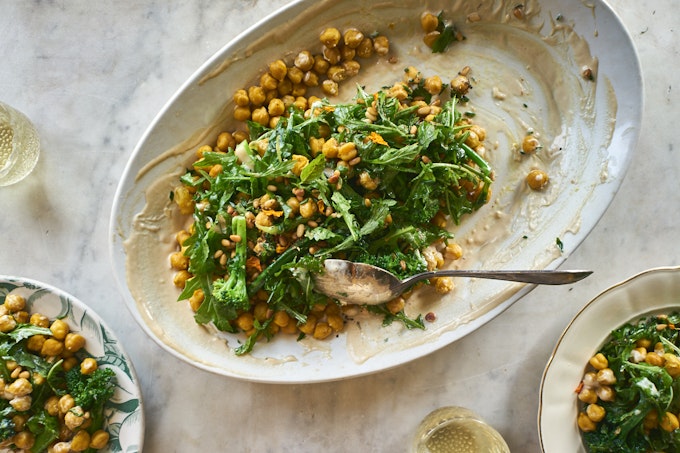 This was a quick, clean out the refrigerator lunch, and a compelling reason to always keep some of these
turmeric chickpeas
on hand. Turmeric Chickpeas with Garlic Tahini - simple, filling, and all-around good.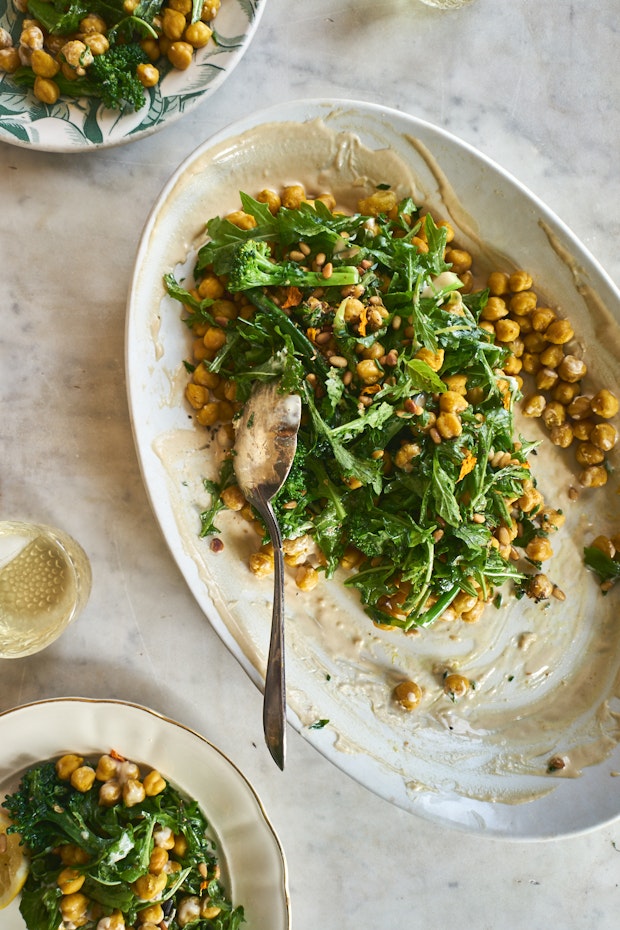 With the tahini under-dressing and the broccoli situation, we're not that far from this
Curried Sheet Pan Broccoli
. But here there's no oven involved, and there's the special chickpeas, and then whatever other green things you might have at the ready in your refrigerator. The whole thing is pretty loose, I mean you can toss pretty much anything on top of the tahini sauce, and it's a yes.
Turmeric Chickpeas with Garlic Tahini
HS: I use turmeric-soaked chickpeas here, but you can, of course, use regular chickpeas!
1/4 cup tahini
2 cloves garlic, peeled and crushed into a paste
big squeeze of fresh lemon juice
5 T water, or more
salt to taste

1 bunch of broccoli, trimmed

2 cups turmeric chickpeas
1 bunch of chives, minced
1/4 cup toasted pinenuts
4-5 big handfuls of arugula
1 - 2 tablespoons extra virgin olive oil
Whisk the tahini, garlic, lemon, and water together in a small bowl. Keep whisking until the mixture really thickens. Set aside.
Bring a medium saucepan of water to a boil, salt well, and cook the broccoli until it brightens and becomes a bit tender, just a minute or two. Drain.
In a large bowl gently toss the broccoli, chives, pinenuts, and arugula with the olive oil. Season with salt, to taste. Slather the tahini mixture across a large platter, and serve the chickpea and broccoli mixture spread out on top of it.
Serves 2 - 3