Quinoa and Grilled Zucchini Recipe
A great way to use nutritious quinoa. This quinoa and grilled zucchini recipe is tossed with a pretty, pale green cilantro-flecked avocado dressing.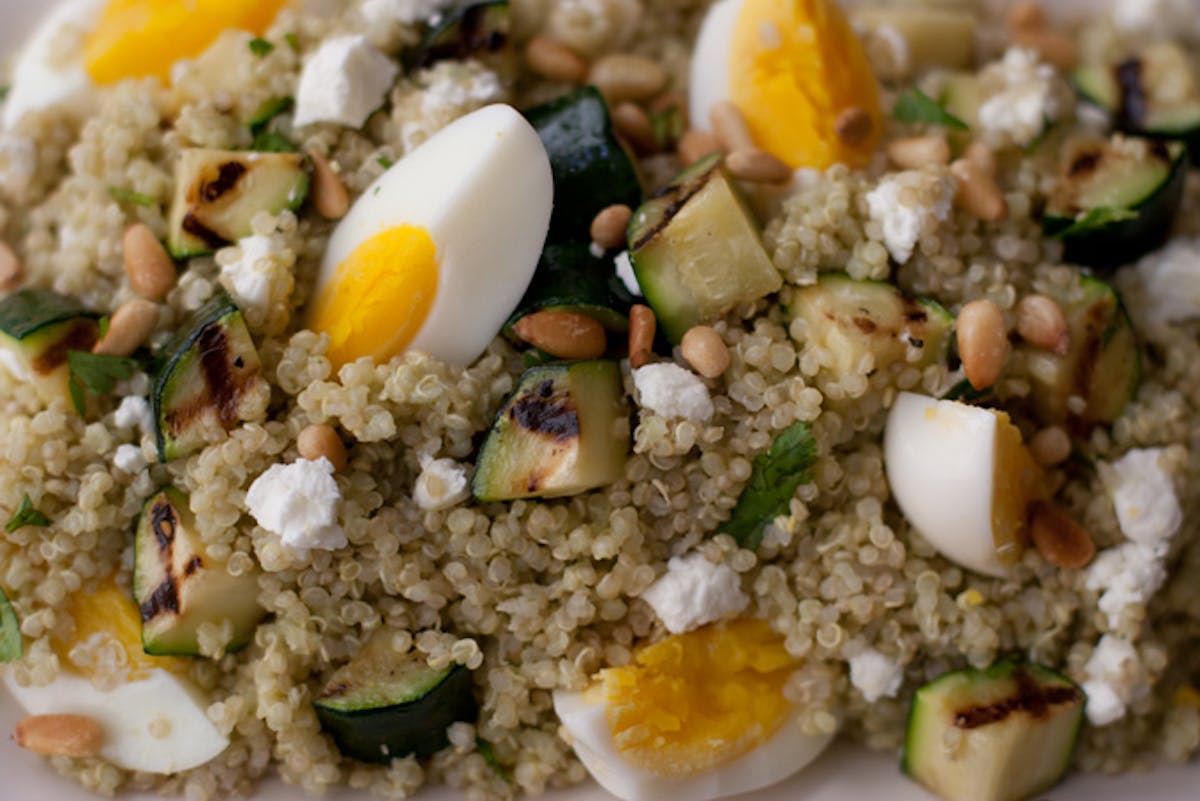 Today's quinoa and grilled zucchini recipe came together in a flash because I used a trick we've talked about before. The trick? I cooked off a number of different grains a couple weeks back, let them cool to room temp, packed the grains into small freezer bags, and stacked them in the freezer - quinoa, millet, and brown rice. Now I have a stockpile of ready-to-heat base ingredients, cutting my cooking times way down. I also try to keep a couple hard-boiled eggs on hand, so that helped with this particular recipe as well.
It has been a while since I've featured one of my big bowls so I thought I'd show you how I used one of my bags of white quinoa as the base for a tasty, satisfying, and seasonal lunch. An added perk is that it is also a zucchini recipe, a way to use up some of the zucchini you are no doubt encountering this time of year.
For those of you looking for vegetarian recipe inspiration, this is a good recipe if you are looking to get a nice amount of protein in a meal - quinoa is a good source, as are the eggs.
Quinoa and Grilled Zucchini Recipe
This quinoa and grilled zucchini bowl (or platter) is tossed with a pretty, pale green cilantro-flecked avocado dressing. It makes more than you will use for this particular recipe, but I like to have the extra on hand to add to salad throughout the rest of the week. If you dislike cilantro feel free to substitute chopped chives. Next time I might even throw in some jalepeno.
You make three hard-boiled eggs for this recipe, if you throw in a few extra be sure to try this Egg Salad Sandwich recipe.
1 large avocado, ripe
juice of 1 lime
1/4 cup lightly packed cilantro
1 clove garlic
1/4 cup plain yogurt
3/4 cup water
1/2 teaspoon fine grain sea salt

3 large eggs

1 large zucchini, cut into 3/4-inch thick coins
1/4 cup extra-virgin olive oil
couple pinches of fine grain sea salt

2 cups quinoa, cooked, room temperature
1/4 cup pine nuts, toasted
1/4 cup goat cheese, crumbled
a bit of chopped cilantro for garnish
Prepare the cilantro-avocado dressing by blending the avocado, lime juice, cilantro, garlic, yogurt, water, and salt in a blender (or us a hand blender). Set aside.
Hard boil the three eggs. Place the eggs in a pot and cover with cold water by a 1/2-inch or so. Bring to a gentle boil. Now turn off the heat, cover, and let sit for exactly seven minutes. Have a big bowl of ice water ready and when the eggs are done cooking place them in the ice bath for three minutes or so - long enough to stop the cooking. Set aside.
While the eggs are cooling start preparing the zucchini by tossing it with olive oil and salt in a medium-sized bowl. Prepare your grill (medium-high heat). If you are worried about the zucchini coins falling through the grill you can thread them onto kabob skewers (stab through the green skin). Grill until zucchini are tender and cooked through, roughly 5 minutes on each side. Remove from the grill and cut each zucchini coin into quarters.
Crack and peel each egg, cut each egg into quarters lengthwise. Assemble the salad by tossing the quinoa with about 2/3 cups of the avocado vinaigrette. Top with the grilled zucchini, pine nuts, eggs, goat cheese, and a bit of chopped cilantro for garnish. I serve this family-style, but you could do individual platings.
Serves 4 to 6.