Winter Pasta Recipe
I inherited a CSA box packed with greens the other night, inspiring this simple one-pot winter pasta with a sauce made from a full bunch of kale, shallots, garlic, and goat cheese.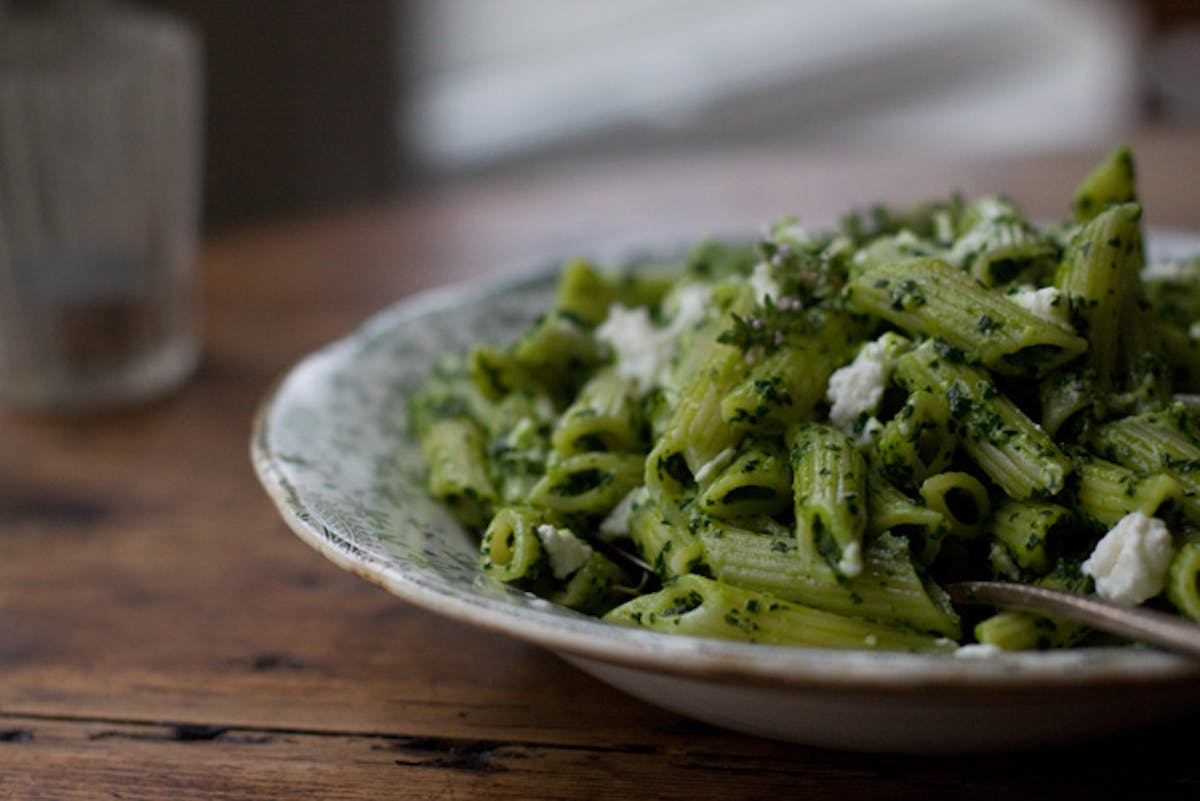 I seem to inherit a lot of CSA boxes. Friends and neighbors forget to put holds on their subscriptions before leaving town, and sure enough, they end up in my kitchen. When I was a kid there was a house that was always happy to take in stray animals, I've become the equivalent for CSA boxes. And I have to say, it's pretty great.
That said, cooking through a box is always a challenge of sorts. I mean, you want to cook your way through it before things start to go bad, sad or wilted. This always forces me to adapt and try out ideas I might not have considered otherwise. You also have the element of surprise that comes along with each box - not knowing exactly what will be inside each one. Although, there is one thing I do know. The box, whichever farm it comes from, usually includes lots and lots of greens - kale, spinach, lettuce, chard, arugula. Sometimes all of the above.
My friend Dan dropped off a box the other night, and after a quick glance I knew I would need to put a dent in the greens right away. I made this simple one-pot winter pasta with a sauce made from lots of kale, shallots, garlic, goat cheese and penne. Whatever I had on hand. You might tweak it with a different cheese - Parmesan or pecorino, for example. Or even ricotta. You could top it with a some chopped black olives or toasted nuts...I kept it pretty simple here. You can reheat any leftovers the next day, with a splash of water. The pasta holds up nicely.
I know a lot of you subscribe to CSAs and I'd love to hear your favorite ways to use up your greens. I have a bunch of go-to green-intensive recipes I rely on, but if you're doing something unique or unexpected with them on your end please share. I suspect Melissa Clark's kale salad will continue to be in high rotation around here all winter. I keep making it, in part because unlike other green salads that go south shortly after being dressed, this kale salad likes to party. It's delicious, and just gets better as it sits around, fully dressed, waiting for people to notice it. Other favorites? You can't go wrong with a hefty pot of Ribollita - I trade off between that and various takes on this lentil soup to which I add lots of chopped kale.
Winter Pasta
I used penne here, but you can substitute whatever pasta you like. Spinach can be substituted for the kale if you like as well.
4 cloves of garlic, peeled
4 small shallots, peeled
1 small bunch of kale - 1/2 lb / 8 oz, stalks removed, washed well
1/3 cup / 80 ml extra virgin olive oil
1/3 cup / 2 oz goat cheese, plus more for topping
2 tablespoons + hot pasta water
fine grain sea salt & freshly ground black pepper
fresh lemon juice - optional
12 oz / 340 g dried penne pasta
fresh thyme - and thyme flowers
Bring a large pot of water to a boil. Salt the boiling water generously, and add the garlic and shallots. Boil for 2-3 minutes, stir in the kale and cook for another ten seconds. Don't overcook. Working quickly, use a slotted spoon or strainer to fish the greens, garlic, and shallots from the water. Use a food processor to puree the ingredients along with the olive oil and goat cheese. Add a couple tablespoons of hot pasta water if needed to thin things out if needed. Then season with a touch of salt and plenty of black pepper. Taste. Depending on your goat cheese, you might need a little extra acidic oomph if your sauce is a bit flat. If so, add fresh lemon juice a bit at a time until you're happy with it the sauce. Set aside.
Reheat the pot of water and boil the pasta per package instructions. Drain and toss immediately with the green sauce. Serve topped with a few pinches of fresh thyme, and more crumbled goat cheese.
Serves 4-6.

Prep time: 10 minutes - Cook time: 10 minutes